Have you ever heard that hobbies are expensive and that frugal people shouldn't have them? While it's true that a lot of hobbies can be expensive, not all of them are. In fact, some of them can actually help you in your quest to save money, or can make you money! Check out these 5 Great Hobbies For Frugal People!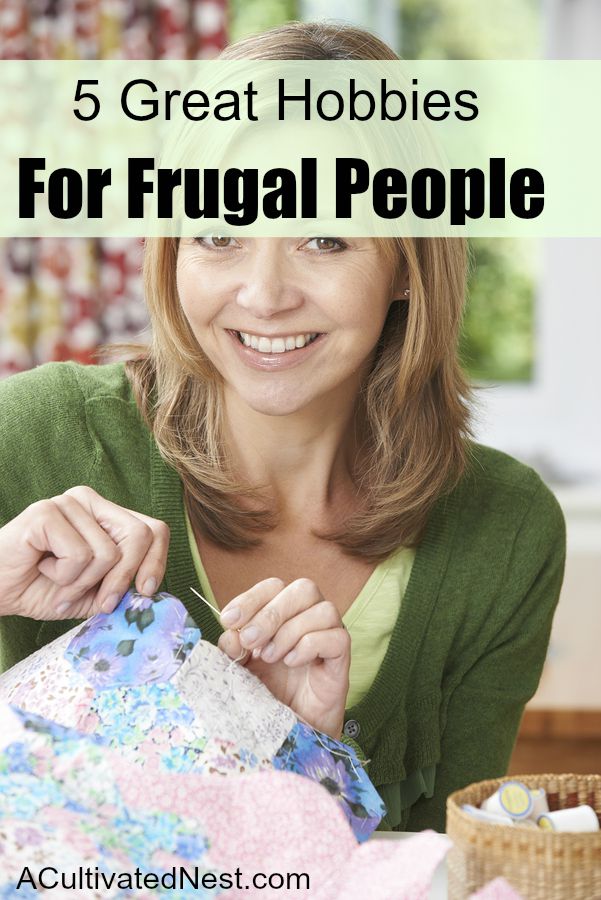 5 Great Hobbies for Frugal People
Sewing
Disclosure: This post may contain affiliate links to Amazon and/or Etsy, which means that I may earn a small commission from some of the links in this post. Please see our Disclosure Page for more information.
Taking up a sewing habit can not only save you money on replacing your own items, but can turn into a tidy little side business repairing other people's clothing or making clothes. Sewing is one of the most frugal hobbies you'll find, and there are tons of free resources online to help you learn and there are even free patterns available! Why not start with a fun beginner sewing project, like a pillowcase or coaster?
Soap making
Do you love scents? If so, pick up soap making as a hobby! It's fun, easy, and you'll save yourself money in the long run. Homemade soaps make excellent gifts. Also, scented soaps, lotions and more are huge sellers online and in craft sales. Why not try making this easy coffee and ginger soap and see if you like soap making!
Crochet or Knitting
Along the same lines as sewing, crochet and knitting are very frugal hobbies. Yarn can be inexpensive and the items you make can also be sold if you would want to do so to help pay for your supply costs (Etsy is a great place for this). And if you're good at making patterns, there are many places online where you can sell your crochet or knitting patterns! Also, crocheted and knitted items make great homemade gifts, especially during the winter!
Organizing
Believe it or not, organizing is a hobby for some people and it can be a very lucrative one. Many people struggle to keep their homes and lives organized, and would be more than happy to pay for someone to share their organizing skill. Turn your love of staying organized into a business and get paid for doing something you love!
Baking
Love baking yummy goodies for your family? Go for it! Then turn your hobby into a side business! This is especially easy to do if you're great at decorating cakes! Cakes can be sold for around $25.00 and up so you'll not only be enjoying your hobby, but you'll also be making money on each cake too! Baked goods in general can sell very well. If cakes aren't your thing, consider cookies, breads or dessert bars instead. And this doesn't have to be a side business that's limited to your local area. Many people make money selling dessert mixes in Mason jars on Etsy, shipping their mixes worldwide!
Finding a frugal hobby isn't hard to do. The biggest factor is whether your cost will cause you to overspend on your hobby budget and whether you can make money on it as well. If you can answer no to overspending and yes to making money, go for it!
You never know, your fun little side hobby could wind up becoming a major source of income for you! It's happened to many people before!
Do you already enjoy any of these hobbies for frugal people?
You may also be interested in: