Tasty Recipes Using Leftover Bread.
We've been baking our own bread for years now, but we don't eat as many sandwiches as we used to and homemade bread doesn't last as long as store-bought bread, so I always wind up with some bread in the freezer.  I don't want to waste any food, so I wondered what you could make with leftover bread other than using it as a binder in meatloaf, making stuffing, or making French toast.  I found 20 Brilliant Ways To Use Leftover Bread that I wanted to share with you!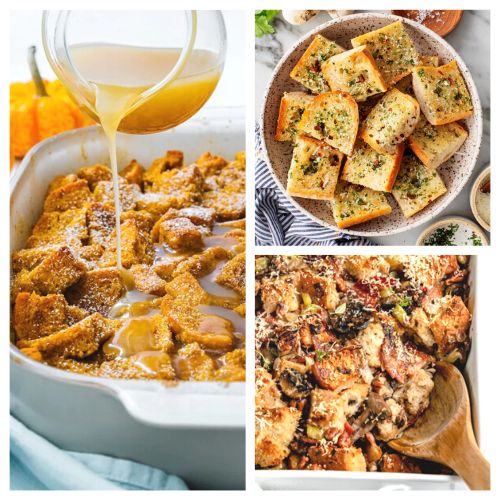 Disclosure: This post may contain affiliate links to Amazon and/or Etsy, which means that I may earn a small commission from some of the links in this post. Please see our Disclosure Page for more information.
Here are some delicious recipes that will use up your bread before it goes bad. Maybe you'll find a new favorite!
Waste not want not!
20 Brilliant Recipes for Leftover Bread
Here are some ways to make the most of your leftover bread in these recipes:
Leave it out overnight. Some recipes want your bread crusty, so I would leave it out overnight. The air will help dry it out and give you a crusty texture.
Use a variety of bread types. Some of the recipes call for a certain type of bread but several of them could use any variety of bread. So use what you have on hand.
Keep your bread in a bread box. Want to help your bread last longer? Get a bread box to give your bread more longevity in the kitchen.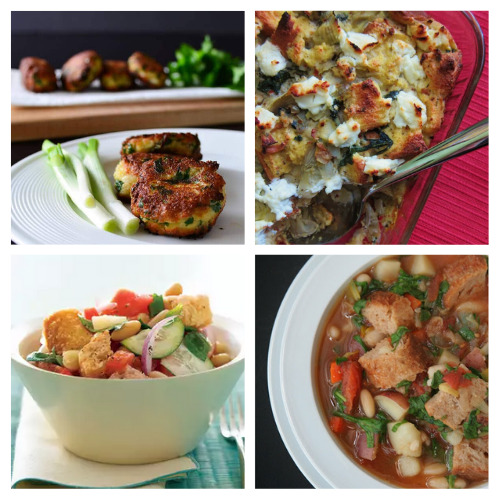 1. Leftover Bread & Cheese Patties from Give Recipe
2. Artichoke Spinach Goat Cheese Strata from eat.drink.smile
3. Italian Panzanella (bread salad) from Martha Stewart
4. Italian Bread Soup  from A Little Bit Crunchy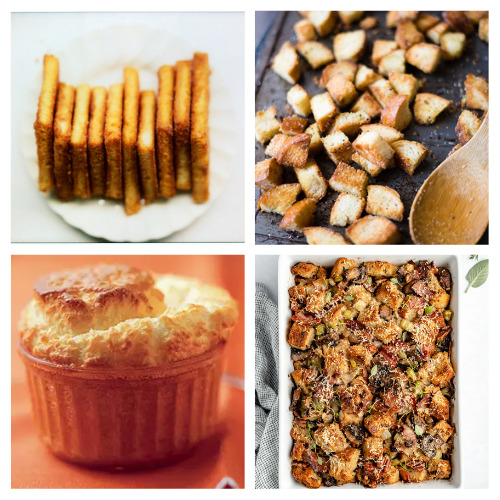 5. Baked Cinnamon Toast Triangles from Orangette
6. Homemade Croutons from A Sweet Chef
7. Cheese, Onion, Bread Souffle from Real Simple
8. Parmesan Bacon Mushroom Stuffing from Ambitious Kitchen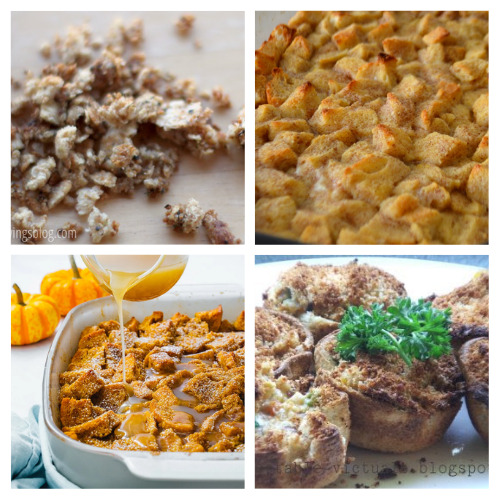 9. Homemade Bread Crumbs from Creative Savings Blog
10. Classic Bread Pudding from Mikey's In My Kitchen
11. Pumpkin Bread Pudding from A Couple Cooks
12. Vegetable Bread Tart from Delectable Victuals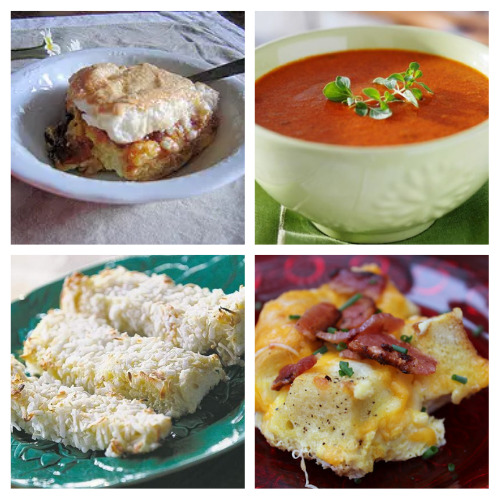 13. Queen of Puddings from les-trois-chenes.hubpages
14. Tomato Bread Soup from SparkPeople
15. Coconut Cinderella Crisps from Winnipeg Free Press
16. Leftover Bread Breakfast Casserole from What's For Dinner?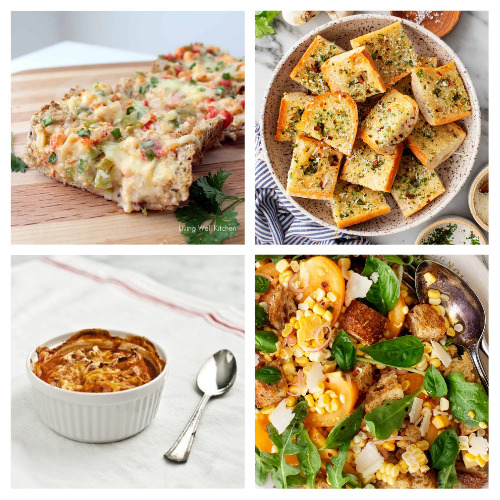 17. Cajun Crawfish Bread from Meme Inge
18. Garlic Bread from Love and Lemons
19. Baked Tomato Cheese & Bread Soup from Love and Lemons
20. Sweet Corn and Arugula Panzanella Salad from Love and Lemons
What do you with your stale/leftover bread? Share your tips in the comments below!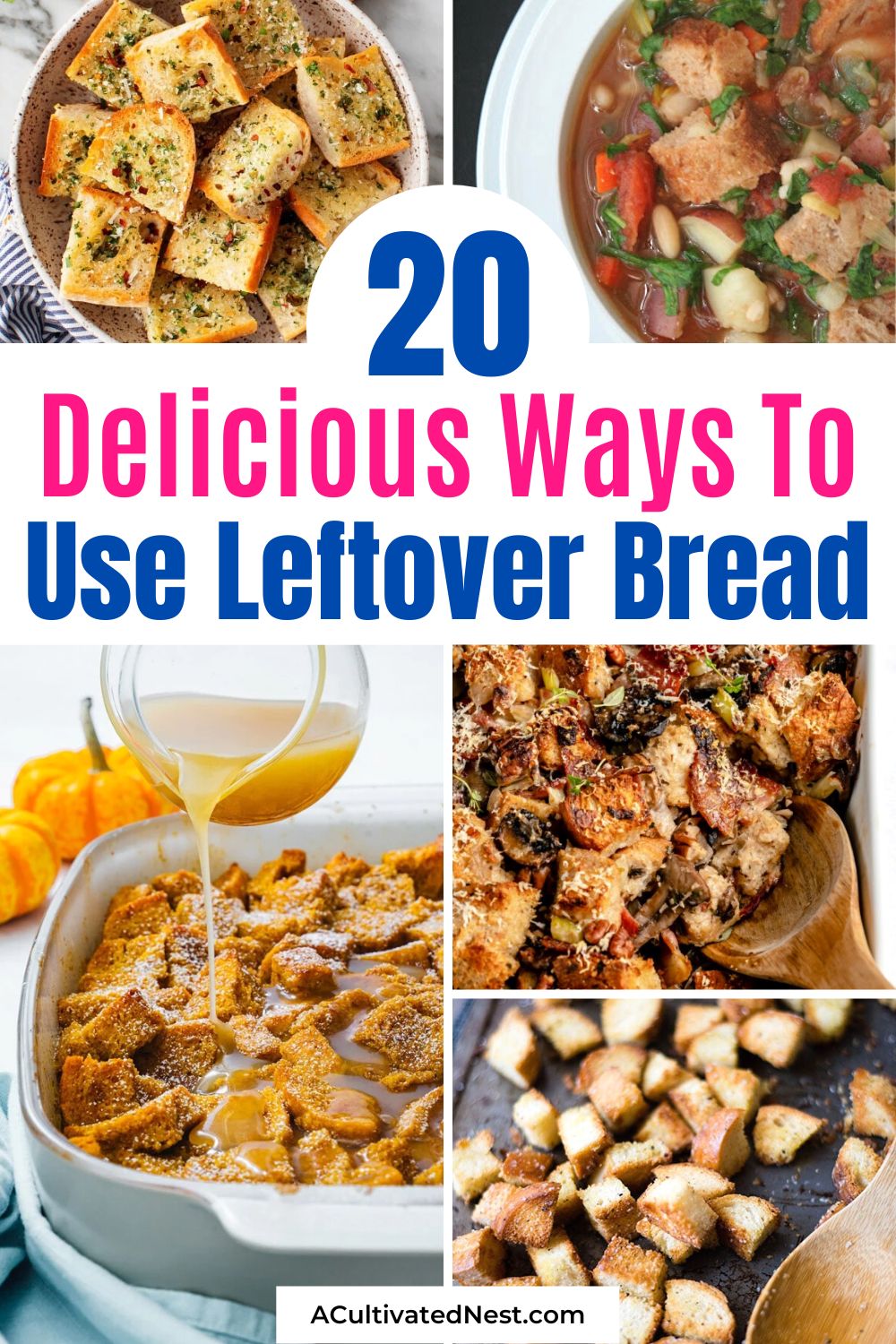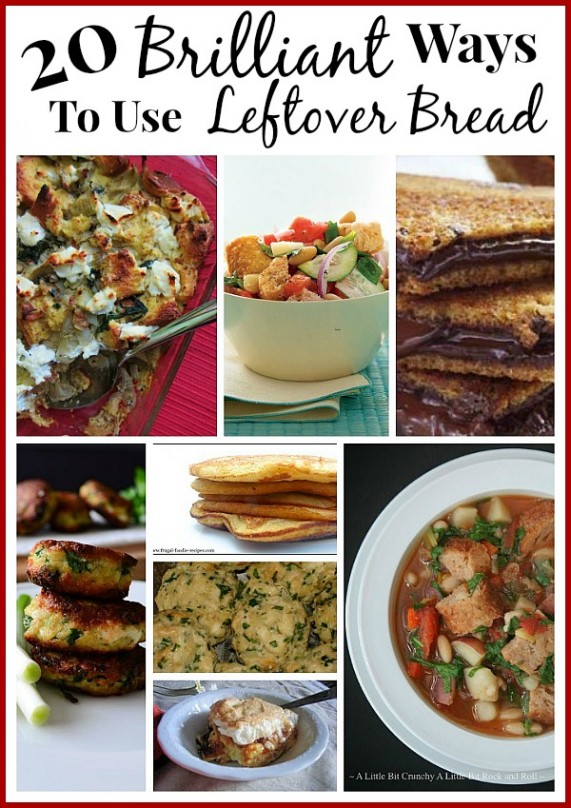 You might also be interested in: 20 Tasty Recipes to Use Up Leftover Stuffing