Sewing is a timeless and highly useful skill. You can sew items for yourself, your friends, your pets, or your home. But if you're a beginner, it may be hard to narrow down all the pattern possibilities and find a project that you'll actually understand, and better yet, actually finish! So if you're a total beginner or have a little more experience, check out these quick and easy sewing projects below!
20 Easy Sewing Projects For Beginners
Check the Clearance Aisle. Fabric stores always have fabric options in the clearance section. They may be seasonal patterns that are no longer in season, but what better way to prepare for the next year. It gives you time to complete a project or make gifts for friends and family.
Watch Video Tutorials. If you are having trouble with a project, don't be afraid to find a video tutorial to help you out. Seeing someone else complete a difficult step in action has always been helpful to me.
Don't expect it to be perfect the first time! Give yourself some grace and allow your first few projects to be a trainwreck! This will take the pressure off and allow you to learn and have fun while learning this new skill.
1. Easy Fabric Coasters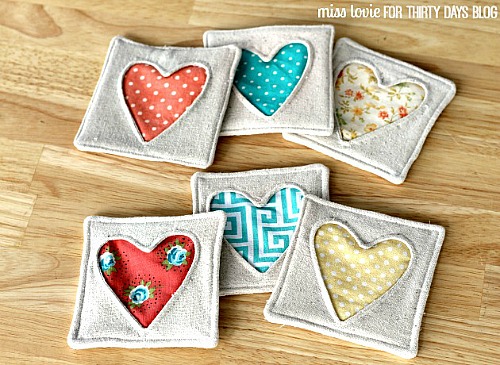 Disclosure: This post may contain affiliate links to Amazon and/or Etsy, which means that I may earn a small commission from some of the links in this post. Please see our Disclosure Page for more information.
Don't miss a post! Get this blog delivered by email.  Subscribe via email here
I know these cute heart coasters from Thirty Handmade Days look like they would be hard to make but they really aren't (and the tutorial is very easy to understand). These would make great gifts for Valentine's Day! And since they're so small, you can use up any small scrap fabric you may have left over.
2. Pillowcase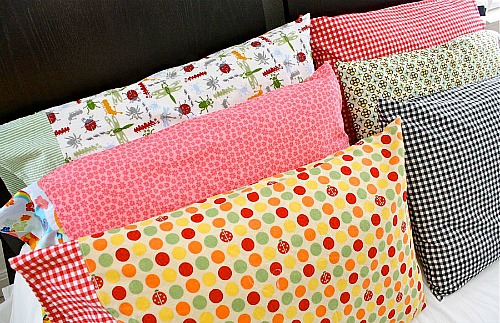 A pillowcase is a perfect beginner sewing project! They're so quick and easy to make that you'll probably wonder why you ever bought any in a store! The pillowcase tutorial on Made Every Day shows you how to make your own.
3. Hanging Dishtowel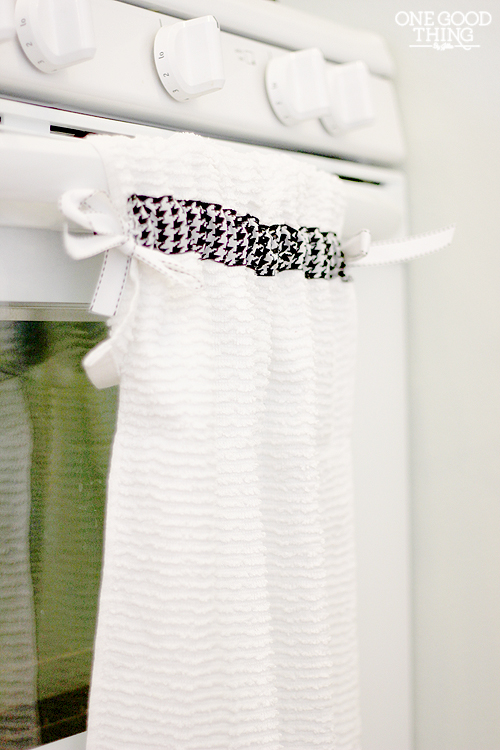 If your dishtowels are often falling down, this could be a pretty solution to your problem! Using the DIY hanging dish towel tutorial from One Good Thing by Jillee, you can make your plain existing dish towels match your decor, and secure them in place!
4. Reversible Placemats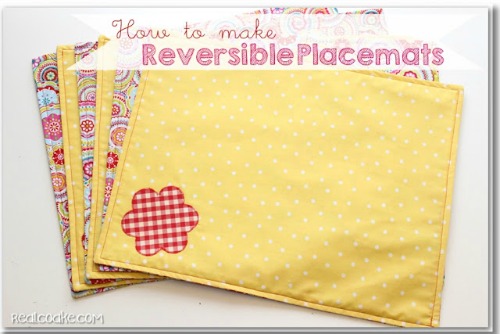 These easy-to-make reversible placemats from The Real Thing with the Coake Family are a great opportunity to be creative! Combine fabric of different colors/patterns, and make appliqués in any shape you want!
5. Hand Warmer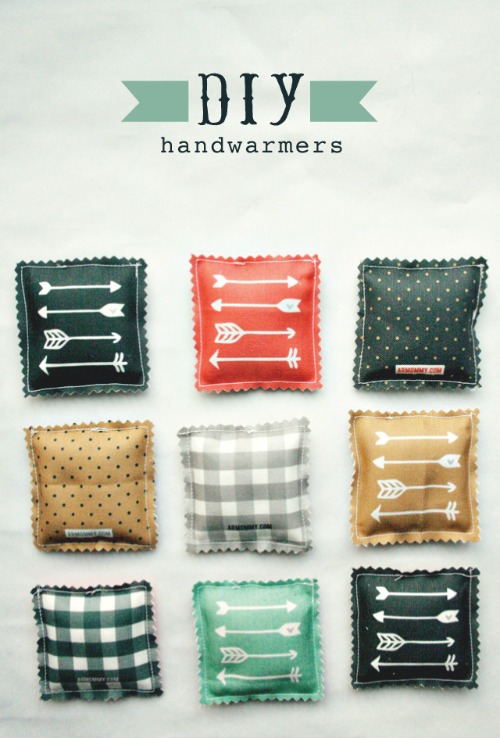 If your winter weather has been anything like ours, then these could come in very handy! Rae Ann Kelly shows you how some small pieces of fabric and some rice can make an adorable DIY hand warmer!
6. DIY Fabric Bookmarks

I love easy sewing projects like this! This is a super quick and easy project, and another great way to use up fabric scraps! Follow 7 Layer Studios' tutorial to find out how to make bookmarks with pretty scalloped edges and ribbon tails!
7. DIY Coffee Sleeve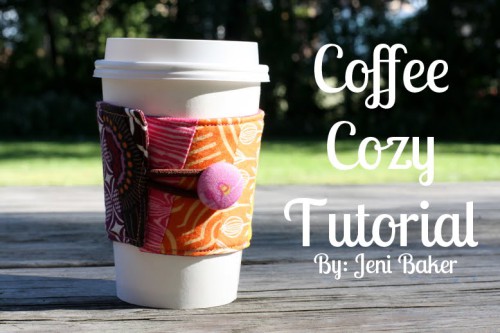 This cute fabric coffee sleeve from Skip to my Lou is so much prettier than those cardboard ones from coffee shops (and it's reusable!). This would be a great project to use up fabric scraps!
8. iPad Case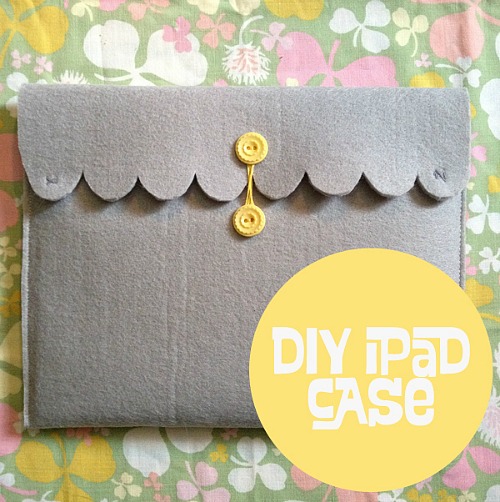 This simple sewing tutorial from Oh So Lovely Vintage uses felt and a pretty button to make an adorable iPad case! I imagine it could be easily adapted to make a Kindle case, or to fit any other tablet, really!
9. Fabric Bin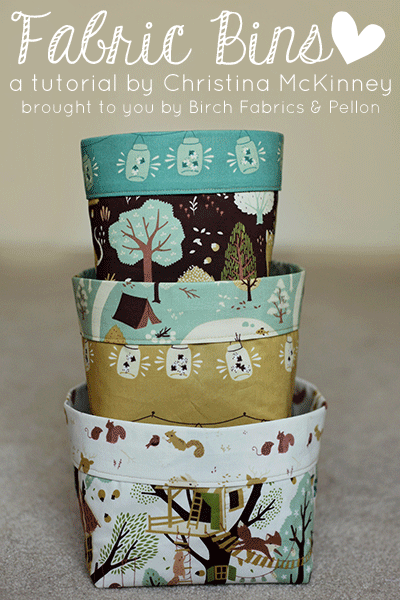 This sewing project is very easy, and can be very useful! Follow Birch Fabric's tutorial to make fabric bins in different sizes. Make more than one and they can even nest inside one another!
10. Toy Sack

Technically, this sewing project tutorial is for a toy sack, but I can see it having other applications, too. It's actually useful for whenever you want to put something in a bag, but still want to be able to see inside. Follow Toni Coward's tutorial to find out how to make this super versatile "peek-a-boo" toy sack!
11. Padded Camera Lens Case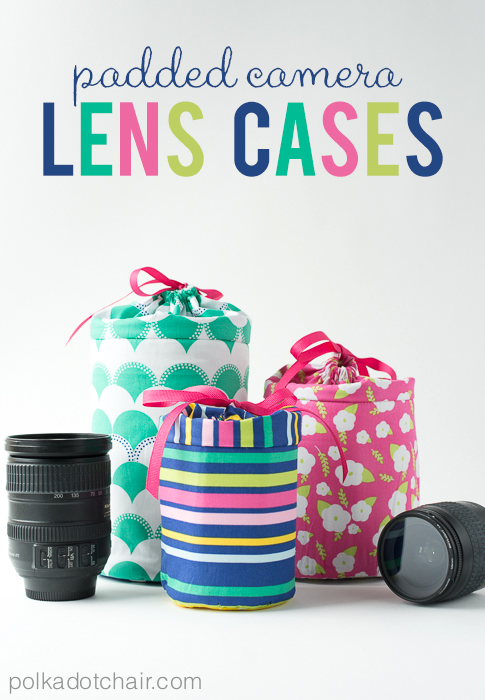 Now, this may seem a little advanced but I promise you that it's not all that hard and the tutorial is very easy to follow. The padded camera lens case you make in this tutorial from Polka Dot Chair would make a great gift for camera enthusiasts! It could probably be used as a case/bag for other items of a similar size, too.
12. Cloth Napkins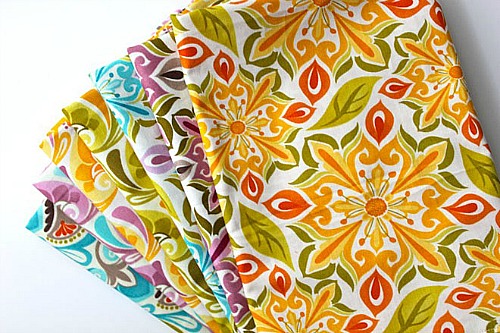 This quick and easy sewing project allows you to make your own pretty cloth napkins! Follow the 6-step tutorial on Kirtsy to make cloth napkins for special occasions, or just every day. And if you're interested in replacing disposable things like paper napkins with pretty reusable things like these, check out the projects in this post.
13. Sachet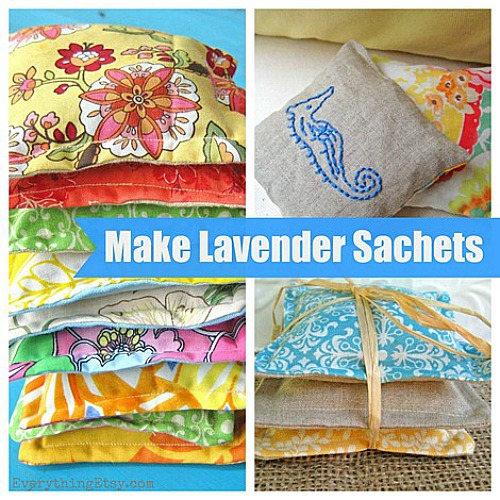 Sachets make great gifts, or are just nice to keep for yourself! Everything Etsy shows how to easily make sachets and fill them with some wonderful smelling dried lavender!
14. Oven Mitt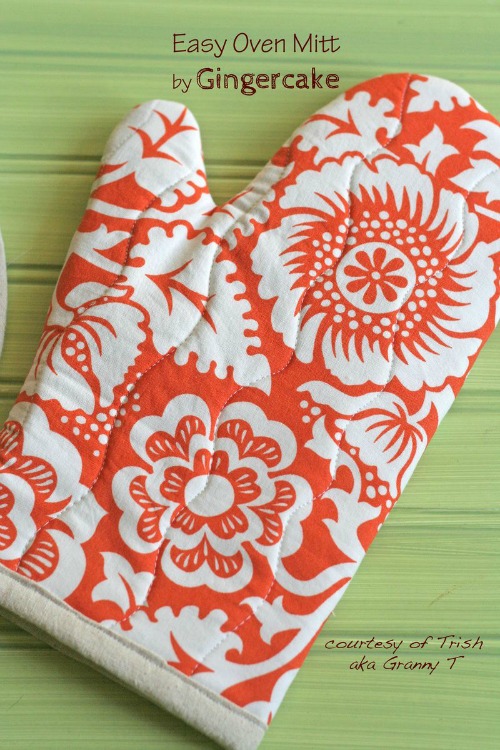 This oven mitt tutorial is a great quick and easy kitchen sewing project from Ginger Cake! You could really have a lot of fun with these, making ones for different seasons/holidays!
15. Chair Cushion Cover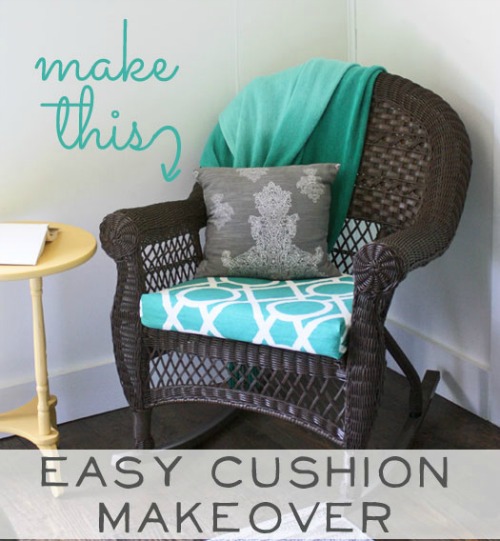 If you have a cushion but don't like the fabric, consider making your own cover for it. It's a quick and easy makeover, as shown by the Shabby Creek Cottage, and it allows you to get a chair cushion cover that matches your decor without having to shop around at tons of different stores!
16. Oversized Baby Blanket
Rae Ann Kelly has a great post about making an oversized baby blanket out of jersey fabric! She even has a no-sew version! Jersey fabric is so soft and stretchy; it would make a great swaddle blanket. Any momma would be thrilled to get one of these!
17. Reversible Table Runner
This table runner looks so simple to make and gets you 2 sides for double the decorating! I love this idea for a fall/winter combo to dress up a table. Real Create Real Organized has the tutorial to make this reversible table runner.
18. Lap Duvet
As winter approaches, I think these lap duvets would be a great thing to have around! They are smaller sized and perfect for using while watching TV or even keeping one in your car for long car rides or as an emergency blanket. One Good Thing by Jillee says they only take 2-3 hours to make!
19. Pocket Apron
I love this simple pocket apron! It wouldn't take much fabric and they would make great gifts! Made Every Day has the tutorial and it looks pretty simple to follow!
20. Beach Towels
Look how adorable these homemade beach towels are!! I cannot wait to make a few for my girls and head to the beach! Made Every Day has step-by-step directions to sew these beach towels and get in the sun in no time!
As these projects show, you don't have to be an expert at sewing to make some cute and useful projects! I hope you've found a few easy sewing projects to try!
Do you know how to sew or have you been wanting to try sewing?
You may also be interested in: 10 No Sew Home Decor Projects