Homemade Coasters to Give as Gifts.
There are about a gazillion opportunities for creating small gifts throughout the year- birthdays, anniversaries, Mother's Day, Father's Day, Teacher's Appreciation Day, Christmas, etc. Luckily, there are plenty of gift ideas out there as well. But we all know everyone appreciates the personal touch that comes with a little something handmade – especially if it's useful! We've come up with the perfect DIY small gift that you are going to want to make for all of the wonderful people in your life- DIY coasters! Check out these 15 DIY Coasters That Make Great Gifts!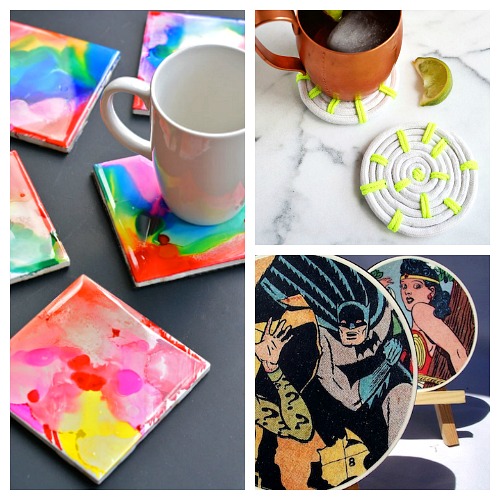 Disclosure: This post may contain affiliate links to Amazon and/or Etsy, which means that I may earn a small commission from some of the links in this post. Please see our Disclosure Page for more information.
Everyone can use a coaster! It doesn't matter if the coaster is for coffee, tea, beer, wine, kombucha, or a smoothie. Everyone drinks something every day, and they need someplace to set it down (without risking moisture getting on their furniture). That's why these DIY coasters make both pretty and useful gifts!
15 DIY Coasters That Make Great Gifts
From lovely map coasters to super cute donut coasters, we have you covered for optimal crafting and gift-giving this year. Consider giving these coasters to all the people in your life. Using any of these tutorials that you can easily personalize, modify, and gift a uniquely useful and thoughtful item.
Making homemade coasters gives you a great opportunity to reuse and recycle as many things as you can think of.

Don't overlook your recycling, paper scrap, and even fabric scrap bins! Old magazines, books, and photo albums are also great resources!

Coasters may very well be one of the most frugal but still classy DIY gift options out there.

For the tile-backed options, check out the discount section of hardware and building supply stores, and yard sales!

Scan the sales at your local craft and department stores for things like chalk paint and markers and don't forget to check out the craft aisle at the dollar stores as well.

Any homeowner or office professional can and will appreciate a lovely set of homemade coasters as a gift, and while you're at it, you should make a set or two for yourself!
1. DIY Chalkboard Coaster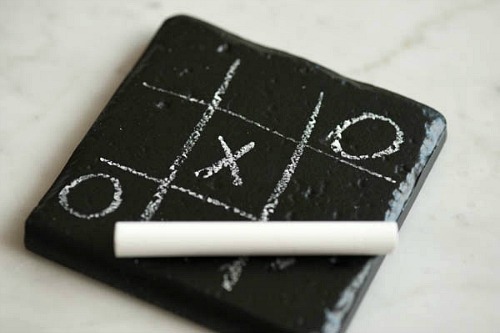 These DIY Chalkboard Coasters by the Sweetest Occasion are top of the list because simple and effective is a great place to start! A set of these would make a really great host/hostess gift!
2. DIY Marble Coasters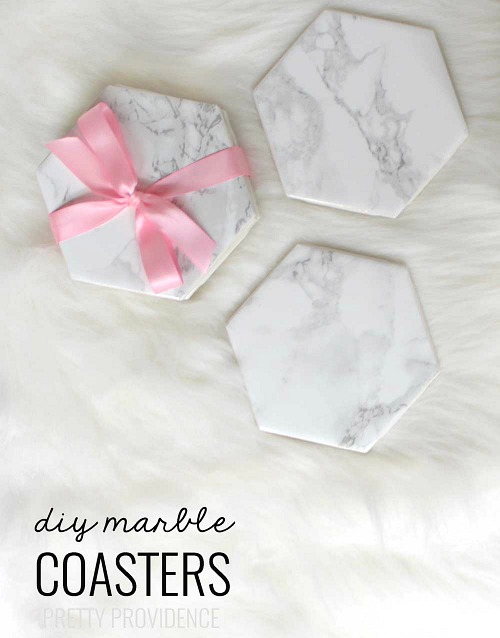 I love these DIY Marble Coasters by Lil' Luna! What a simple and elegant way to pass on a little gift love for a  special someone!
3. Recycled CD Coasters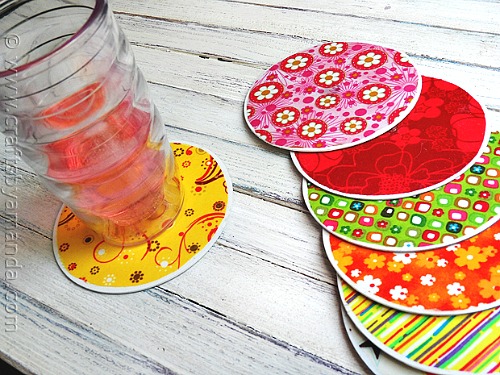 These Recycled CD Coasters by Crafts by Amanda are a great idea! Especially if you have a little bit of trouble throwing things out….
4. Ceramic Tile Coasters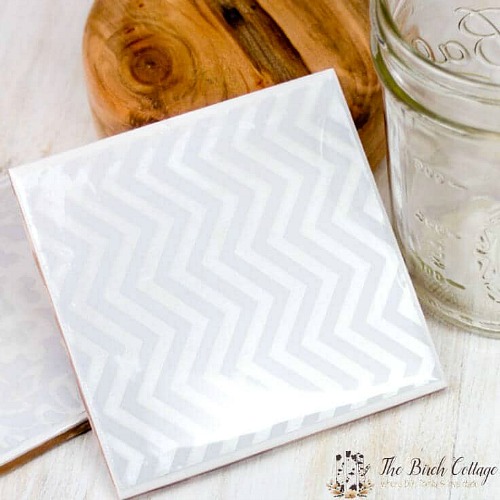 I love these Ceramic Tile Coasters by Kennary! Again with the simple, but so many options to personalize!
5. DIY Map Coasters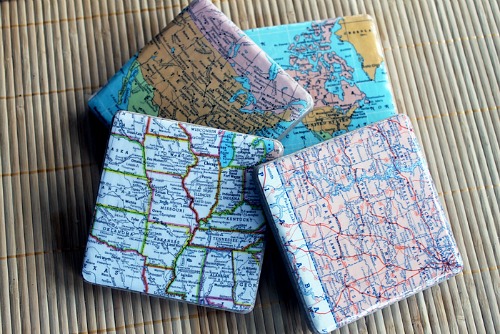 I have to say that these DIY Map Coasters by the Country Chic Cottage are probably my favorite, and I will be attempting them at some point! Although I am not sure I will be able to gift them away. Using a map of a 'special' place might make these the sweetest gift idea ever!
6. Easy Rope Coasters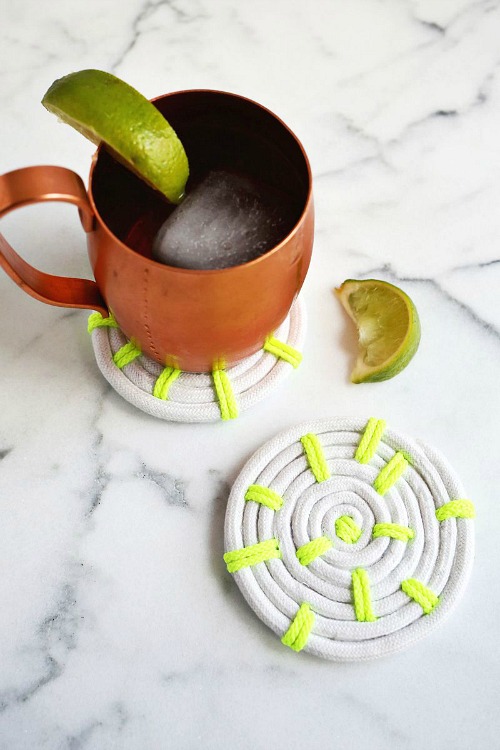 Eeep! These Easy Rope Coasters by a Beautiful Mess are just too charming! I can picture these being made in all sorts of seasonal colors and becoming very versatile seasonal décor!
7. Easy Slate Coasters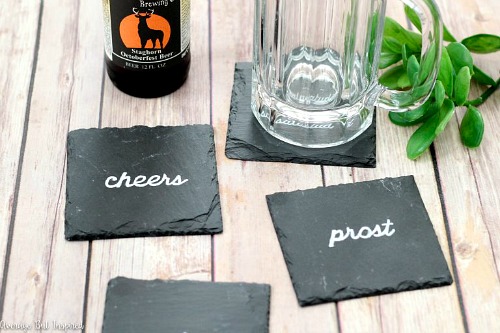 These Easy Slate Coasters by Average Inspired are totally my idea of a great gift! Easy, fun, and chic!
8. Donut Coasters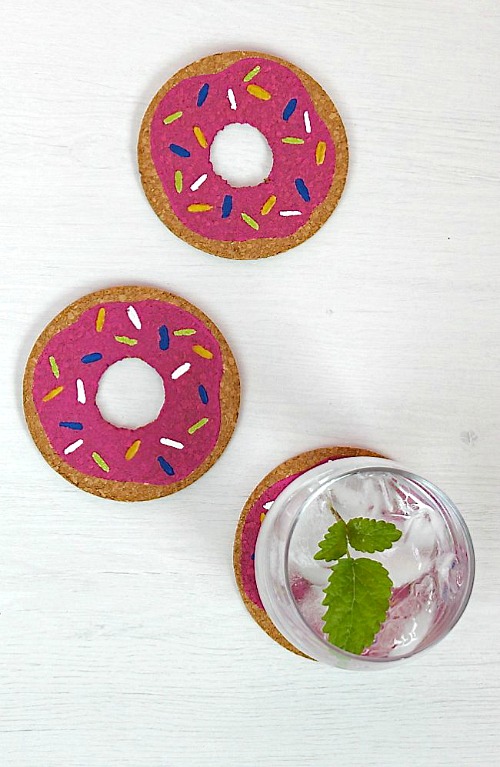 Hello Glow's Donut Coasters are really just too stinkin' cute. A set of these would make great party favors as well!
9. DIY Beer Coasters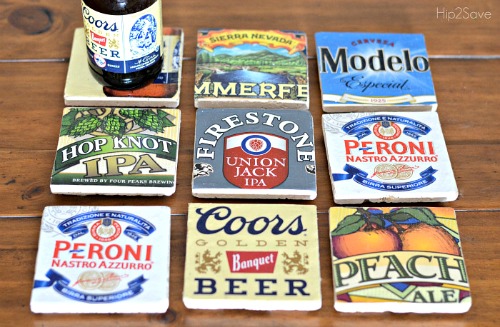 These DIY Beer Coasters by Hip2Save are pretty smart. While I not only appreciate the upcycle value of this DIY, I also really love the pop culture feel!
10. Comic Book Coasters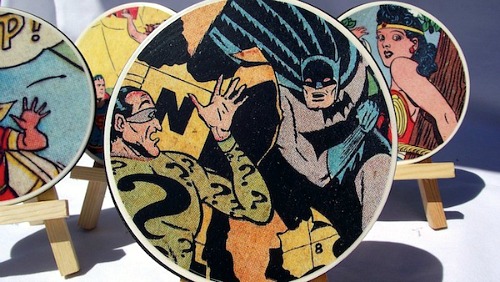 Mod Podge Rocks' Comic Book Coasters are a great idea for anybody who can appreciate neat stuff! I might try this with the funnies or comics from the newspaper.
11. Natural Branch Coasters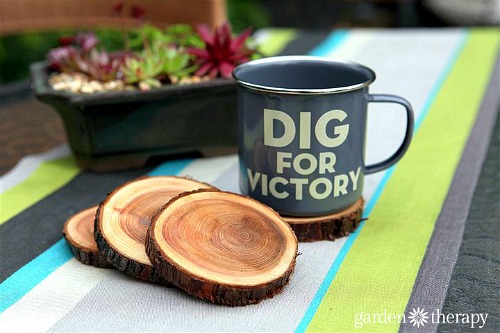 These Natural Branch Coasters by Garden Therapy are simply stunning. They would go well in any room!
12. Sharpie Dyed Coasters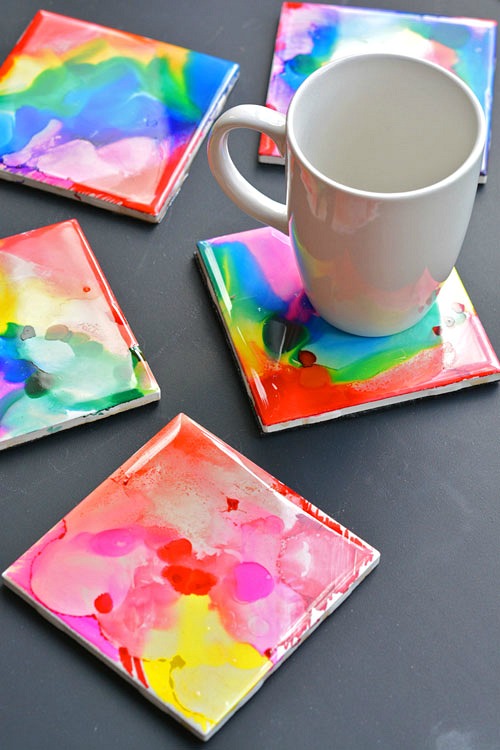 One Little Project's Sharpie Dyed Coasters are pretty hard to beat in the fun-to-make and gift category! Think of all the potential! Try making some using only certain colors, or contrasting colors, and so on…
13. Soda Can Coasters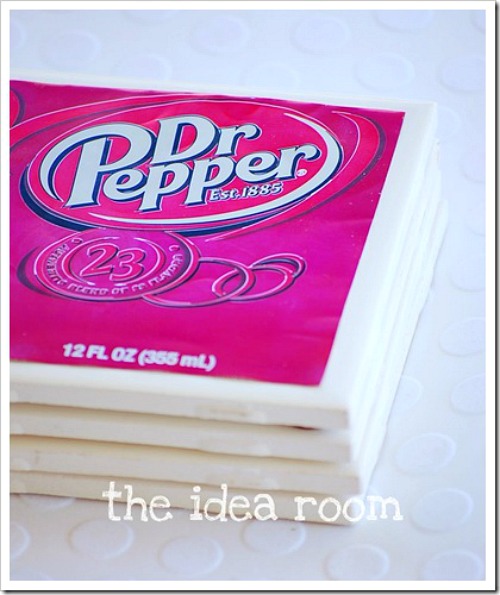 I so want some of these Soda Can Coasters by the Idea Room! A fun addition to any coffee table!
14. DIY Cork Coasters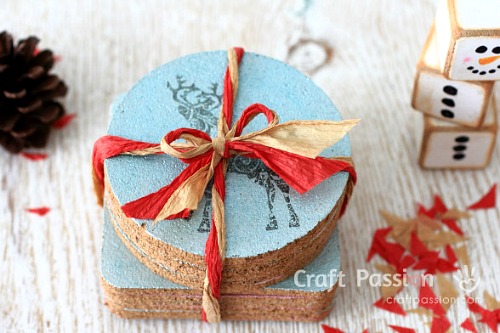 These DIY Cork Coasters by Craft Passion are also quite lovely and easily adaptable for any holiday season. They would look great in any room as well and would make a lovely gift for anyone on your list.
15. Wallpaper Coasters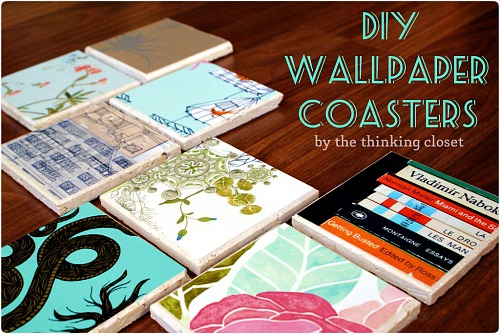 I just love the versatility of these Wallpaper Coasters by the Thinking Closet. You could do them with literally any of your favorite papers.  The idea of coming up with something fun and useful with wallpaper samples though just gives me that great happy day kind of feeling.
Which of these DIY coasters are your favorite?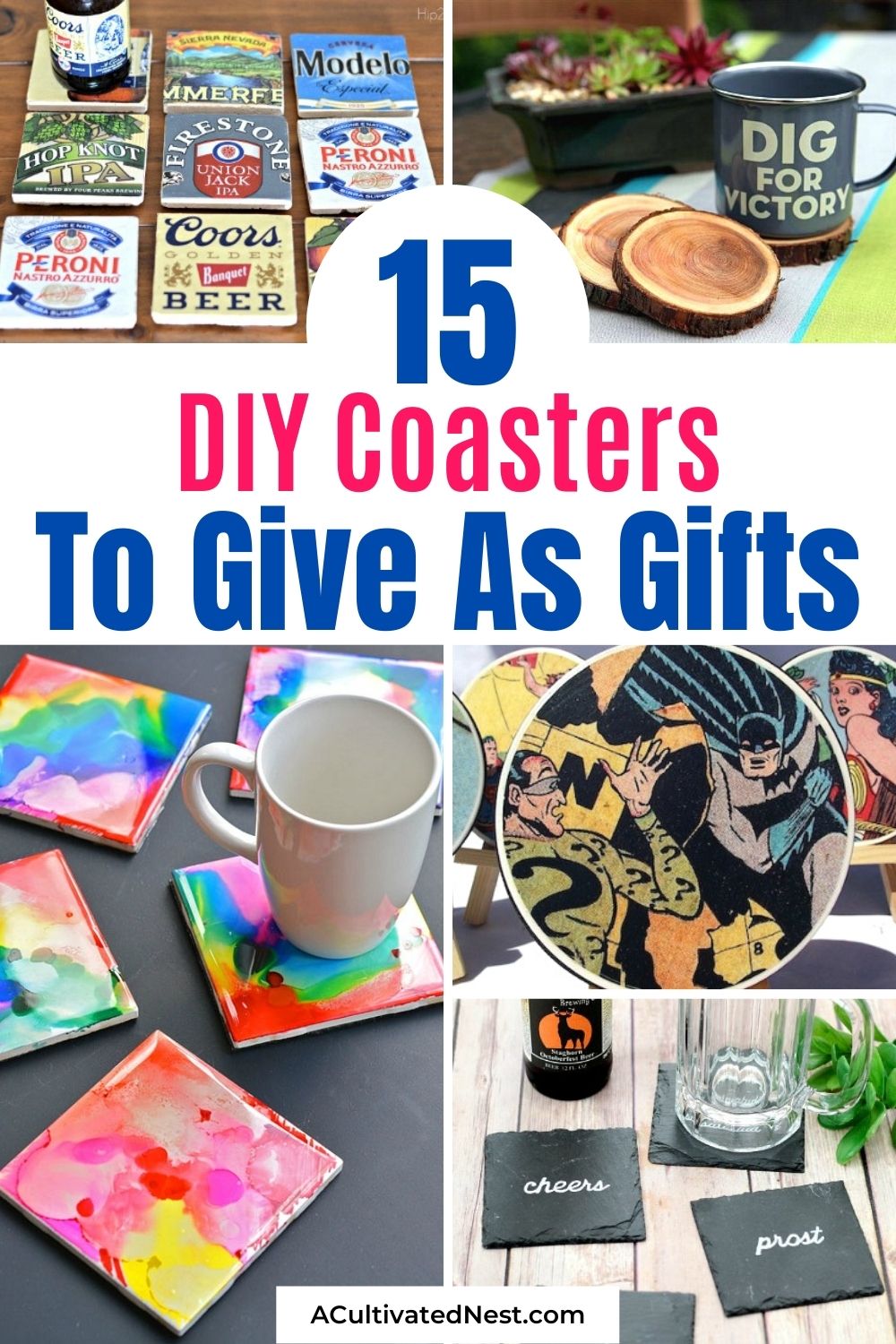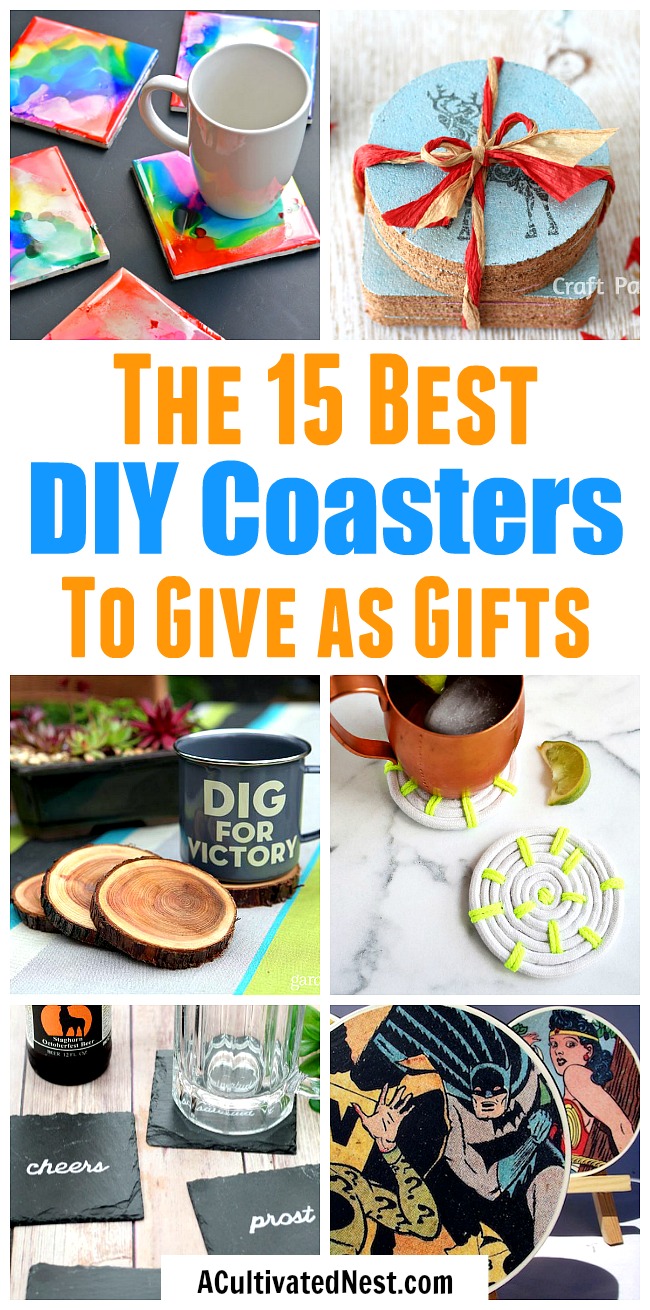 Written by ACN Team Member Evelyne N. : Evelyne is the fearless, axe wielding, quirky, hardworking and incredibly funny creative genius behind Nemcsok Farms and Knits' End. Who also has a weird fascination with soil, and wreaths.
You might also be interested in: 10 Homemade Gifts In a Jar From Your Kitchen