16 Beautiful DIY Projects That Upcycle Towels.
I love to turn something old into something new! It's a great way to save money and reduce waste. And if you know how to sew, pretty much any cloth item is fair game! Whether you're a beginner or more more experienced sewer, you'll enjoy these 16 Gorgeous Projects Made With Towels!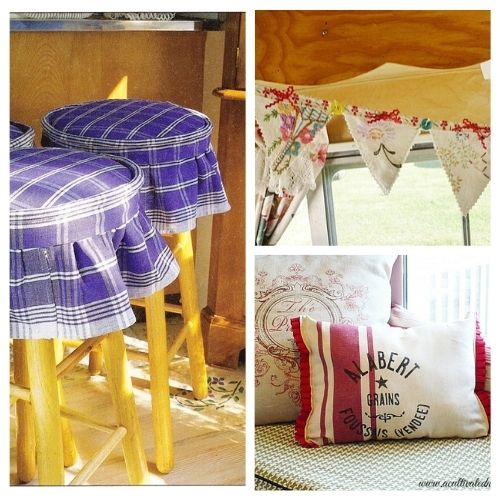 Disclosure: This post may contain affiliate links to Amazon and/or Etsy, which means that I may earn a small commission from some of the links in this post. Please see our Disclosure Page for more information.
Maybe you have some towels that are a bit frayed but you don't want to cut them up and use them as rags. Or perhaps you found some really cute tea towels.  Hopefully, this collection of ideas will show you some clever ways of repurposing new or old towels!
16 Gorgeous Projects Made With Towels
I think you are going to love all the fun things you can make with towels. Using towels is inexpensive and a great way to recycle something you would normally toss out. Here are some towel upcycle tips:
Save towels that you are thinking about tossing. You can transform them into all sorts of things!
Pick up used towels at yard sales, thrift stores, or consignment shops. You can often find towels that have barely been used for cheap.
Hit up the local dollar store. You can find all kinds of colors of towels at dollar stores. They are inexpensive and are ideal for these types of projects.
1. DIY Apron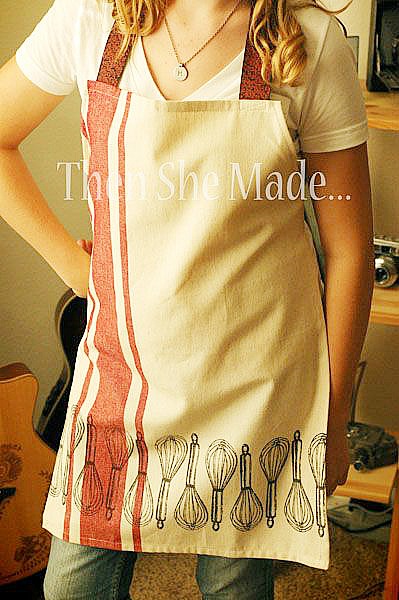 This DIY apron was made from a kitchen towel – see how at Then She Made…
2. Homemade Tablecloth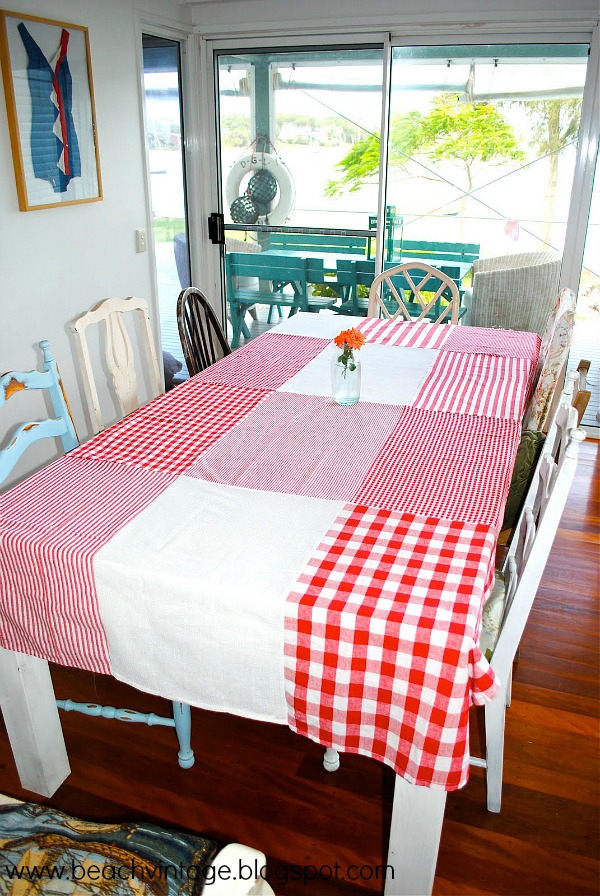 I've always wanted to do this. Beach Vintage made this cute tablecloth from a package of 12 dish towels!
3. No-Sew Bed Skirt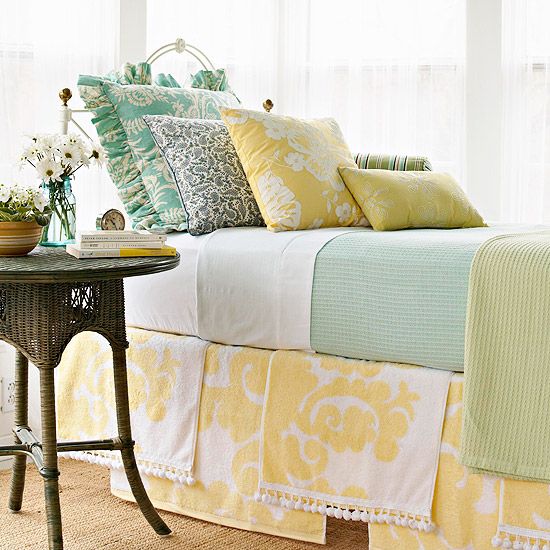 I had to include this project even though it doesn't use dish towels – they're bath towels. It's just such a creative idea I couldn't leave it out. See how to make this easy no sew bed skirt at Operation: Stand By Your Man.
4. Homemade Skirt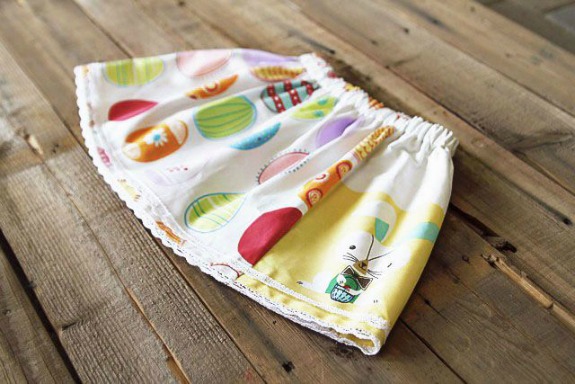 How adorable is this skirt made from dish towels!! Go to Lil Blue Boo for the tutorial
5. DIY Pet Bed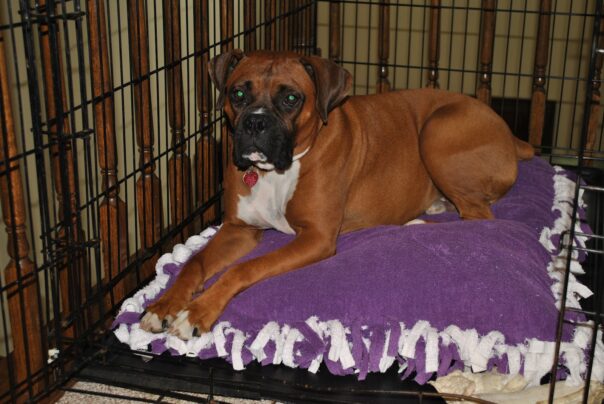 Make a DIY pet bed with using 2 same-sized towels via Mom's Best Nest.
6. Charming DIY Banner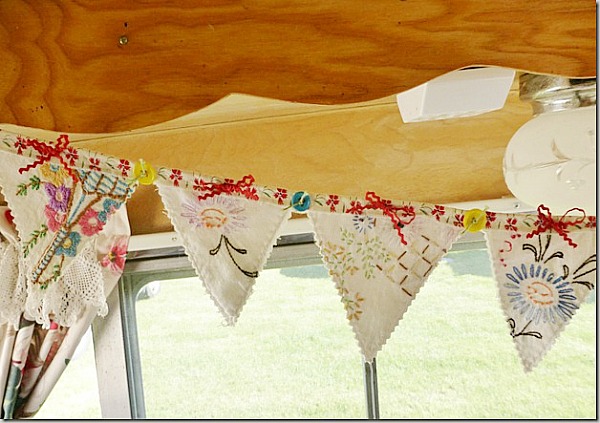 If you have cute towels with too many stains cut them up and make a DIY banner, like this one from Vintage Bag Lady.
7. Sewing Machine Cover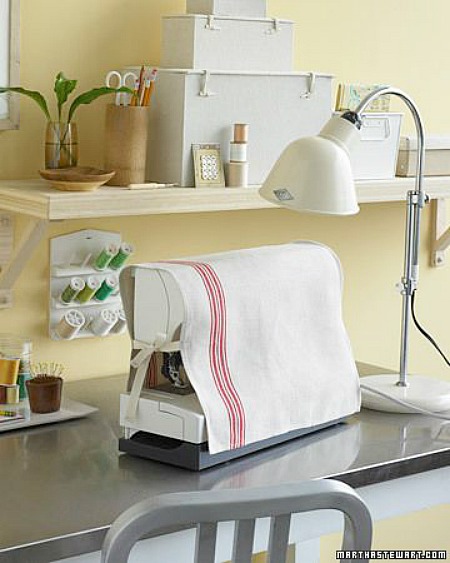 Here's a really easy sewing machine cover from Martha Stewart.
8. Framed Art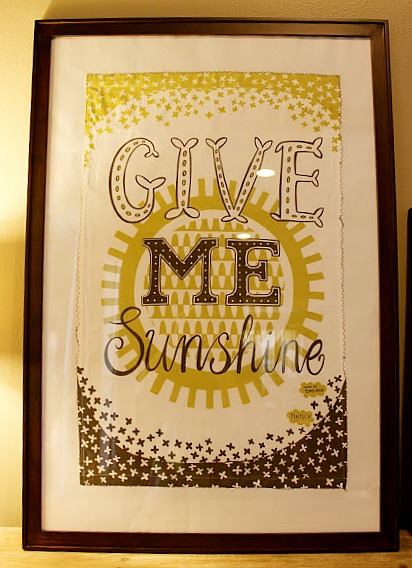 If you find a really cute towel you can frame it and make DIY wall art like House 8810.
9. DIY Beach Bag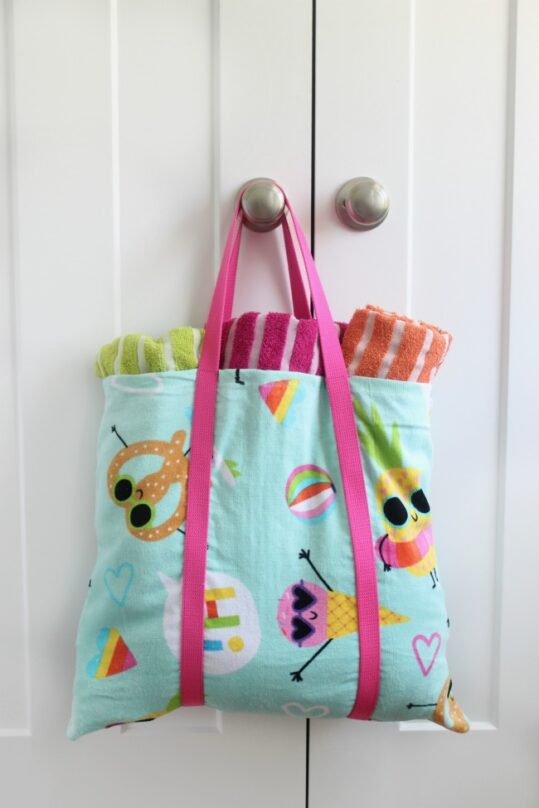 Gluesticks made this DIY bag from a large beach towel and it turned out so cute!
10. Homemade Stool Covers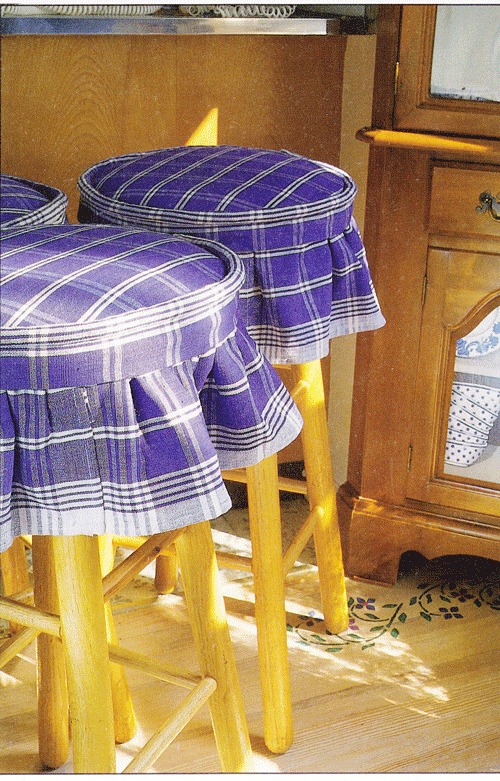 You could make homemade stool covers with dish towels like these from In My Own Style.
11. DIY Pillow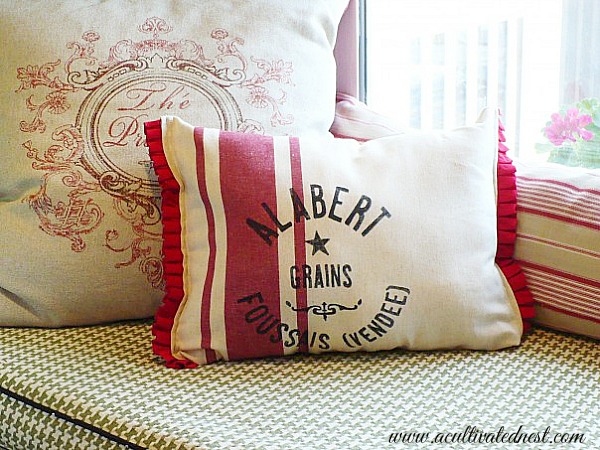 Some of you may remember this pillow I made from a Target dish towel. I still have it!
12. Plastic Bag Holder
Handy and cute! Use a fun towel to make this plastic bag holder. It seems quite simple if you follow Sew Simple Home's directions.
13. Hanging Dish Towels
Sew Simple Home has directions to make these hanging towels. Use cute towels that match your decor to spruce up your kitchen.
14. DIY Pool Chair Cover
Make a DIY pool chair cover with lots of pockets and a pillow! This project will be heavily used by everyone that has one! Check out the tutorial from Sew Can She.
15. Tea Towel Cushions
A Spoonful of Sugar makes Christmas cushions out of tea towels. This is a great way to make decor on the cheap since you are only going to use them for a short amount of time.
16. Chair Makeover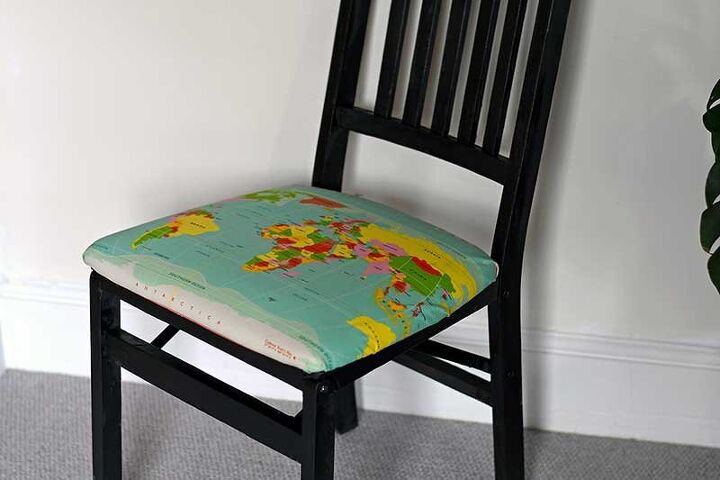 Give a chair a makeover with a dish towel! What an easy way to redo a chair cushion and make it match your style. Check out how on Home Talk.
Which of these DIY towel upcycle projects is your favorite?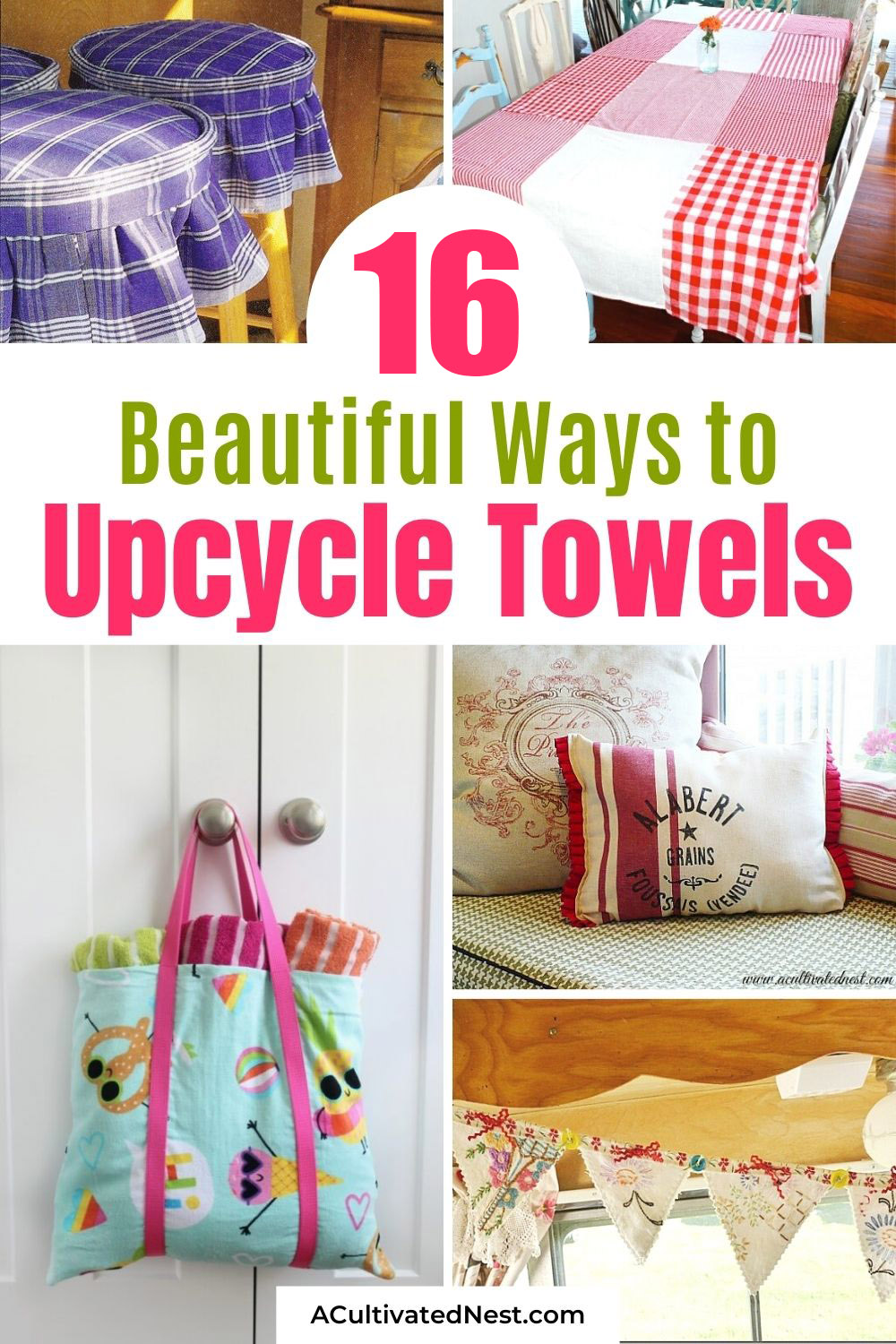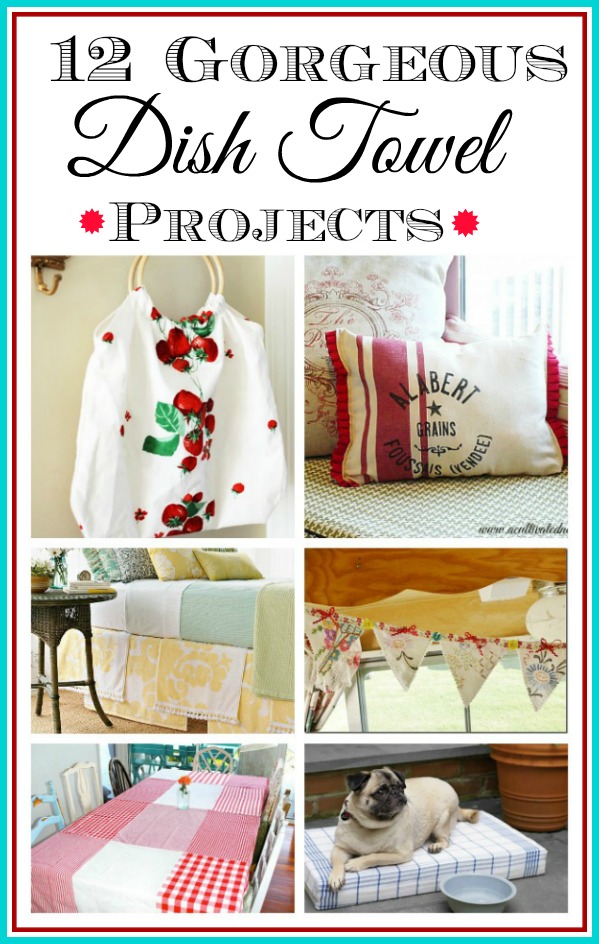 You might also be interested in: 14 Genius Ways to Upcycle T-Shirts