Tasty Recipes to Cook with Tomatoes.
Get the most out of your garden with these recipes that use your own homegrown tomatoes! Groceries are so expensive, and you never know how the produce was grown. When you grow food in your garden, you know exactly how it was grown, and it costs a lot less! The only problem may be that a lot of your garden produce may become ripe all at once, especially when it comes to tomatoes. That is why I have rounded up 20 Delicious Ways to Use Homegrown Tomatoes!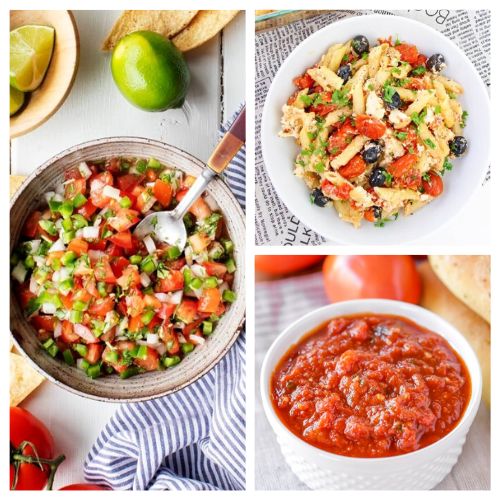 Disclosure: This post may contain affiliate links to Amazon and/or Etsy, which means that I may earn a small commission from some of the links in this post. Please see our Disclosure Page for more information.
There's nothing like homemade tomato sauce, but there's a lot more than just sauce that you can make with your garden tomatoes. Check out all the ideas below for inspiration!
20 Delicious Ways to Use Homegrown Tomatoes
Here are some tips to get the most from your homegrown tomatoes:
Store in fridge. If you have a cut tomato, wrap it in plastic and store cut side down on a plate in the fridge.
Store at top of the fridge. Store ripe tomatoes at the top of the fridge since it is warmer there. In the back or at the bottom is cooler, and your tomatoes won't last as long.
Feed your plants Epsom salt. Give your tomato plants a boost with Epsom salt. It will help them produce more fruit for a more extended amount of time.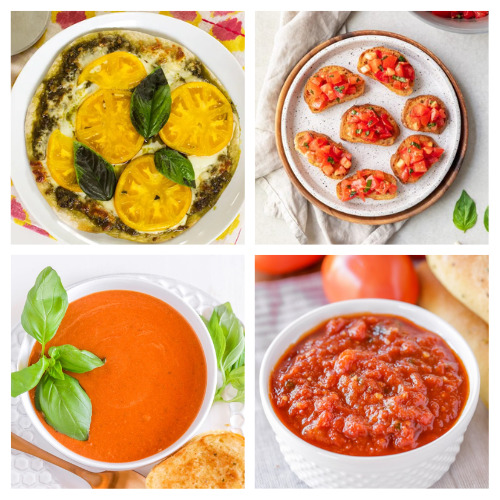 1. Yellow Tomato and Pesto Pizza from Sarah Hearts
2. Tomato Bruschetta from A Pumpkin and a Princess
3. Homemade Tomato Soup from Lil Luna
4. Homemade Marinara Sauce from Lil Luna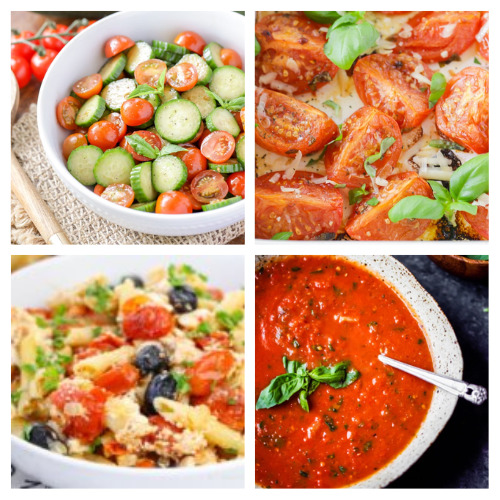 5. Cucumber and Tomato Salad from Lil Luna
6. Oven Roasted Tomatoes from Lil Luna
7. Baked Feta Pasta from The Soccer Mom Blog
8. Homemade Roasted Tomato Basil Soup from Ambitious Kitchen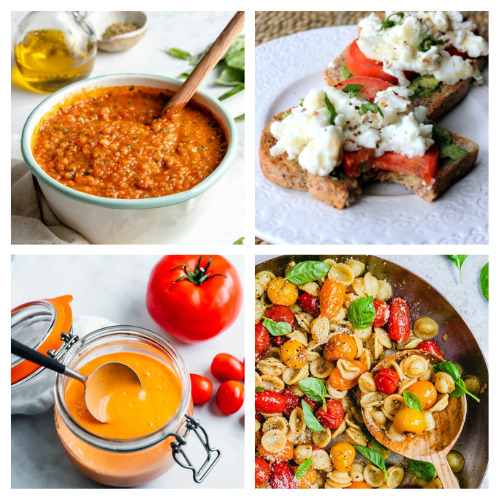 9. Homemade Tomato Sauce from Ambitious Kitchen
10. Open-Faced Breakfast Sandwich from Ambitious Kitchen
11. Easy Tomato Vinaigrette from A Couple Cooks
12. Cherry Tomato Pasta from A Couple Cooks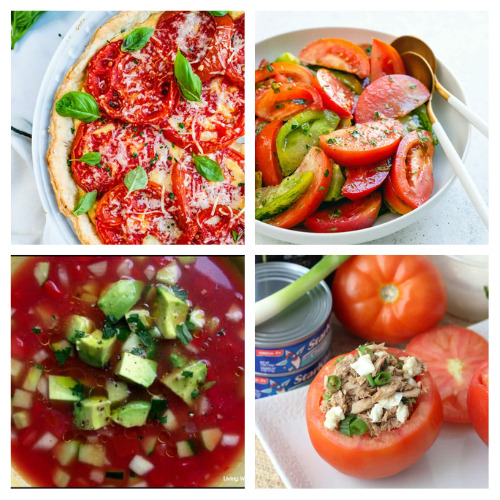 13. Tomato Pie from A Couple Cooks
14. Fresh Tomato Salad from A Couple Cooks
15. Fresh Tomato Gazpacho from Meme Inge
16. Caprese Tuna Salad from Meme Inge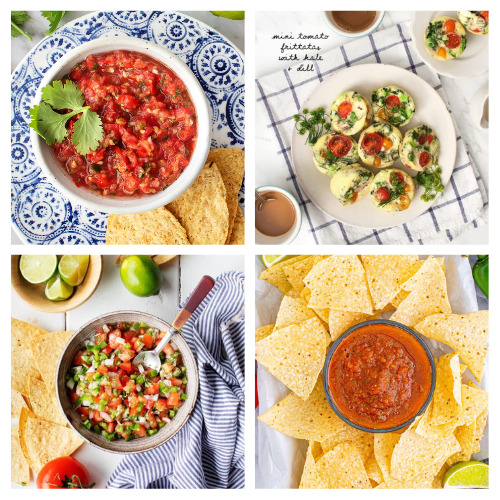 17. Homemade Salsa from Love and Lemons
18. Mini Muffin Frittatas from Love and Lemons
19. Pico De Gallo from Love and Lemons
20. Blender Mexican Salsa from Belle of the Kitchen
What recipes are you going to use your homegrown tomatoes in?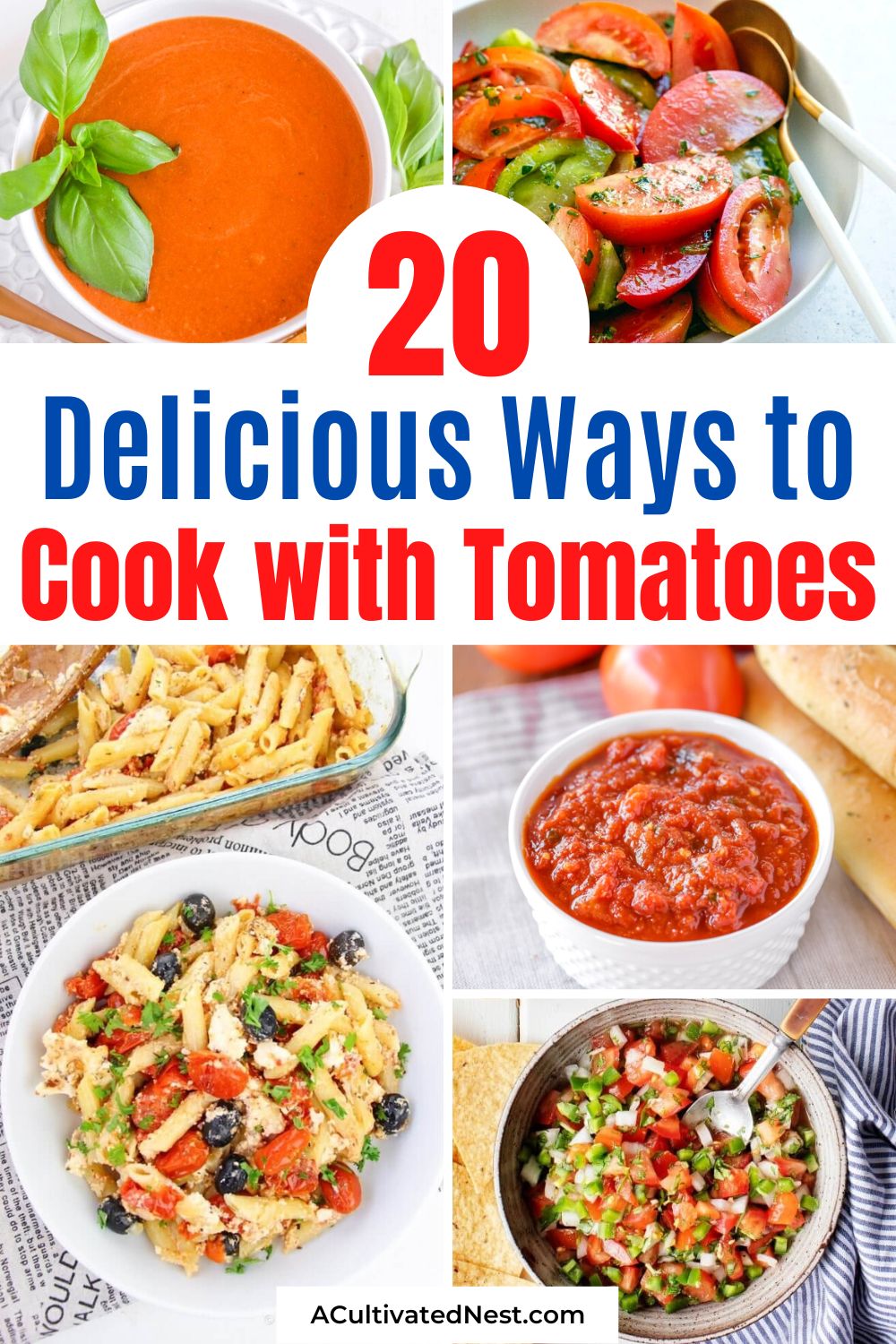 You might also be interested in: My Tips For Growing Bigger Better Tomatoes