20 Fun Homemade Wooden Toys for Kids.
Have you given your children any wooden toys yet? They are so much better for your home than normal plastic toys! No plastics emitting fumes and no lights and noise to overwhelm your child. And homemade wooden toys are very easy to make. Plus, a homemade gift is always appreciated by parents with little ones! For some fun ideas, check out these 20 Easy DIY Wooden Kids' Toys!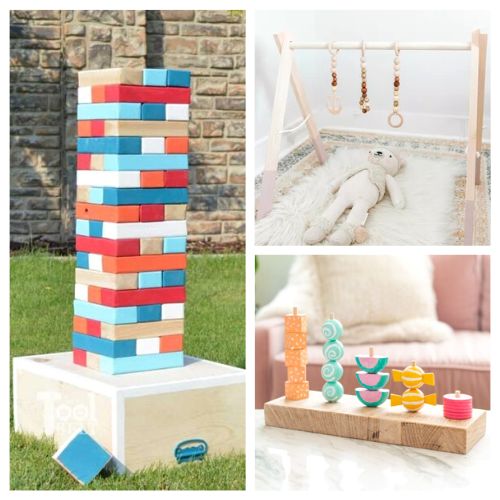 Disclosure: This post may contain affiliate links to Amazon and/or Etsy, which means that I may earn a small commission from some of the links in this post. Please see our Disclosure Page for more information.
Make one of these DIY wooden kids' toys to inspire your child to use their imagination!
20 Easy DIY Wooden Kids' Toys
Here are some tips to help you make the best DIY wooden kids' toys:
Dye the wood with food coloring! It is very easy to dye natural wood with food coloring. The colors are bright and beautiful and the process is so simple!
Sand sharp corners. Be sure to sand sharp corners. Children's skin is tender and will easily get splinters, cuts, and bruises. Sand all your homemade wooden toys to ensure safety.
Use scraps. Most of these projects can be made out of scraps of wood you may have leftover from other projects. This makes them cheap, simple, and great for tiny imaginations!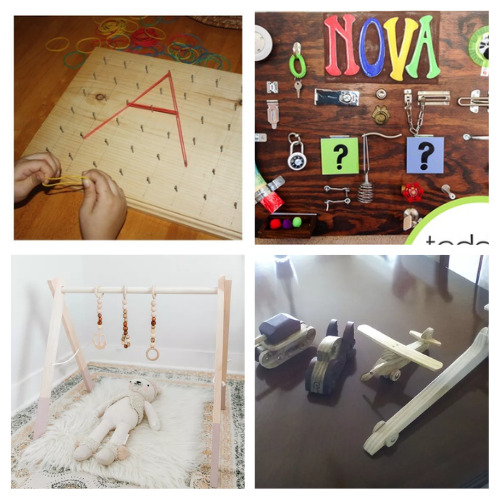 1. DIY Geoboard from Little Bins for Little Hands
2. Toddler Busy Board from Hands On As We Grow
3. Wooden Baby Play Mat from April on Home Talk
4. Wooden Toys from Stephen Taylor on Home Talk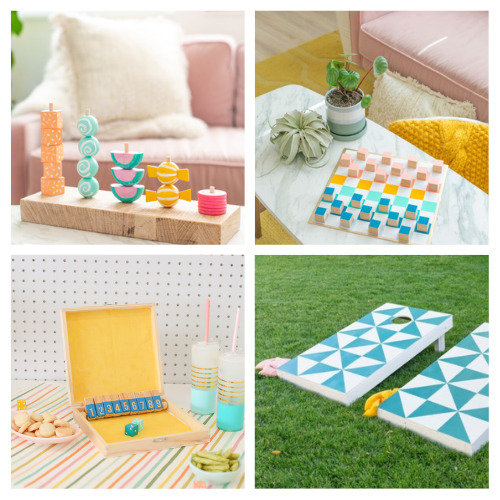 5. Wooden Candy Stacking Toy from Lovely Indeed
6. Wooden Checkers and Chess Set from Lovely Indeed
7. Wooden How to Shut the Box Game from Lovely Indeed
8. DIY Cornhole Board from Lovely Indeed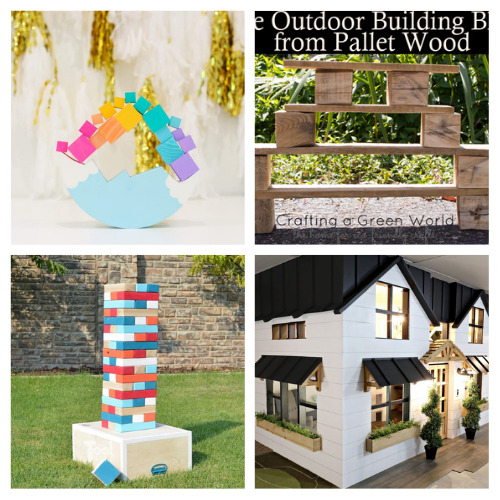 9. DIY Wooden Balance Game from Lovely Indeed
10. Outdoor Building Blocks from Crafting a Green World
11. Giant Backyard Game from Her Toolbelt
12. Basement Playhouse from Her Toolbelt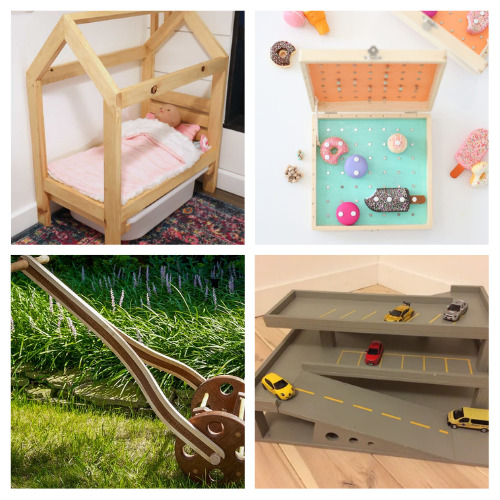 13. Doll Bed from Her Toolbelt
14. Sweets Battleship Game from Lovely Indeed
15. Toy Lawn Mower from Instructables
16. Toy Car Garage from Instructables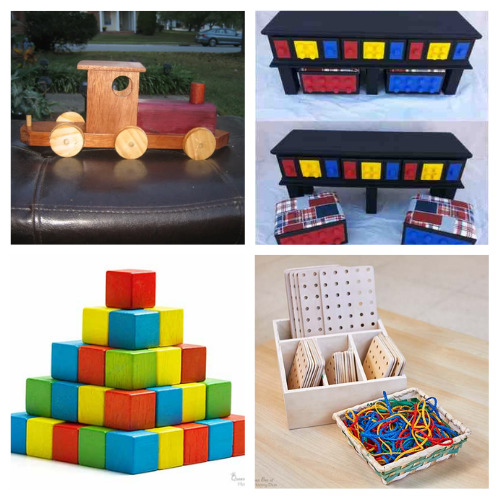 17. DIY Wooden Locomotive from Instructables
18. DIY Lego Table from DIY Fun Ideas
19. Simple Wooden Blocks from Queen Bee of Honey Dos
20. Lacing Boards from Queen Bee of Honey Dos
Have you made wooden toys before? What did you make?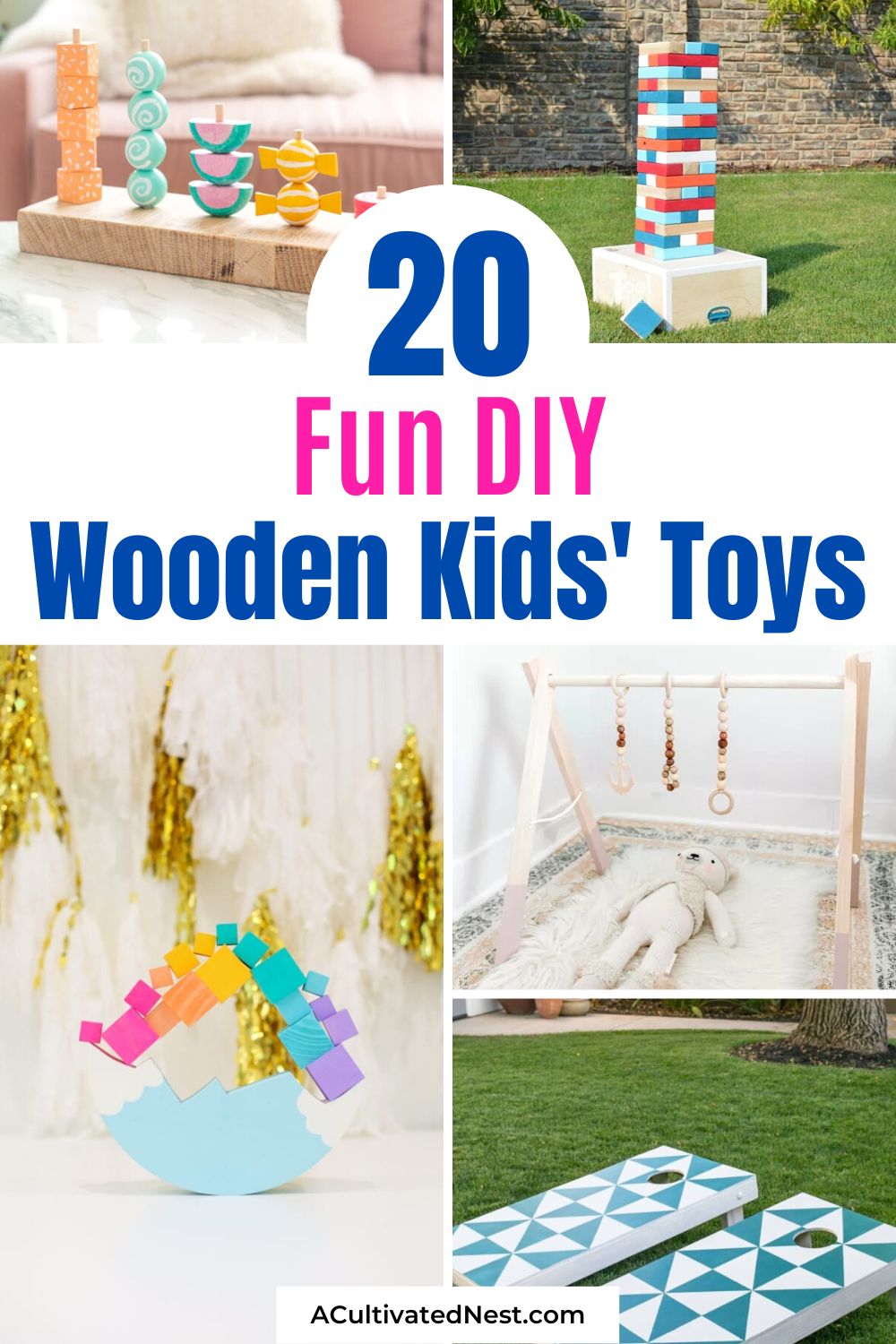 You might also be interested in: 20 Free Printable Coloring Pages for Kids