Fun Mod Podge Craft Ideas.
If you like to do craft or DIY projects, then you know that Mod Podge is an essential crafting material. There are several different formulas and finishes of Mod Podge available, and with them, you can decoupage paper, fabric, wood, and other porous materials together. To help you plan your next Mod Podge craft, I've found 16 Pretty Mod Podge Projects to inspire you!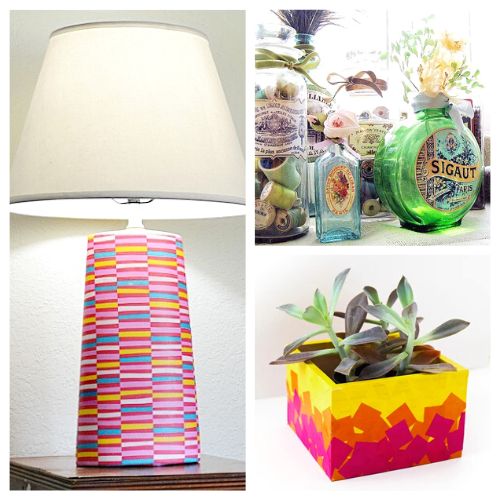 Disclosure: This post may contain affiliate links to Amazon and/or Etsy, which means that I may earn a small commission from some of the links in this post. Please see our Disclosure Page for more information.
The fun thing about Mod Podge is that you can use it to complete really easy projects or really complicated ones. Plus, a jar will last you a long, long time!
16 Pretty Mod Podge Projects
Here are some tips to ensure your mod podge project looks its best!
One Layer at a Time. Brush on your mod podge one layer at a time and allow it to dry for at least 20 minutes before adding more.
The More Layers, The Better. If you want your project to be really smooth, add more layers of mod podge. It may take 5 or 6 to get a smooth finish.
Allow to Cure. Allow your project to cure for about 4 weeks to ensure the mod podge is set and won't smudge during use.
1. Mod Podge Image Transfer Terra Cotta Pots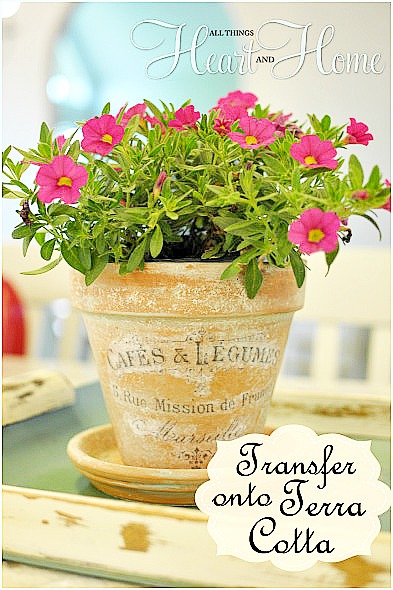 This is such a clever way to decorate terra cotta pots! All Things Heart and Home shows you how to make your own printed graphics to make image transfer terra cotta pots!
2. Mod Podge Ceiling Fan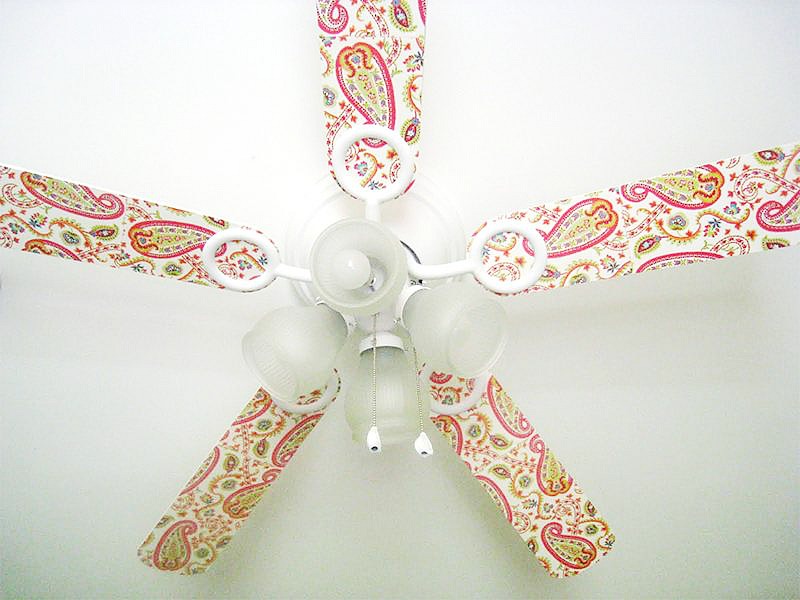 How cute would it be to customize the ceiling fan in a child's bedroom or even an outdoor ceiling fan!  Get Your Craft On shows you how to easily makeover a ceiling fan with some Mod Podge and some scrapbook paper.
3. Mod Podge DIY Vintage Bottles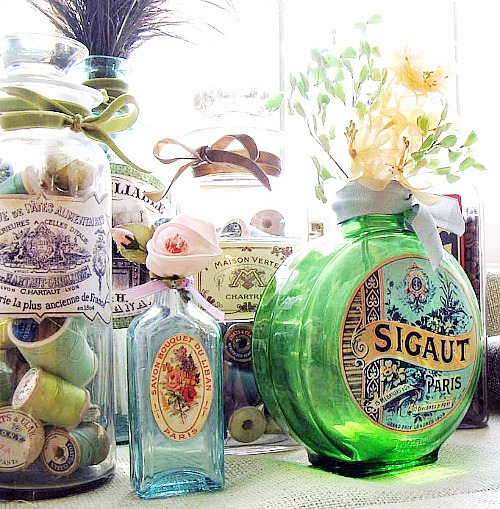 These bottles and jars look so pretty with their new labels! Mod Podge Rocks shows you how to use Mod Podge to make your own bottles and jars with vintage labels!
4. Mod Podge French Decoupage Desk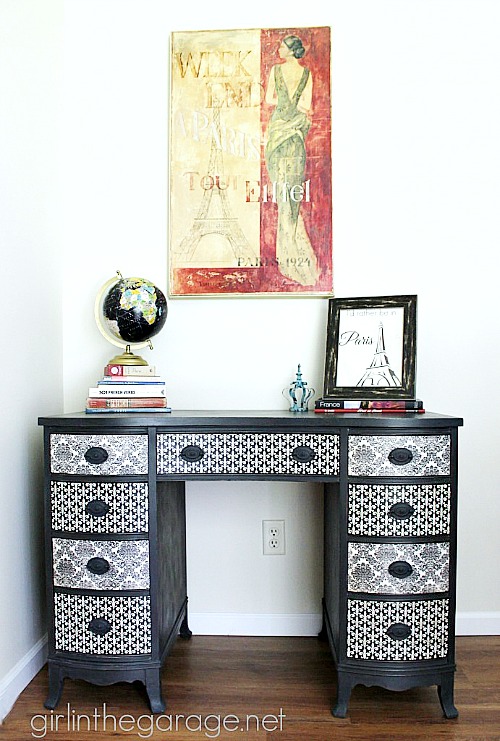 This is a beautiful desk makeover! Check out how Girl in the Garage used Mod Podge and scrapbook paper to make the pretty patterned desk drawers!
5. Mod Podge Napkin Weight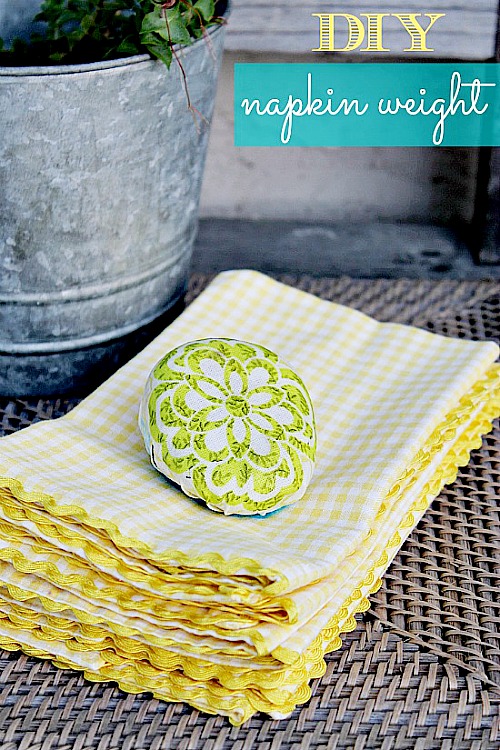 This is such a pretty napkin weight! It would probably make a great paperweight for my desk, too. The Centsible Life shows you how to use Mod Podge, fabric, and a rock to make your own pretty fabric-covered napkin weight!
6. Mod Podge Decorative Coaster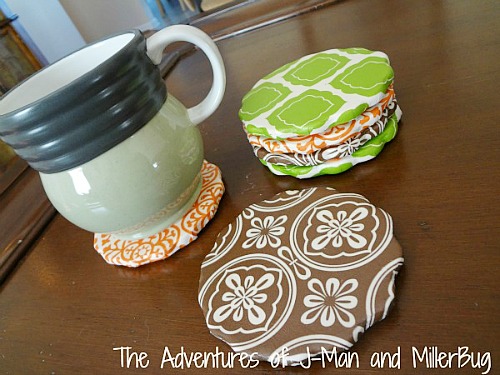 These coasters are so cute! It's hard to believe they used to be plain white ceramic coasters. The Adventures of J-Man and MillerBug shows you how to use Mod Podge to make your own pretty decorative coasters!
7. Mod Podge Gift Wrap Lamp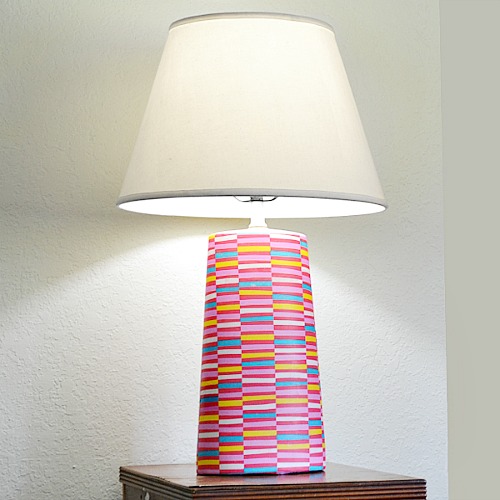 This is a very clever idea with such a cute result! Mom Spark explains how she made this pretty lamp base with Mod Podge and tissue paper!
8. Mod Podge Outdoor Drink Holder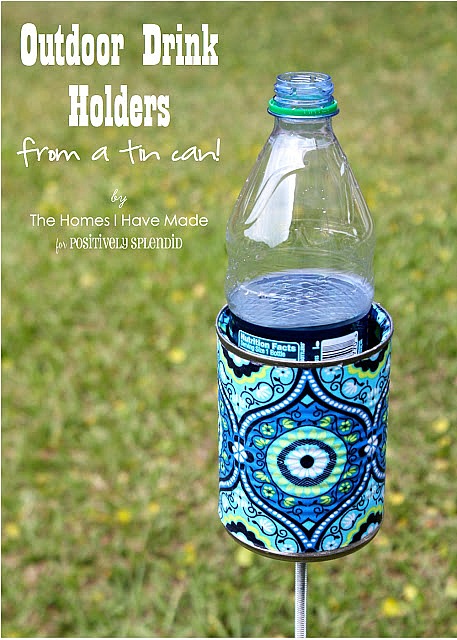 What a great way to upcycle a tin can! Check out Positively Splendid's tutorial on how to use Mod Podge, fabric, and a tin soup can to make an adorable outdoor drink holder!
9. DIY Confetti Balloons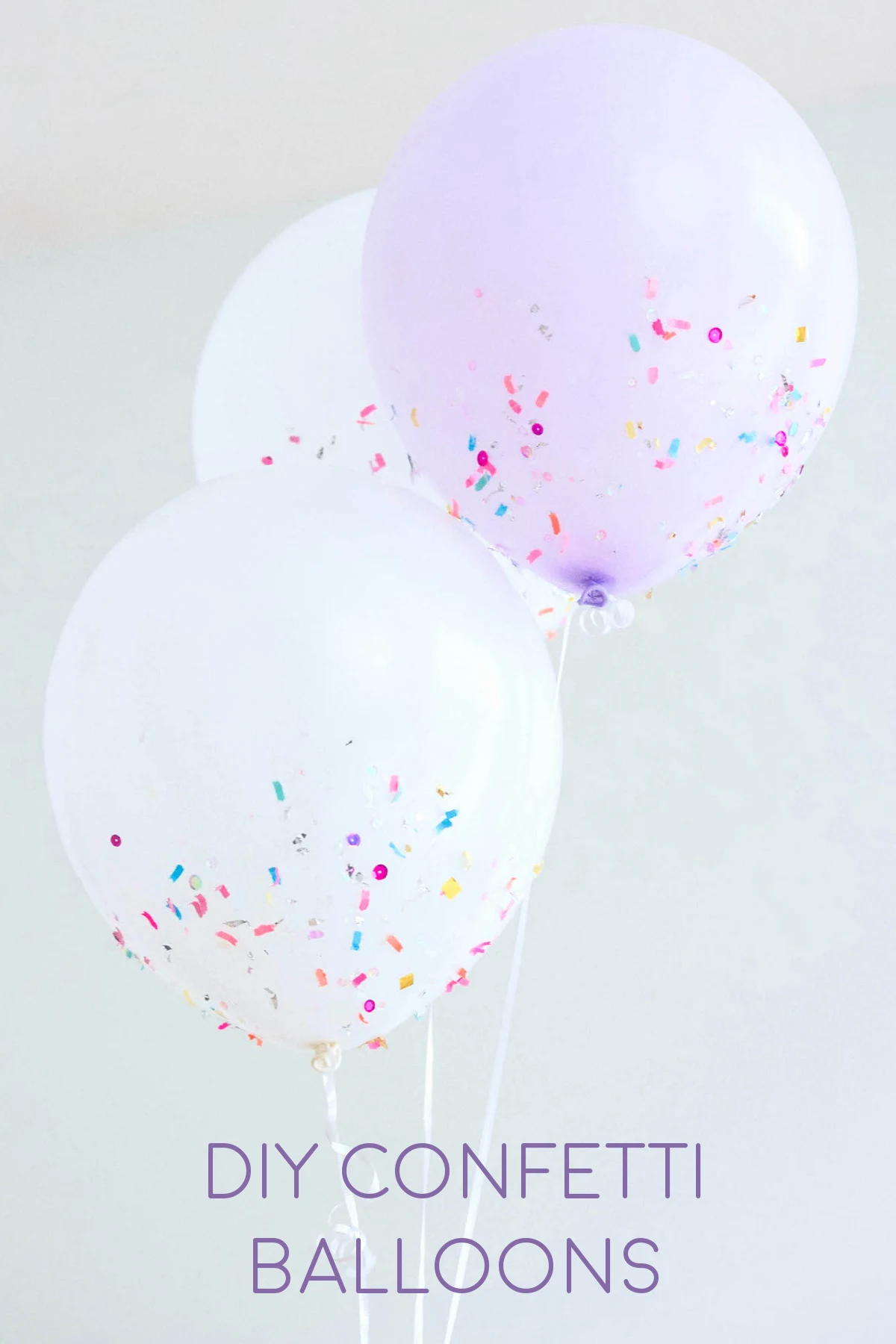 Make your own DIY confetti balloons with mod podge. Mod Podge Rocks has the steps to make these.
10. Mod Podge Fabric Pumpkins
Use some fabric, pumpkins, and mod podge to create these adorable pumpkins! Use scraps of fabric and make them in all sorts of colors. Create Craft Love was the original creator.
11. Mod Podge Gift Tags
Create Craft Love makes her own gift tags with mod podge, and you can make your own too!
12. Mod Podge Photo Cubes
These photo blocks would make a great gift for someone special! Running With Sisters shares all the steps to make these picture blocks.
13. Mod Podge Map Mirror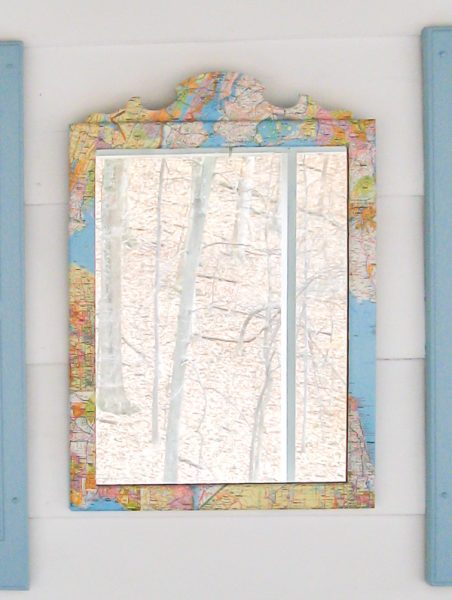 Learn how to wrap a mirror in maps, and you can redo all your old furniture! Lovely, Etc. shows you how to complete this project.
14. Mod Podge Plate
Take an ordinary plate and turn it into something beautiful with mod podge and fabric. Click the link to visit Craft Bits to see how to make this project.
15. Mod Podge Suitcase
Use fabric to cover an old suitcase, and you have this beautiful project. Sarah Hearts shows you how to make this mod podge suitcase.
16. Planter Box
Sarah Hearts creates this adorable planter box with mod podge and tissue paper. It looks simple to make and I can't wait to try it!
Here are some useful articles on using Mod Podge:
Everything You've Ever Wanted To Know about Mod Podge @ Mod Podge Rocks!
How To Prevent Mod Podge Bubbles @ Craftaholics Anonymous
Have you ever made a project using Mod Podge?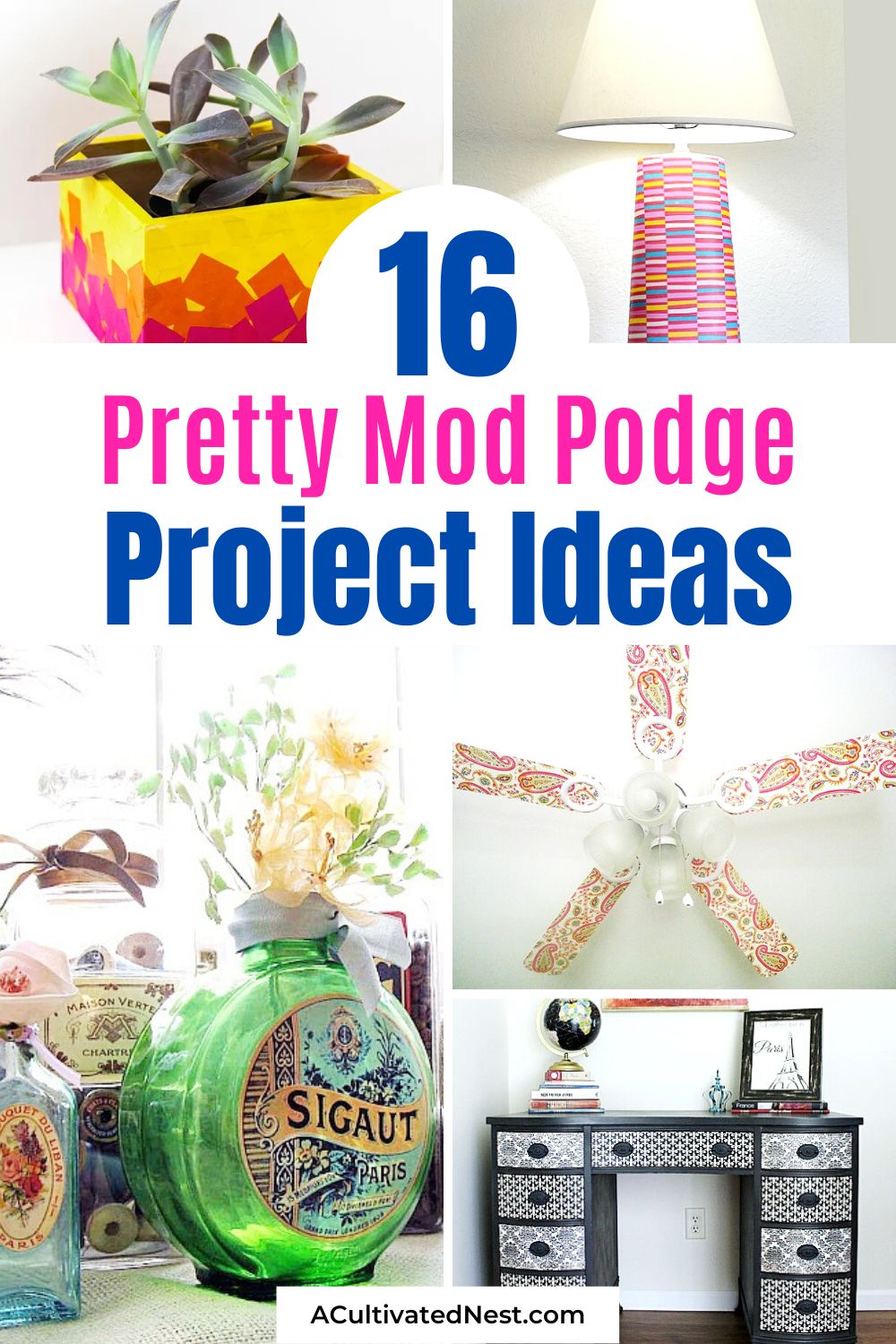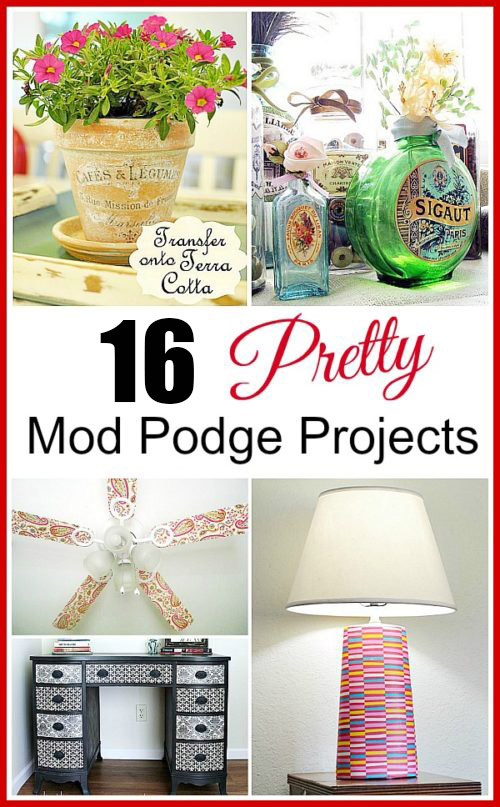 You might also be interested in: 12 Fun DIY Craft Letter Decoration Ideas