If you like to do craft or DIY projects, then you know that Mod Podge is an essential crafting material. There are several different formulas and finishes of Mod Podge available, and with them you can decoupage paper, fabric, wood, and other porous materials together. To help you plan your next Mod Podge craft, I've found 11 Pretty Mod Podge Projects to inspire you!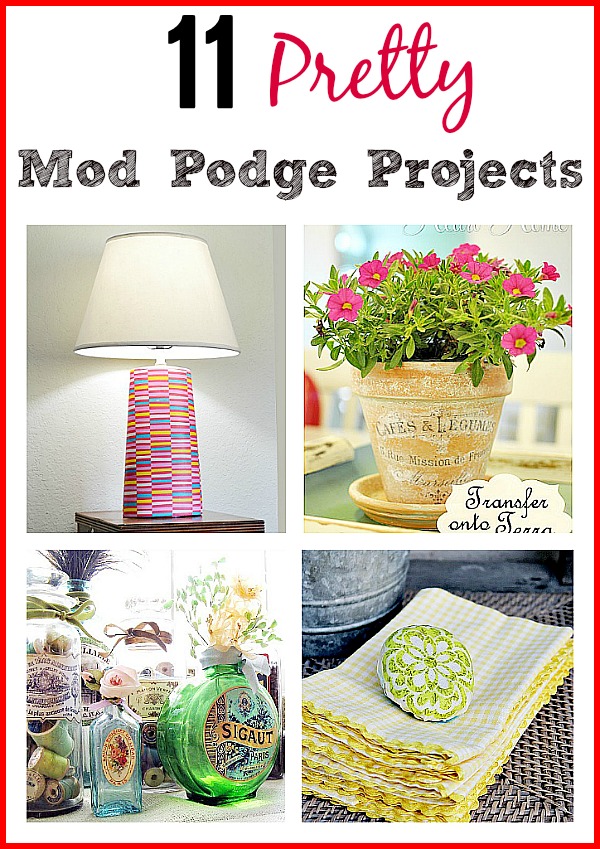 The fun thing about Mod Podge is that you can use it to complete really easy projects or really complicated ones. Plus a jar will last you a long long time!
11 Pretty Mod Podge Projects
1. Mod Podge Image Transfer Terra Cotta Pots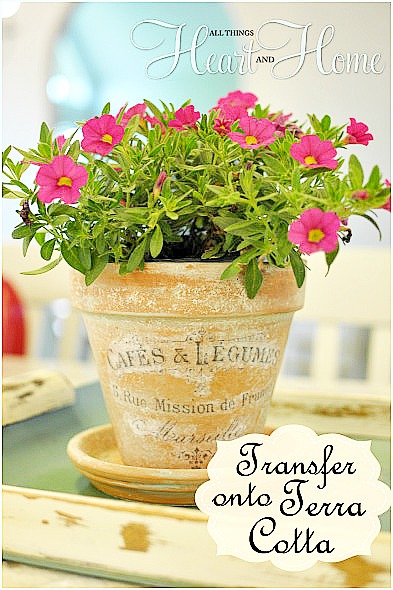 This is such a clever way to decorate terra cotta pots! All Things Heart and Home shows you how to make your own printed graphics to make image transfer terra cotta pots!
2. Mod Podge Ceiling Fan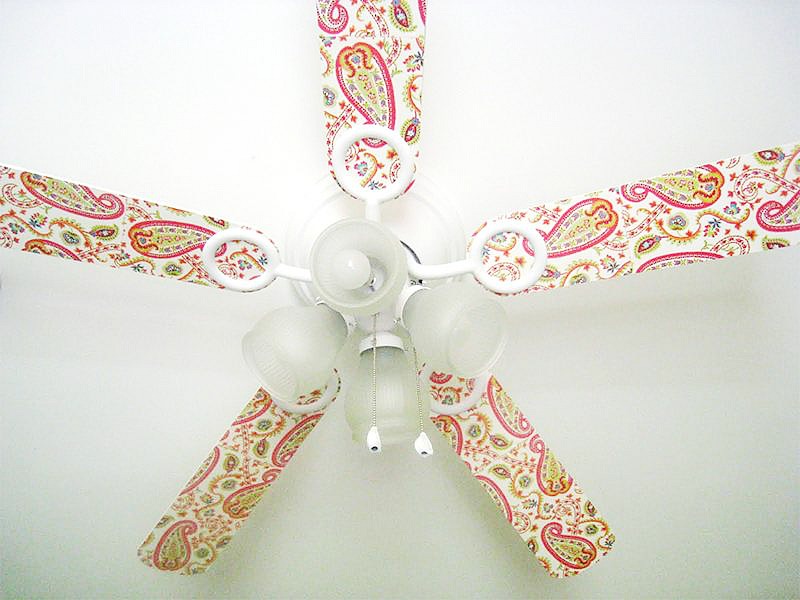 How cute would it be to customize the ceiling fan in a child's bedroom or even an outdoor ceiling fan!  Get Your Craft On shows you how to easily makeover a ceiling fan with some Mod Podge and some scrapbook paper.
3. Mod Podge Fabric Covered Light Switch Plates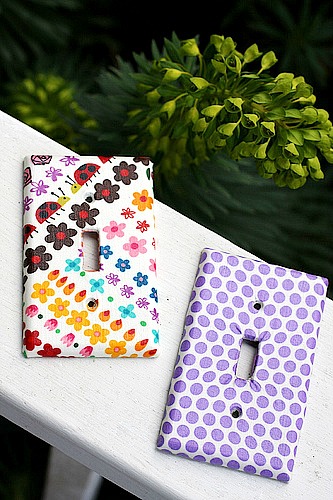 These fabric covered light switch plates are so cute! Buy plain cheap ones and customize them to your decor. Pink Chalk Studio shows you how to easily make your own fabric covered wall switch plate using Mod Podge.
4.  Mod Podge DIY Vintage Bottles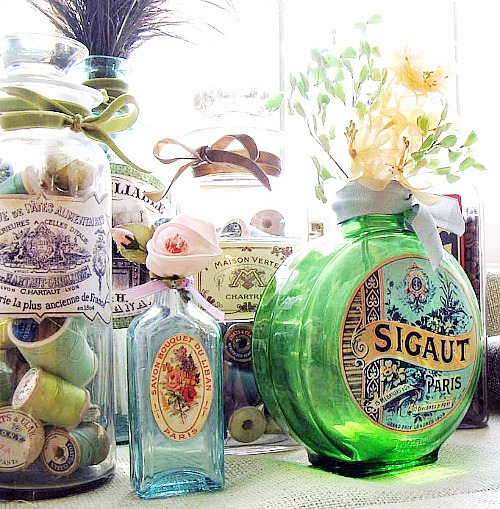 These bottles and jars look so pretty with their new labels! Mod Podge Rocks shows you how to use Mod Podge to make your own bottles and jars with vintage labels!
5. Mod Podge Canvas Art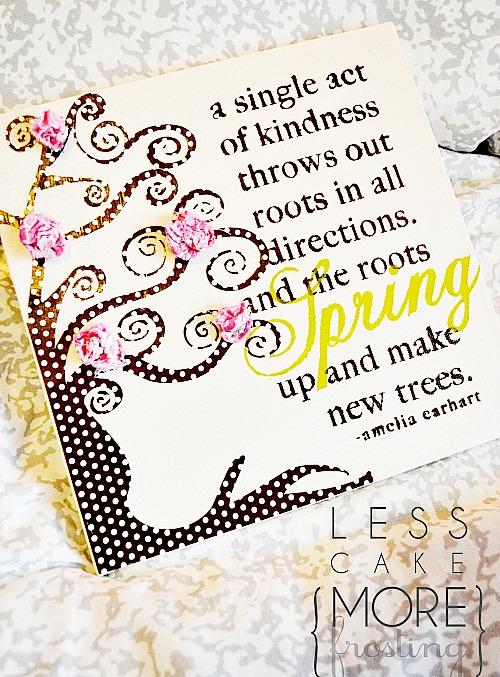 This is such pretty project! Check out Less Cake More Frosting's tutorial on how to use Mod Podge, paper, and fabric to put together your own pretty custom canvas art!
6. Mod Podge French Decoupage Desk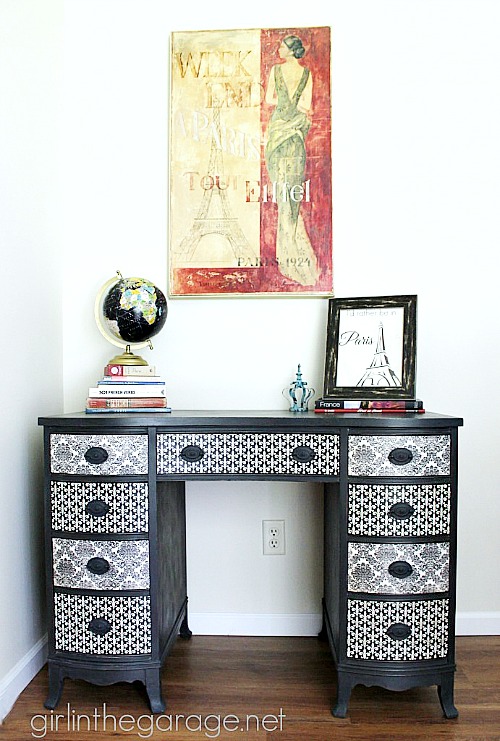 This is a beautiful desk makeover! Check out how Girl in the Garage used Mod Podge and scrapbook paper to make the pretty patterned desk drawers!
7. Mod Podge Napkin Weight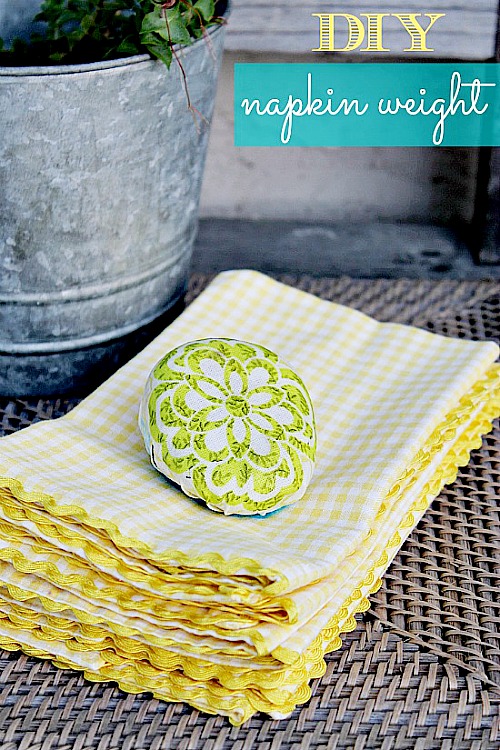 This is such a pretty napkin weight! It would probably make a great paperweight for my desk, too. The Centsible Life shows you how to use Mod Podge, fabric, and a rock to make your own pretty fabric covered napkin weight!
8. Mod Podge Decorative Coaster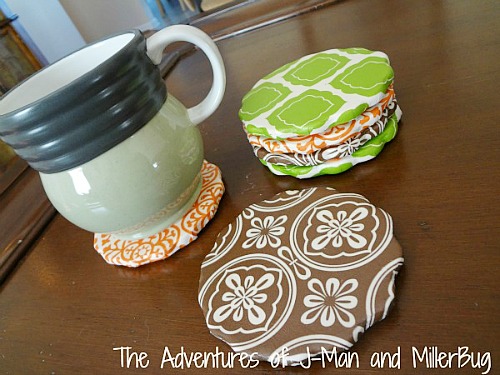 These coasters are so cute! It's hard to believe they used to be plain white ceramic coasters. The Adventures of J-Man and MillerBug shows you how to use Mod Podge to make your own pretty decorative coasters!
9. Mod Podge Gift Wrap Lamp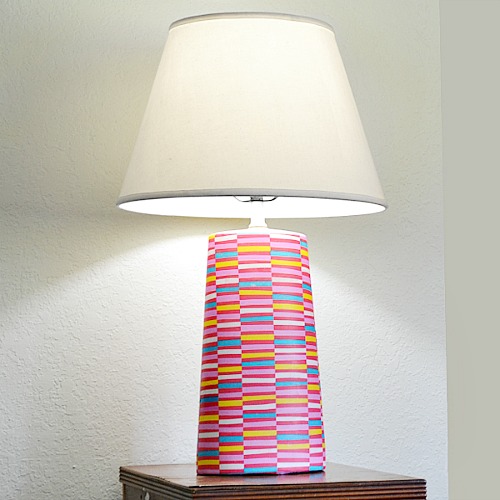 This is a very clever idea with such a cute result! Mom Spark explains how she made this pretty lamp base with Mod Podge and tissue paper!
10. Mod Podge Outdoor Drink Holder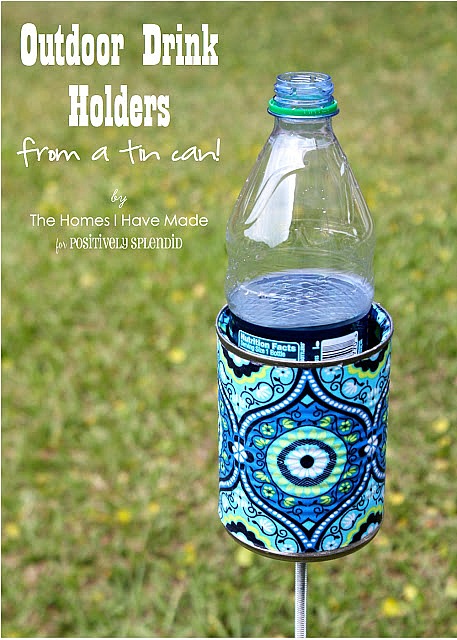 What a great way to upcycle a tin can! Check out Positively Splendid's tutorial on how to use Mod Podge, fabric, and a tin soup can to make an adorable outdoor drink holder!
11. Mod Podge Upcycled Decoupage Chair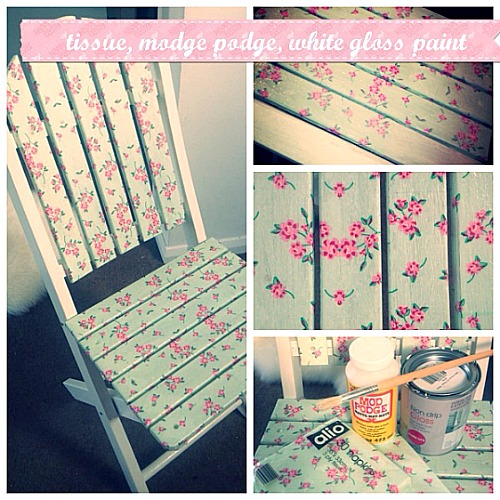 Isn't this chair beautiful!  Follow the tutorial on Guidecentral to find out how to upcycle your own old chair using Mod Podge and printed tissue paper!
Please visit the linked sources for the tutorials.
Here are some useful articles on using Mod Podge:
Everything You've Ever Wanted To Know about Mod Podge @ Mod Podge Rocks!
How To Prevent Mod Podge Bubbles @ Craftaholics Anonymous
Have you ever made a project using Mod Podge?
You May Also Like:
This post may contain affiliate links please see our disclosure here.