Brilliant Laundry Room Organization Tips.
I don't have a  laundry room per se. My "laundry room" is in my garage. It's more of a laundry area 🙂 . We recently spruced up that area, and I was looking at some cute laundry rooms for inspiration and thought I'd share a few Laundry Room Organization Ideas with you.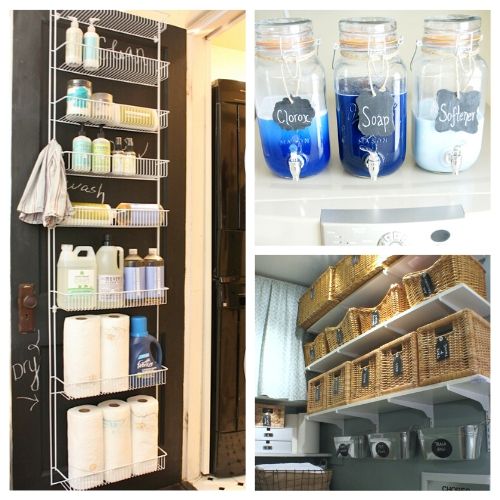 Disclosure: This post may contain affiliate links to Amazon and/or Etsy, which means that I may earn a small commission from some of the links in this post. Please see our Disclosure Page for more information.
Having an organized laundry room makes doing laundry so much easier! When you can quickly grab what you need it helps remove those few frustrating minutes you spend searching for stuff. Plus, organization helps to make the most of small laundry spaces. For some great laundry room organizing tips, check out all the great ideas below!
11 Laundry Room Organization Ideas
I'm sure a few of these ideas will make an appearance when I do my laundry room reveal! Here are some great ideas for organizing your laundry area! But first, here are some general laundry room organizing tips:
Organizing Your Laundry Room
When it comes to arranging your laundry room, the little things really add up. Making subtle changes can make a significant impact on how it looks and feels. Once you have everything organized, it's going to be a lot less tempting to toss something here or there when it has a place to go. Take a look at these steps to get you started:
Steps To Organize Your Laundry Room
1. Get rid of items you no longer need. Do you have things like broken hangers, empty soap bottles, socks you've been hanging onto forever looking for the match? If so, it's time to get rid of them. You no longer have a use for these items, and they are taking up valuable space. Go through everything and decide if it's worth keeping, trashing, donating, or selling.
2. Clean all of your laundry room top to bottom. You'll be amazed at all the lint and dust bunnies that are hiding in your laundry room. If you are looking to keep it organized, start off right by cleaning everything. It will look and smell amazing. That feeling will keep you striving to make it stay that way.
3. Utilize the space you have. If you don't have a large laundry room, don't worry! There are plenty of ways to utilize the space available. Think outside of the box. If you have some vertical space, hang shelves or baskets to make up for a narrow laundry room. The options are endless if you use all the space you have available.
4. Make sure everything has a proper place and stick with it. Use labels, baskets, or bins to make it visible where each item goes. That way, no matter who is in there, they will be able to tell where to find each piece and that it needs to be put back there. Labeling everything that you can ends up saving you time in the end! Here are some free printable labels for organizing!
1. Stain Fighting Station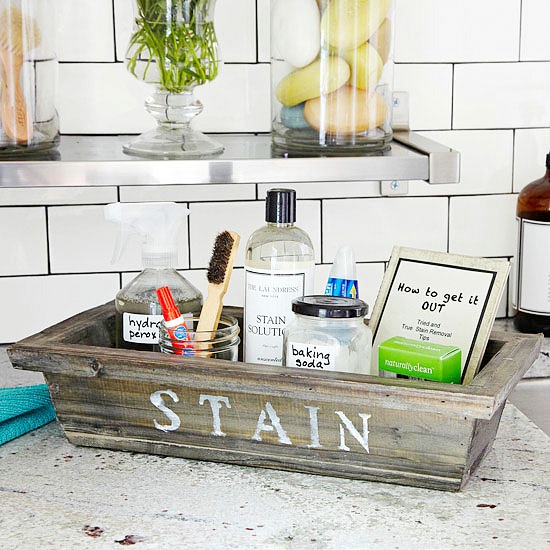 Love the idea of keeping all the stain treating products in one easy to find place. via Better Homes & Gardens
2. Utilize Towel Racks For Storage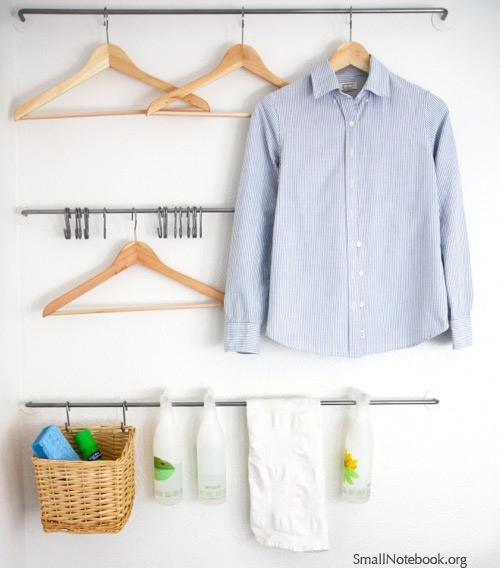 Towel racks are inexpensive and look how great they work for organizing a laundry area! via Small Notebook.
3. Add A Door Hanger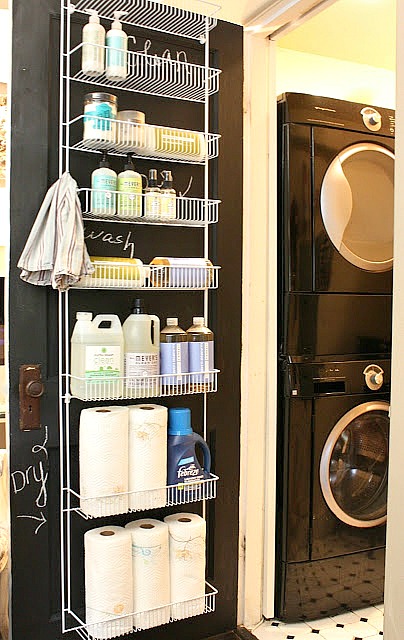 Using the back of the door is always a smart idea, especially in a small space (which laundry rooms usually are) via My Sweet Savannah.
4. Add Small Shelves In Tight Places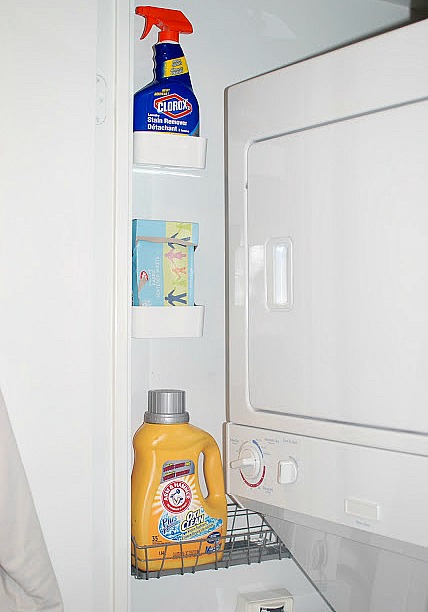 If you have more of a laundry closet, you could add some small shelves on a side wall like these from Waffling.
5. Use Lazy Susans To Organize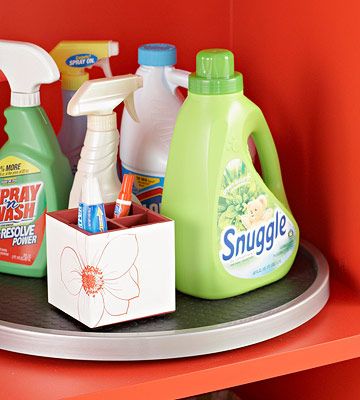 Corralling laundry items on a lazy Susan is a brilliant idea. via Better Homes & Gardens.
6. DIY Laundry Pedestal Organizer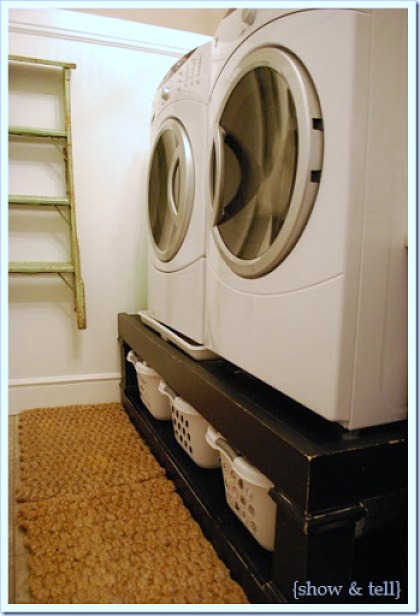 This is such a clever way to make room for more storage! Head on over to Sweet Pickins Furniture to learn how to make your own DIY laundry pedestals!
7. Keep A Dry Erase Pen Handy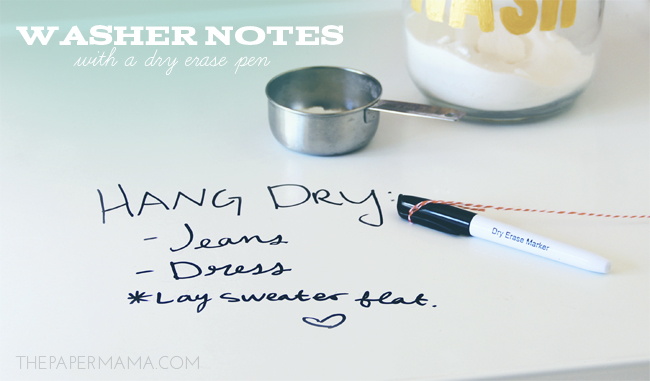 LOVE this idea to keep a dry erase marker on your washer to leave special laundry instructions via The Paper Mama.
8. Have A Place For Pocket Finds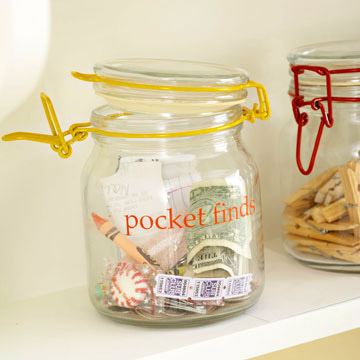 Having a separate jar or bin for "pocket finds" is a great idea via Better Homes & Gardens.
9. Hooks Are Handy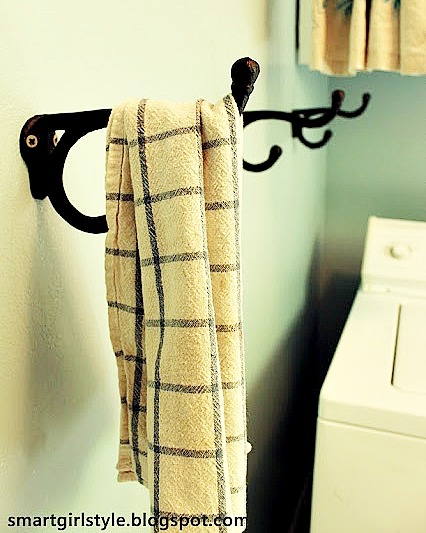 Mount some hooks on a laundry room wall to use for drying items like these from Smart Girl Style.
10. Use Drink Dispensers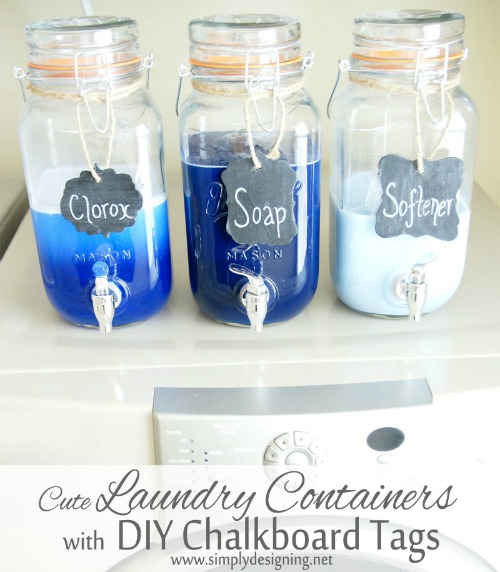 Here a pretty way to contain your detergent. You can use jars for powdered detergent and drink dispensers for liquid detergent like these from Simply Designing. 
11. Add Some Bins And Baskets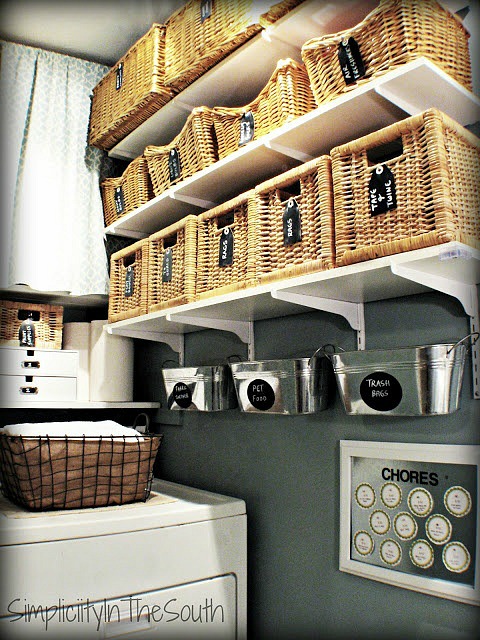 Of course, you always need bins and baskets! Love the chalkboard tags on these from Simplicity In The South.
Check out my Pinterest Laundry Room Board for more ideas!
What room do you hate organizing the most?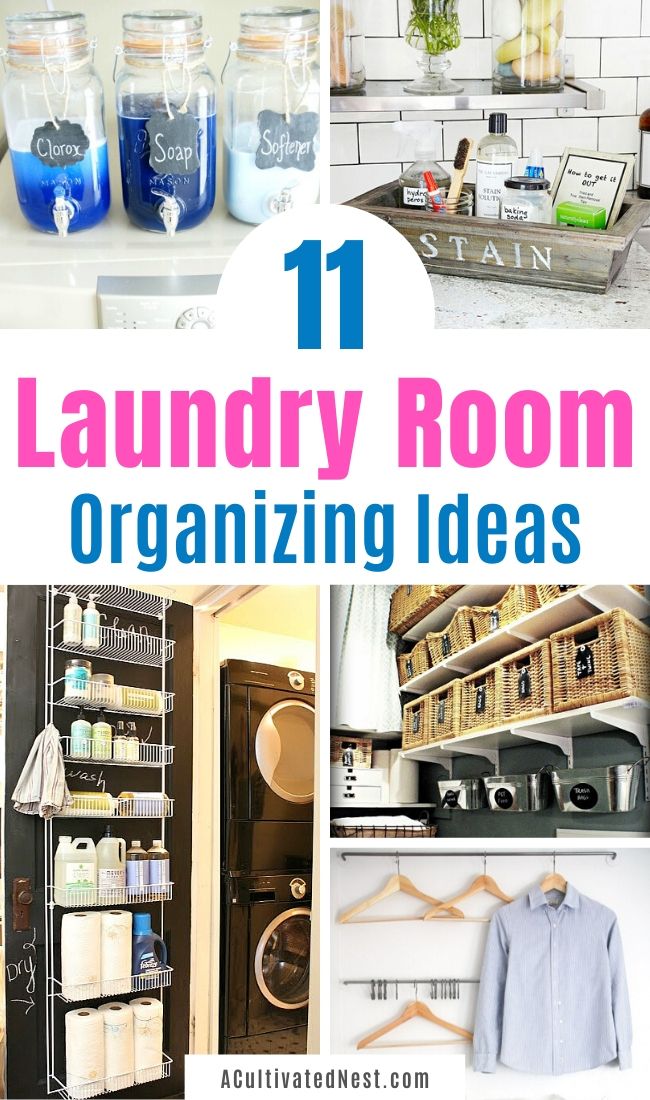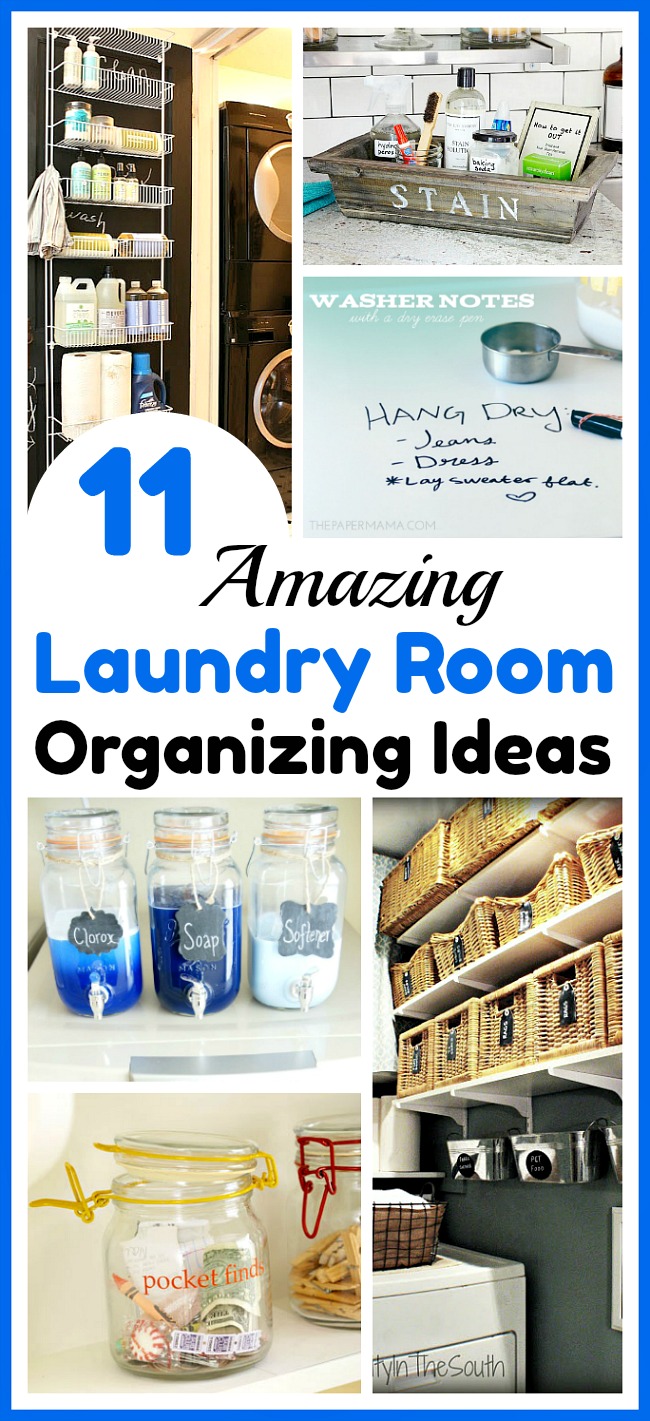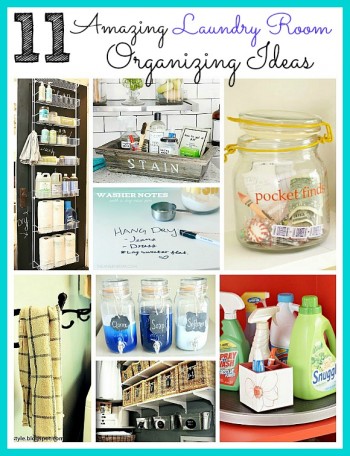 You might also be interested in: 10 Frugal DIY Laundry Products