12 Cute Tin Can Upcycle Projects.
You know I love a good upcycle! Especially when it uses an everyday type of object. I'm sure most of us have empty cans of some sort. So instead of putting them in recycling put them to use! Here are 12 Pretty Ways to Use an Ordinary Tin Can.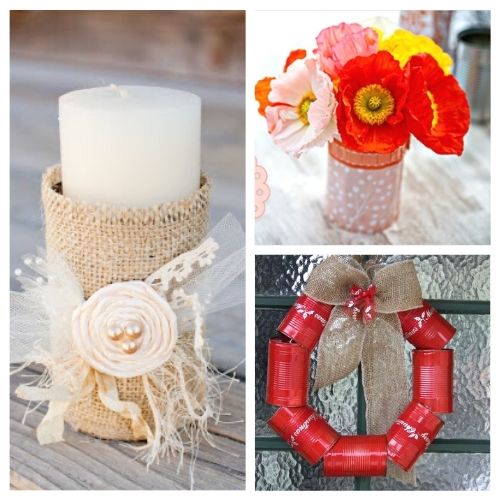 Disclosure: This post may contain affiliate links to Amazon and/or Etsy, which means that I may earn a small commission from some of the links in this post. Please see our Disclosure Page for more information.
Upcycling is such a great way to save money, reduce waste, and making something fun and new, all at the same time!
12 Ways to Re-use Old Tin Cans
Before you start on your tin can upcycle projects, here are some things to consider:
Very Thrifty! Most of these would cost you practically nothing to make! You will have most of the craft supplies already in your stash and you will have old tin cans lying around!
Make great planters. I saw a lot of ideas to use tin cans as planters for small plants around the house. You can decorate the cans or keep them plain; whatever your heart desires!
Be sure to wash and dry. When you are done with your can, be sure to wash all the food residue away, and then remove the sticker/label (Avery has some good tips on how to do this). I like to dry my cans after they're clean so they don't start to rust too.
1. Shabby Chic Decor
I love how these shabby chic tins use vintage jewelry! See how to make them at Fox Hollow Cottage.
2. Paper Wrapped Cans

Tin cans simply wrapped in pretty paper from Recyclart. These would be great for a themed party, baby shower, or bridal shower for table decorations! Simple and can be changed to match the colors and theme!
3. Tin Can Caddy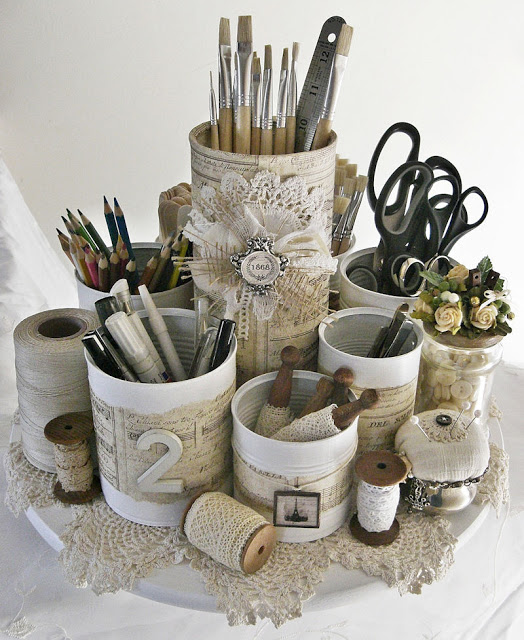 A practical and pretty shabby chic tin can caddy from Shabby Chic Inspired. This would be great for a craft room, office space, or in the bathroom.
4. Tin Can Organizers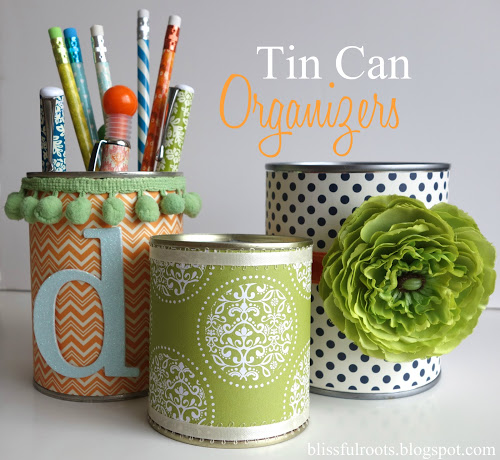 Scrapbook supplies embellish these tin can organizers from Blissful Roots. Use paper to match your home space and tidy up tons of areas around the house!
5. DIY Floral Container Covers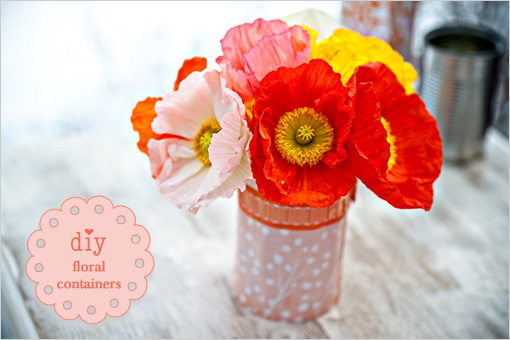 DIY floral container covers for tin cans from Wedding Chicks is a great way to decorate on a budget! Fill them with fresh flowers to bring even more color to the tables.
6. Candle Holder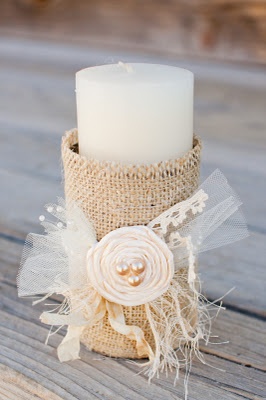 This burlap-covered tin can candle holder from Red Chandelier is so shabby chic and useful. It will collect all your melting wax and look cute doing it!
7. Vintage Halloween Decor
Create some Halloween decor from old tin cans to spruce up your home this fall! See how Fox Hollow Cottage makes these with everyday craft supplies.
8. Fall Table Decor
I really like these fall-themed tin cans from Fox Hollow Cottage. The colors and embellishments bring a nice warm, cozy feel to your house!
9. Tin Can Lights
Create this hanging tin can light set for Christmas or all year long! Recyclart shows you how to create this fun, wall decor from tin cans!
10. Tin Can Pumpkins
Make some cute tin can pumpkins in a few simple steps! Create Craft Love shows you how to turn ordinary tin cans into some cute fall decorations!
11. Closet Organizer
Use several tin cans to make a closet organizer! This would be great for scarves or other small clothing items! Running With Sisters has this cute idea.
12. Tin Can Wreath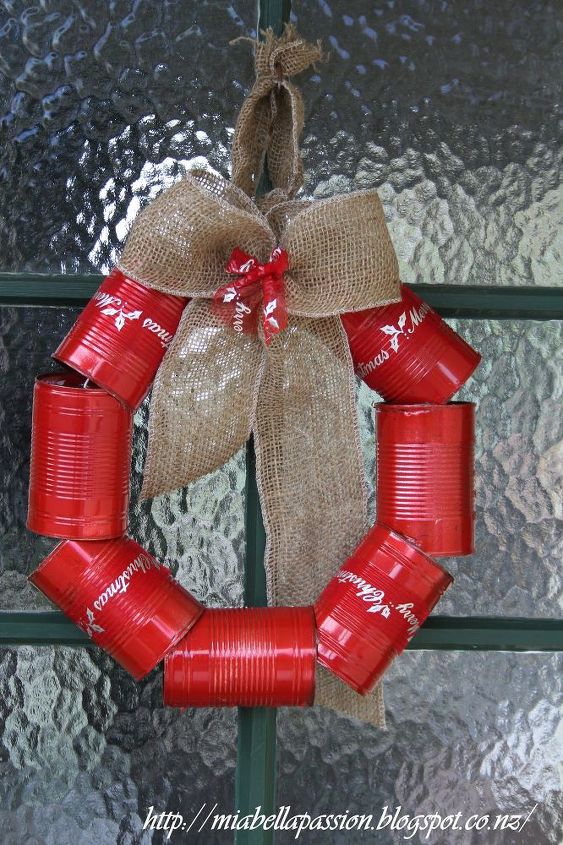 Create a wreath out of tin cans to spruce up your door! Hometalk shows you how to make this wreath in just a few steps!
Isn't it amazing what you can do with an ordinary tin can! I'm so inspired to upcycle some cans for organizers to use in my office re-do! I hope you're inspired to do something pretty with your tin cans too!
What is your favorite upcycle project that you've done?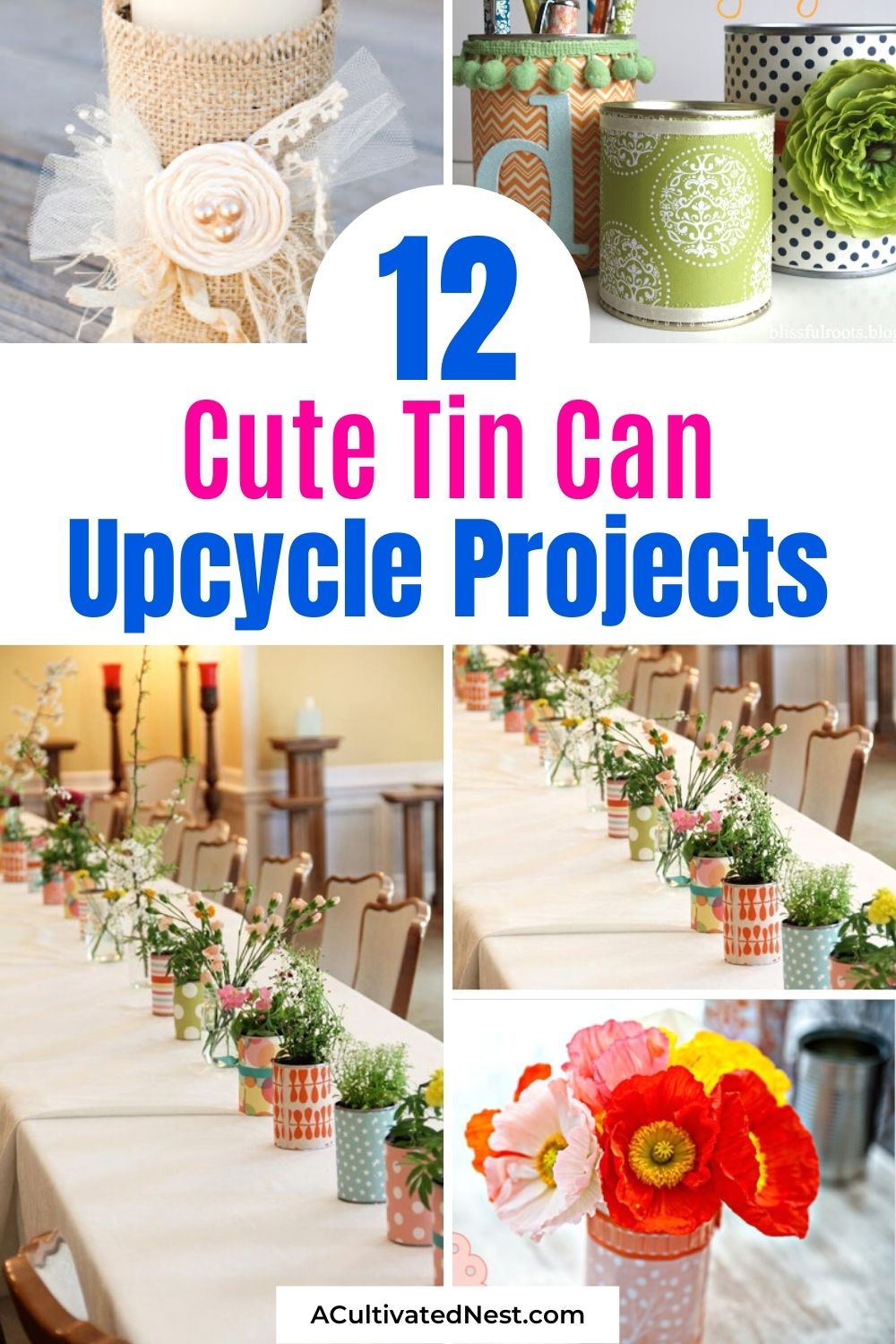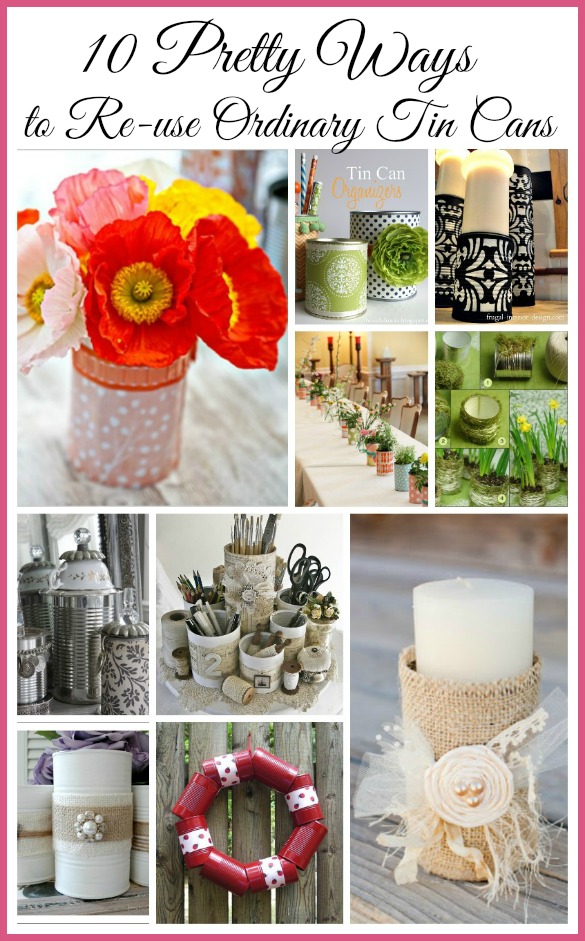 You might also be interested in: 20 Thrifty Upcycled Denim Projects