Beautiful Mason Jar DIYs for Christmas.
Christmas is nearly here! That means it's time to start thinking about how you want to decorate your home for the holidays! One of my favorite ways to decorate is with Mason jars! They're inexpensive and easily customized in a variety of ways. You can paint them, glue things on them, fill them; you name it! For inspiration, check out these 20 Festive Christmas Mason Jar Crafts!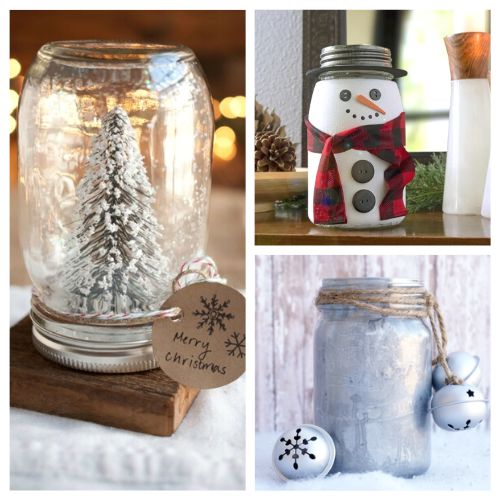 Disclosure: This post may contain affiliate links to Amazon and/or Etsy, which means that I may earn a small commission from some of the links in this post. Please see our Disclosure Page for more information.
It's amazing how many things you can make with Mason jars or upcycled glass jars (pasta sauce jars, baby food jars, etc.)!
20 Festive Christmas Mason Jar Crafts
Here are some tips to help you make the prettiest Christmas Mason jar crafts!
Paint the outside of the jar. Only paint the outside of the jar if you are going to use it for food storage. Most paints are not edible or food safe.
Mason Jar Storage. I found these Mason jar storage boxes to keep your decorative jars safe between seasons.
No need to prime. Make sure you wash your jars before you paint them, but there is no need to prime them. If you choose the right paint, it will stick to the glass.
1. Santa Painted DIY Christmas Mason Jar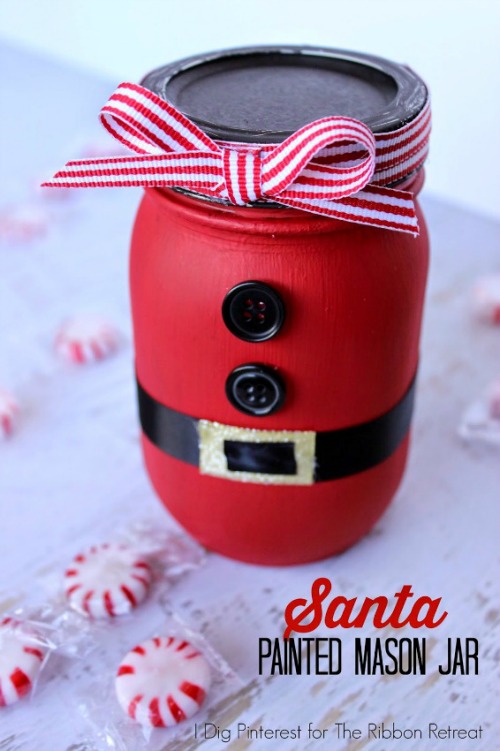 This is such a lovely Mason jar craft! You could either display it in your home or fill it with goodies and give it as a gift! The Ribbon Retreat shows how to make this cute Santa Mason jar!
2. Snowy Pinecone Luminaries DIY Christmas Mason Jars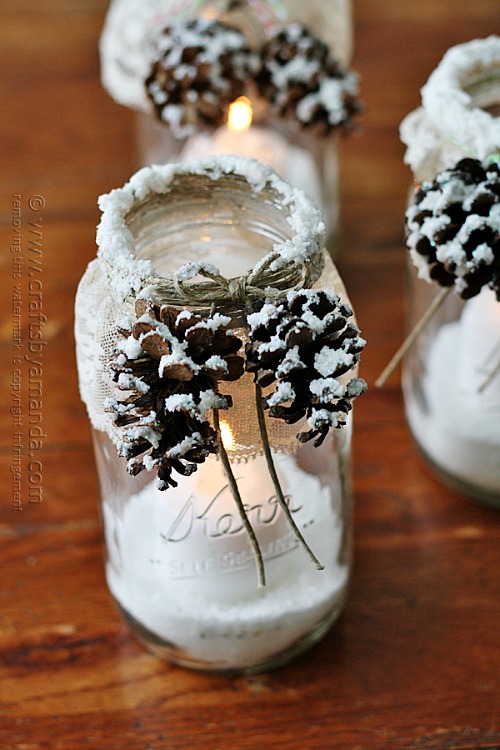 This Mason jar craft looks beautiful during the daytime and would have a lovely glow at nighttime! Make your own pretty Christmas luminaries by following Crafts by Amanda's tutorial!
3. Cranberries and Candles DIY Christmas Mason Jar Centerpieces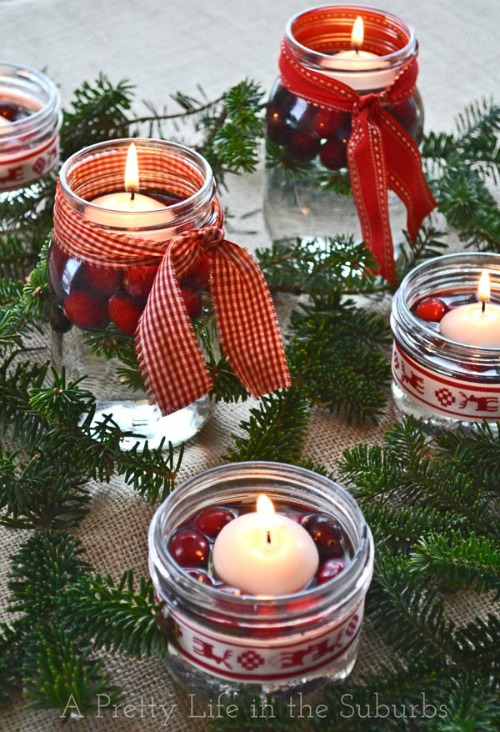 Wouldn't this look lovely on your Christmas dinner table? A Pretty Life explains how to make these beautiful Mason jar centerpieces!
4. Snowman Face DIY Christmas Mason Jar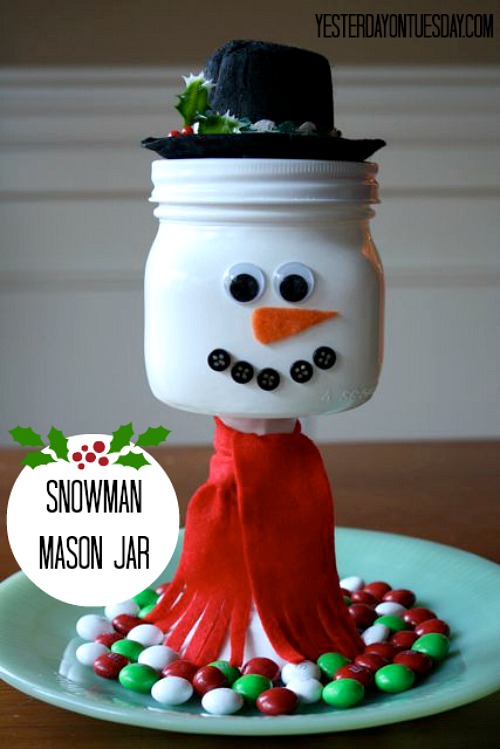 This is so adorable! And this is a great use for any smaller Mason jars you may have! Check out Yesterday on Tuesday's tutorial to make your own snowman Mason jar!
5. Christmas Lanterns DIY Mason Jars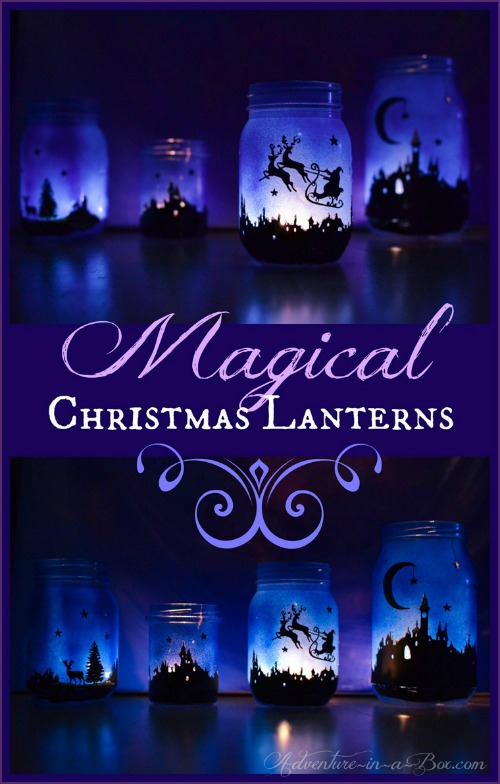 These truly do look magical! And they're not hard to make! Take a look at how Adventure in a Box made these gorgeous glowing Christmas lanterns!
6. Anthropologie Inspired DIY Mason jar Snow Globe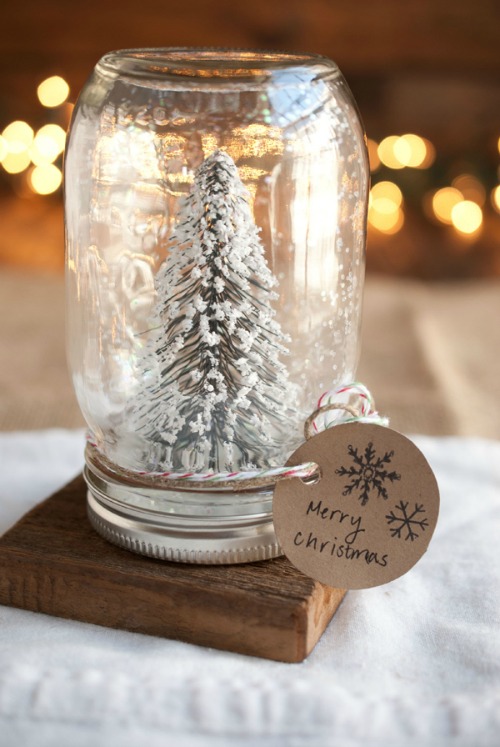 This snow globe is so pretty and only requires a few materials to make! Simple Craves and Olive Oil shows how to make your own Christmas Mason jar snow globe!
7. DIY Mason Jar Snow Globe Soap Dispensers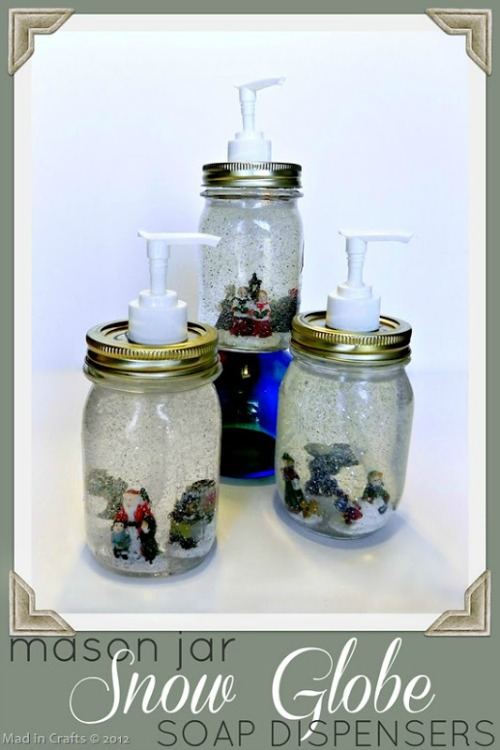 This is such a creative idea! Who wouldn't love to use such a pretty and festive soap dispenser? Find out how to make these DIY Christmas soap dispensers for your home by following Mad in Crafts' tutorial!
8. DIY Mercury Glass Mason Jar with Bells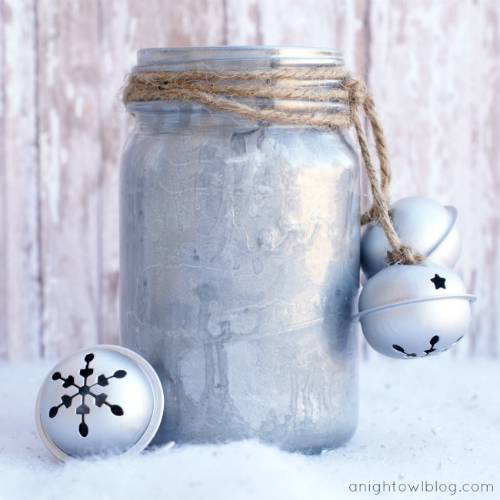 This would look wonderful on a mantel, table, or pretty much anywhere! Follow A Night Owl's tutorial to turn your own jar into a pretty silver mercury glass Mason jar!
9. Candle Holder Holiday Display DIY Mason Jars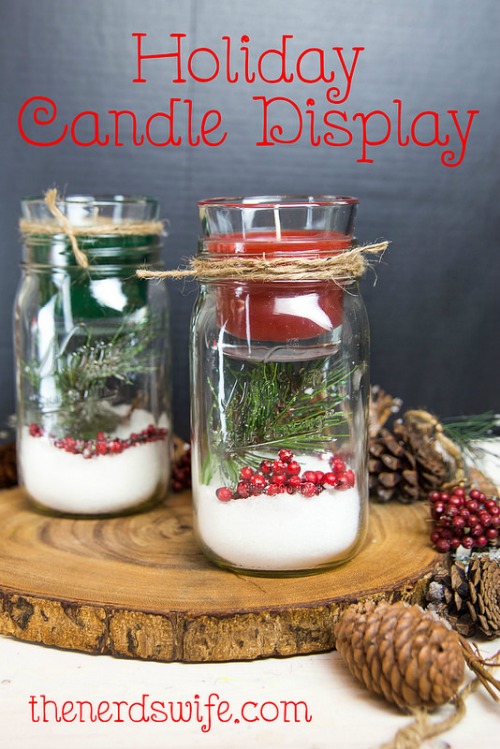 If you're like me, then you love to burn scented candles at Christmastime. This craft is a wonderful way to make those candles even prettier! Take a look at how The Nerd's Wife made these pretty DIY Christmas candle holders!
10. Holiday Jars for Gifts
Create Craft Love has a free download for this cute holiday gift tag. She uses vinyl and places it on a jar for a gift container. I love this because I like to give homemade snacks and treats, and this will make my jars more festive.
11. Mini Jar Ornament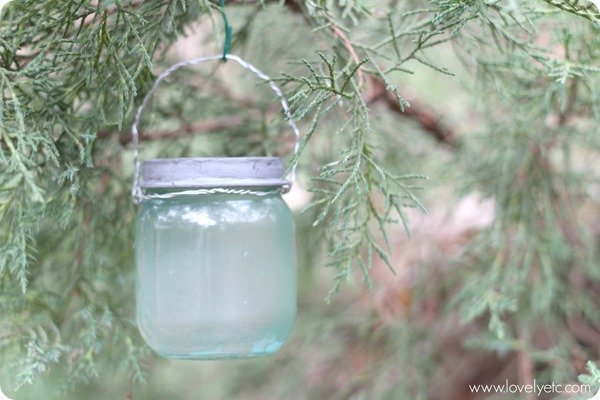 These mini Christmas ornaments are so cute and easy to make. Lovely Etc. uses baby food jars and other things you may have around your house or that are cheap to purchase.
12. Buffalo Check Mason Jar
Craft Bits has all the steps to paint a buffalo check jar to spruce up your Christmas decor.
13. Snowman Jars Set
I think these snowman jars are so cute and don't take a lot of artistic talent. These are right up my alley, and I can't wait to make them this year. Check out the post from Craft Bits to get the steps.
14. Mason Jar Epsom Salt Terrarium
Set these little Christmas scenes around your house to add a touch of sparkle all around. Craft Bits is the original poster, and I think the Epsom salt jars are just great.
15. Modern Advent Wreath
Meaningful Mama has a refreshed idea for an advent wreath, and I think it looks splendid.
16. Christmas Apothecary Jars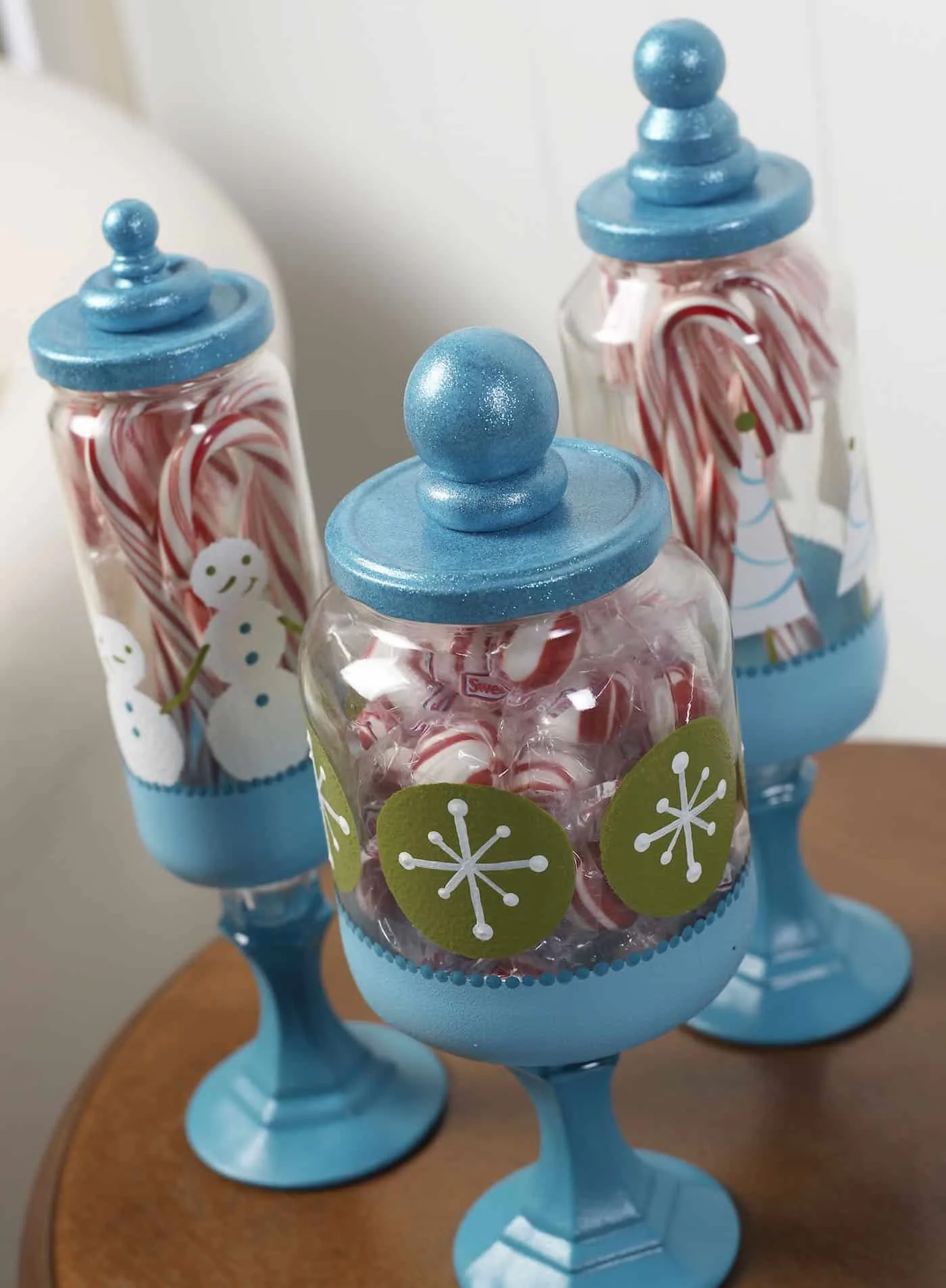 Make your own apothecary jars with a Christmas theme with a few materials and some paint. Check out how to make them at DIY Candy.
17. Snowman Jar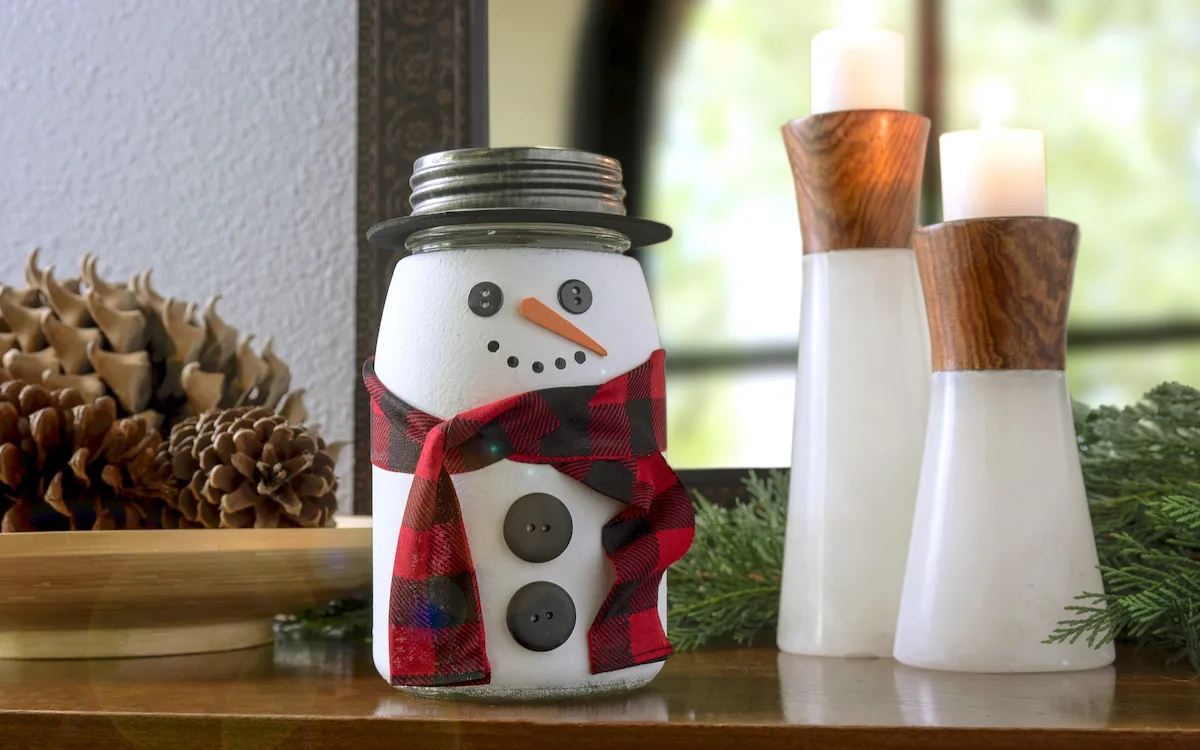 Turn a jar into a cute snowman! This little snowman will work as decor all winter long which I think is a win-win. DIY Candy has all the steps to make it.
18. Ugly Sweater Jars
These ugly sweater jars are so much fun, and I think they would make a great gift idea. Mason Jar Crafts Love is the original poster of this fun Christmas idea.
19. Mason Jar Snowglobes
Make your own snowglobes with mason jars and small Christmas items. These can be found at many dollar stores, so this project is a great one if you are on a budget. This idea is from Mason Jar Crafts Love.
20. Snowflake Jar
Check out Ginger Snap Crafts for this snowflake jar craft. It is quite simple to make and will work for decor past Christmas time.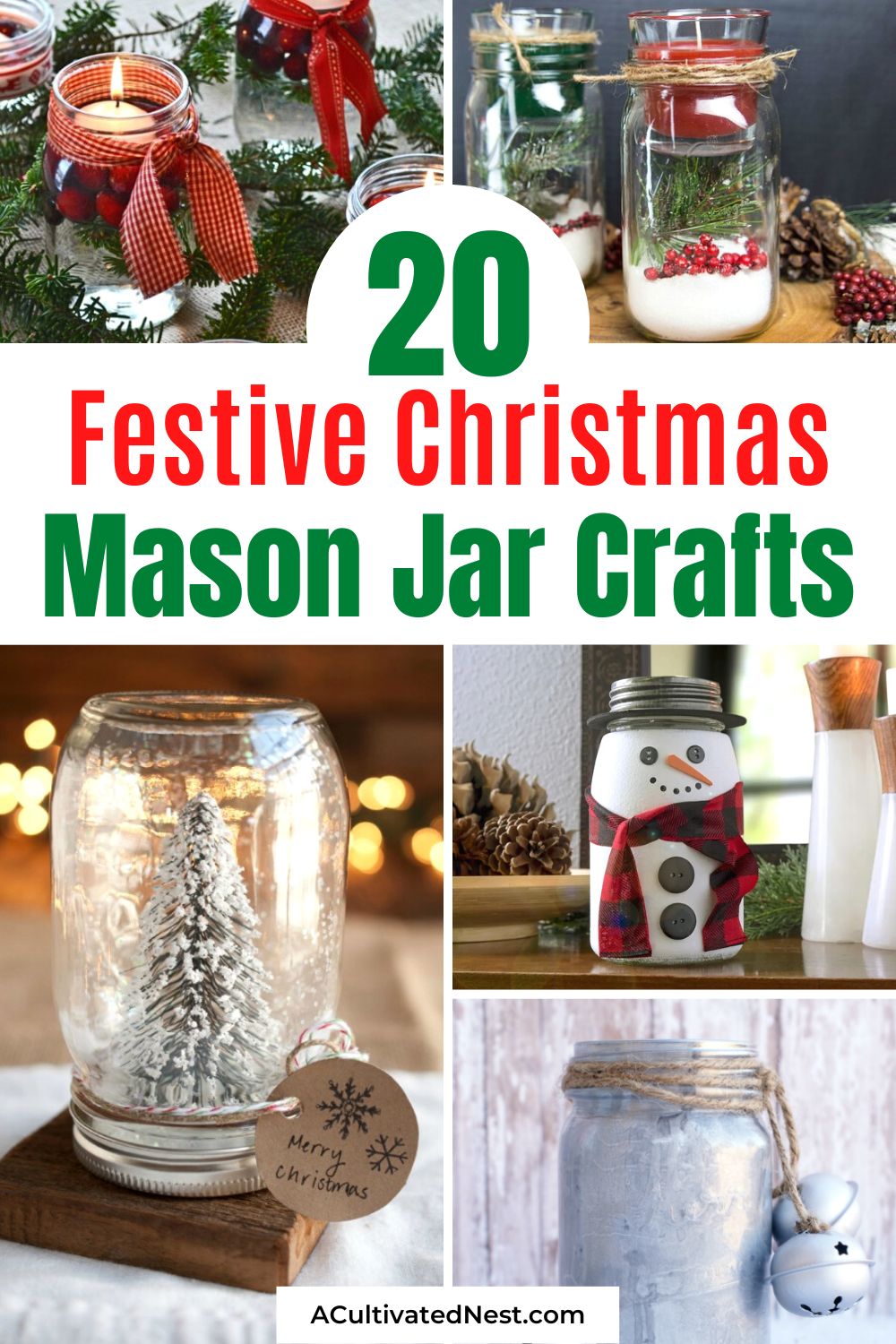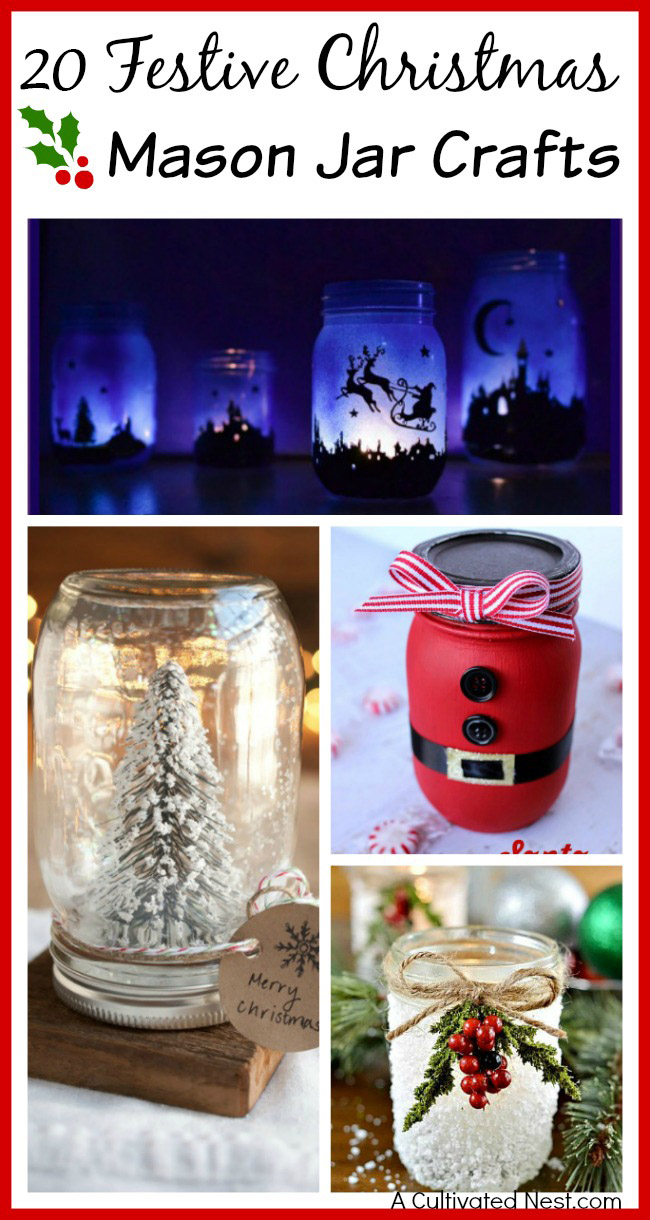 You may also be interested in: M&M Mason Jar Cookie Mix Recipe