Next Tuesday begins  the Fall Into Autumn series, where myself and 4 other bloggers will show you how we've decorated various areas in our homes for fall (you can check out that post here). So I just wanted to share with you one of the projects I've been working on – a DIY fall burlap wreath.  I will be using it on my mantel as part of my fall decorating.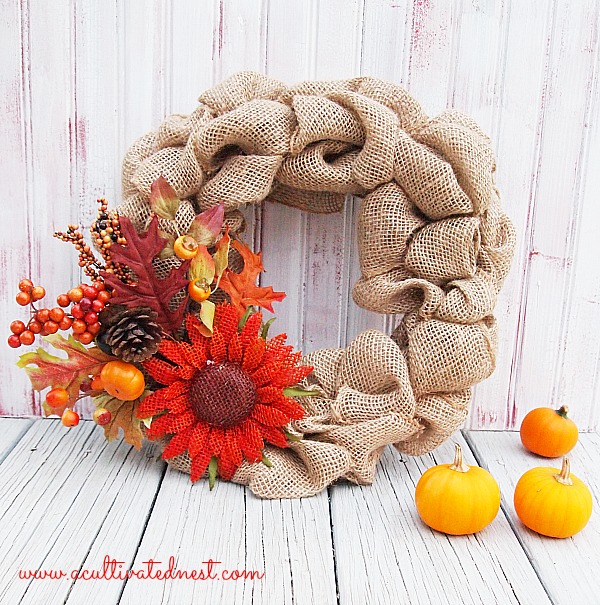 This is my first attempt at making this kind of wreath – I am not blessed with wreath making skills!
Burlap Wreath Instructions:
1. Get some fall faux flowers, leaves, pumpkins, pine cones  of your choice
2. 12 inch wire wreath form
3. Rolls of 6″ burlap ribbon (how many rolls you use depends on how close you make your burlap "bubbles" )
4. Hot glue gun (to glue on the fall embellishments)
I don't have a tutorial for making this wreath – there are plenty of burlap wreath tutorials out there already. To be honest…all of the tutorials for making this kind of wreath confused me for some reason (like Geometry).   Somehow it turned out alright. 🙂  I wound up doing my own thing!
But….my friend Yvonne at Stone Gable has How To Make A Burlap Wreath Tutorial that's pretty easy to follow. So check that one out.
Basically you wind your burlap through the wire wreath form and then hot glue on the fall decorations of your choice.
So easy!
Check out yesterday's post on decorating pumpkins if you missed it.