Next Tuesday begins  the Fall Into Autumn Decorating Series, where myself and 4 other bloggers will show you how we've decorated various areas in our homes for fall (you can check out that post here). So I just wanted to share with you one of the projects I've been working on – a DIY fall burlap wreath.  I will be using it on my mantel as part of my fall decorating!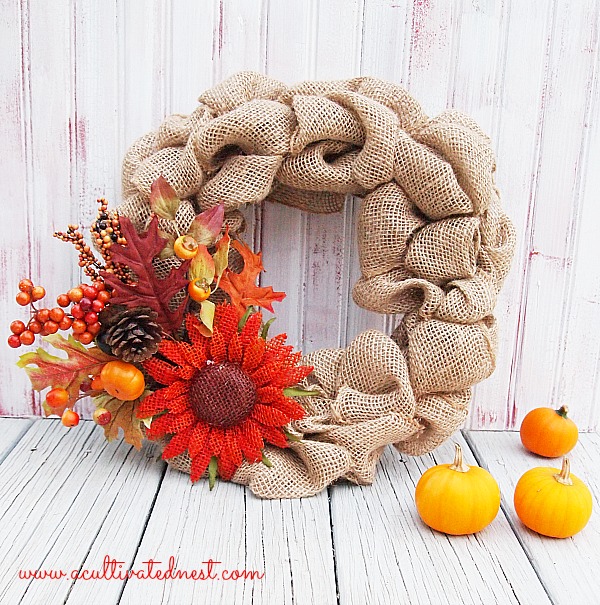 Disclosure: This post may contain affiliate links to Amazon and/or Etsy, which means that I may earn a small commission from some of the links in this post. Please see our Disclosure Page for more information.
This is my first attempt at making this kind of wreath – I am not blessed with wreath making skills! If you don't want to make one from scratch, you could buy a burlap wreath and then just add the embellishments yourself. That way you could color coordinate it with your fall decor. Some people like to do a neutral fall decorating look, some people even like a coastal fall decorating look. Whichever look you decided to do, a burlap wreath is a good basic decorating piece!
DIY Burlap Wreath Instructions:
1. Get some fall faux flowers, leaves, pumpkins, pine cones  of your choice (Dollar store ones work great for this project)
2. 12 inch wire wreath form
3. Rolls of 6″ burlap ribbon (how many rolls you use depends on how close you make your burlap "bubbles" )
4. Hot glue gun (to glue on the fall embellishments)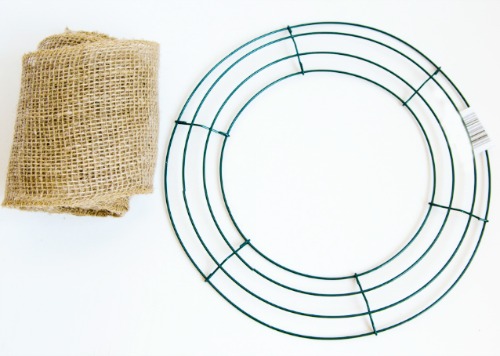 I don't have a step by step tutorial for making this wreath – there are plenty of burlap wreath tutorials out there already. To be honest…all of the tutorials for making this kind of wreath confused me for some reason (like Geometry).   Somehow it turned out alright. 🙂  I wound up doing my own thing!
But to get you started, you basically begin by securing the burlap ribbon to the wreath frame by making a knot or tying it on with a pipe cleaner or  floral wire. Then you push it through the section of the wire frame twisting and making loops as you go. When you're done you fluff your loops and tuck the end of the ribbon into the wreath with a bit of hot glue. Then you hot glue your fall decorations onto your wreath.
My friend Yvonne at Stone Gable has a  How To Make A Burlap Wreath Tutorial that's pretty easy to follow. So check that one out. But you might have to watch a youtube video like this one on how to make a burlap wreath in 10 minutes to really get the idea of what you're suppose to do. Once you get started it's really not that hard! I promise!
This post contains affiliate links to Amazon. Please see our Disclosure Page for more information.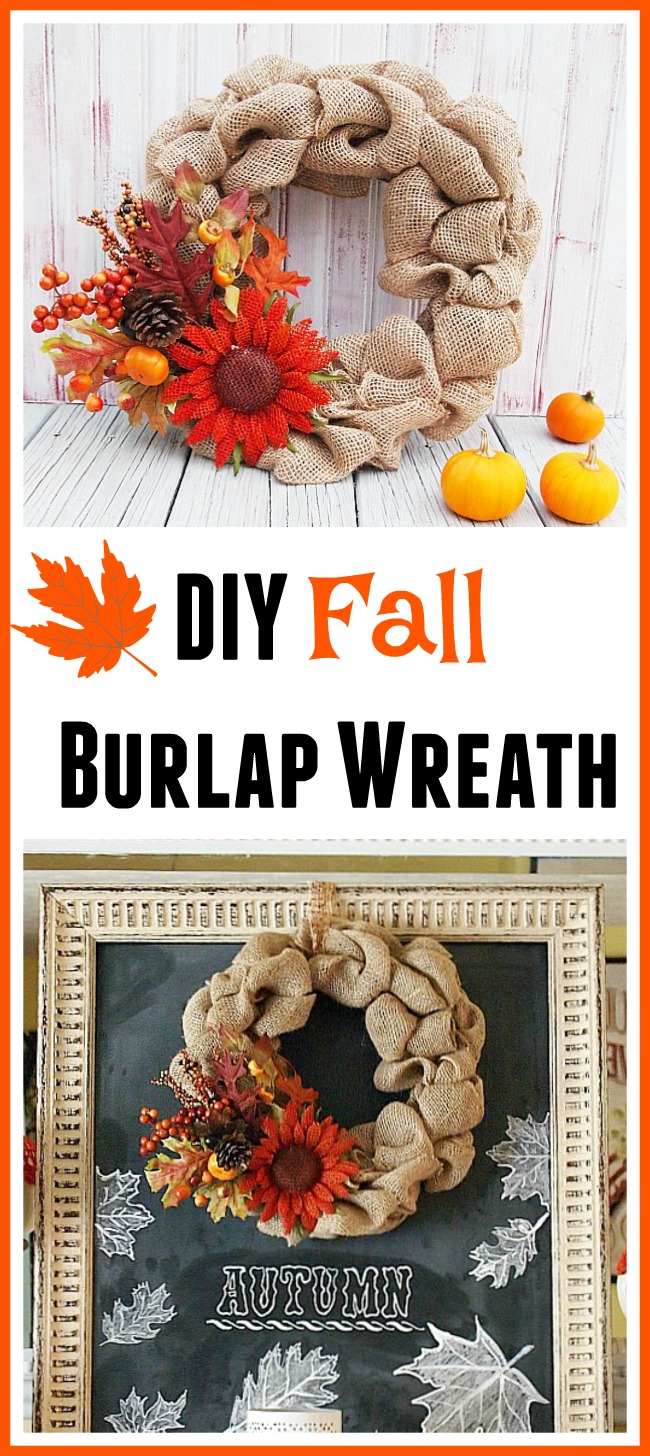 Want more fall wreath ideas? Check out this post 25 DIY Fall Wreaths