Hi everyone! I've been battling some horrible sinus something for the past week or so but finally feel better and was able to get a little project finished in my  guest bedroom into office/craft room makeover. I'm so excited!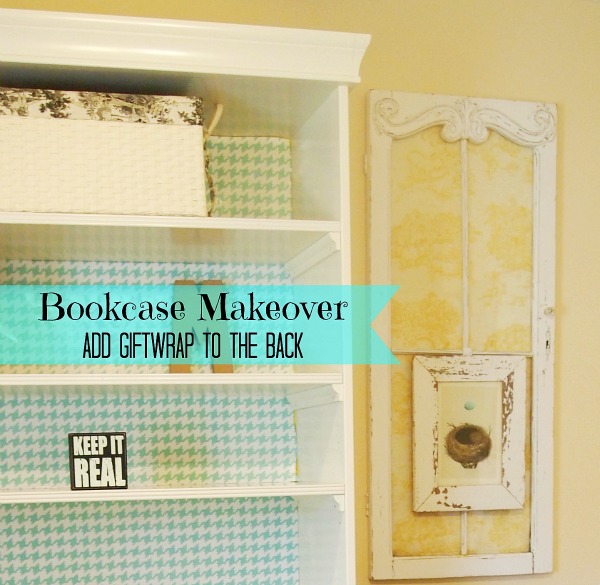 Sometimes you have to make a big mess so you can organize things. Which is the case here!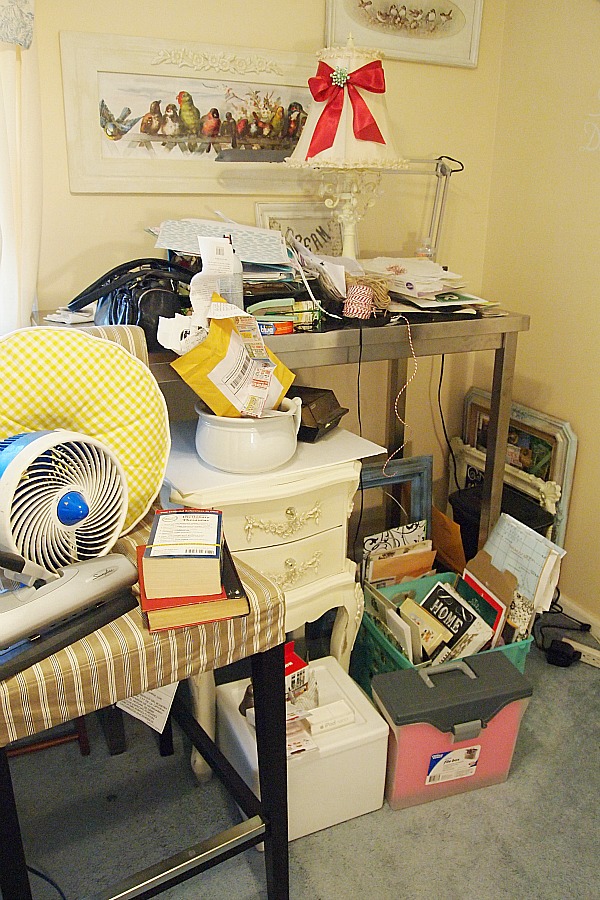 Disclosure: This post may contain affiliate links to Amazon and/or Etsy, which means that I may earn a small commission from some of the links in this post. Please see our Disclosure Page for more information.
I took everything off my bookcase so I could 1) move it over and 2) go through things and see what I had and what I wanted to do with it.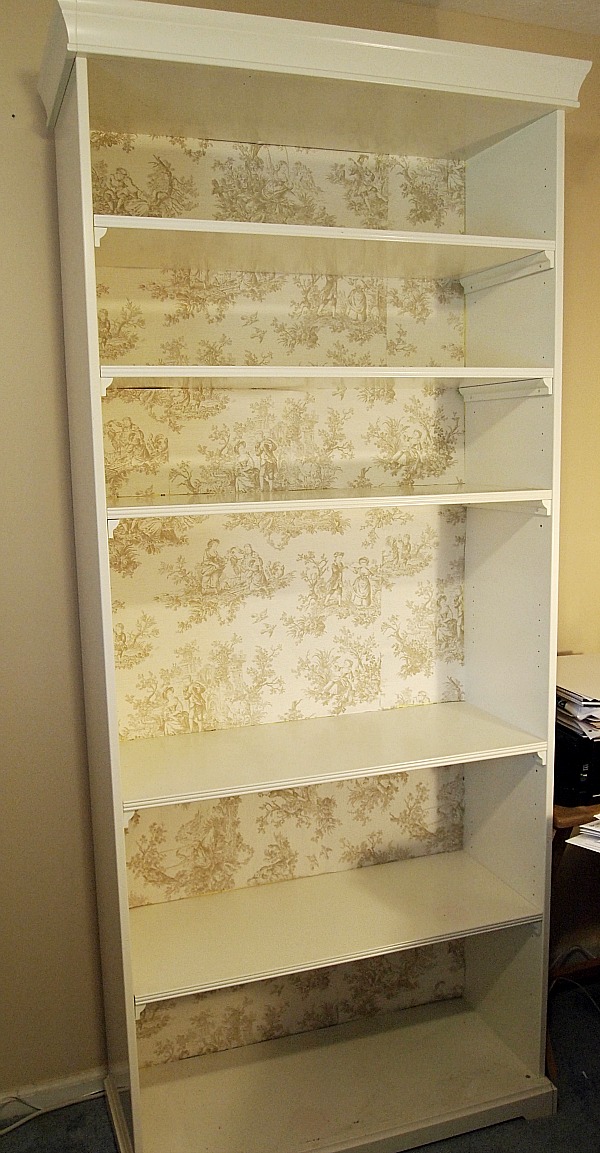 This is one of two Ikea bookcases that used to be in living room (that's why there's toile paper on the back).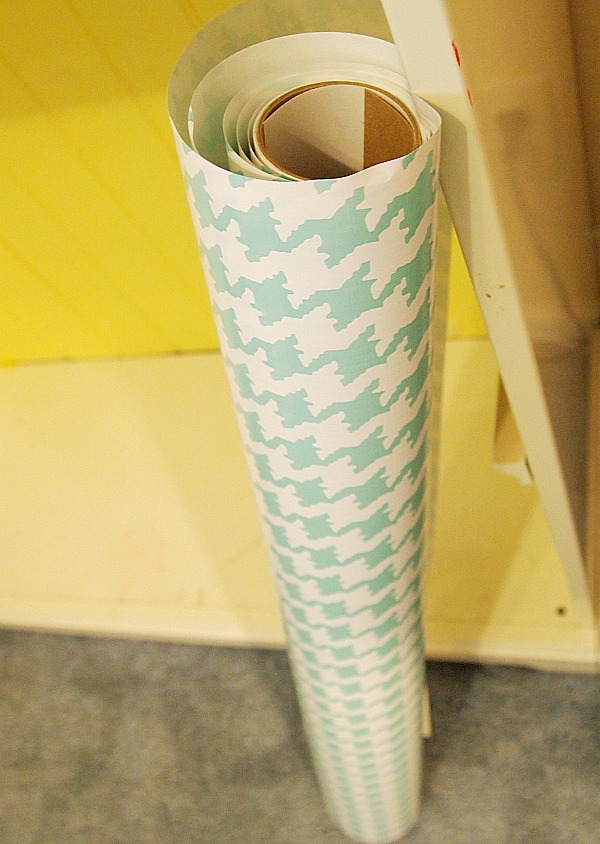 I had this roll of gift wrap that I thought would look nice on the back and hoped I had enough!  So I took the toile paper off (it's just up with double stick tape).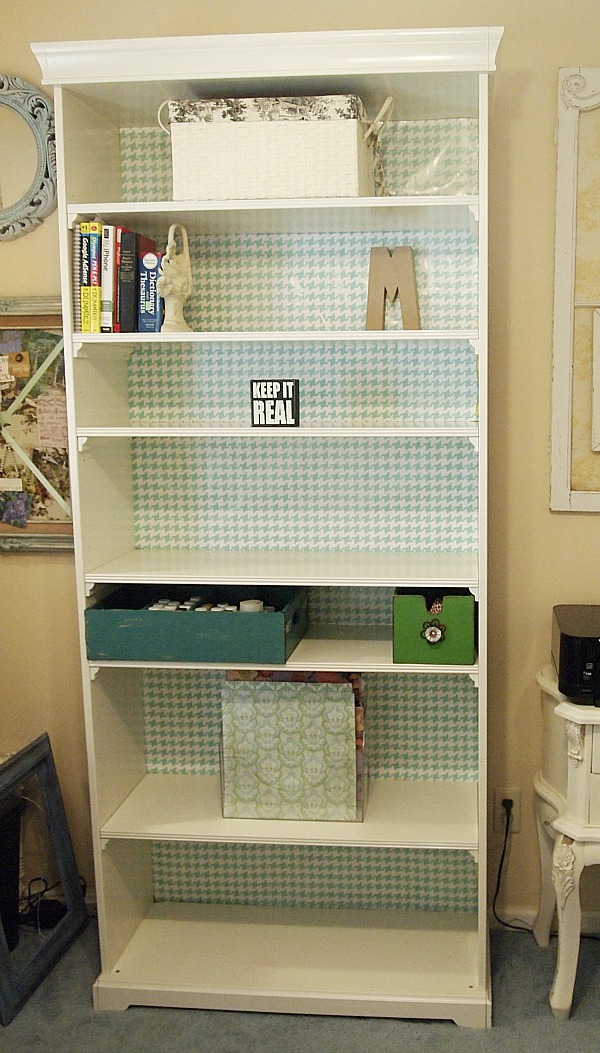 I had just enough paper with a bit to spare! The aqua hounds-tooth gift wrap  is put up with double stick tape .  Some of the shelves are stationery so I had to cut individual pieces for the backing which required measuring and trimming with an exacto knife. But overall it's a very simple process and I'm so happy that the blue of the paper works beautifully with the blue of the chair I repainted for this space.
I have to put everything back on the bookcase but I want to re-organize things. Not everything will go back on this particular bookcase – I'm going to get a shorter one to put my printer on and to put more office supply type things in that one.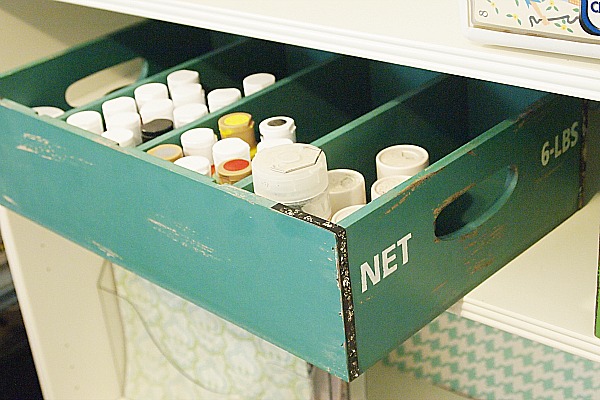 A few organizing things that I wanted to show you. I got this neat wooden bin with divided areas for my craft paint/glitter/etc. It has cut out handles so it's easy to grab and take to where ever I might be crafting! Cause if it's a beautiful day, I'll craft outside on the porch!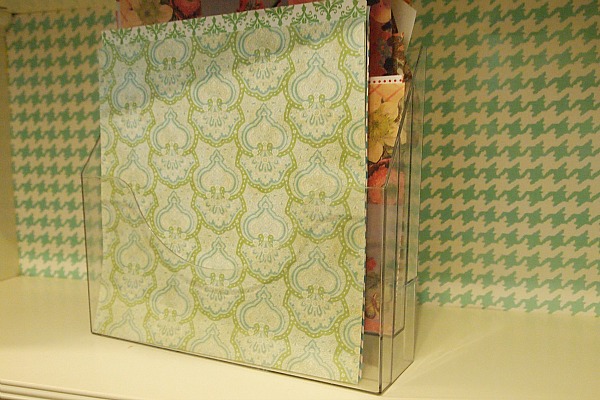 I don't have a lot of scrapbook paper anymore so what I do have is organized in an acrylic file sorter. If I see another one at the thriftstore I'll pick it up in case I get more scrapbook paper. I like to organize my scrapbook paper by color.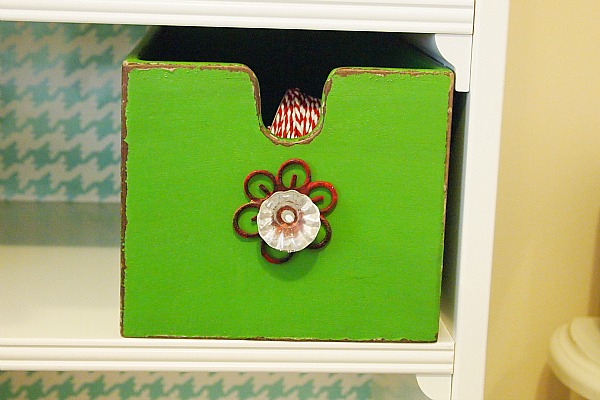 This little drawer holds my different types of twine and some other little odds and ends.  Isn't that knob cute!
I have a lots organizing to do and at some point I'm going to have to repaint that room. My husband pulled some of the wallboard off detaching the headboard from the wall. Plus I had forgotten I had painted some words on the wall (which I had covered up with a picture). Which is a bummer because I wasn't  planning on painting at all! But none of that is happening until the end of the year.
So back to organizing!