When you walk into Dollar Tree, you might automatically assume that everything is an awesome deal. I mean everything's a dollar! But that isn't exactly the case. While Dollar Tree is filled with hundreds of hot deals at prices that you can't find anywhere else, there are some items you should really avoid. Believe it or not, there are items priced higher than you might find at your local grocery or chain discount store. Check out my list below to find which Dollar Tree items simply aren't a deal so you can shop smarter!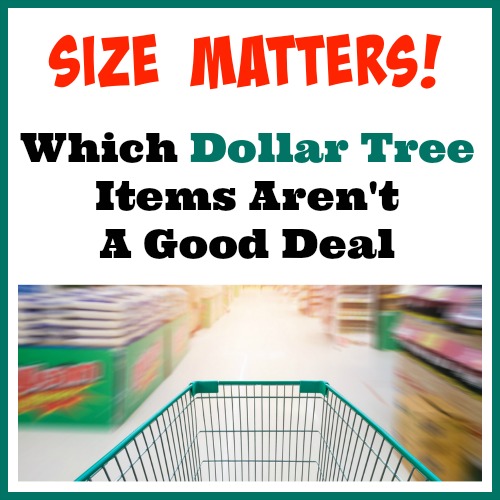 Disclosure: This post may contain affiliate links to Amazon and/or Etsy, which means that I may earn a small commission from some of the links in this post. Please see our Disclosure Page for more information.
With all the Dollar Tree decorating and organizing posts that I write you might think I'm a little obsessed with that store! I do love it for certain things and if you're interested in saving money there are lots of good deals at the Dollar Tree. I just don't think these are! You may or may not agree!
Which Dollar Tree Items Simply Aren't A Deal
1. Kraft Mac n Cheese
If you love mac and cheese, you no doubt love Kraft brand. You can find the boxes of basic Kraft mac n cheese for a buck, but chances are you can find them at your local grocer for less. Sales on this product are common, with boxes often running as low as .75 cents.
2. Campbell's Soup cans
Like Kraft Mac n Cheese, finding a sale on Campbell's Soup isn't hard. While you may have to buy several cans to get the sale price, you can still find these for as low as 60-some cents. When you find this sale price, stock up so you don't have to spend $1 a can at Dollar Tree.
3. Name brand candy bars
Are you ever tempted by the candy bars at checkout? Take a careful look at the size. These name brand candy bars are typically smaller than the regular sized candy bars your grocer carries. Most of these candy bars are $1 or even less when on sale. So skip the temptation and find your candy bars somewhere else.
4. Certain fresh items such as milk, sour cream, and butter
Does your Dollar Tree have a grocer's fridge section? If so, you might see the milk, butter, and sour cream. Look at the size: these portions are quite small. Don't spend $1 on a quart of milk when you can get a whole gallon on sale for $2 or so. The same goes for fresh items like butter and sour cream. You can find butter in larger portions for the same price at your local grocer and the same goes for many of the other fresh products you may see.
RELATED: 50 Things You Can Do To Save Money On Groceries
5. Trial sizes of cleaning products, name brand toiletries, or food items
Dollar Tree is well known for carrying trial sizes of name brand cleaning products as well as toiletries and some food items. It isn't worth buying a pack of four laundry pods for $1 when you can get a 50 count for $8. The same goes for the 3-4 oz. toiletries and snack size food samples. Skip these small sizes where the price per ounce or count just doesn't make it worth the money.
6. Feminine products
Dollar Tree carries feminine products like pads and tampons, but you will only find about 4 per package. This is NOT a good deal. You can find packages of 20-22 count pads and tampons for less than $4, so paying $1 per 4 is not worth buying into.
7. Cereal
Dollar Tree carries generic brand cereals for $1 per 12 oz. or so box. These boxes are quite tiny and only good for about 3 bowls of cereal. Instead, you can get store brand cereal at your local grocer (and often times name brands on sale) for about $2-$2.50. The sizes of these are much larger, as much as three times bigger than Dollar Tree's. So skip the cereal, and buy bigger boxes elsewhere.
Are you ready to shop smarter? Then the next time you head into Dollar Tree, avoid these items which simply aren't a good deal. This way, you can be sure that every item you put into your cart is worth your hard earned money!
What Dollar Tree items have you noticed that aren't a good deal? Share in the comments section!