One of my favorite holiday decor items are simply… pinecones. They can be used interchangeably for fall and winter with just a few adjustments to reflect the season. I love to make scented pinecones to create a feast for the nose as well as the eyes and create that welcoming home scent throughout the holidays! Check out this tutorial to find out how to easily make your own DIY Scented Pinecones!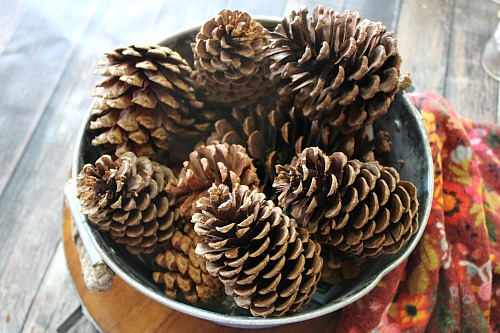 Disclosure: This post may contain affiliate links to Amazon and/or Etsy, which means that I may earn a small commission from some of the links in this post. Please see our Disclosure Page for more information.
You may be lucky enough to find pinecones in your yard or elsewhere locally for free. If not you can grab a bag at the craft store or Walmart pretty inexpensively. I have been using the same pinecones for years, I just pack them up with my holiday decor and pull them back out. Unfortunately, they lost their scent a long time ago. Hence the need for my DIY scented pinecones!
DIY Scented Pinecones
Materials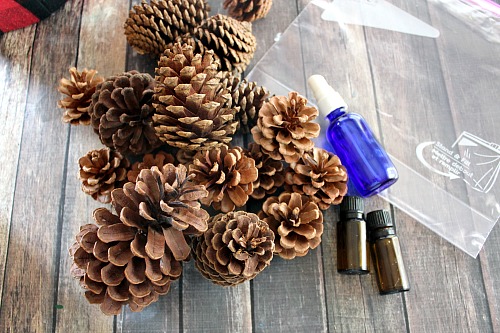 Dry pinecones
1/2 cup water (distilled water is best, but tap water is fine too)
10 drops cinnamon essential oil
10 drops clove essential oil
A spray bottle
Gallon zip top storage bags
Cleaning Your Pinecones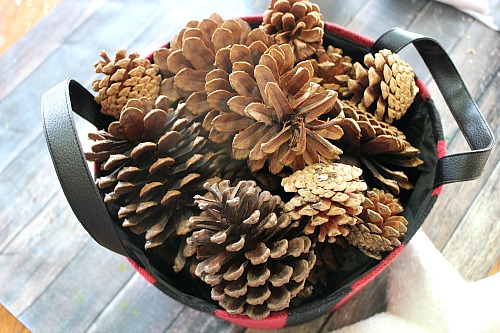 If you gathered your pinecones outdoors you will want to clean them well first. If you are scenting pinecones bought from the store you can skip this process, it has already been done for you.
1. Preheat your oven to 200 degrees.
2. Fill a tub with water and a little dishwashing liquid.
3. Rinse the pinecones in the tub, then drain well. This will cause the pine cones to close up but they will open back up in the next step.
4. Spread parchment paper or aluminum foil on a baking sheet and spread out your pinecones. Bake at 200 degrees for 40 minutes, flipping halfway through. As your pinecones dry they will begin to open back up. This process will get rid of the sap that might be in the cones, and remove any tiny bugs that you probably don't want frolicking around the house! Let the pinecones cool before you continue.
Scenting Your Pinecones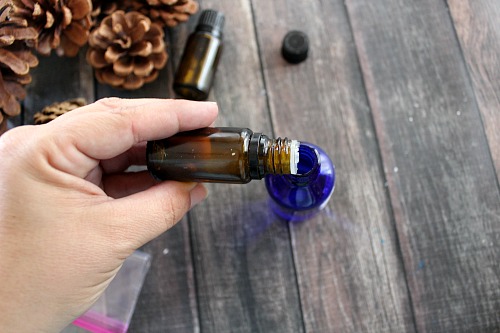 1. To make your own spray pinecone scent combine ½ cup water and 10 drops each oil in a spray bottle.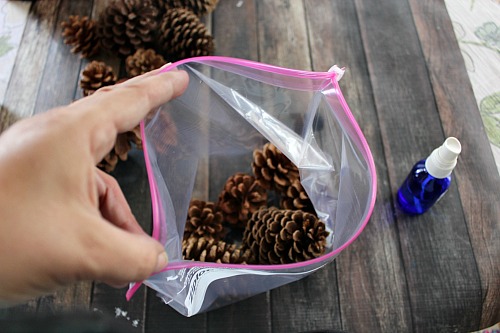 2. Fill a gallon zip top bag ⅓ full with pinecones, then spritz well with your DIY spray.Fill bag to ⅔ full and spray again. Finally, fill bag to the top, and spray this layer. Be sure to leave enough room to seal the bag.
3. Seal up your bag and allow the pinecones to sit for at least 3 days to fully absorb the scents. A full 1-2 weeks would be ideal, but if you're impatient like me, 3 days is fine. To see if your pinecones need more time, after the first 3 days you can take one out and give it a sniff. If it doesn't smell strongly enough, put it back and let the pinecones sit longer.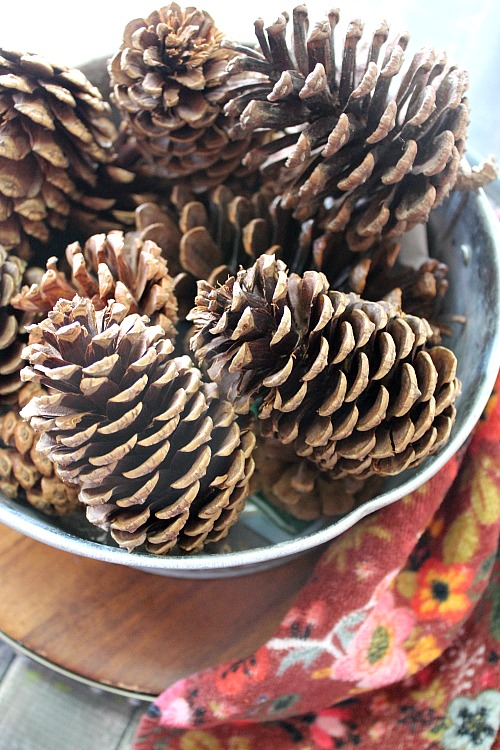 4. Remove pinecones from the bag and add to a pretty container. Then they're ready to be used and enjoyed!
Mix your DIY scented pinecones with mini pumpkins and leaves for a pretty fall season display. And for Christmas, consider mixing them with small ball ornaments, cinnamon sticks, and clear lights.
Do you often use pinecones for DIYs in the fall?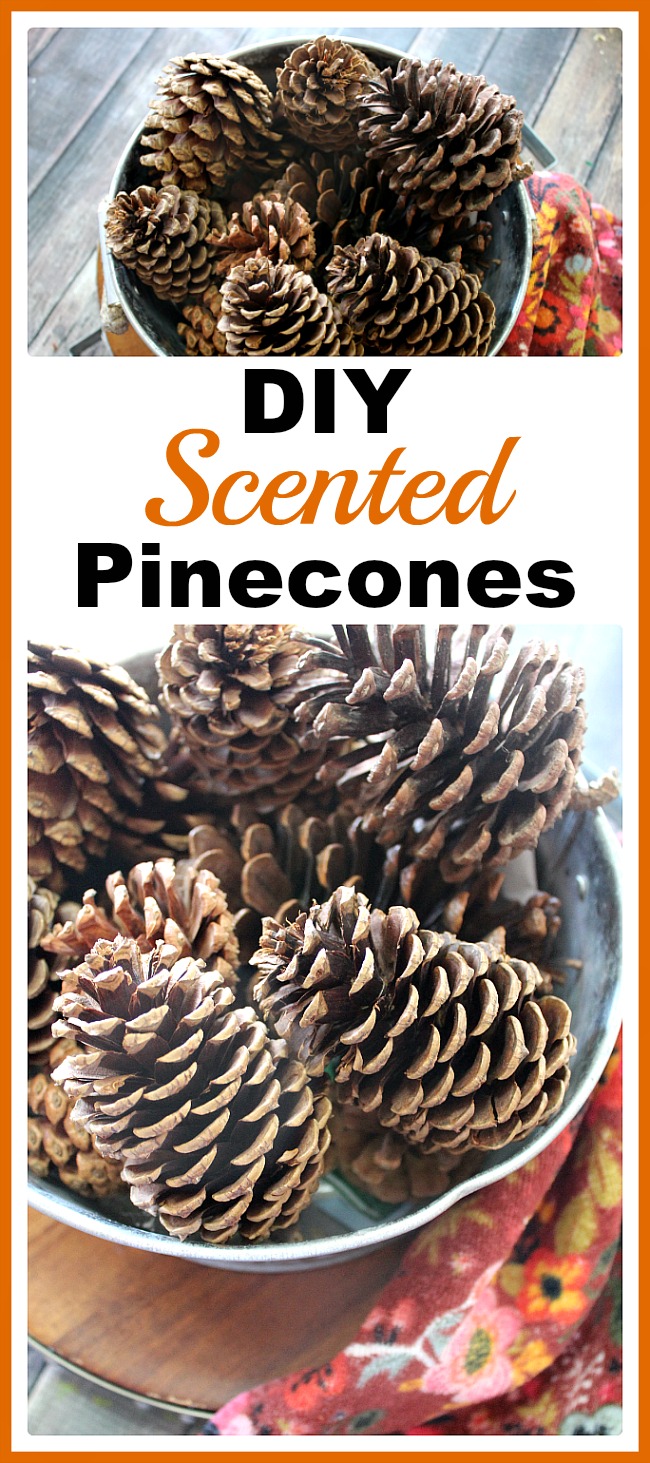 This post contains affiliate links to Amazon, which means that I may earn a small commission from some of the links in this post. Thanks for supporting this site! Please see our Disclosure Page for more information.
  About Jody: I am a Florida girl through and through living the semi-country, small town life.  I am making my way through it with my amazing hubby, 2 beautiful kids, 2 of the best Dachshunds to ever walk the face of the earth, massive amounts of coffee and a whole lot of Jesus.  I homeschool, craft, cook, scrapbook, garden, raid the thrift shops, snap 1,000's of photos, and read when I can grab a spare minute (which is rare). You can find me blogging at Simply Southern Sunshine.
You might also be interested in: 12 Fun Pinecone Crafts