August is back to school time for many families! But with all that back to school hustle and bustle, don't get so distracted that you miss out on the many great seasonal deals taking place! There are dozens of things you can find at wonderfully low prices in August. You just have to know what to look for! To help you out, here's What to Buy in August!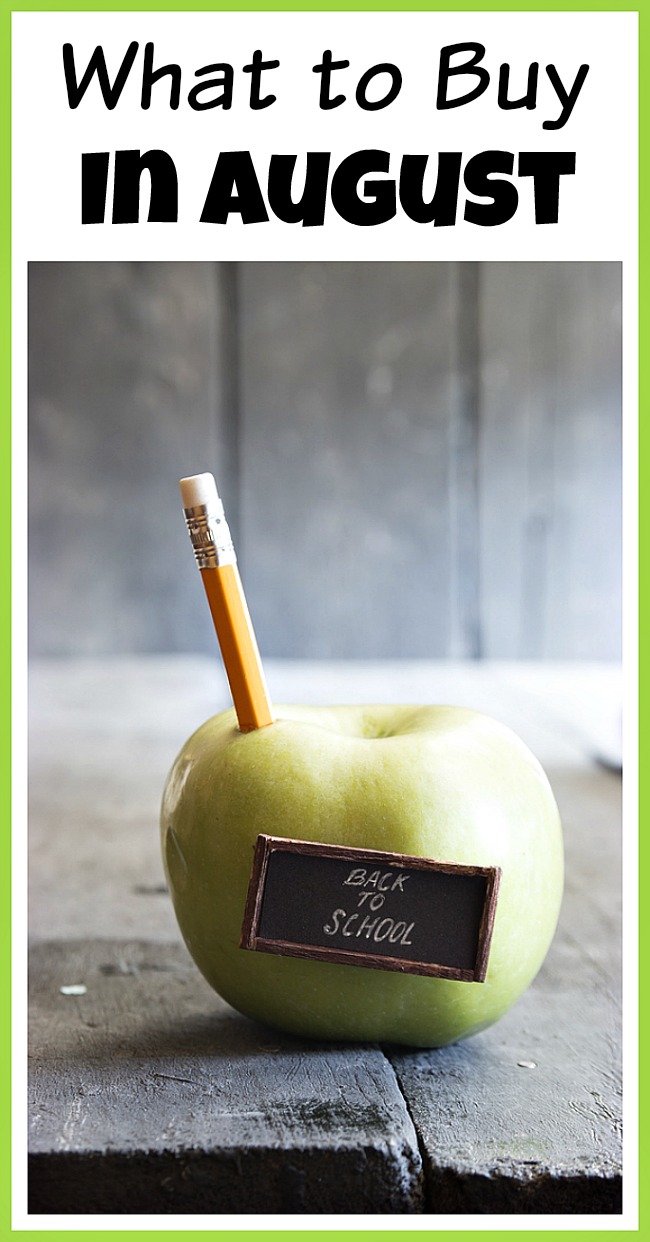 Disclosure: This post may contain affiliate links to Amazon and/or Etsy, which means that I may earn a small commission from some of the links in this post. Please see our Disclosure Page for more information.
Because August is part of the back to school season, you'll find great savings on many school-related items! This is perfect if you have kids, and even if you don't, that doesn't mean you can't take advantage of some great sales! August is also the end of summer, and most stores are ready to head straight into fall, or all the way into winter! This means you can get a lot of summer themed items at really low prices!
What to Buy in August
Fresh Seasonal Produce –  Prices should be better this month on blueberries, mangoes, watermelon, and other fruits as well as corn, cucumbers, eggplant, green beans, kohlrabi, lettuce, okra, peppers, summer squash, Swiss chard, winter squash, and zucchini. Now is a good time to stock up on veggies to can or dehydrate, if you don't grow your own.
Patio furniture- For the stores, summer is over and gone. So you can find patio furniture like outdoor chairs, chaises, tables, and umbrellas for really low prices! But be quick about it – so many stores get rid of summer and start Halloween & fall by the middle of August!
Computers- Many states have tax free holidays in August, during which you can buy computers without paying the sales tax!
Clothes- Kids clothes can be found at really low prices during the tax free holidays, or during back to school sales. You can also buy summer clothes, like shorts and swimsuits, at nicely discounted prices as stores get ready for fall and winter.
School supplies, office supplies- Whether you have kids or not, school/office supplies are something you should buy in August! You'll find great deals on paper, pencils, pens, folders, binders, backpacks, sticky notes, daily planners, and more! And if you buy during a tax-free weekend, you could save even more money!
Grills and grilling equipment- With the end of summer comes the end of the prime grilling season (depending on where you live). Which means most areas will have great deals on new grills and associated equipment! If you live in a warm climet you may want to wait for Labor Day Sales.
Pool equipment and toys- You can stock up for fun in the pool next year and save money at the same time by purchasing pool cleaning equipment, pool decor, and pool toys during August!
Travel- Believe it or not, you can also find great deals on hotels and flights during August! That's because Labor Day sales start way before Labor Day. If your kids go back to school late, or you don't have kids and want to travel, August is the time to book your travel!
Dorm supplies, storage, linens- Back to school doesn't just mean K-12! It also applies to college, which means dorms and all that goes in them! That means you should definitely buy any supplies you or your college kids need, including bedding, towels, pillows, dorm decor, and storage bins.
Office furniture- If you're trying to figure out what to buy in August to save the most money, you may want to take a look at office furniture! With all the back to school/back to college sales going on, many office furniture retailers put their furniture on sale!
Cars- Yes, August may be a great time to buy a new or used car! That's because August is usually when car dealerships start bringing in the next year's models. The older models need to go to make space, resulting in lower prices on those models!
National Root Beer Float Day –  A&W traditionally offers a free root beer float to customers on Aug. 6.
Isn't it amazing all the things you can buy in August on sale? By making the right purchases at the right time, you can get some great things at amazingly low prices!
Have you ever bought something at a great sale price during August?
You might also be interested in: