First let me say that this summer's vegetable garden struggled! We had waaay too many days of rain and when it wasn't raining it was really really hot (and now there's no rain). So this was my worst tomato year but my best cucumber year! As most of you know,  I use raised beds in my vegetable garden.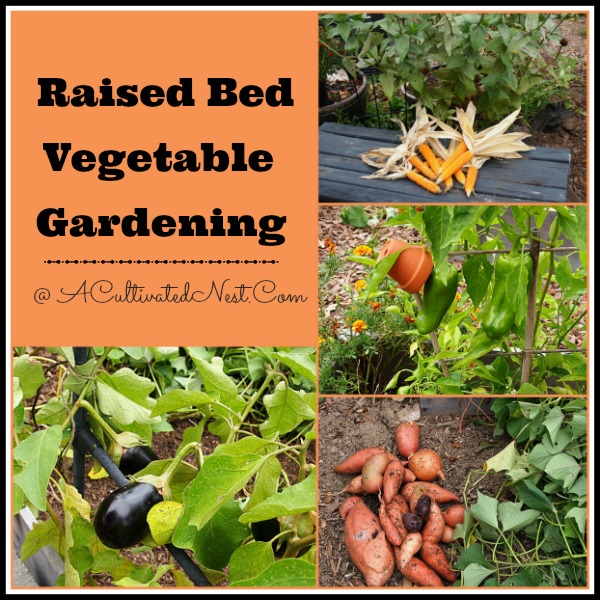 Disclosure: This post may contain affiliate links to Amazon and/or Etsy, which means that I may earn a small commission from some of the links in this post. Please see our Disclosure Page for more information.
Anyway, it's almost down right cold today (50's is cold here 🙂 ) and I'm getting ready to clear some beds for some fall veggies. I thought I'd show you what I harvested so far.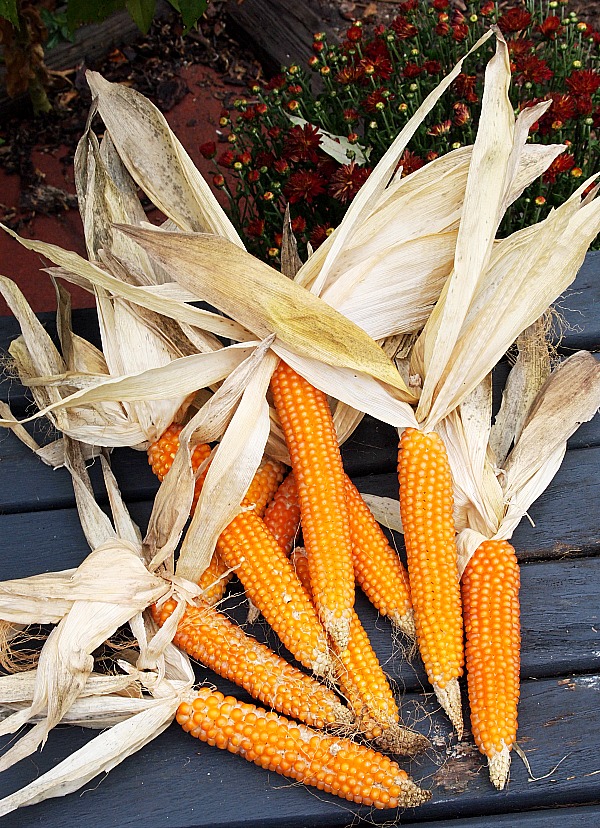 Popcorn! Those cobs are popcorn! This is my first year growing popcorn so I wasn't too sure when to harvest them but I looked online and I think I timed it right. They now have to dry for a few weeks to be ready to pop. I'll be sure to take a photo when we pop some to show you what size they pop. Aren't they pretty? I could use them in my fall decorating as well!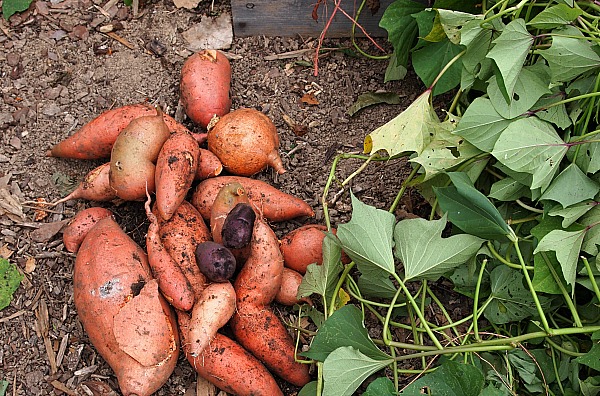 Sweet potatoes!  I still have almost a full raised bed to harvest.  I should have known better than to use a pitch fork and I of course speared that really big one.  We eat sweet potatoes at least once a week (which is why I grew them this year). I tried growing some blue potatoes  in a container and all I got was 2 blue potatoes! I'm going to stop growing potatoes in containers. I never have good luck with them (I think it's too hot here and the containers heat up too much).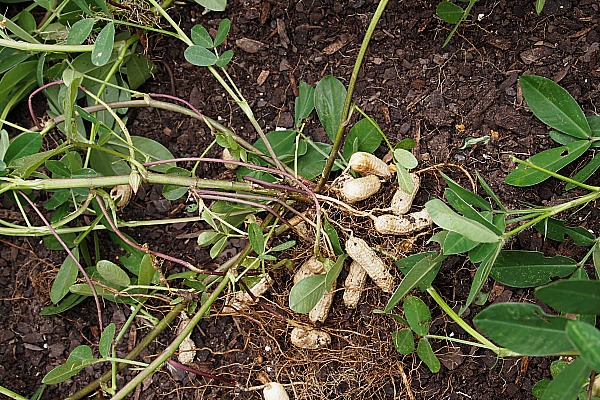 Peanuts! Now I'm not sure how to harvest these. Some people say wait for the green part to die back and other's say dig some up and see if they look like mature peanuts. So I decided to test a small area. They look like peanuts but I think they could go another few weeks so I won't be digging up anymore right now.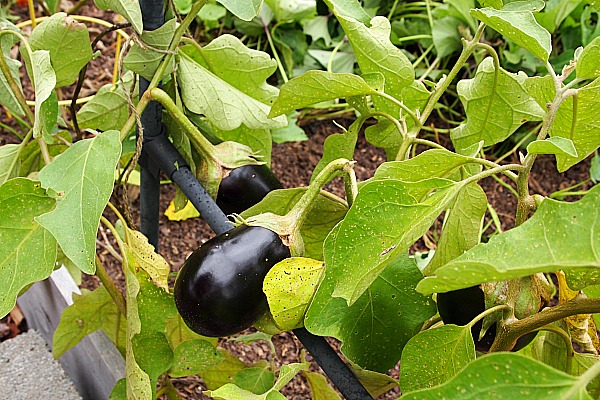 Eggplants! Well I decided to leave them on the vine for a few more days. But I've got 5 that'll be ready to be picked then. I have a great recipe for low carb lasagna that uses eggplant and zucchini instead of pasta – that's on my meal plan for next week!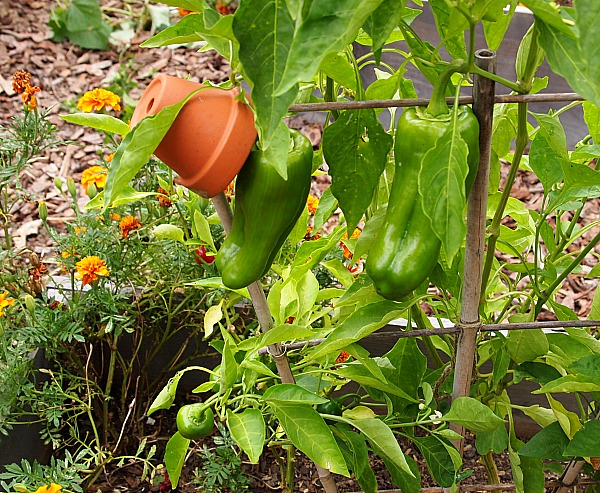 I also have tons of peppers of all kinds and sizes that will be ready soon! Hopefully it won't get too cool at night too soon and they'll have a chance to mature.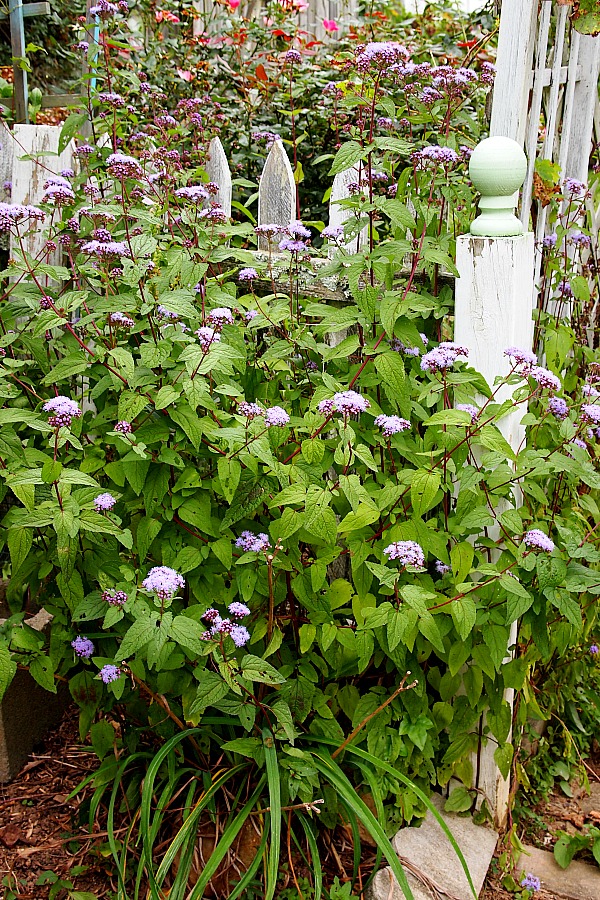 The zinnias in my vegetable garden are starting to fade but I have these fuzzy purple flowers  (I forget what they're called). They're really invasive. I've been pulling them out for 10 years but I like to keep a few because they provide some late summer color in the garden.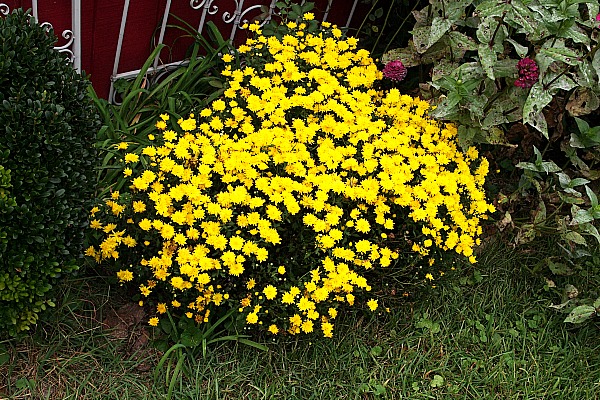 Also, a few posts back I mentioned that I plant my mums and they come back every year. A few people said they aren't able to do that in their area. I just wanted to show one of the mums I planted last fall. I think they look better in the garden the next year than they do in pots!
Fall is in the air! I hope the weather isn't faking me out. It can be like that in Georgia! 🙂