Hi everyone! I have a picture filled vegetable garden tour for you today. I took tons of photos since this will probably be my last year of gardening here since we will be listing our house in a few weeks. I thought I'd share a few with you. This is very bittersweet…I'm ready to move but I'd like to take my yard with me 🙂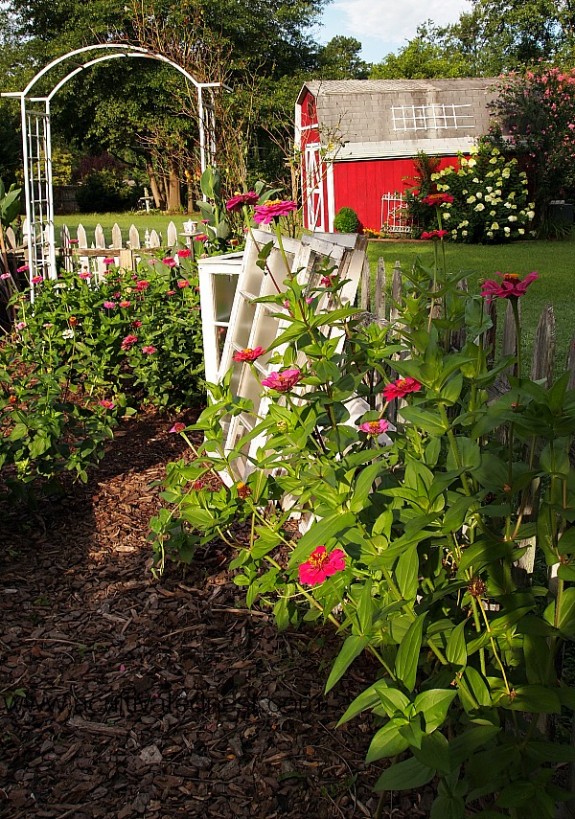 Disclosure: This post may contain affiliate links to Amazon and/or Etsy, which means that I may earn a small commission from some of the links in this post. Please see our Disclosure Page for more information.
I didn't plant as much as I usually do since I think we won't really be around to harvest much of it.  I also got a late start because I had some other things to finish up (like my deck). So the garden is not as far a long as it normally would be this time of year.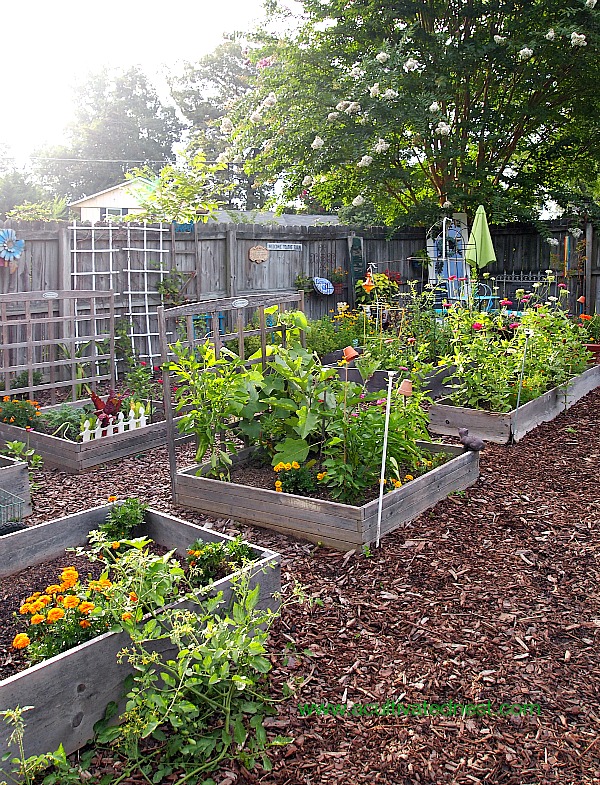 My Vegetable Garden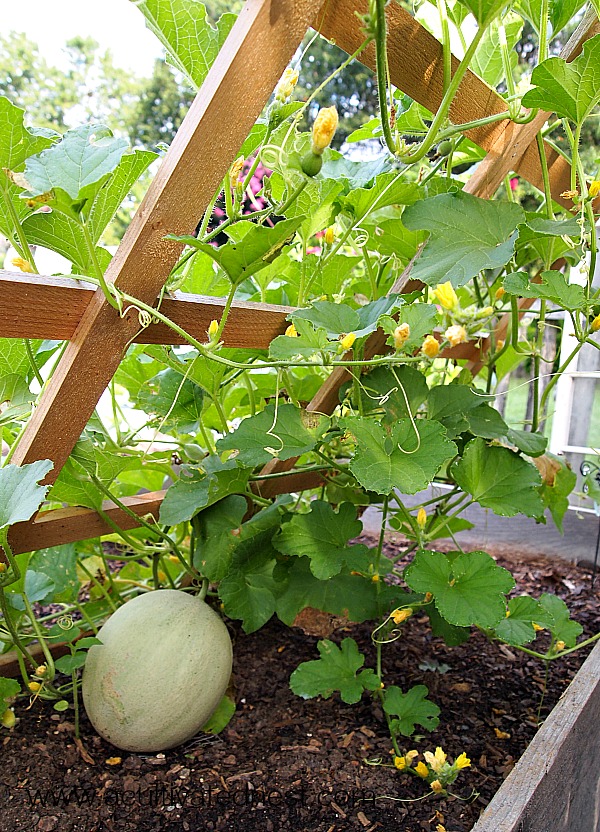 I'm getting lots of cantaloupes this year! You never know what will do well 🙂 Still no zucchini! I always laugh when people say that zucchini is the easiest thing to grow!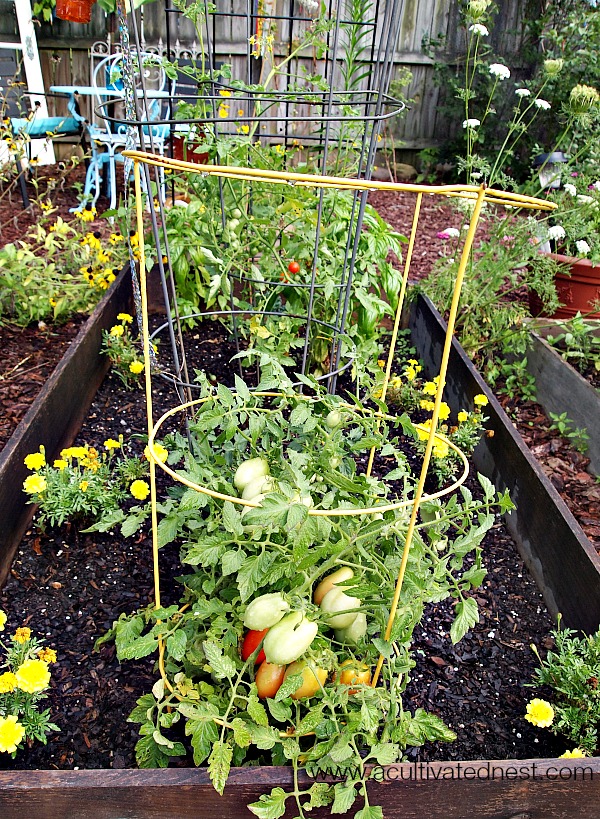 I'm not growing many tomatoes this year so I put them all in this bed with some marigolds, basil and micro greens (at the other end). The tomatoes in the front are romas. If you want to know how I plant my tomatoes you can check out my post here.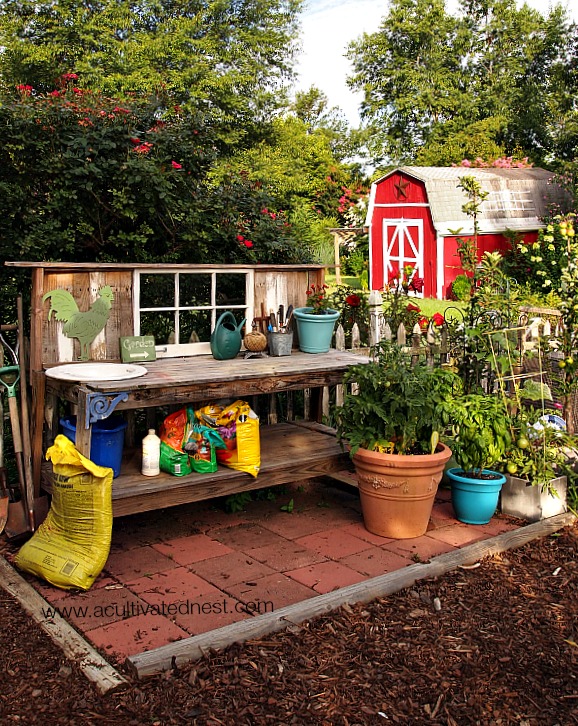 I moved my potting bench into the garden when I did a back door area makeover. My daughter and I built this paver patio one summer.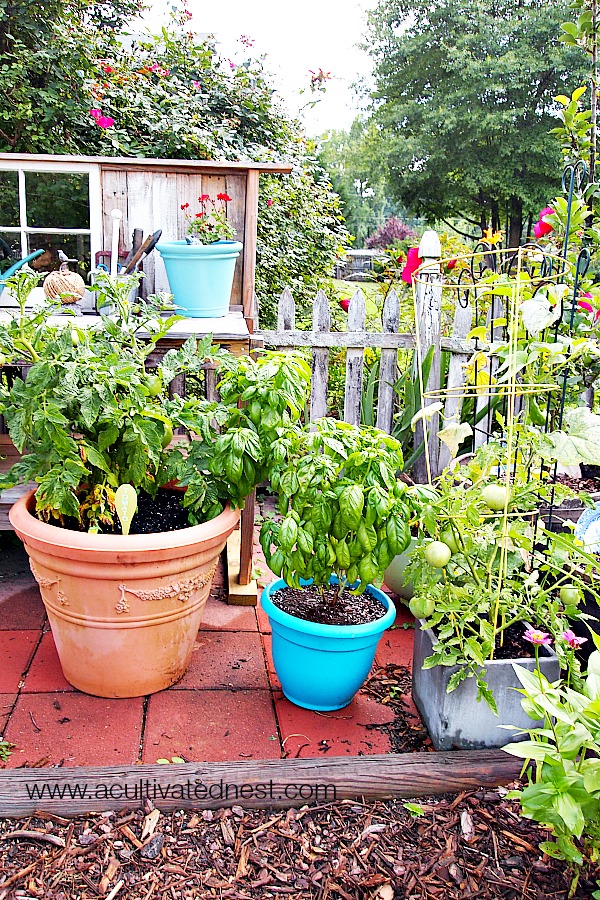 I planted a few things in pots so I could take some veggies with me.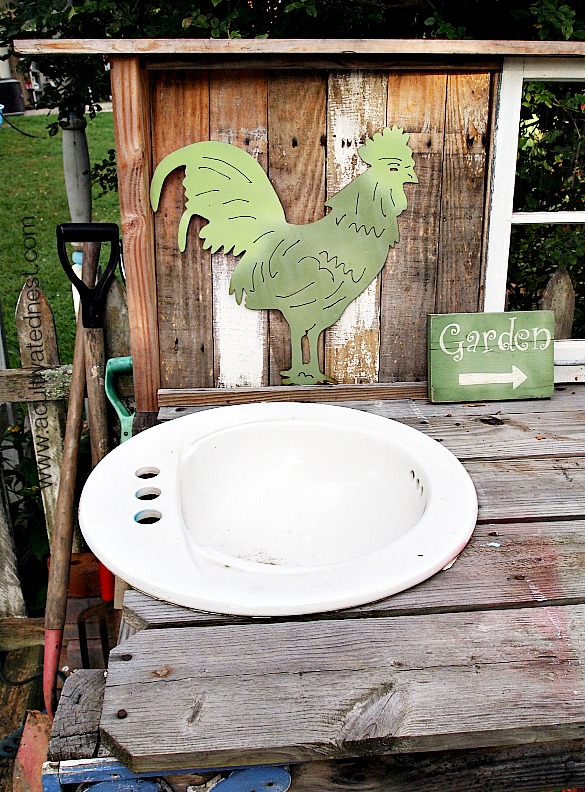 My husband built me this potting bench out of salvaged wood ( link here).  It's really wonderful – so large and it has a sink! There's a bucket underneath the sink to catch water – which is great not only when rinsing vegetables but also when it rains.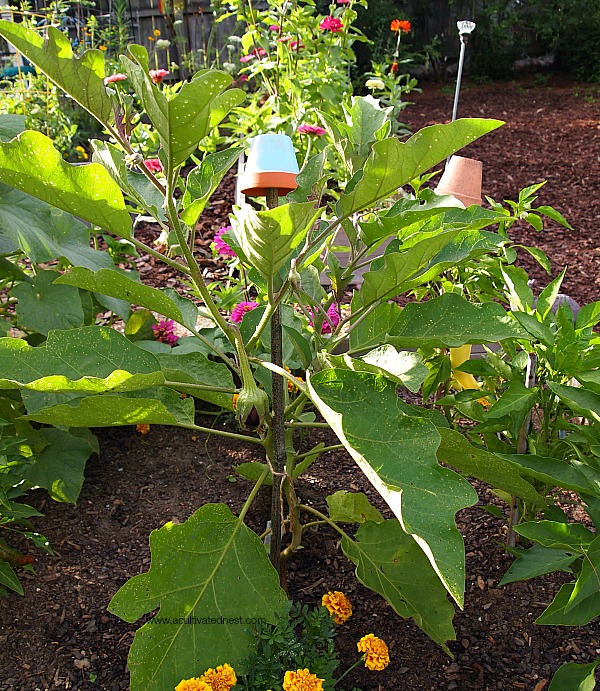 I only planted this one eggplant this year.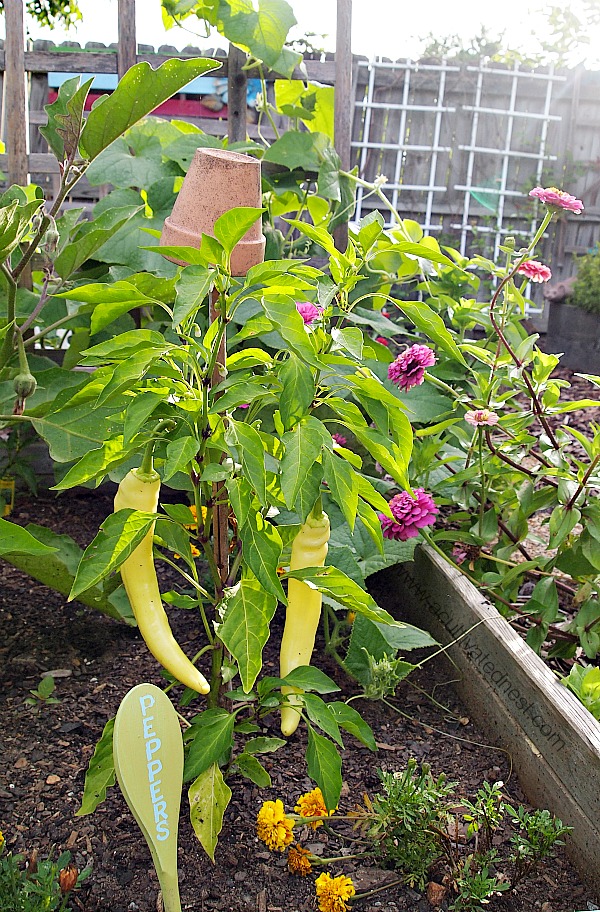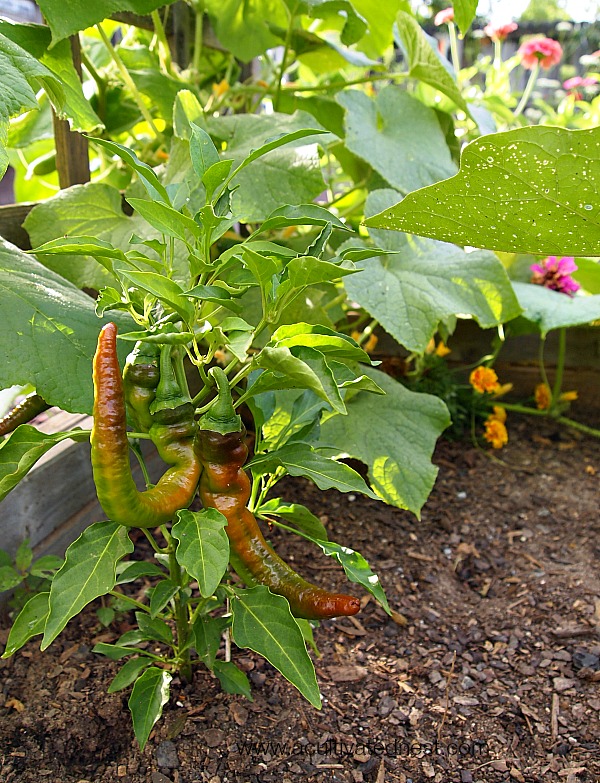 I have lots of different peppers. Which I companion planted with eggplant and cucumber in one raised bed.
The beginning of a bean teepee. This first planting didn't grow so these are ones I replanted a few weeks back. There's a pumpkin plant in that bed as well.
I also have a  herb bed. I grow my most used herbs in a container on my deck (link here) so they're easy to get when I'm cooking . The bed in the garden has mint, dill, thyme, and lemon balm.
There's also one bed devoted to greens – swiss chard, 2 types of kale and some lettuce.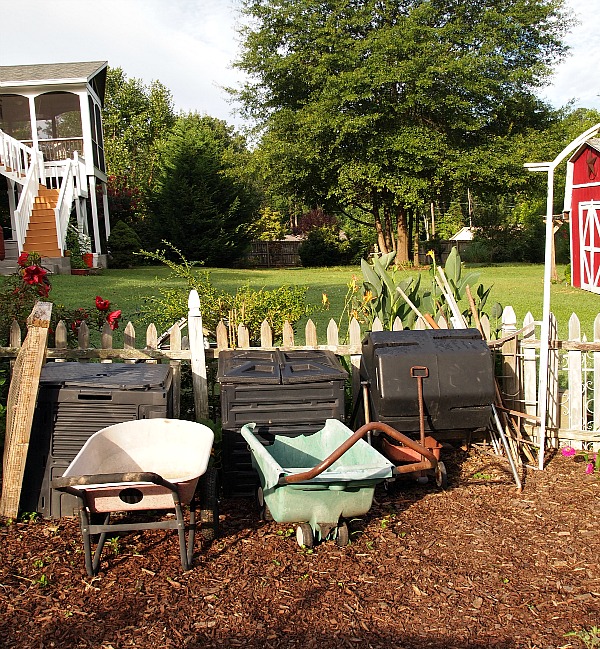 The compost area.
A seating area. You can see more of that in this post (link here)
And there are  lots of flowers!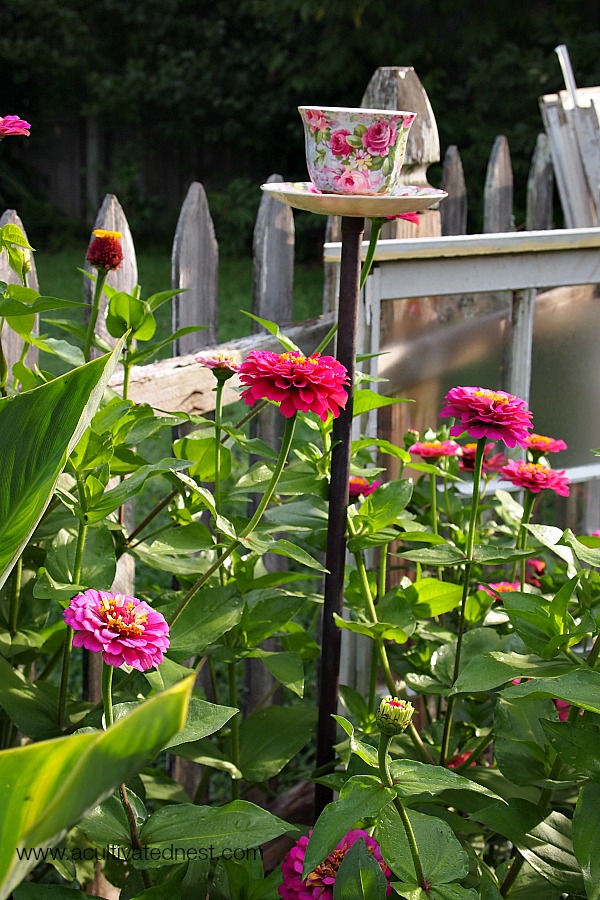 I like to just let the flowers that pop up stay where they are.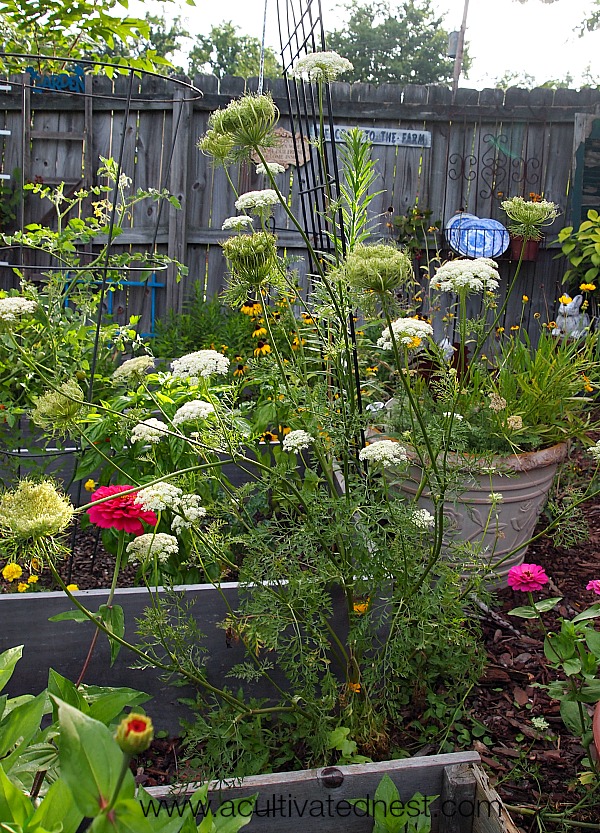 That white puffy flower is actually a carrot that popped up outside this bed gone to seed. So pretty!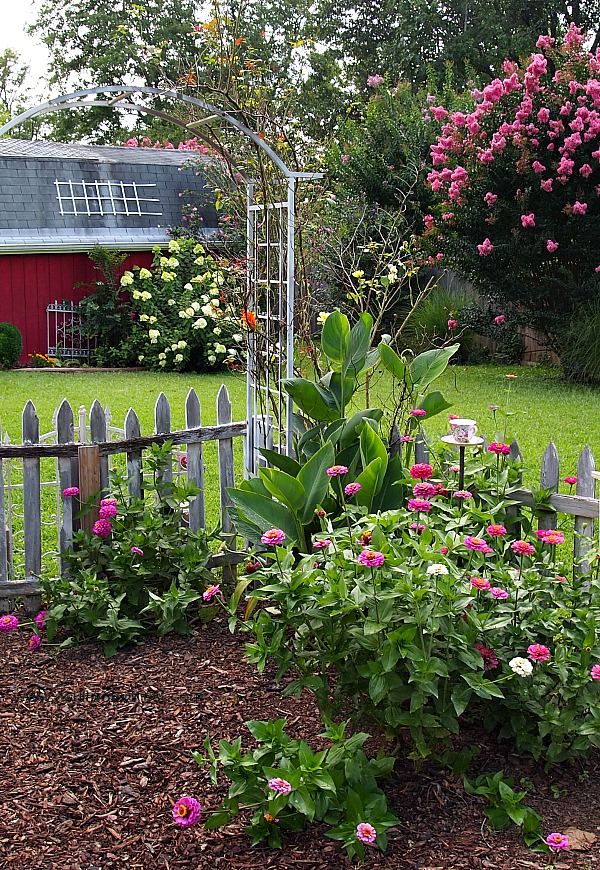 I hope you enjoyed seeing some of the garden. I'm going to be doing a video tour of the garden in a week or so that I'll post to YouTube but I'll let you all know when that is ready.
Have a great weekend!