I'm really thrilled to be a part of  The Creative HomeAcre Blog Hop! I've been wanting to start a linky party of my own so when Lisa asked me if I wanted to co-host this one I jumped at that chance! The fun thing about this linky party is that there are 4 co-hosts! Besides me, there's:
Lisa Lynn from The Self Sufficient HomeAcre
Disclosure: This post may contain affiliate links to Amazon and/or Etsy, which means that I may earn a small commission from some of the links in this post. Please see our Disclosure Page for more information.
Mary from Back to the Basics and Mary's Kitchen
Alison from Mumtopia
That means that when you link up your posts each week, they will be viewed by even more people! We will each be picking and featuring our favorite link ups every week.

Before you link up, I want to share a photo of my crazy over grown Knockout Rose (and Corey).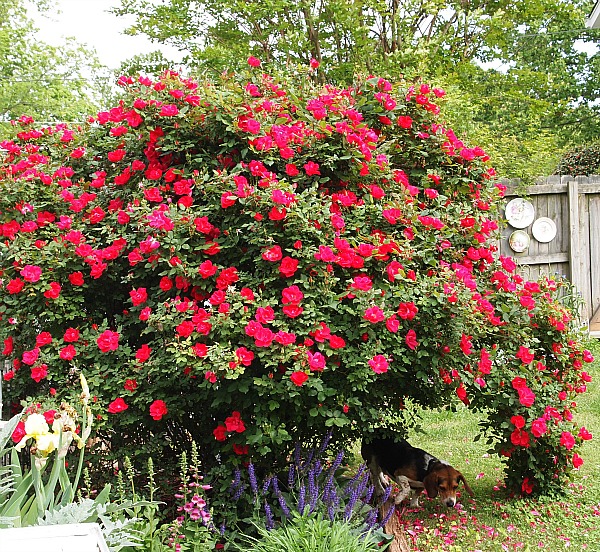 Isn't it huge!! This is what happens when you don't cut back your Knock Rose! I will be doing some more rose trimming as soon as the rain stops and I can get outside again.  In the mean time, Corey likes his little tunnel!
Now, on to your latest creations!
Share your Creative Home posts featuring photography, creative writing, home cooking, eco-friendly crafts, home decor, vintage finds, objects d' art, fiber arts and sewing, farm girl fashion, thrifty tips, food preservation and gardening helpers, hand made 'wholesomeness', and good ol' fashioned homemaking news. If you have a creative side, I'd love to see what you've been working on! Etsy sellers are welcome to share here too.
Please link back to the hop in your post. If you don't take a couple of seconds to do this, you won't be featured. There are some cute buttons for you to grab, or you can use a text link in your post. Thanks for sharing the hop with others!
Pretty please,  go visit as many of the other bloggers posting as you can! The whole point of a hop is to build a community of like minded bloggers who share and support each other. We all love to hear from our visitors, so please leave thoughtful and kind comments when you visit!
You are welcome to link your archived posts here, as long as all of the content you share is your own.
Happy hopping!
<div align="center" style="padding: 5px;"><img src="http://www.theselfsufficienthomeacre.com/wp-content/uploads/2013/03/new-small-creative.jpg"  title="A Cultivated Nest" alt="A Cultivated Nest" /></div><pre style="background:#f0f0f0;border:solid 1px #cccccc; color: #777777; font-size:90%; height: 50px; margin:auto; text-align: left; padding: 10px; display: block; overflow: auto; white-space: pre-wrap;  width: 90%;">&lt;div align="center">&lt;a href="http://www.acultivatednest.com" title="A Cultivated Nest"&gt;&lt;img src="http://www.theselfsufficienthomeacre.com/wp-content/uploads/2013/03/new-small-creative.jpg" alt="A Cultivated Nest" style="border:none;" /&gt;&lt;/a&gt;&lt;/div></pre>