Delicious Homemade Cheesecake Desserts to Make.
Who doesn't love to eat tasty, melt-in-your-mouth cheesecake? Each mouth-watering, delectable cheesecake slice is filled with flavor that will bring sweet delight to your palette. With these 20 Tasty Cheesecake Recipes, you will find a variety of traditional and new variations of cheesecake that will be a pleasure to eat!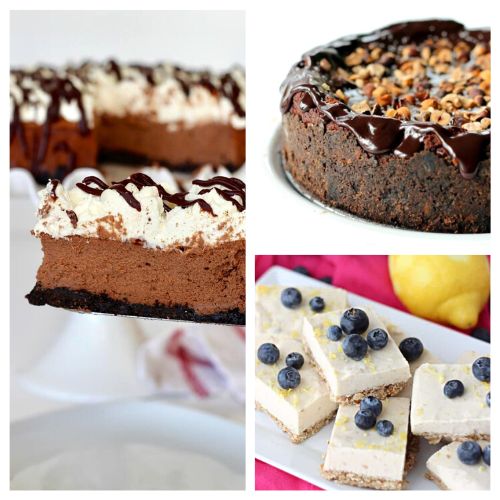 Disclosure: This post may contain affiliate links to Amazon and/or Etsy, which means that I may earn a small commission from some of the links in this post. Please see our Disclosure Page for more information.
Cheesecake is a delicious treat for any time of year, and any occasion, because it's so versatile. Check out the recipes below for some creative cheesecake recipe ideas!
20 Tasty Cheesecake Recipes
Here are some things to consider to get the most from these cheesecake recipes:
Easy to make.  Cheesecake is an easy dessert to make. So even if you're a beginner, you should have great (and delicious) results with these recipes!
Non-traditional recipes.  Step out of your box and give one of these fresh non-traditional recipes a try. Your taste buds are going to thank you!
Make them on a budget. Graham crackers are an ingredient that is still pretty cheap at the grocery store, and you can really make it sparkle with some yummy filling and toppings!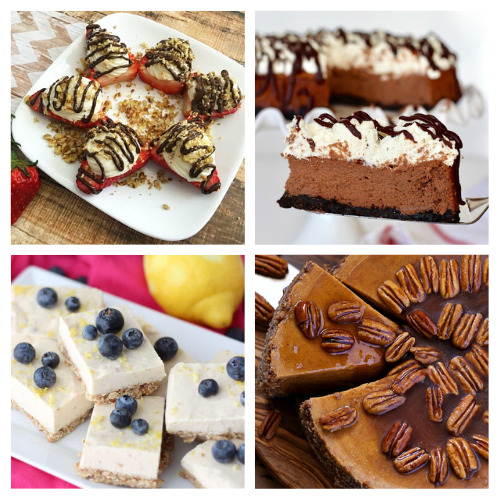 1. Cheesecake Strawberries by A Cultivated Nest
2. Triple Chocolate Mousse Cheesecake by The Baker Mama
3. No Bake Frozen Cheesecake Bars by Living Well Kitchen
4. Pumpkin Praline Cheesecake by Swanky Recipes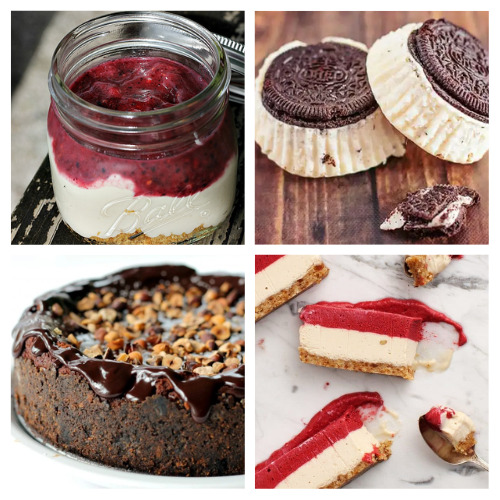 5. Mini Lemon Berry Cheesecake In A Jar by A Cultivated Nest
6. Cookies And Cream Mini Cheesecake by Fun Fleece
7. Dark Chocolate Cheesecake with Chocolate Hazelnut Ganache by Ambitious Kitchen
8. Raspberry Vegan Cheesecake by Love & Lemons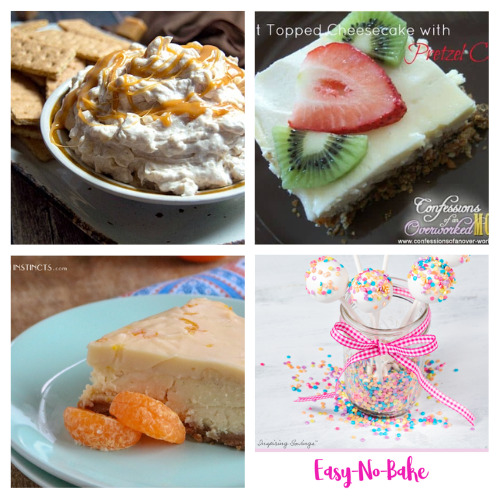 9. Caramel Apple Cheesecake Dip by A Cultivated Nest
10. Fruit-Topped Cheesecake With Pretzel Crust by Confessions Of An Overworked Mom
11. Easy Instant Pot Orange Cheesecake Recipe by Mama Instincts
12. Easy No Bake Vanilla Cheesecake Cake Pops by Inspiring Savings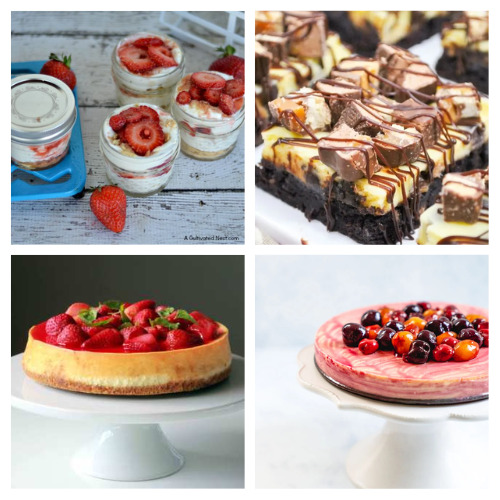 13. No-Bake Mason Jar Strawberry Cheesecake by A Cultivated Nest
14. Snickers Cheesecake Brownies by Sugar, Spice, and Glitter
15. Lemon Cheesecake with Strawberry Basil Topping by Oh Sweet Day!
16. Crustless Cherry Cheesecake by A Couple Cooks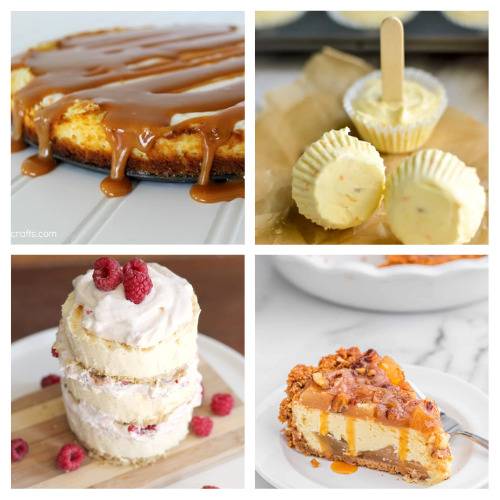 17. Ooey Gooey Carmel Cheesecake by Ginger Snap Crafts
18. Cheesecake Fat Bombs with Delicious Orange Zest by DIY Candy
19. Easy, Elegant Naked Cake Raspberry Cheesecake by The Craft Patch
20. Caramel Apple Cheesecake by Belle Of  The Kitchen
Which of these delicious cheesecakes are you going to try first?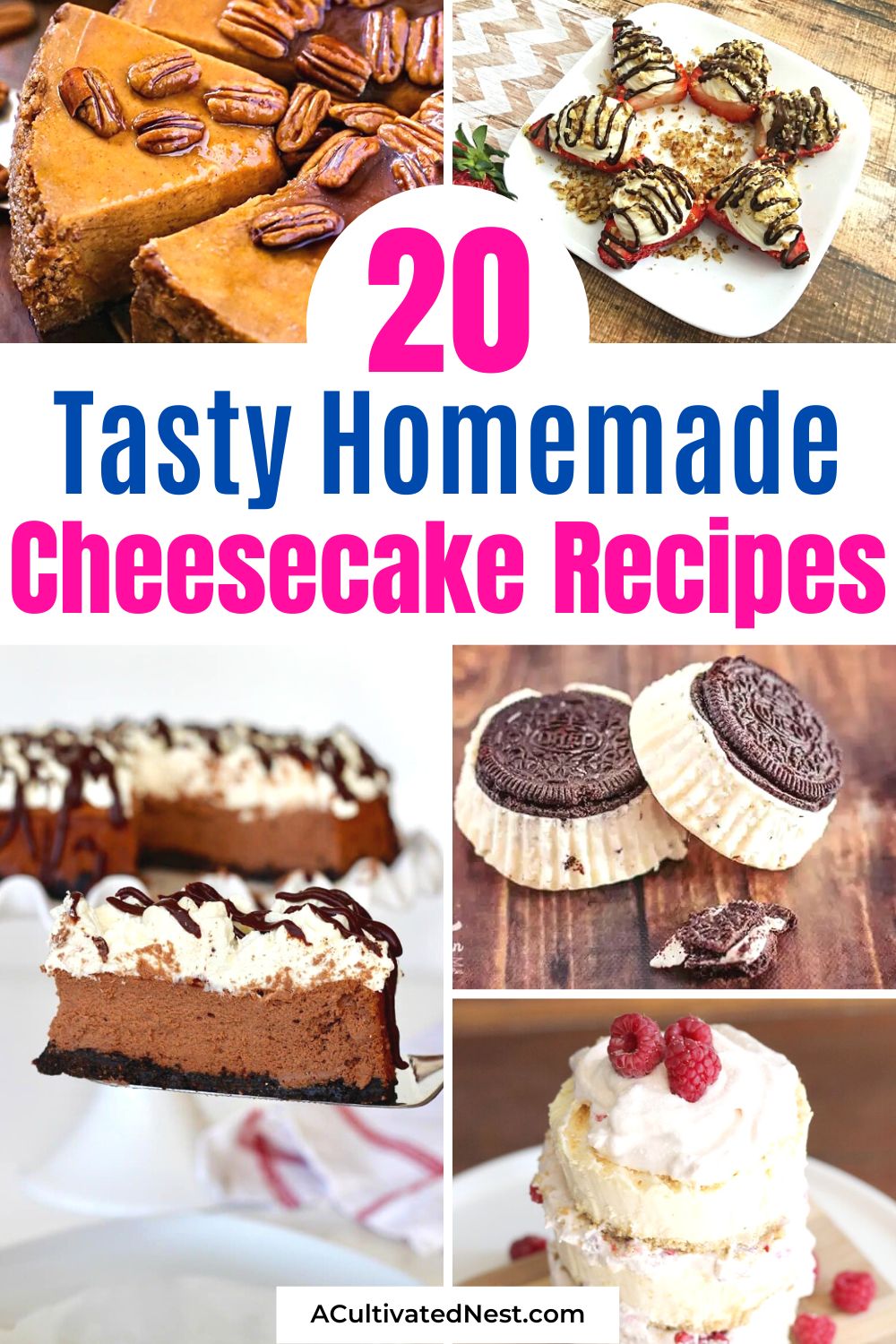 You might also be interested in: 20 Delicious Cake Recipes You Need to Bake