Summer is a time of delicious fruit and veggies! Whether you've got a garden growing, or are visiting the plentiful farmers markets and grocery stores, you're probably enjoying the variety of delicious foods that are in season! Celebrate this delicious season by making a cute and easy fruit banner! This simple craft would be fun to do alone while watching a movie, or it would be lots of fun to do with kids! Either way, the finished fruit banner is sure to look adorable in your home!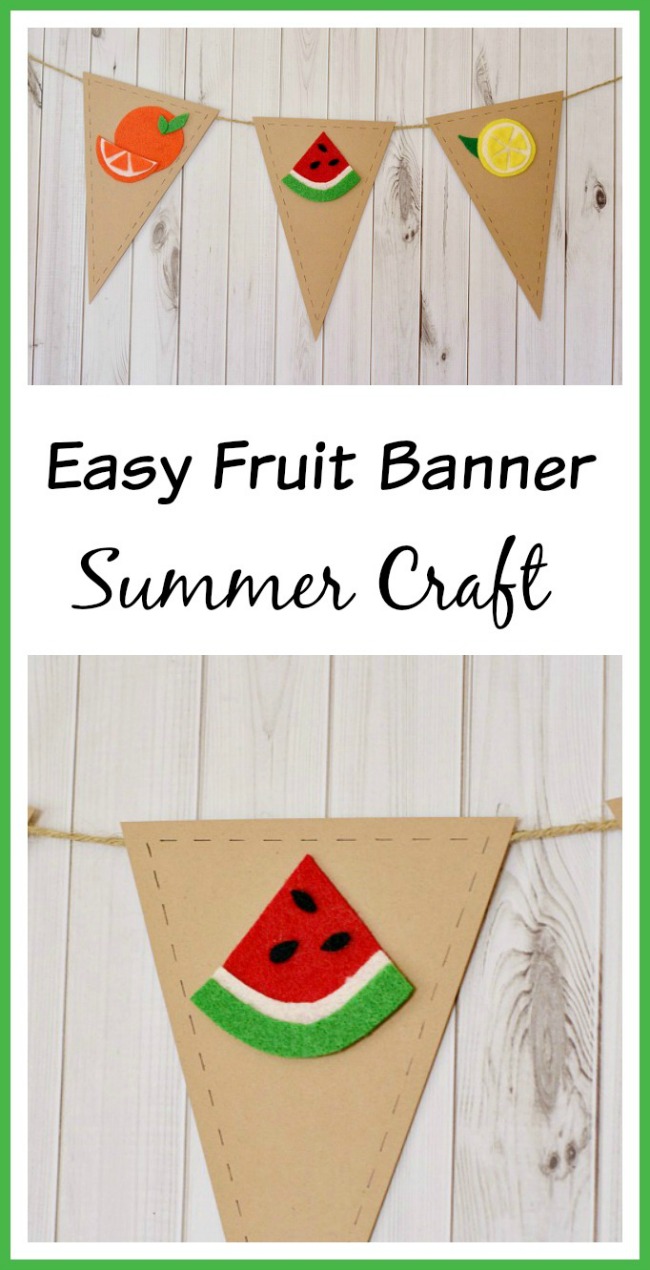 Easy Fruit Banner Summer Craft
Materials:
Disclosure: This post may contain affiliate links to Amazon and/or Etsy, which means that I may earn a small commission from some of the links in this post. Please see our Disclosure Page for more information.
Scrapbook Paper
Felt
Sharp Scissors
Hot Glue
Ruler
Ink Pen
Twine
Various circles for templates. Jar lids work great!
To make an orange:
1. Cut 2 circles out of orange felt. My circles measured 2-1/2″ in diameter. Keep one whole and the other cut in half.
2. Cut another half circle out of ivory or cream colored felt. Trim a little smaller than the orange half circle.
3. Glue the orange and white half circles together.
4. Using the other half of the orange, cut the orange "slices" out of felt and glue onto the white felt.
5. Cut a leaf shape and assemble everything with hot glue.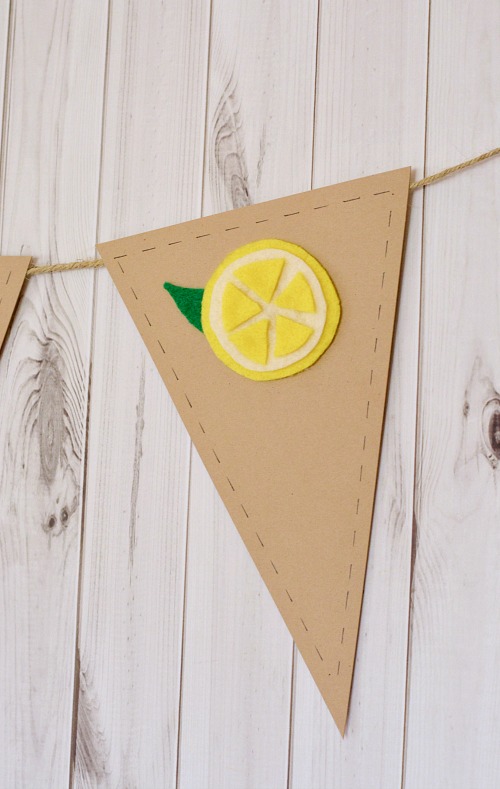 To make a lemon:
1. Cut a circle out of yellow felt. Mine measured 2-1/4″ in diameter.
2. Cut 1 circle out of ivory or cream felt. Trim a little smaller to fit inside the yellow circle.
3. Cut another circle out of yellow felt. Trim it to be smaller than the white circle. Then cut this yellow circle to make the lemon slices.
4. Cut out a leaf and glue everything together with hot glue.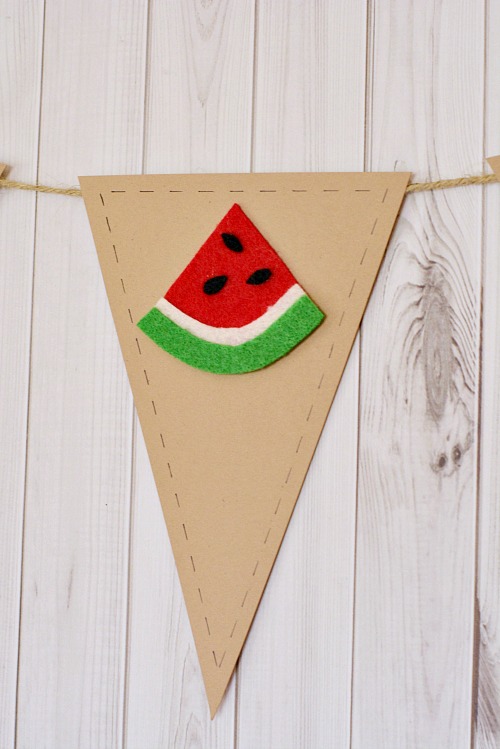 To make a watermelon:
1. My watermelon measured about 3″. I just free handed a triangle red shape.
2. Using the red triangle as a template, cut out ivory and green shapes for the rind. Glue all the shapes together.
3. Cut 3 seeds out of black felt and glue onto the red felt.
To cut the banner paper:
1. I started with an 8.5 x 11 sheet of scrapbook paper and used my paper cutter to cut it in half, 8.5 x 5.5.
2. Mark the center at the 5.5″ edge and angle the paper from the top corner to the bottom center to cut the side of the triangle. Do the same on the other side.
3. Repeated for all banner papers.
Once all my banner triangles were cut, I glued the fruits onto them.
I used an ink pen and ruler to create the "stitches." I placed the ruler about 1/4″ from the edge of the triangle and drew dash marks, 1/4″ long and 1/4″ apart. Repeat on all sides and repeat for each banner.
Finally, to hang your banner, cut some twine to your desired length. Glue it on the back of your triangles with hot glue. Hang and enjoy!
You may also be interested in: