Keys to an Organized Kitchen.
Cooking meals at home is a great way to stay healthy and save money, but cooking requires a lot of tools. My kitchen is the place in my home that is the most difficult to keep organized. Our kitchen is where everyone gathers at the beginning and end of each day so it is the hub of our home. A lot of stuff passes between these walls each day so it is really no surprise that it has become a chaotic mess. If your kitchen is the same, then you'll love these 20 Space Saving Kitchen Drawer Organization Ideas!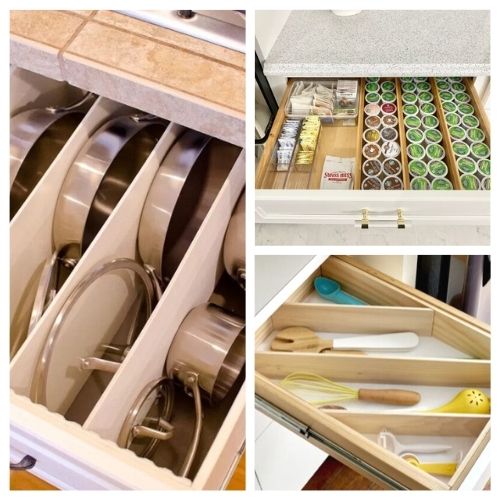 Disclosure: This post may contain affiliate links to Amazon and/or Etsy, which means that I may earn a small commission from some of the links in this post. Please see our Disclosure Page for more information.
It's time to take back the kitchen and get things organized! Would you like to have a place for everything and have every kitchen drawer organized? Then you'll love these kitchen drawer organizing ideas!
20 Space-Saving Kitchen Drawer Organization Ideas
Keeping an organized kitchen isn't difficult with these kitchen drawer storage solutions. Here are some tips to get you started:
Clear out the space. Remove everything from your kitchen drawers and start with a clean slate. This will allow you to see everything you have, and you can decide how best to use your space.
Purge and clean. You know you have things that never get used. Consider donating rarely used items and toss things that are broken or worn out.
Give everything a home. When every item in your kitchen has a specific place to call home, it is much easier to keep everything organized. Be sure to put it back in the same place after you use it so your organization efforts last longer than a month.
1. Pots and Lids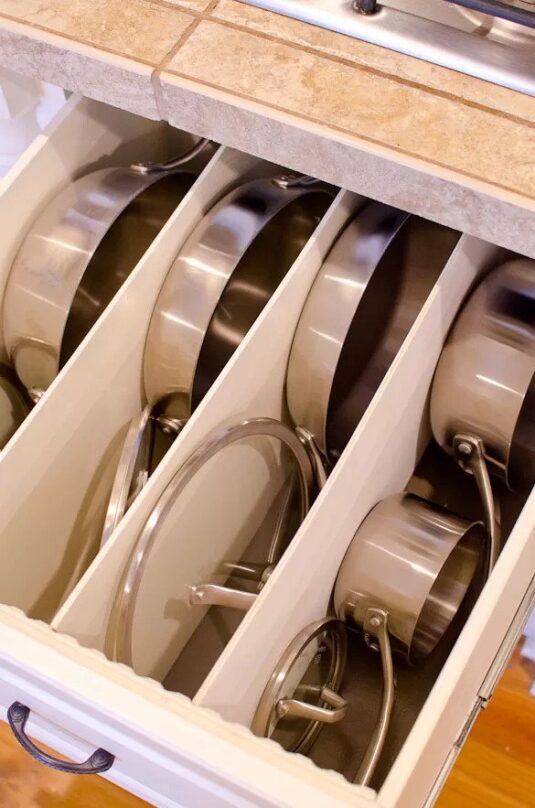 Pots and lids have a tendency to get piled up and shoved wherever they will fit until they all come tumbling out. Seeded at the Table shows you how to build a pots and lids drawer to keep everything organized.
2. Pet Drawer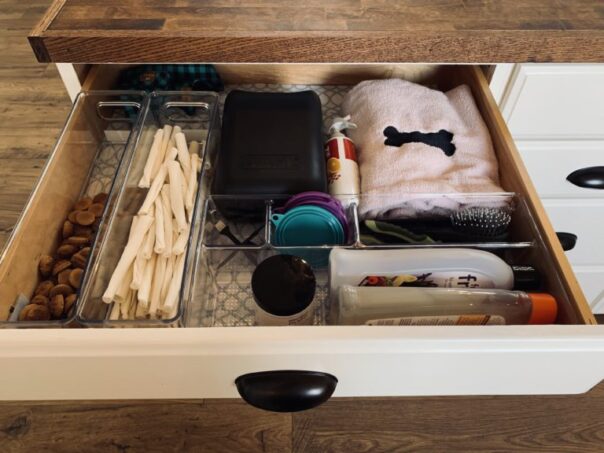 Sort everything you need for your pet into one drawer for easy access and a clean look. This doggy drawer from Tidy Little Tribe will be a lifesaver.
3. Not So Junky Junk Drawer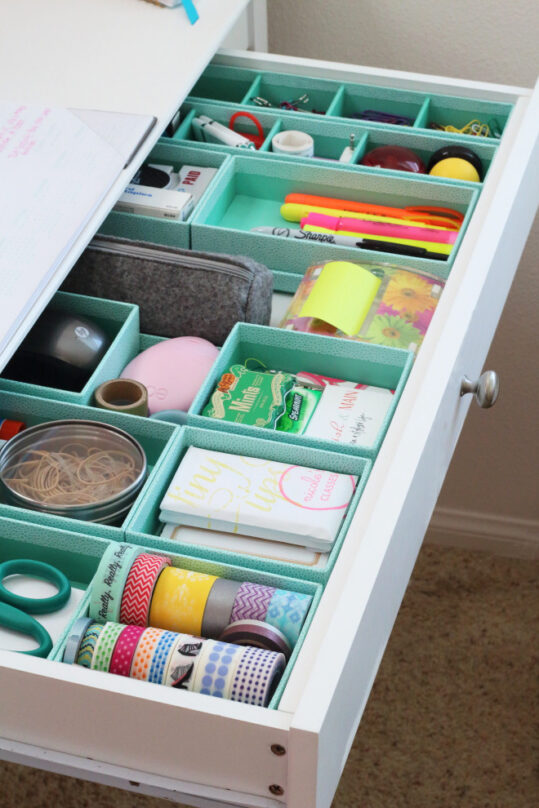 We all have a junk drawer or two. A space that serves as a catchall for all the things that don't have a home. Modish and Main prove that junk drawers can be clutter-free and beautiful.
4. Perfect Pantry Drawer
Well-labeled containers can make all the difference when it comes to an organized kitchen. I Heart Organizing has created the perfect pantry drawer for storing potatoes, onions, bread, and more.
5. Kitchen Linen Drawer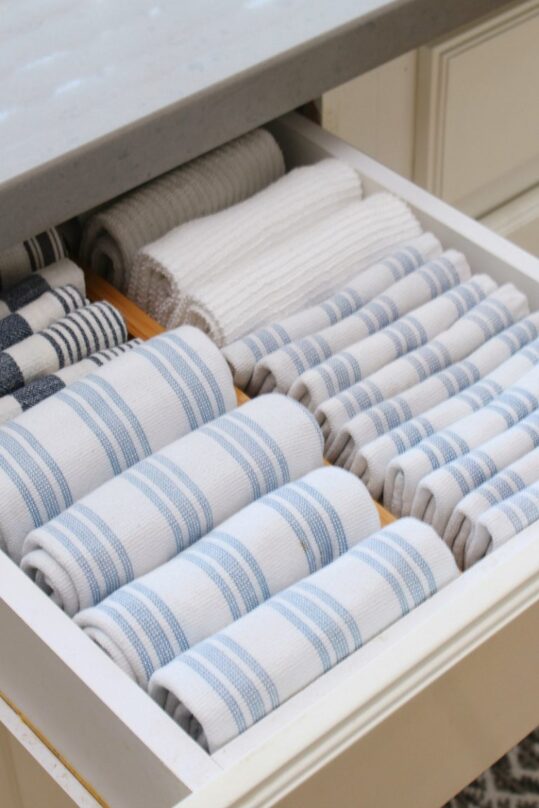 Clean and Sensible show us how to have a neatly organized linen drawer by carefully storing our dishcloths!
6. Organizing Deep Kitchen Drawers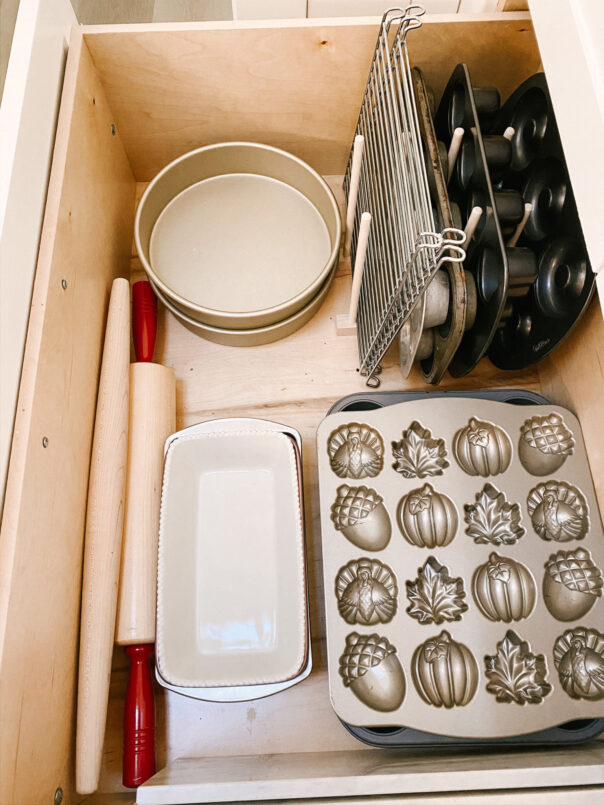 Deep drawers are handy but have some unique challenges. Visit Modern Glam for tips on organizing deep kitchen drawers.
7. Coffee Station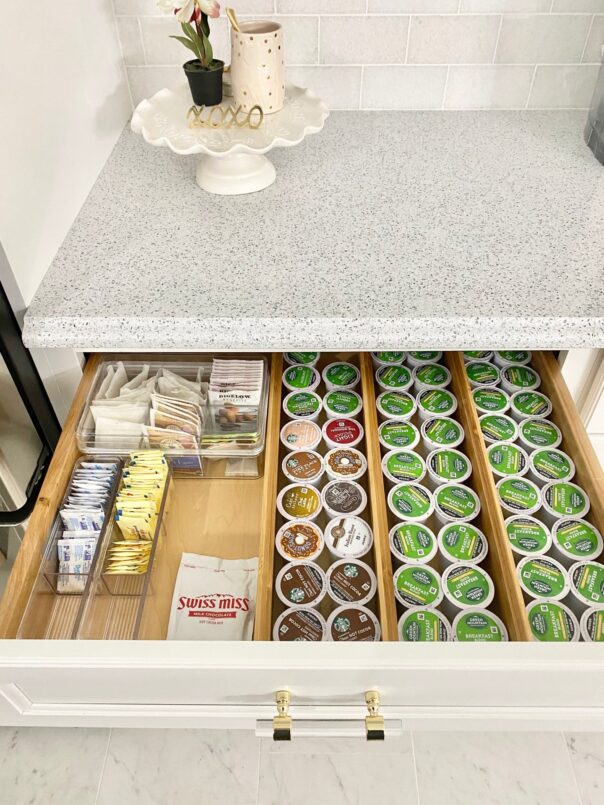 Coffee is my lifeblood, and stumbling around the kitchen each morning to find everything I need can be frustrating. Glam Bytes Blog has created the perfect coffee station drawer, so all your coffee supplies are at your fingertips and easily hidden away when you don't need them.
8. Kitchen Utensil Silhouettes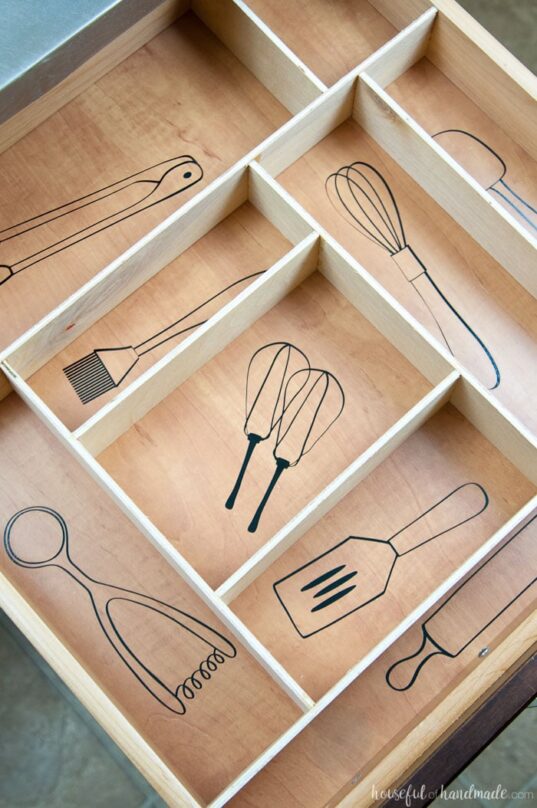 Use SVG cutouts to create kitchen utensil silhouettes in your kitchen drawers to remind you where supplies go. Houseful of Handmade created a beautiful silhouette drawer that even helps her young children learn where utensils belong.
9. Baby Drawer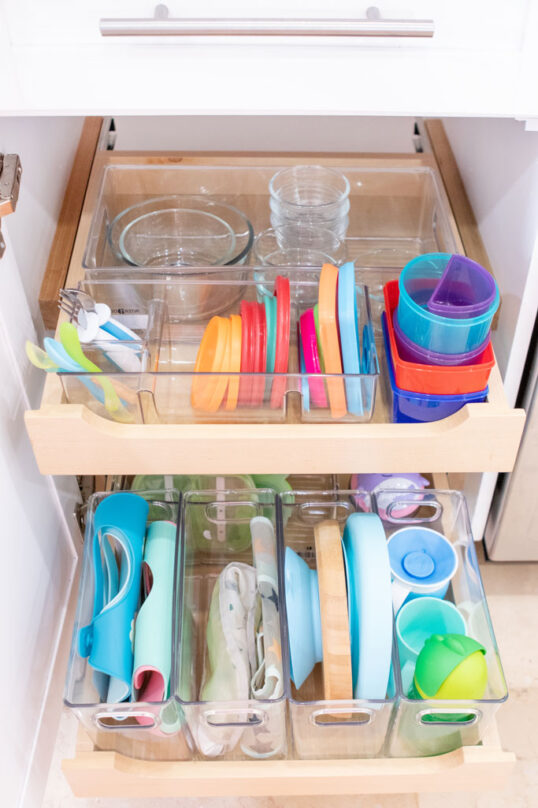 Babies are a blessing but they sure do need a lot of stuff! Blame it on Mei has some great tips on how to organize your kitchen drawers to make room for baby.
10.  Battery Drawer Organizer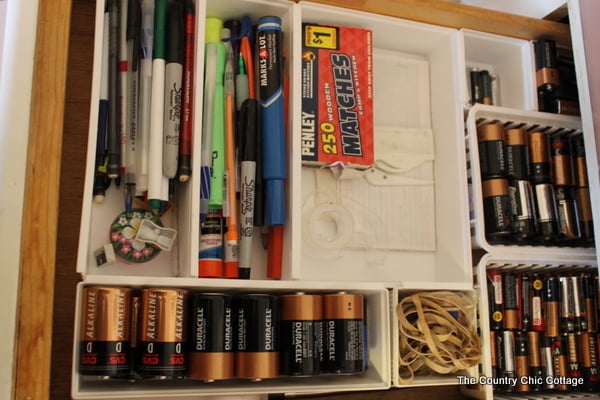 Batteries are always rolling around the drawer causing unwanted messes.  The Country Chic Cottage has a drawer organizer idea for different configurations in her Clear Your Clutter with Kitchen Organizing Ideas.
11. Spice Drawer Organization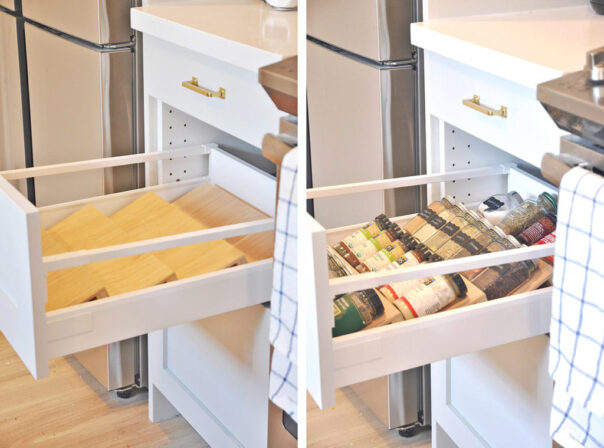 Do you struggle to find the spice jar that you need? This DIY spice drawer organization rack from Hydrangea Treehouse will put everything right at your fingertips so it's easy to find.
12. DIY Diagonal Drawer Organizer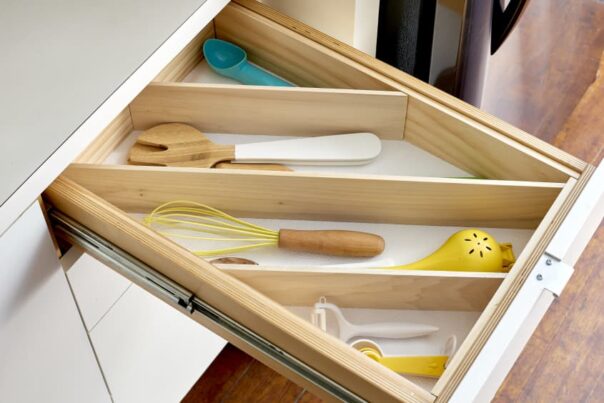 Some utensils just aren't designed to fit into a drawer very well. The Kitchn solves this problem with a DIY diagonal drawer organizer so you can easily store longer items.
13. DIY Drawer Dividers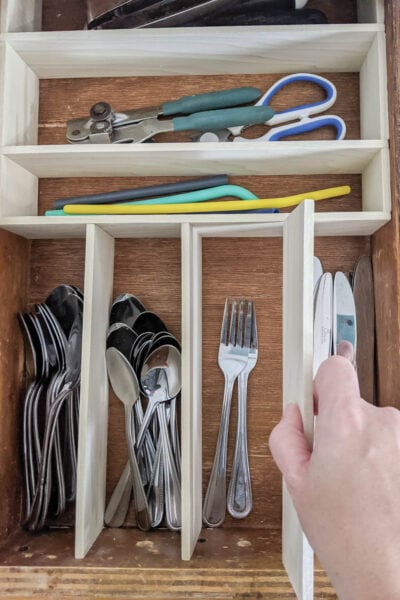 Make your own drawer dividers with a few scraps around the house.  How to make cheap and easy DIY drawer dividers from Lovely Etc. will help you better organize your kitchen.
14. Organize with Baskets
Implement baskets and trays to organize smaller food items that may get lost behind larger packages. Declutter in Minutes is where you will find this Drawer Organization Idea.  
15. Baking Drawer
An organized and efficient way to store all of your baking items.  Creating an organized baking drawer from Blue I Style will keep you ready to start baking without hassle.
16.  Bag Drawer Organization
What a handy and useful drawer! There are many clever ways to organize your drawers with these ideas from Declutter in Minutes.
17. Plastic Containers and Lids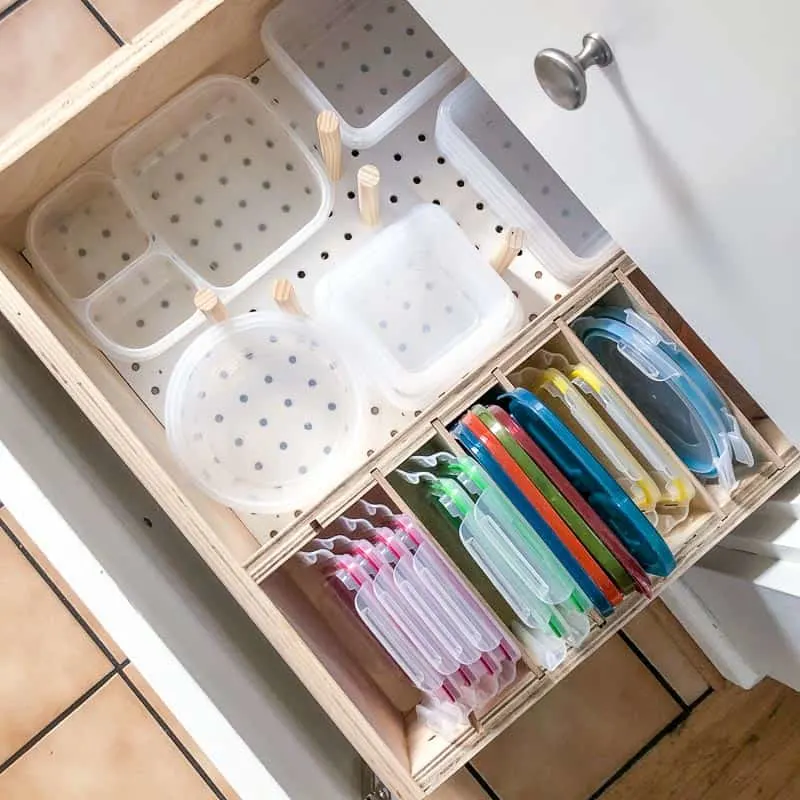 Never waste time again by looking for lids and containers.  Organize Your Kitchen with These 20+ Brilliant DIYs from DIY Candy.
18. Custom Drawer Organizer Strips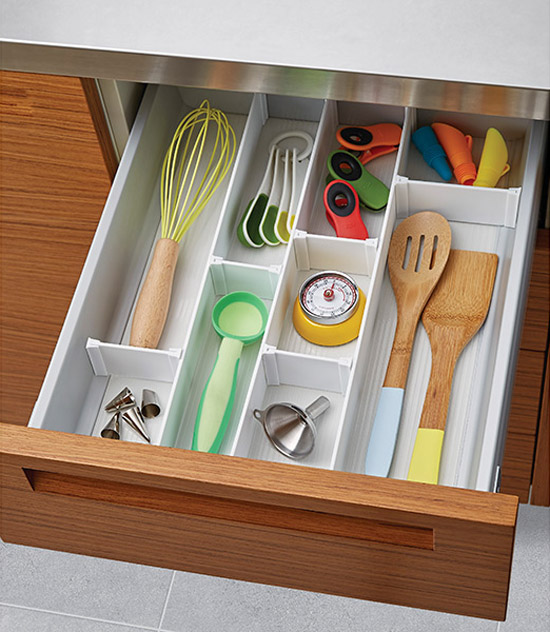 Using every part of the drawer will allow you more storage.  Custom drawer strips will help you organize every inch of the drawer.  Blue I Style offers the best products to help you get organized & stay organized.  
19. Inexpensive Drawer Organizers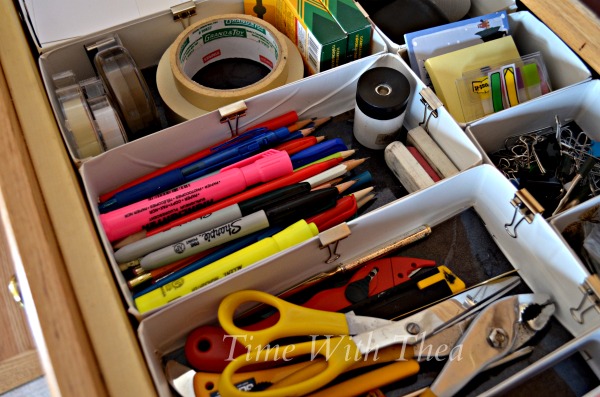 Inexpensive ways to organize your junk drawer in the kitchen.  Hometalk has an idea for the frugal from Finally The Perfect Solution To Inexpensive Drawer Organizers.
20.  Spice Jar Drawer

This is for those organizers who want to have every detail just perfect.  320 Sycamore not only offers you ways to organize but also labels ideas for your spice jar drawer.
What's your best tip for keeping a tidy kitchen? Share your kitchen drawer organization tips in the comments!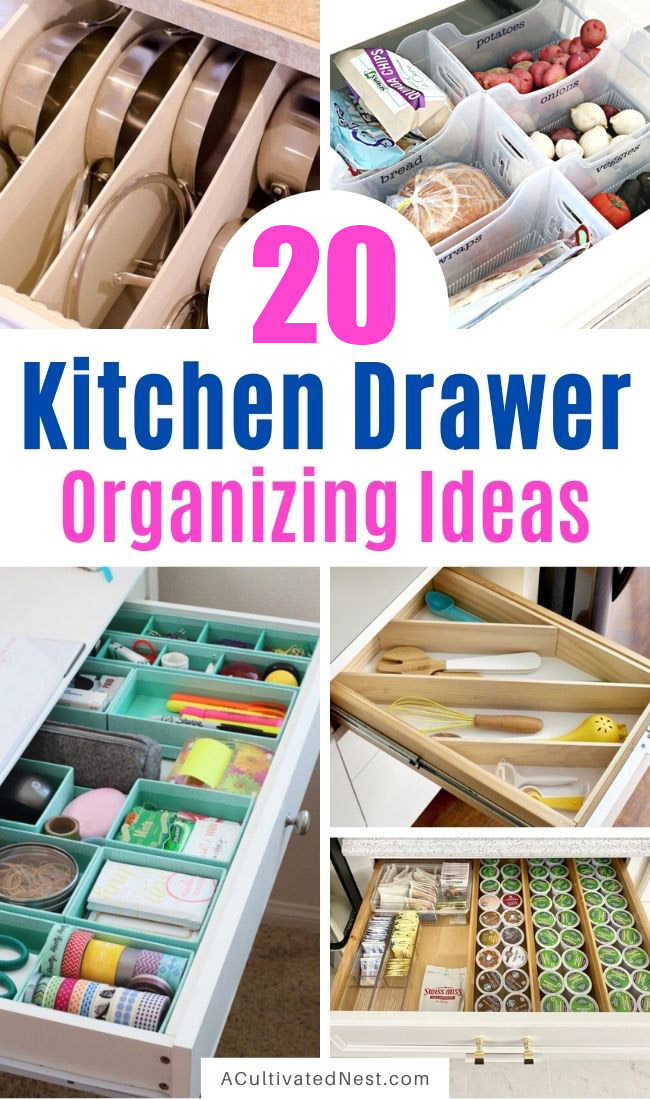 You might also be interested in: 12 Time-Saving Kitchen Organization Ideas