My kids are having a lot of fun doing winter and Christmas-themed kids' crafts! We took a break from making homemade ornaments to do some more general artsy type crafts. My favorite so far has been this snowman craft! I'm a big fan of using crafts sticks in kids' crafts, especially when you can make something this cute! Gather up the kids, some hot chocolate, and your craft supplies and make this cute Snowman Popsicle Stick Craft!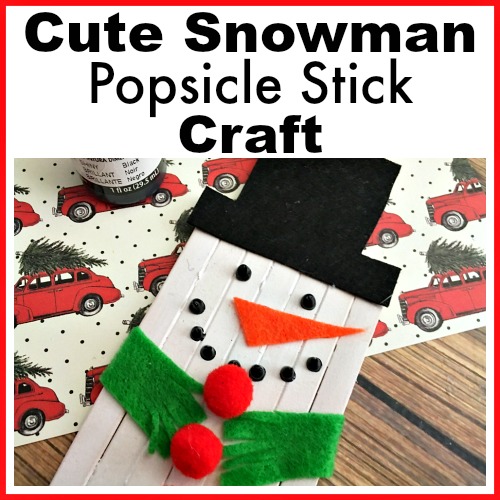 Disclosure: This post may contain affiliate links to Amazon and/or Etsy, which means that I may earn a small commission from some of the links in this post. Please see our Disclosure Page for more information.
What you do with your finished craft stick snowman is up to you! My kids just propped theirs up on shelves in their rooms. But you could also hot glue some string to the back of these to make a door ornament, or a big Christmas tree ornament! Or you could put another popiscle stick vertically on the bottom to make a spot to hold and turn this into a popsicle stick puppet!
Cute Snowman Popsicle Stick Craft
Materials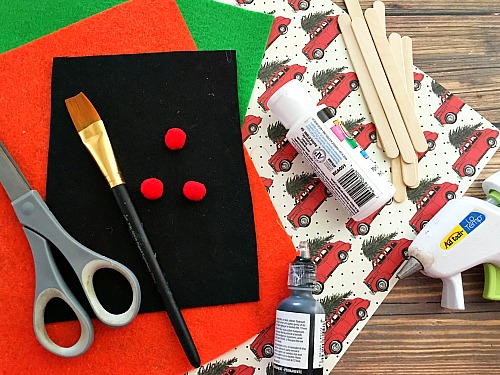 8 craft sticks
White craft paint
Black puffy paint
Black, green, and orange felt
Red small pom-pom balls
Scissors
Hot glue/hot glue gun
Paint brush
Directions
1. Line your craft surface with a piece of old newspaper.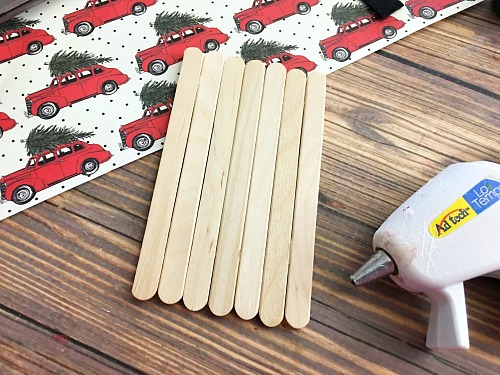 2. Carefully cut a craft stick in half and place the pieces horizontally. Glue your other 7 sticks vertically onto your horizontal sticks, the two small pieces acting as a backing.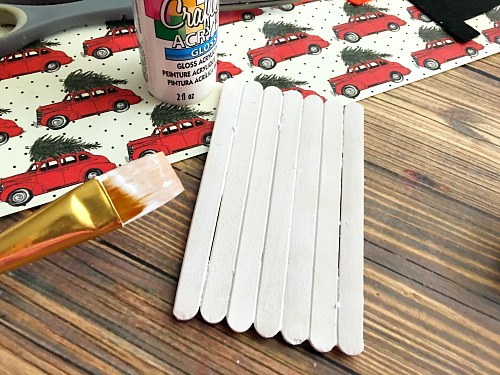 3. Paint your craft sticks white and let dry.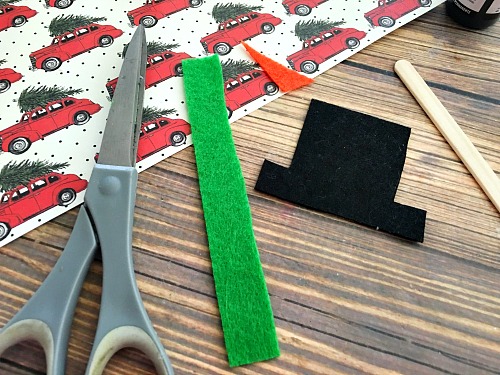 4. Cut the following pieces from your felt: Black- top hat. Green- scarf 1/2″ x 8″, cutting fringe on the ends. Orange- triangle for nose.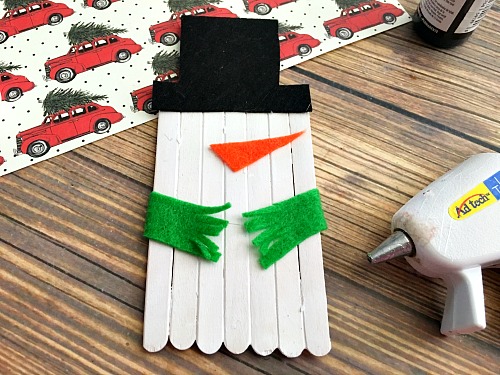 5. Hot glue your top hat on to the top of your craft sticks, your nose slightly below, and the scarf around the back and onto the front.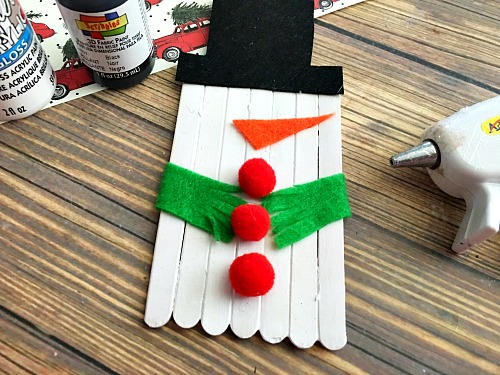 6. Hot glue your pom-pom balls under the nose vertically.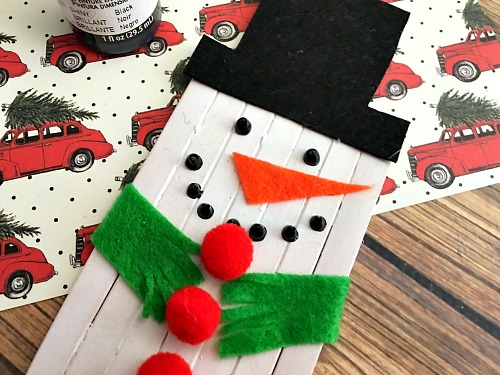 7. Now use your black Puffy paint to draw on eyes and dots for a mouth.
Then your snowman popsicle stick craft is finished!
What crafts have your kids been doing lately?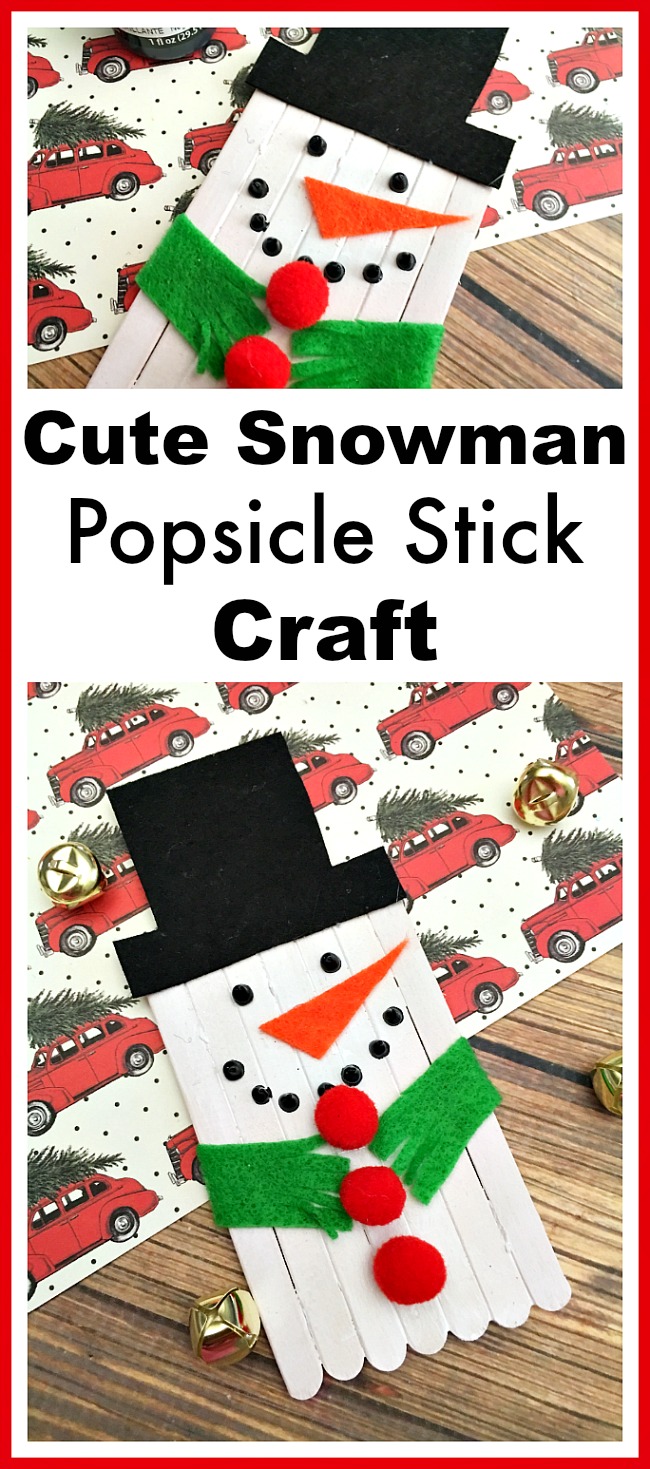 This post contains affiliate links to Amazon. Please see our Disclosure Page for more information.
You might also be interested in: