Here's a really quick project that I loved doing last year (you can see it here) so I did it again this year – a recycled sweater craft! Dress up a flower pot with an old sweater.  I made a cute knit sleeve for my  plant pot that gives it a nice wintery feel and some texture.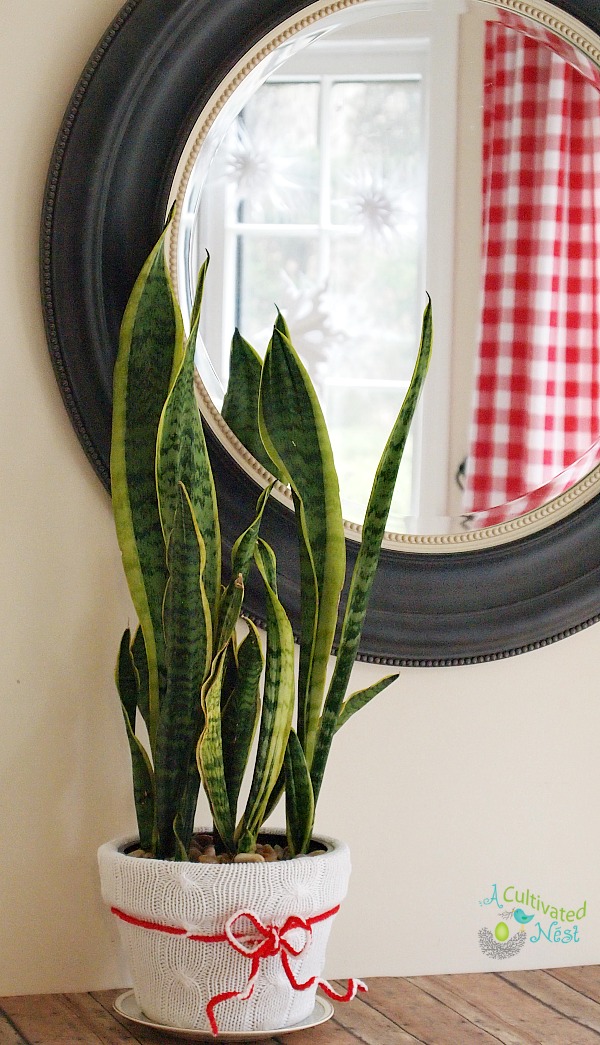 Disclosure: This post may contain affiliate links to Amazon and/or Etsy, which means that I may earn a small commission from some of the links in this post. Please see our Disclosure Page for more information.
I decided to decorate more for winter than for Christmas this year and my theme is gong to be warm and cozy knits. So I went to Goodwill and bought two sweaters at under $5 total (1/2 off)  and I have a few projects that I've used them for.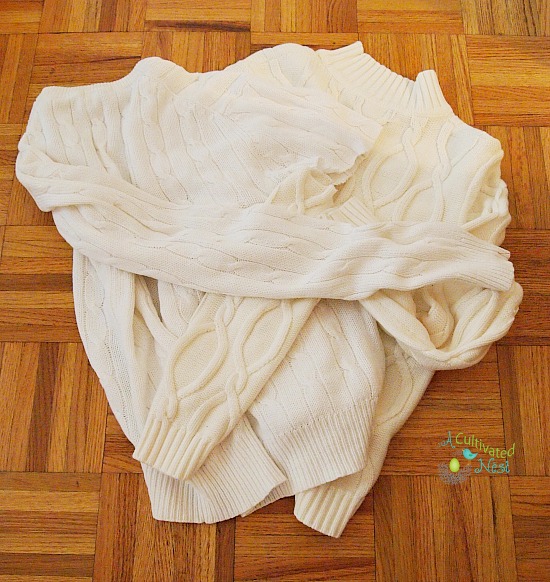 As you can see, one sweater is a pure white and the other is off white. Both are a women'ts size medium.
I used the pure white for this project. I liked the chunkier pattern of the other sweater but it didn't  have as much give as the pure white one which is important. Of course, you can just recycle an old sweater than you or someone in your family isn't wearing instead of going to the thrift store and it doesn't have to be white. I just like the look of white knits for winter. Also,  this particular project is not for huge pots! The one I used is an Azalea pot 6.7″ diamater
Recycled Sweater Flower Pot Sleeve
Materials:
old sweater
scissors
hot glue
pot a little bit bigger than the pot the plant is in – mine is terra cotta but this works on plastic pots as well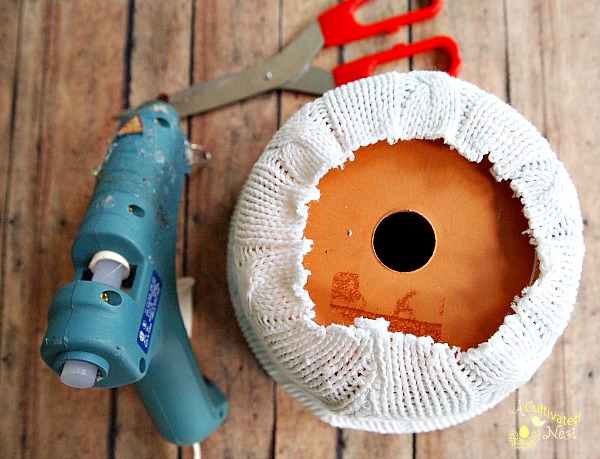 Directions:
(1)  measure the height of your  pot and add a few inches to that measurement (better too much than too little since you can always trim away any excess).
(2) Then I used that measurement to cut off part of a sleeve on the old sweater.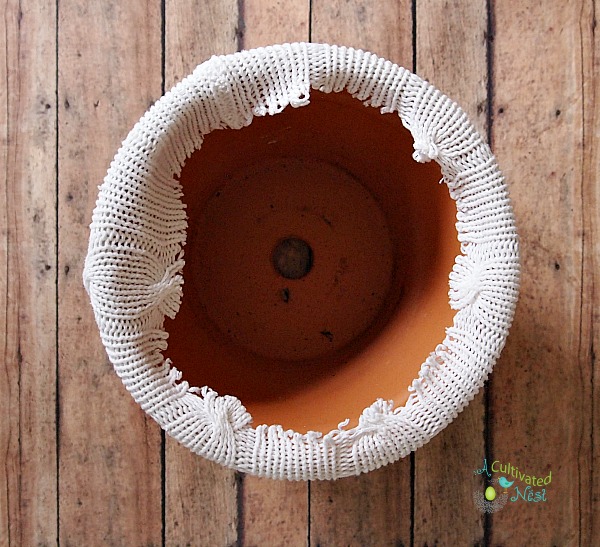 (3) Slip your pot into the sweater sleeve and trim  any excess. The photo above is before I trimmed some off.  Leave just enough to cover the rim of the pot and run a few dots of hot glue on the inside to hold down the sleeve and on the bottom as well.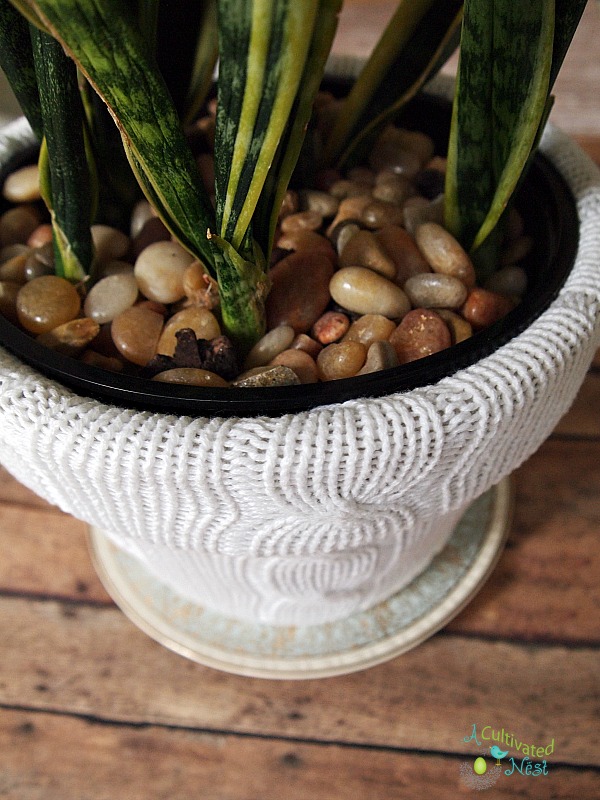 (4) Small rocks on top of the dirt makes it all look neater. Also, I take my plant out (it's in a plastic pot) to water it.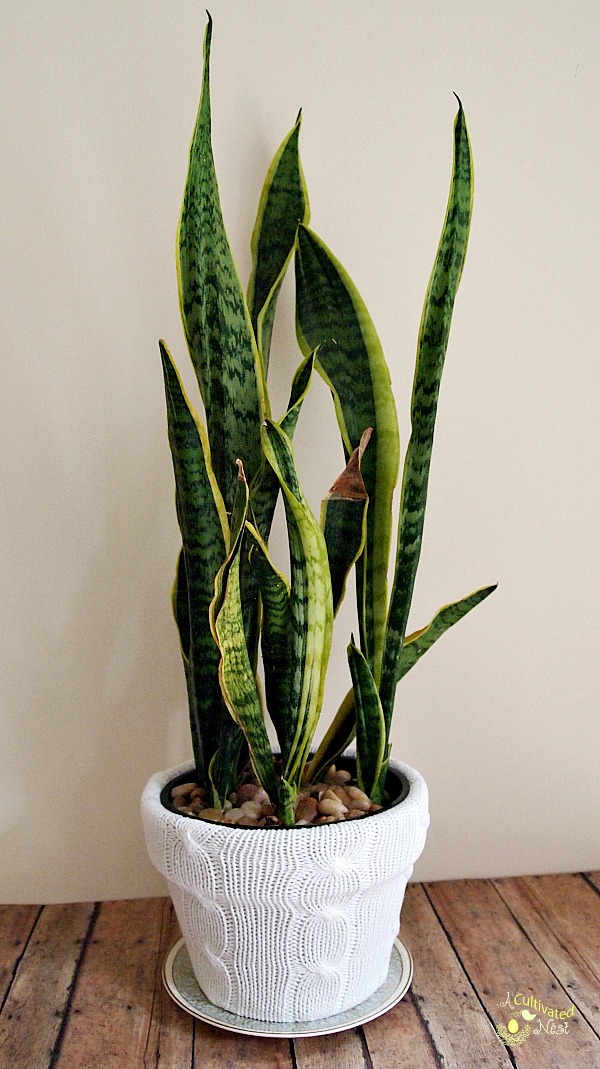 I think it gives the pot a nice wintery look!  You could also wash the sweater before covering the pot if you wanted a more felted look.
And to make it more Christmassy – I just added a ribbon – so easy to remove after Christmas!