Happy Monday everyone! I hope you all had a great weekend, we had a very busy one! We're in the middle of several re-organizing projects (I'm getting a new pantry!!!) plus I'm trying to get some garden projects done before it gets too cold. My husband saw the first flock of geese heading South on Sunday!! I'm hoping that doesn't mean an early and long winter! I wanted to share with you a couple of things today. A really easy fall DIY project at the end and a cute pillow from a friend.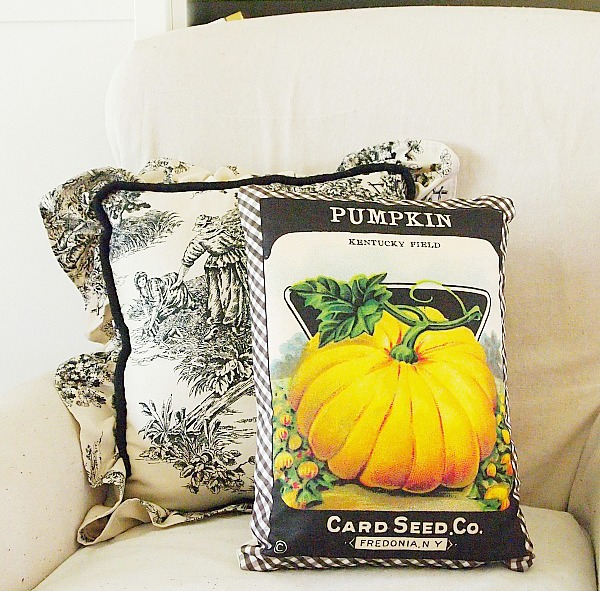 Disclosure: This post may contain affiliate links to Amazon and/or Etsy, which means that I may earn a small commission from some of the links in this post. Please see our Disclosure Page for more information.
First, this great pillow that I got from Kathy @ Kathy's Cottage. Pillows are one of the easiest and most affordable ways to update your decor.  Seasonal pillows can used year after year (and since you only see them once a year you don't get tired of them).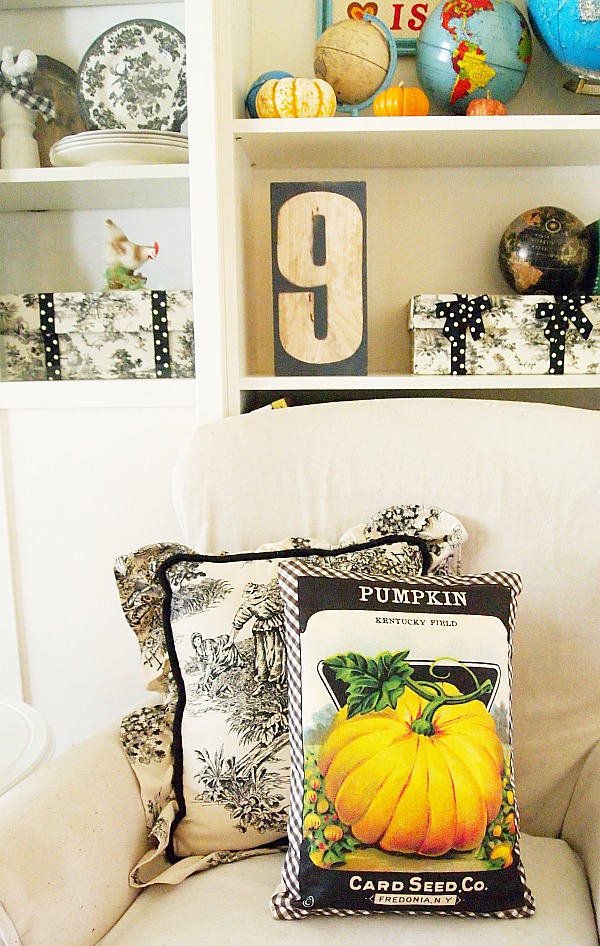 She always has the cutest pillows available in her etsy shop Hens In Daisies. I wish I had her sewing skills! I think this one is just the perfect little fall accent pillow.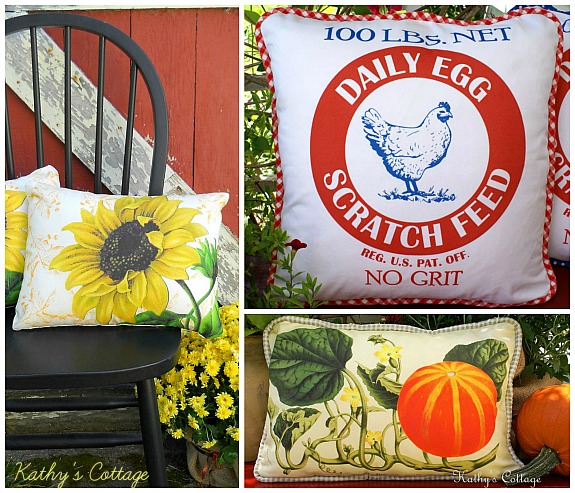 She has quite a few other ones to choose from  like these.  So hop on over and check out her etsy store.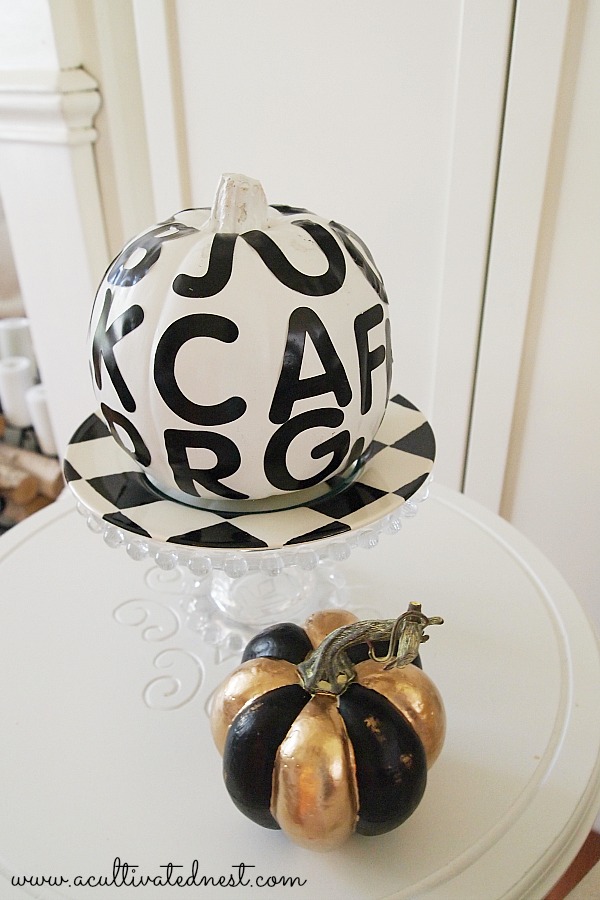 I also wanted to show you 2 pumpkins I made that will actually be going in my dining room.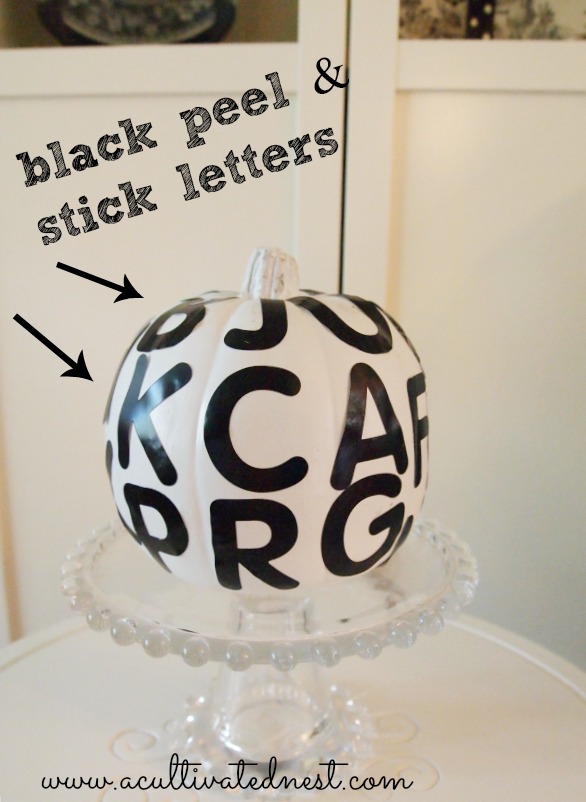 This typography pumpkin is really easy to make! It's just a white faux pumpkin (I actually spray painted it white since I didn't have any more white ones) with some black peel and stick letters randomly placed on it. Very quick and easy to do. Apparently when I spray painted my pumpkin (that was last month), I must have used two different cans of spray paint. Some parts are shiny and some are more like I used white primer 🙂 The letters stick better to the shiny part than the matte part. I had to use a few dabs of hot glue to get them to stick to the part that wasn't shiny. Just letting you know if you decided to spray paint a pumpkin in order to make this.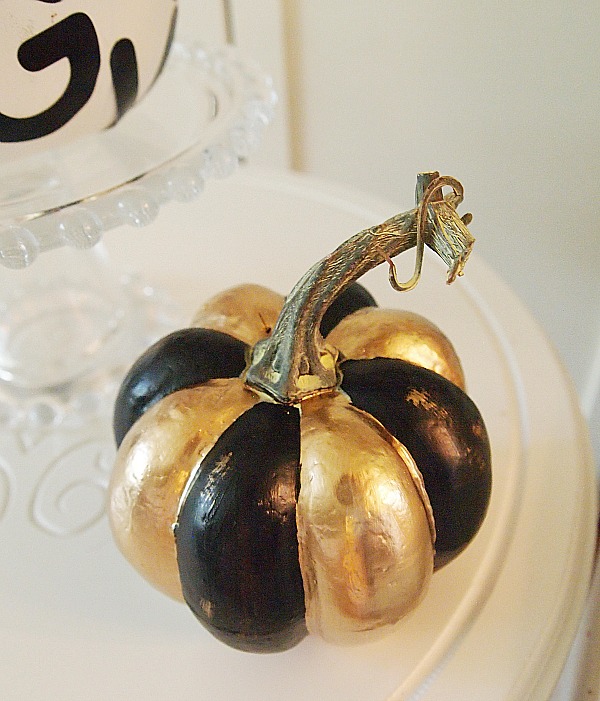 The little pumpkin is black and gold. I have a little bit of gold going on in my dining room and thought it would be fun to do some gold fall accents in there this year. One of the reasons I love faux pumpkins is that you can repaint them every year which makes them a great decorating investment! 
I have some more seasonal decorating to share with you later this week!

Have you seen my fall mantle?
Click here