Beautiful Potting Benches DIY Ideas.
The potting bench that I used to have in the vegetable garden finally fell apart (although why something that's supposedly made for the outdoors would rot is beyond me). My husband did make me a nice long one last year and although it's functional I think it needs a few finishing touches. So I'm potting bench plotting dreaming (my poor husband, his list of projects just gets longer and longer…). Here are 15 Pretty DIY Potting Bench Ideas for inspiration!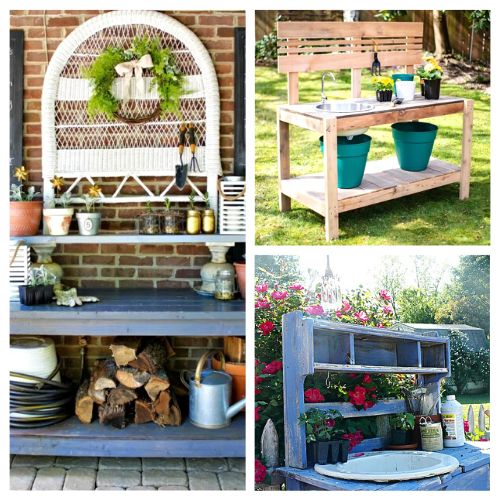 Disclosure: This post may contain affiliate links to Amazon and/or Etsy, which means that I may earn a small commission from some of the links in this post. Please see our Disclosure Page for more information.
The photo below is of my potting bench that fell apart. As you can see my husband had put an old sink in it so I could wash off my veggies in the garden (underneath was a bucket to catch the water).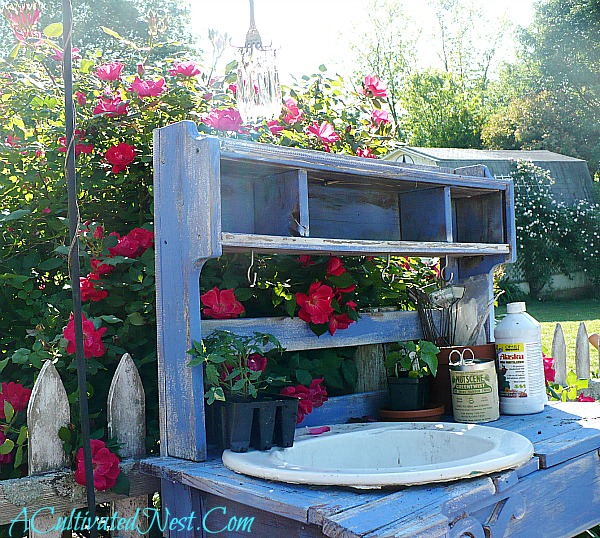 15 Pretty DIY Potting Bench Ideas
Here are some tips to consider when making a DIY potting bench:
Consider your needs: Before you start building your potting bench, think about what you need it for. Will you be using it primarily for planting and repotting, or will you also need space for storing gardening tools and supplies? Knowing what you need from your potting bench can help you build a bench that meets your specific requirements.
Choose the right materials: When selecting materials for your potting bench, choose ones that are durable and weather-resistant. Cedar, redwood, and cypress are all great options for outdoor use. Additionally, consider using a water-resistant finish to protect your bench from the elements.
Think about ergonomics: Gardening can be hard on your back and knees, so it's important to build a potting bench that's ergonomically designed. Make sure the height of the bench is comfortable for you to work at, and consider adding a lower shelf or storage area to keep heavy bags of dirt or pots off the ground.
Add personal touches: Don't be afraid to get creative with your DIY potting bench! Consider adding hooks for hanging tools, shelves for displaying plants, or even a chalkboard to write down planting notes or to-do lists. By customizing your potting bench, you can make it a functional and beautiful addition to your garden space.
1. Garden Station
This is like the new one my husband built for me, but I have sink in mine from Our Fifth House.
2. Adorable Potting Bench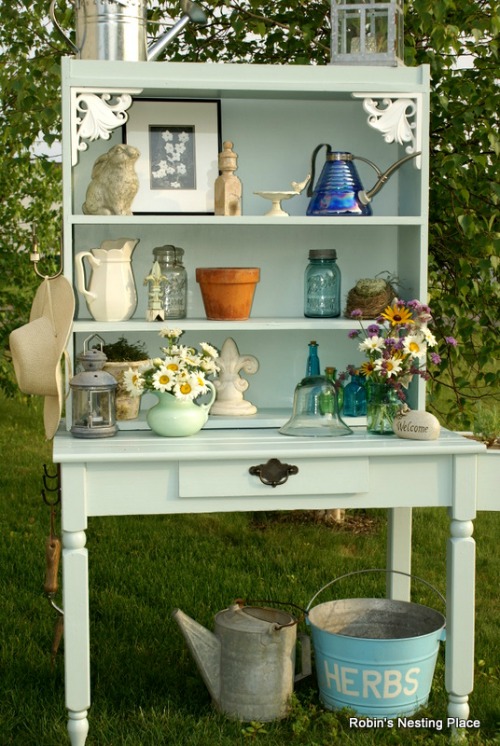 This adorable potting bench was made from several pieces that she got from a rummage sale via Robins Nesting Place
3. Chain Link Gate Bench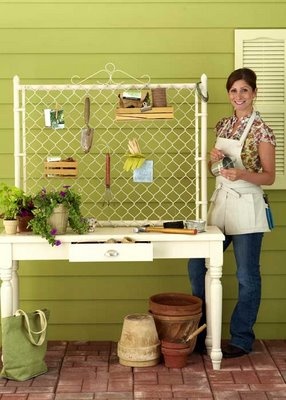 This is a table with a chain-link gate attached to the back Knitty Vintage & Rosy
4. Window Potting Bench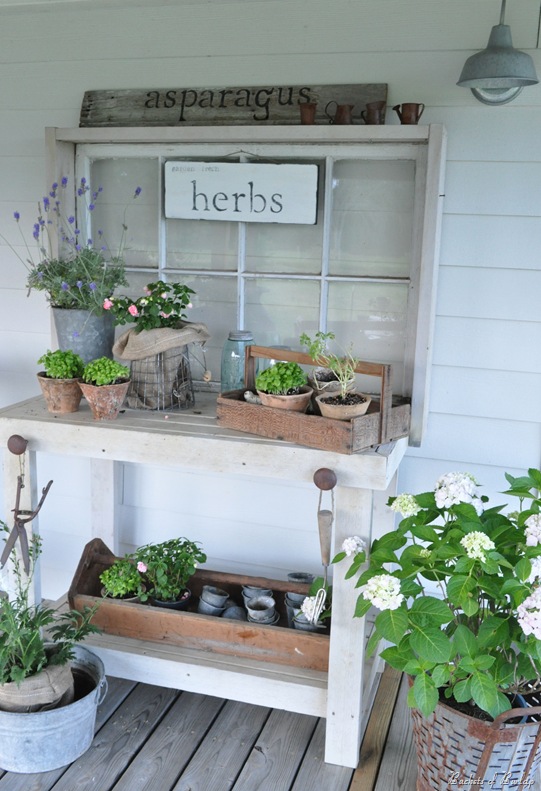 Beautiful potting bench with upcycled window from Buckets of Burlap
5. Banner Bench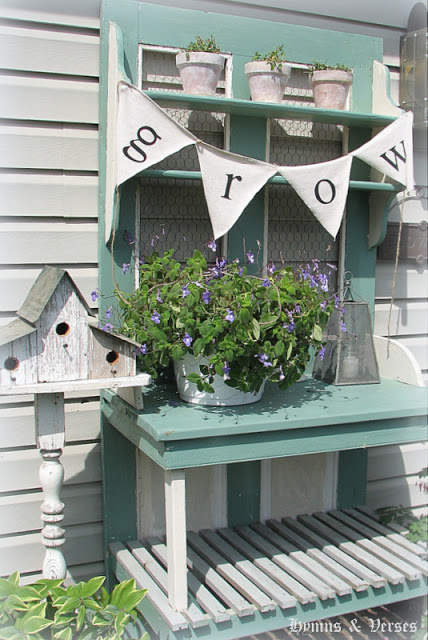 This pretty potting bench with the cute grow banner is from Hymns and Verses
6. DIY Pallet Potting Bench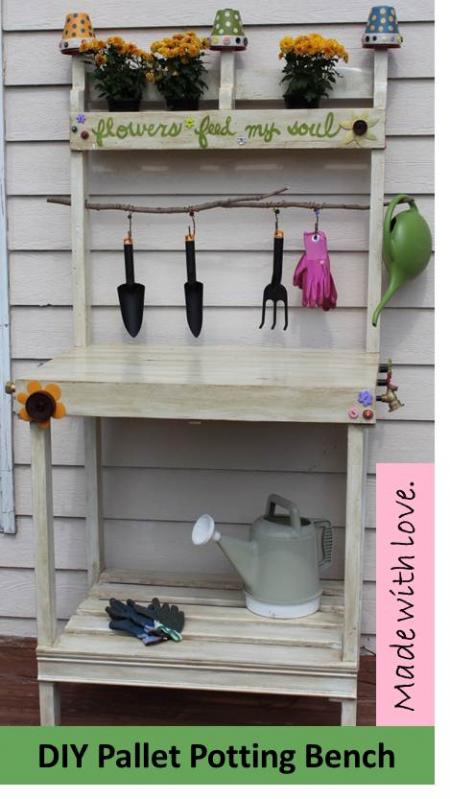 Cute DIY pallet potting bench from Ana White
7. Awning Potting Station
Check out the cute tin roof on this potting bench from Lovely Etc. 
8. Storage Bench Station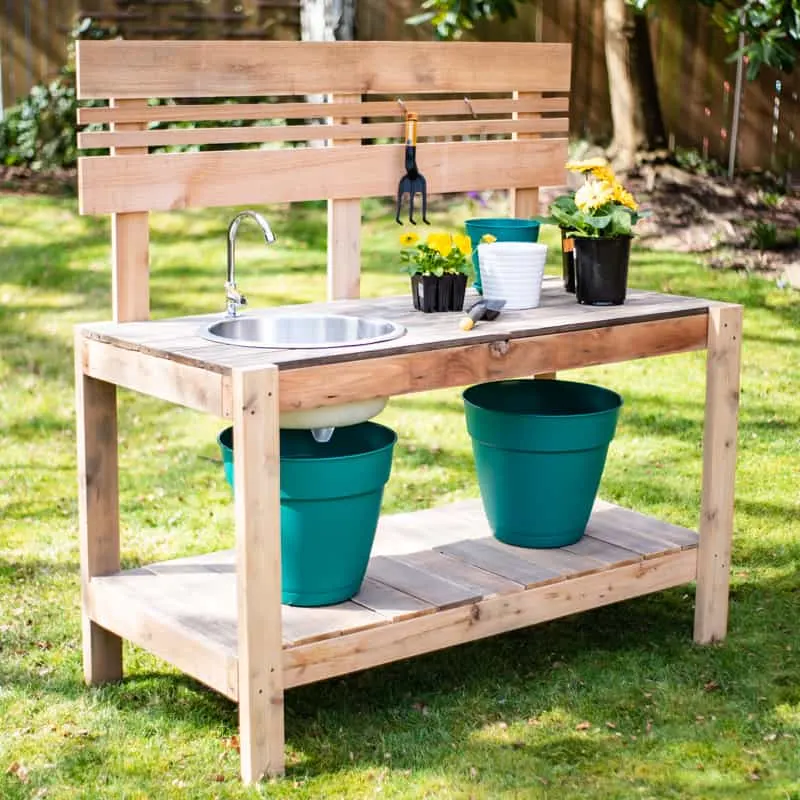 This old storage bench was transformed into a new potting bench from DIY Candy.
9. Sleek Potting Area
This sleek potting bench is made from an old workbench and is full of possibilities from Salvaged Living.
10. Barnwood Potting Station
Using an old barn wood table is a great idea for a potting bench in your garden from Not Just A Housewife
11. Bench with sink and running water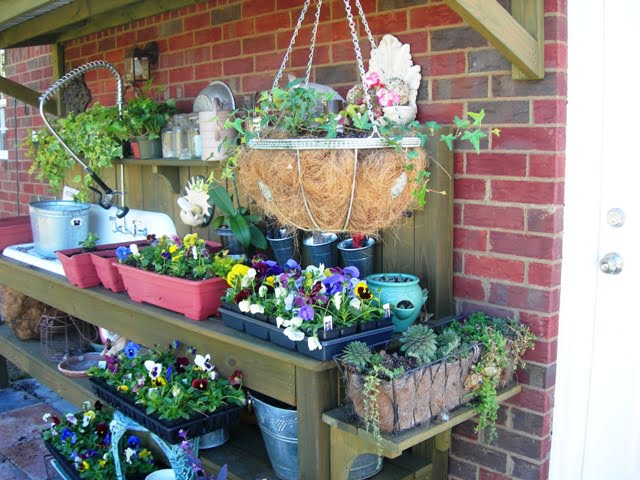 Complete with a sink and running water, this potting bench from Cottage At The Crossroads would be so handy around flower beds .
12. Rustic Potting Bench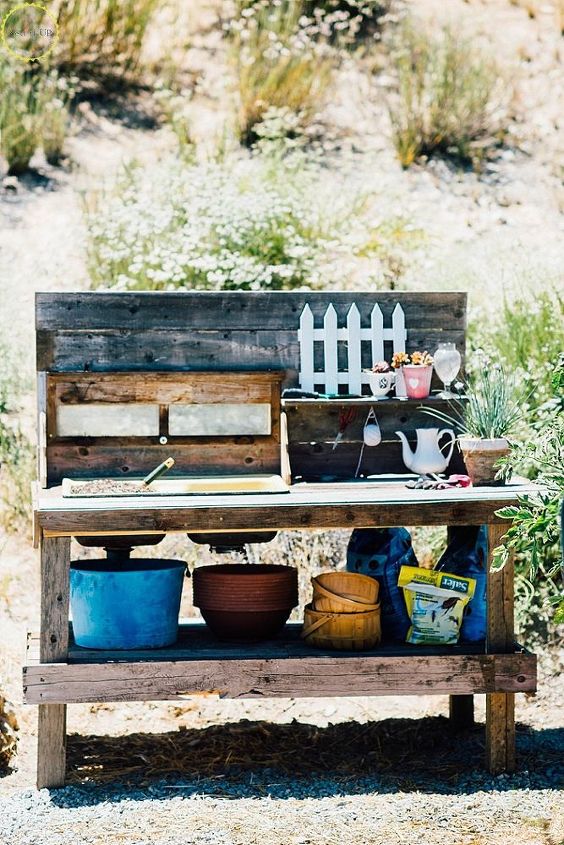 For those of you who love the rustic look, this potting bench, complete with an old sink is for you from Hometalk.
13. DIY Outdoor Island/ Potting Bench
Let's get creative by using this two-in-one DIY project as Potting Bench or Outdoor Island from The Inspired Workshop.
14. Corner Station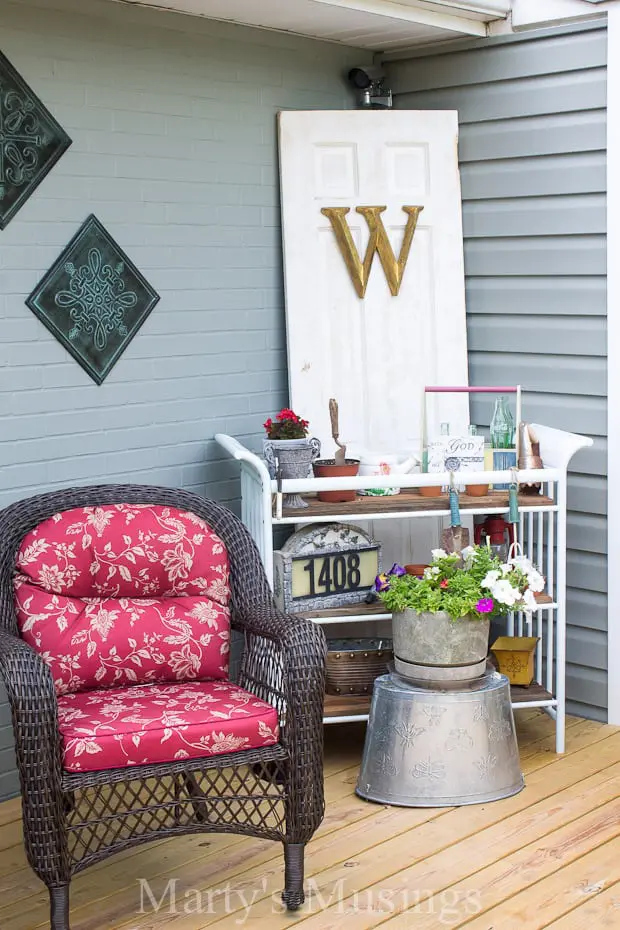 One of these little potting benches would look amazing in the corner of your porch or garden area from Pillar Box Blue.
15. Shutter Potting Station
Complete with galvanized pitchers, make this beautiful potting bench an attraction in your yard from Saw, Nail, and Paint.
Having a potting bench makes working in the garden so much easier and more organized. It's really so much nicer being able to work at table height instead of bending over to fill pots etc.
How about you? Do you already have a potting bench or table?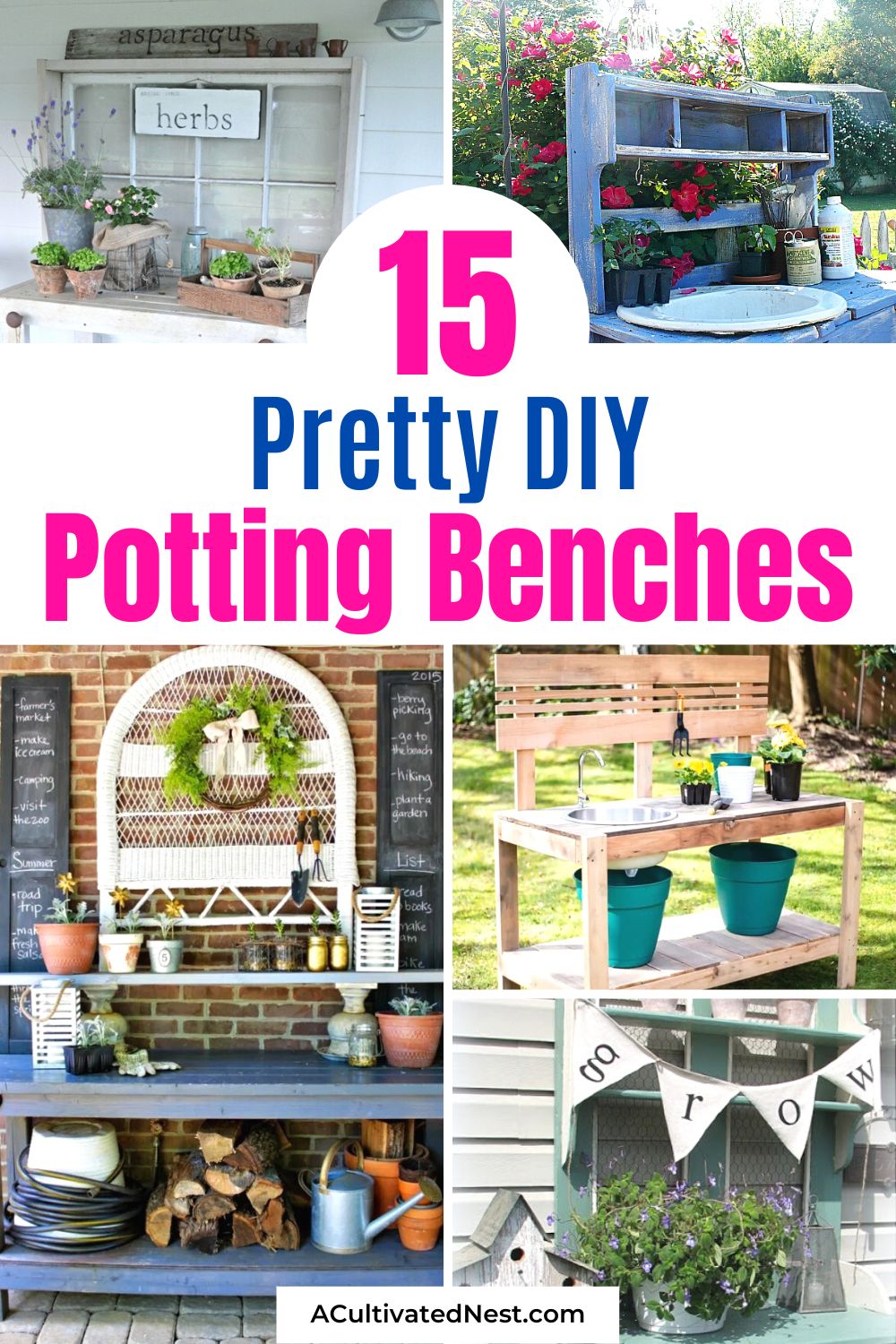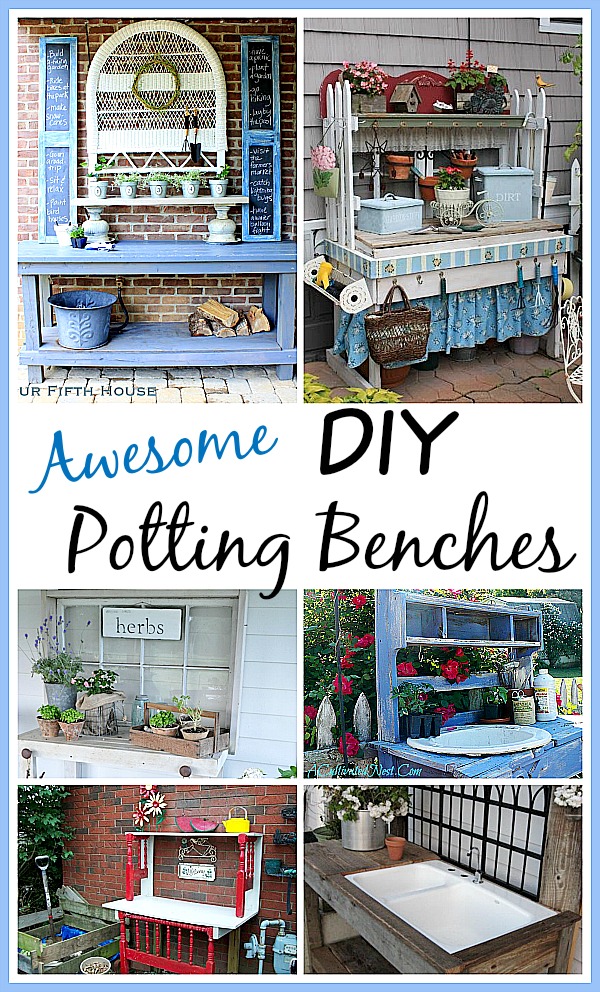 You may also be interested in: My DIY Salvaged Wood Potting Bench