My backyard vegetable garden is such a mess right now! (And you know normally it's very neat!) We're taking a few of the older raised beds out and making new ones in a size that I've found that I really like – 6×3 and 11 inches deep. I'm 5'4" and I've tried all different sizes of raised beds and that size is the easiest for me to reach into the middle of.  I wanted to show you the one bed that I have planted since I know it can be hard to decided what to plant with what if you're new to growing vegetables.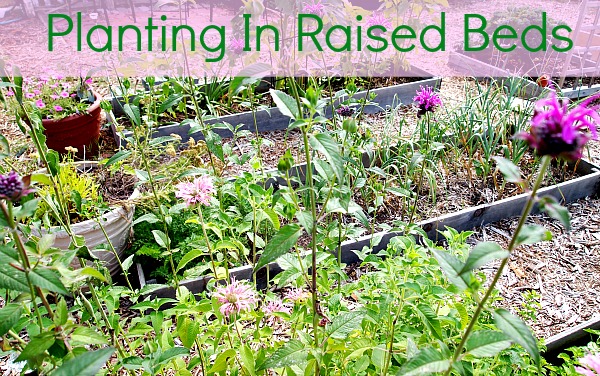 I do a combination of companion planting and square foot gardening – which works for me in this garden in this climate.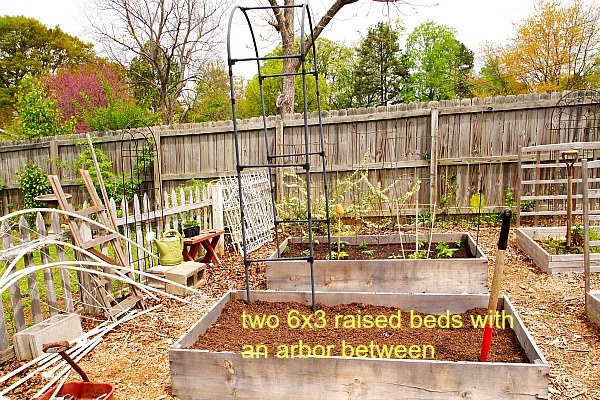 Disclosure: This post may contain affiliate links to Amazon and/or Etsy, which means that I may earn a small commission from some of the links in this post. Please see our Disclosure Page for more information.
These are two beds have had their soil refreshed  and are ready to go but only one is planted so far.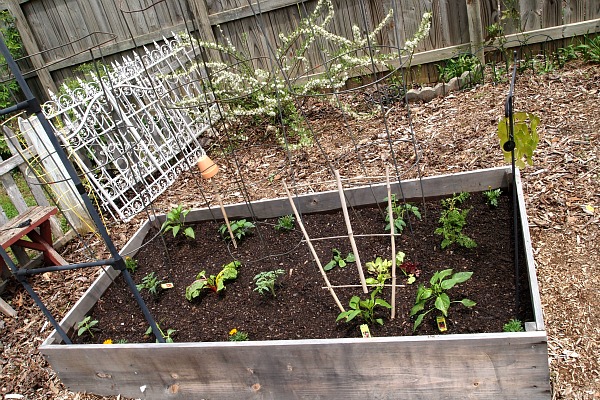 This bed is the tomato/pepper bed.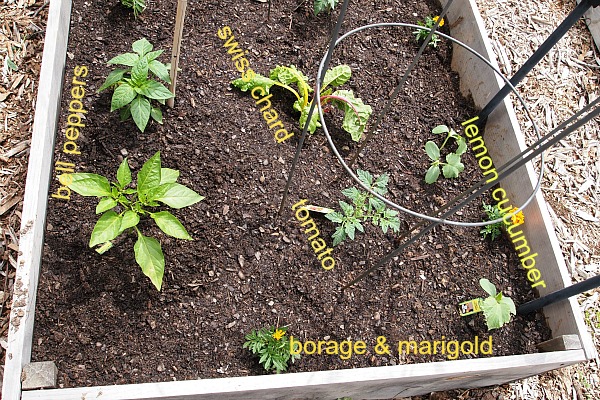 Here's a closer look.  The borage is seeded next to the marigold.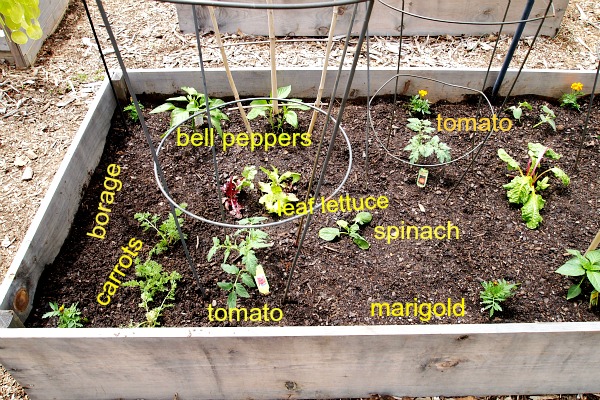 What's in this raised bed:
3 tomatoes
4 bell peppers
2 lemon cucumbers – grow up the arbor
1 swiss chard-testing this to see if it likes growing in the shade of the tomato
1 spinach- testing this for same reason as above
leaf lettuce – leafy plants act as a mulch and in the heat of summer may benefit from the shade of the tomato plants
carrots
marigolds
borage – blue flowered herb that's good at attracting pollinators, is supposed to guard against tomato hornworm , supposed to improve the flavor of tomatoes if grown nearby, the young leaves & flowers are edible and there's a whole list of things it supposedly does if you're into medicinal herbs.
I will also sneak some nasturtiums into outer parts of the bed . I'm testing the leafy greens to see if they like growing in the shade of taller plants.
We took out the old raspberry bed (I planted the raspberries out in the yard along the fence). I'm putting a little garden storage shed in it's spot. My husband has offered to build me a little shed but I may just buy one – depends on his schedule. I need some place to keep my tools and other things I need all the time without trekking into the garage or barn for them.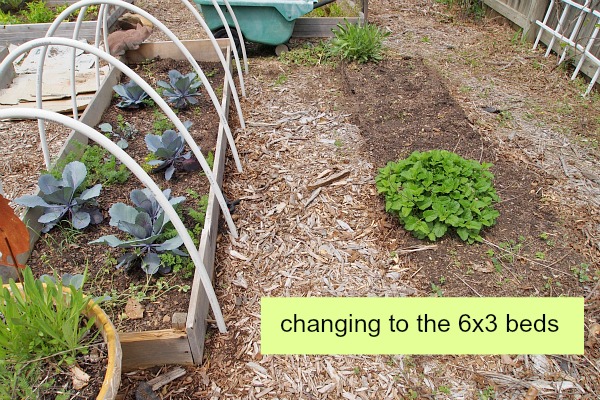 One bed is already gone. The other will be gone by next weekend. We're putting two 6×3 raised beds in this spot. I think those skinny ones were 2×8 .  Easy to work in but I found they dried out too quickly in our hot Georgia summers.
I'll have 6 raised beds to plant and I'll show you each one as I get it planted and the whole garden once it's all cleaned up!
Feel free to ask questions – I'll answer them in the comments.