Believe it or not…my daffodils are almost all done for the season (I know, I know… some of you haven't even seen your daffodils bloom yet)!  To make up for not having any daffodils, my yellow Lady Banks Rose is in full bloom (a few weeks early).  So I was motivated to  clean out the bed that it's in, cutting back stuff, pulling weeds and little trees that seeded themselves, moving things around and planting a pot with some oh so fragrant phlox. Take a look!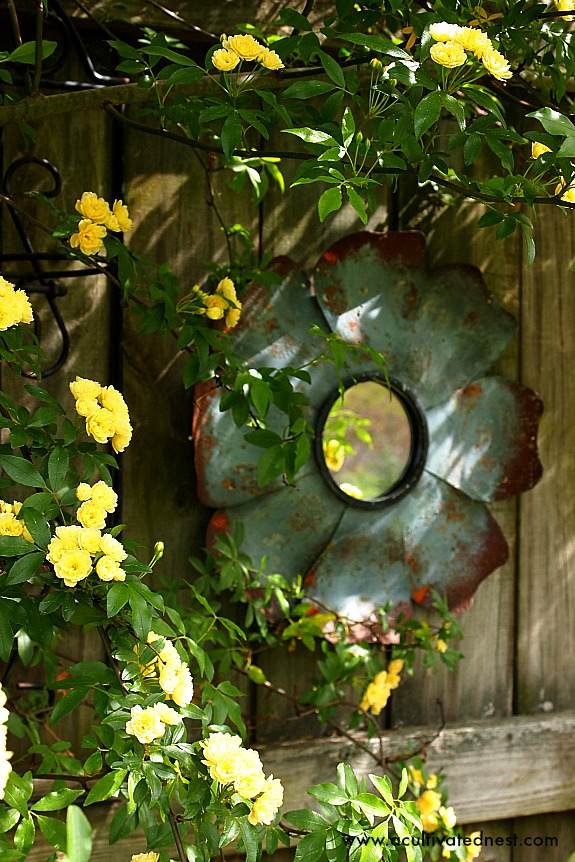 Disclosure: This post may contain affiliate links to Amazon and/or Etsy, which means that I may earn a small commission from some of the links in this post. Please see our Disclosure Page for more information.
I would say my backyard is planted in a cottage garden style. The front yard isn't quite as wild 🙂
I moved my birdbath over next to a hydrangea and that yellow frame used to have a mirror that said "Welcome"  in it that fell out over the winter (didn't break just fell out so I donated it).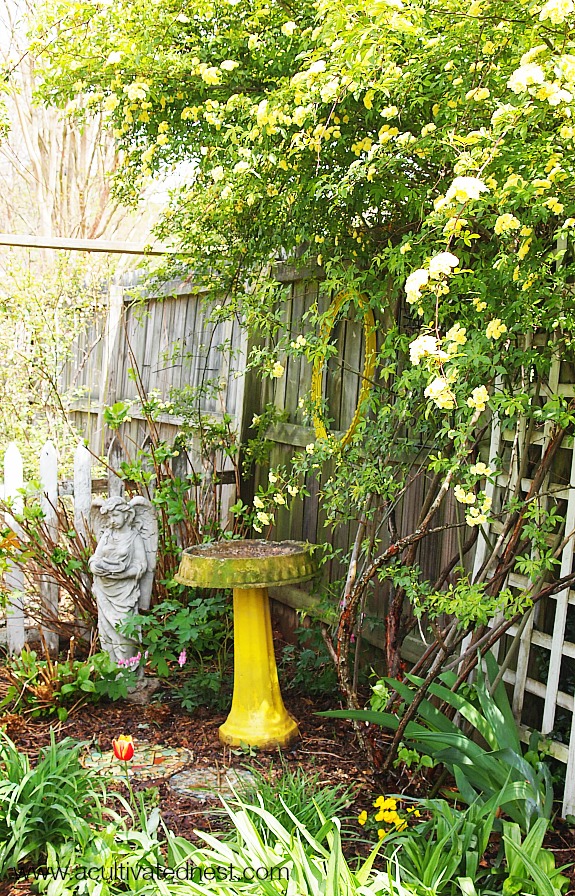 What you don't see is that behind the fence is a Crepe Myrtle which hasn't leafed out yet. The Lady Banks Rose is all intertwined with the branches and right now it looks like that tree is covered with little yellow blossoms. By the time it leafs out – the roses will be gone.
Here are a few more photos of that bed.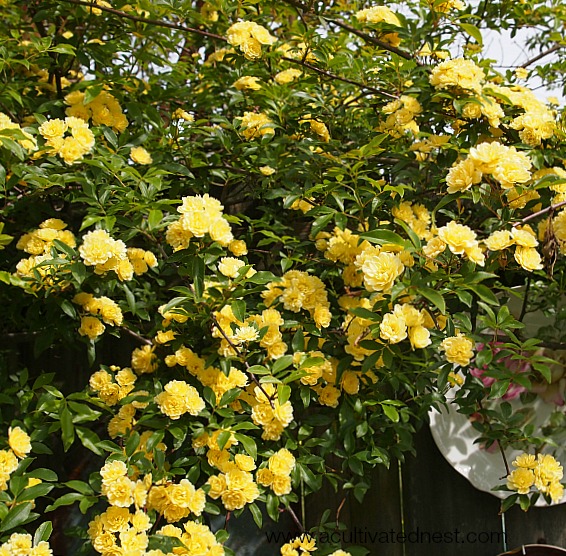 Small buttery yellow blooms of the Lady Banks Rose.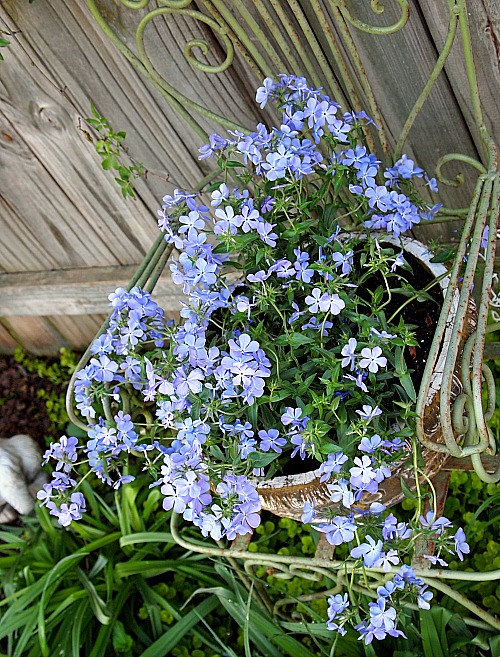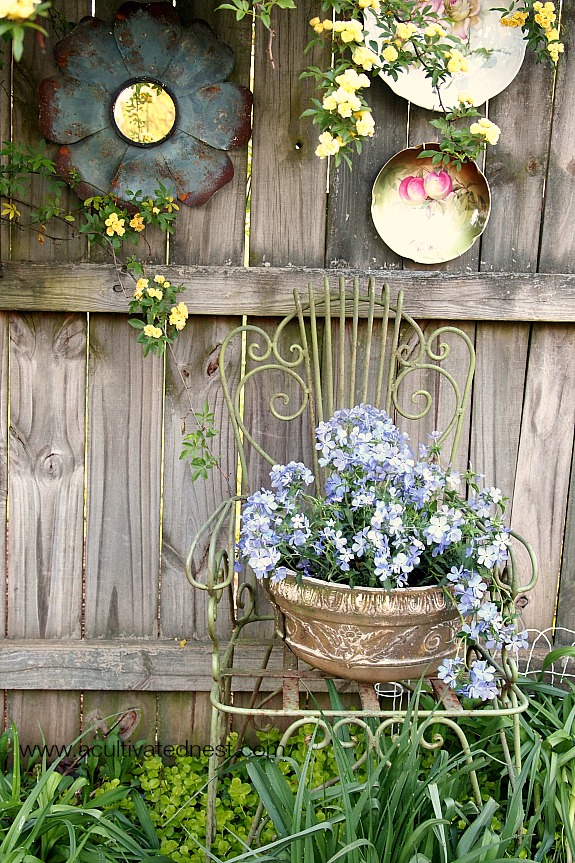 Phlox planted in a container on an old iron chair I keep in that bed for the purpose of holding containers of flowers.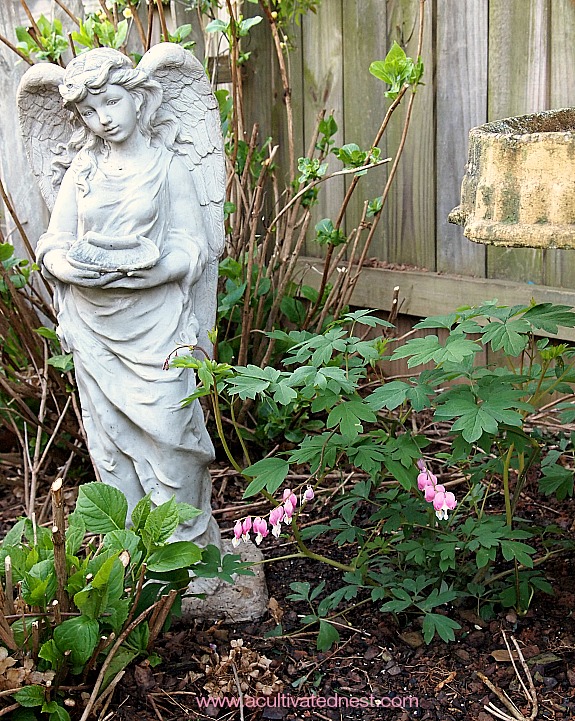 Bleeding heart by the angel statue (hydrangeas are just leafing out).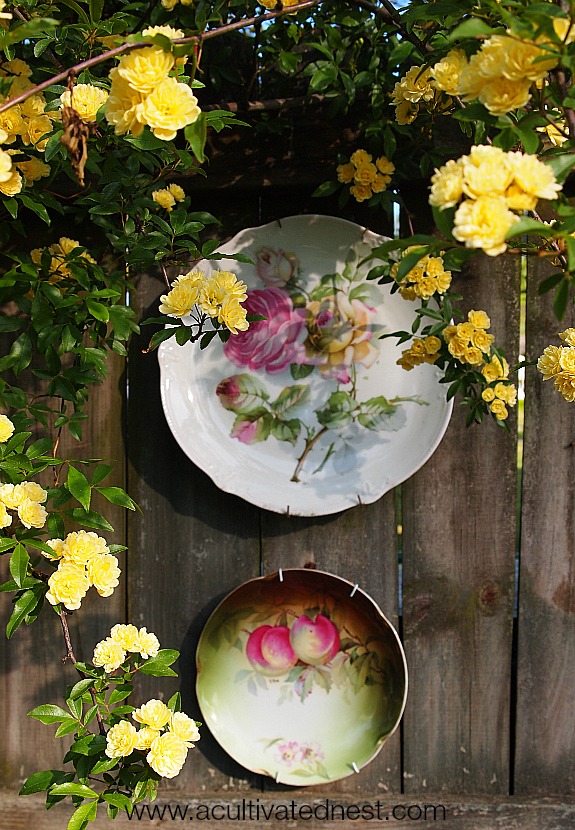 These plates have been on the fence for probably about 9 years now!
This bed also has a Knockout Rose ( which is budding), clematis,  a grapevine, tons of asiatic lilies and day lilies,  and my little gnome garden!
Hope you enjoyed seeing photos of one of my favorite garden beds. More to come as I work my way around my yard!