I thought since it's now "officially" summer that I would share what my screened in porch looks like this year. We've made a few changes. We moved some furniture down to the patio to stage it and I moved some other furniture into the porch.  One thing I've realized is that in the summer I don't need a lot of "decor" on the porch.  The stars are the scenery since it's off our top floor,  the birds we see in the trees and the delicious breeze we usually get. So I didn't do a lot of decorating of surfaces and stuff like that this summer but I did paint and repurpose a lot of items. So I'll just start in one area and work my way around! Be warned there are lots of photos so this is a long post.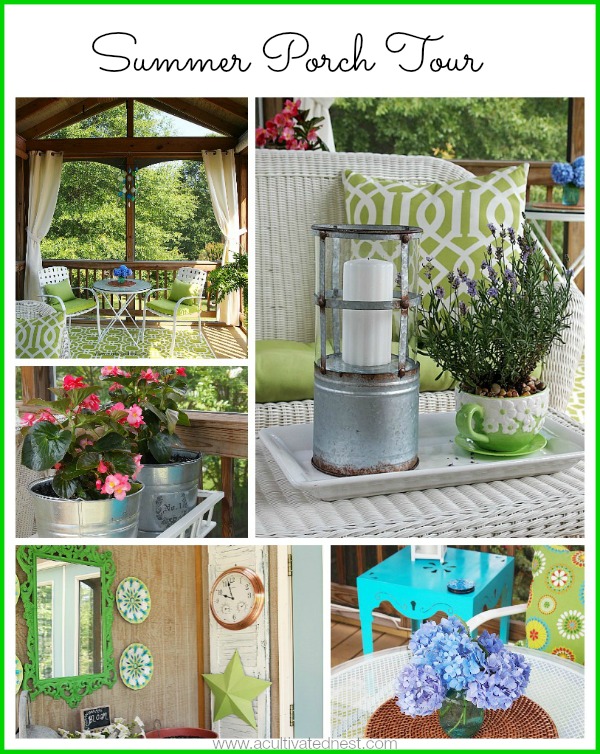 Welcome to our summer screened porch!
Disclosure: This post may contain affiliate links to Amazon and/or Etsy, which means that I may earn a small commission from some of the links in this post. Please see our Disclosure Page for more information.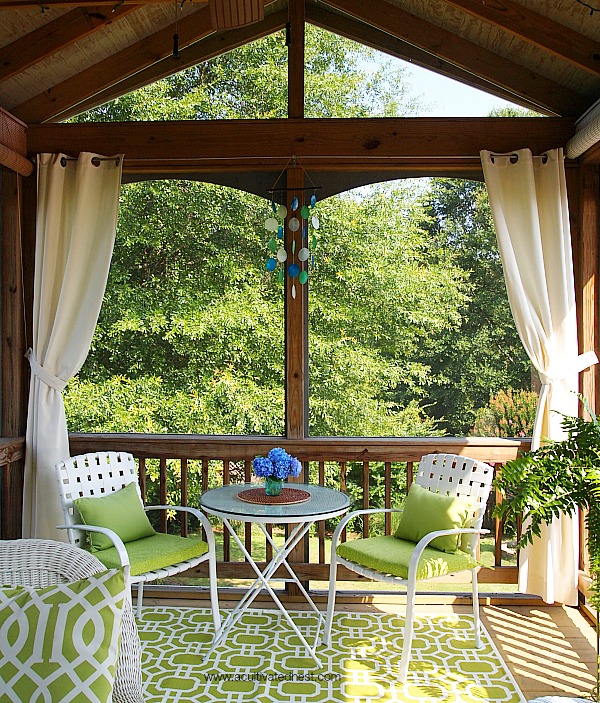 Our porch is long so we've always divided it into two distinct areas – dining and seating. We moved our large patio table and chairs downstairs and I repurposed a little bistro table I had. I had to spray paint it white and then I took a glass table top that I've been storing in my closet for about 12 years (that's why this is not an organizing blog!)  and put that on top of the table.  Our "living room" area used to be on this end but this summer I switched it up. I'm still getting used to it!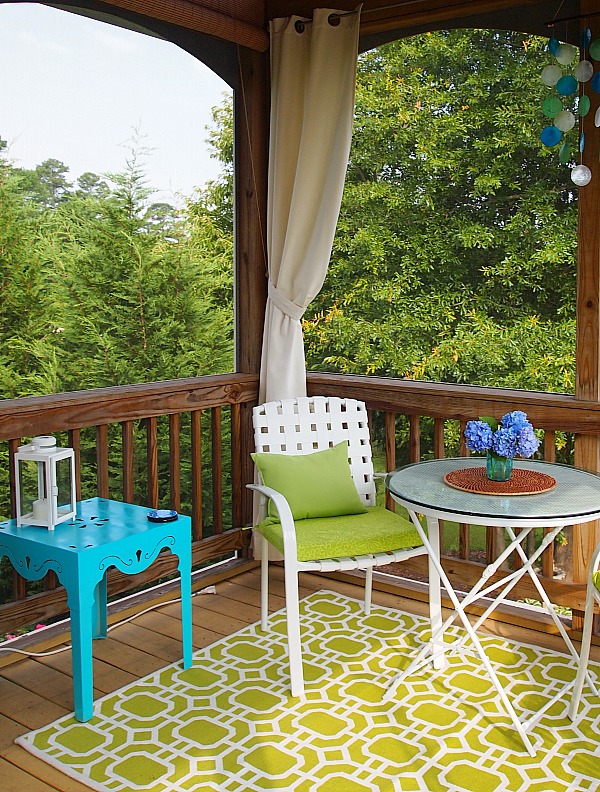 It's really just my husband and myself that come out here these days so a table for two is perfect. My husband comes out here with his work laptop before I get up  in the morning to get some work done. Which is why that power cord is there in case his battery dies.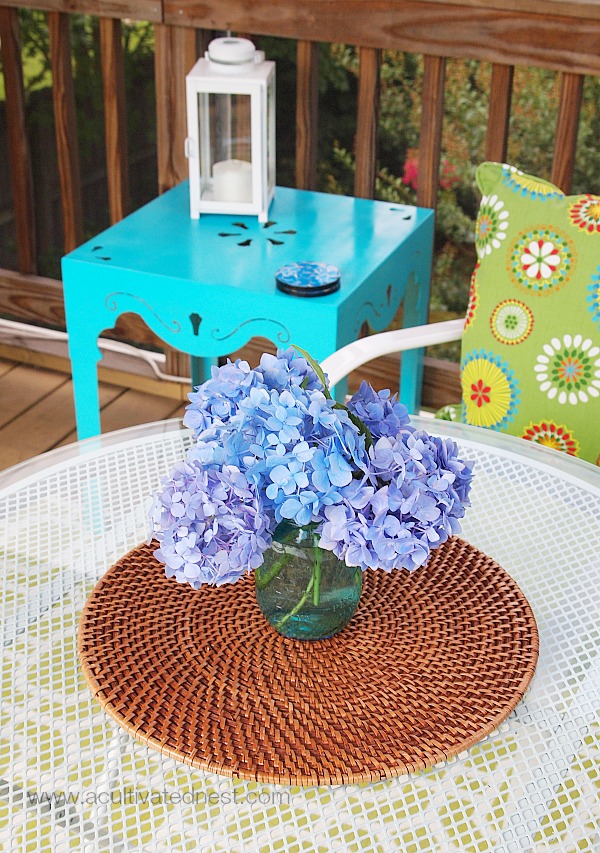 *I took these photos during the course of a day and my husband kept switching pillows on me!*  I spray painted that blue metal table since it was a really faded green and a bit rusted. He often has his personal laptop out here as well as his work one so he needed a place to put that (he does his Swagbucks in the morning on his personal laptop).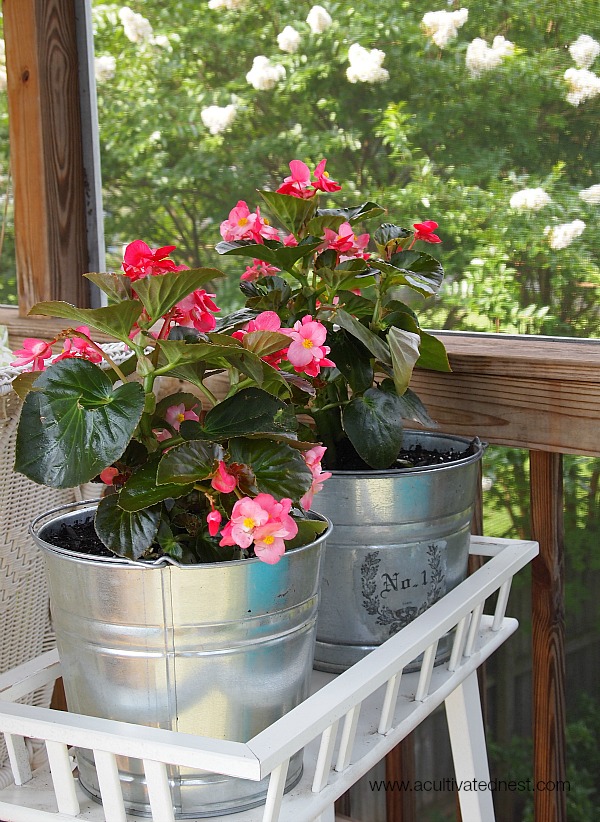 Moving on…this plant stand is from Ikea. I think I got it last year or the year before. It might make it one more year…might. Anyway, I usually have ferns in these galvanized buckets (from Home Depot). But I saw these two big Begonias and remembered that I used to have a huge Begonia while I was in college. So feeling a bit nostalgic…I went for the Begonias instead of ferns this year!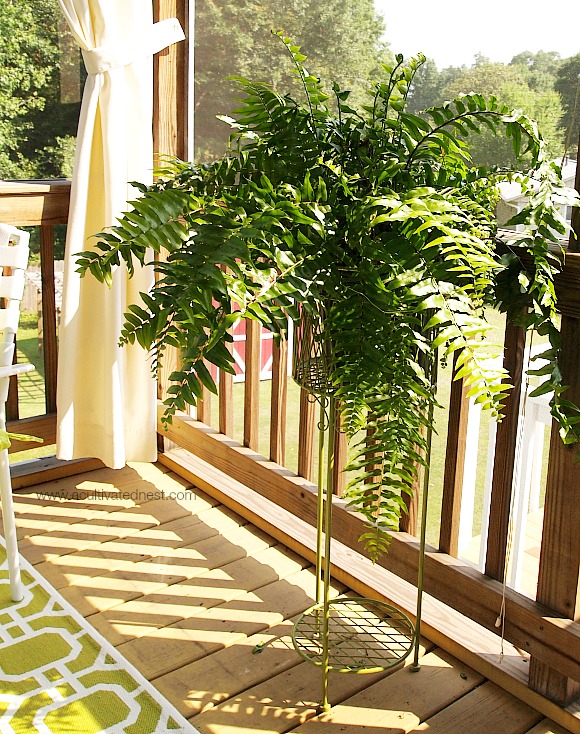 I did have to have at least one fern. I think it's a requirement for Southern porches! I also spray painted this old plant stand to give it new life (I've done sooooo much spray painting this month).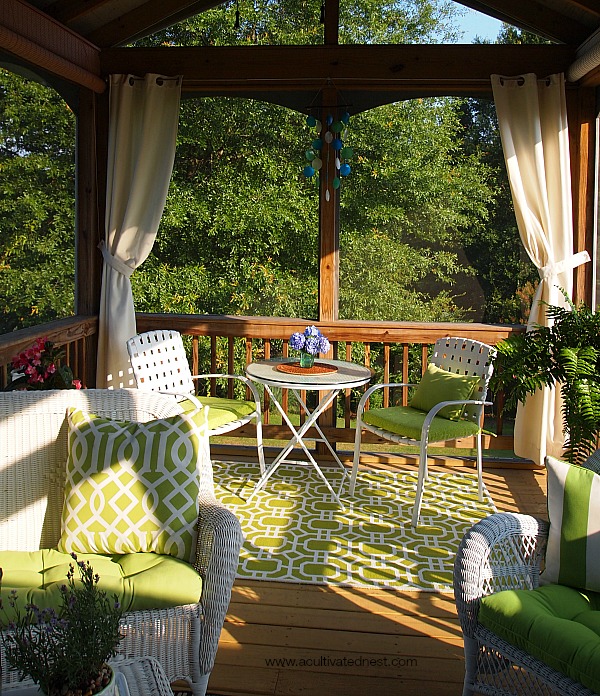 The seating area is now sort of in the middle of the porch.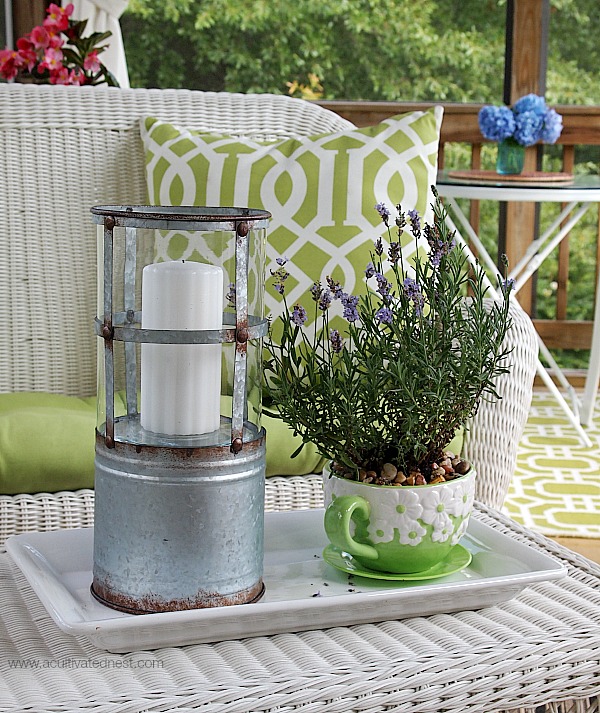 I love this galvanized lantern and my planter cup of lavender! I put them on a tray so they would be easy to move when we want to put our feet up on the coffee table. 🙂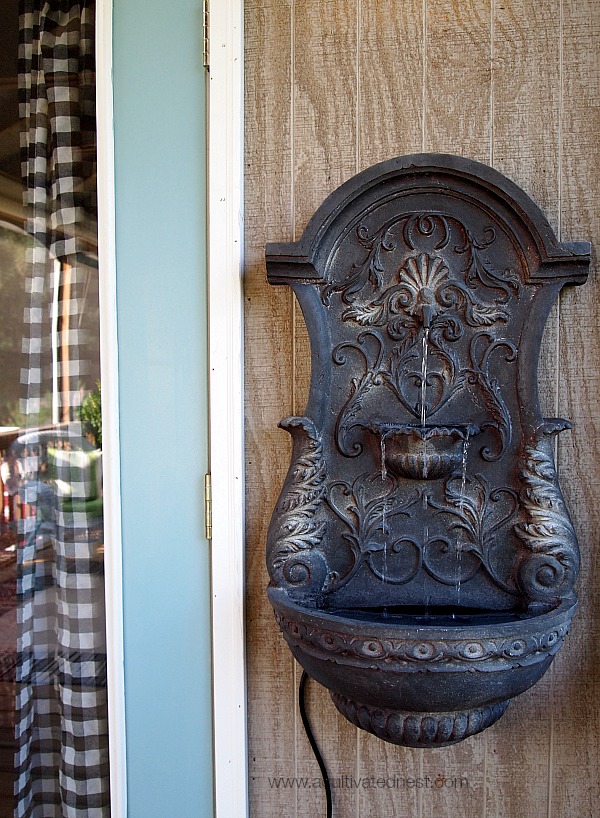 There's a wall fountain close by that we like to turn on.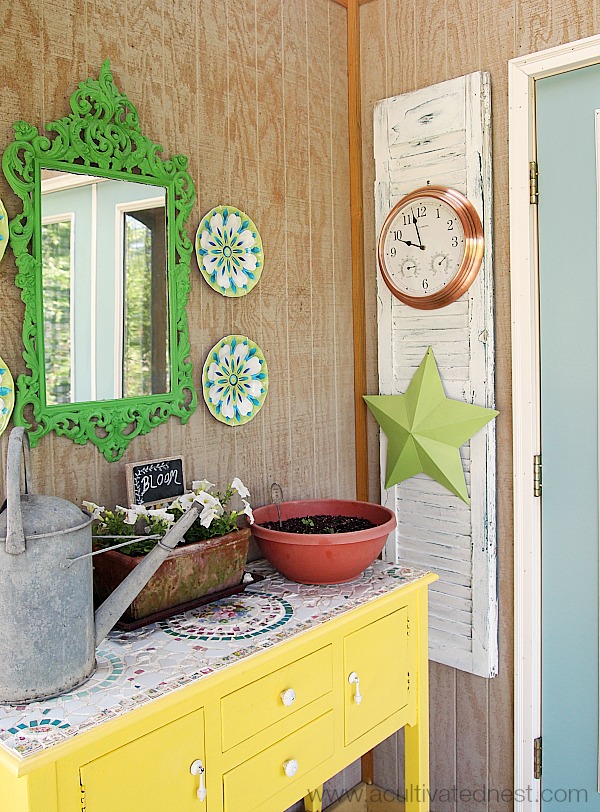 This is a buffet that I did a  little makeover on long, long time ago. I did a mosaic on the top with broken plates and tiles with some tips from my blog  friend Penny @ The Comforts of Home. That's a vintage galvanized watering can on top that I use to water the porch and deck plants and  a container of lettuce that I just started. There's a skylight over this table so I'm hoping I can grow some lettuce on the porch without it bolting in this heat!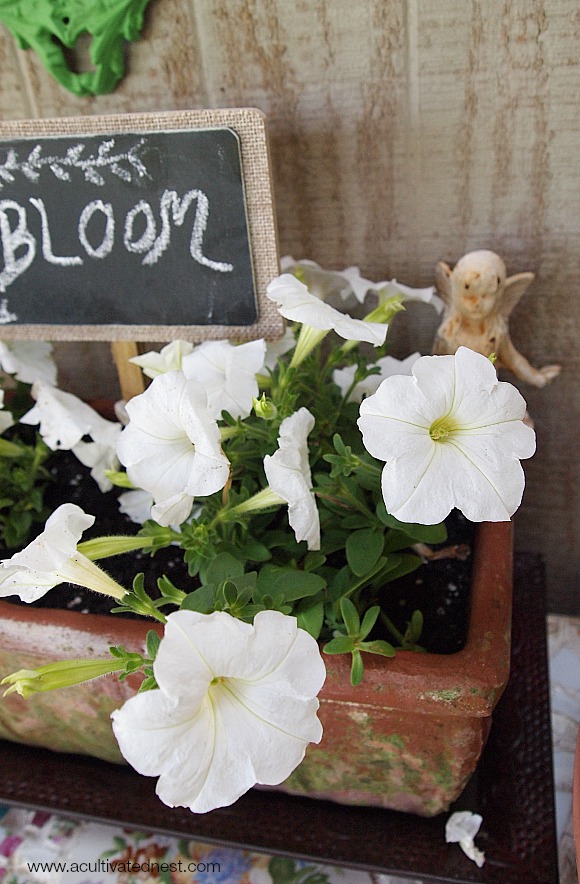 A planter of petunias with a little iron fairy peeking out which was a gift from my blog friend Linda.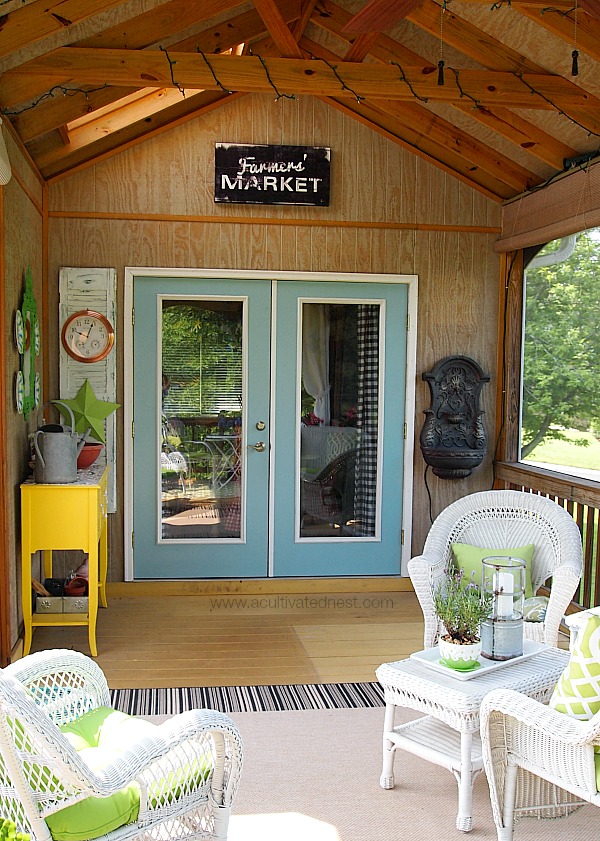 That's it – those blue doors are the entrance to the dining room.
I hope you enjoyed the porch tour!