I've never had a house that had a real pantry, as in – a dedicated one in the kitchen. I've always just made myself a pantry where ever I could squeeze some extra space.  In this house I had a pantry in the shower stall of the downstairs bathroom that we didn't use. Then when we remodeled the downstairs so that our daughter could live there, we moved the pantry to the closet of her old upstairs bedroom (which we now use as our tv room).  Now that we're preparing to sell our house, I thought I had better find a more traditional space for the pantry.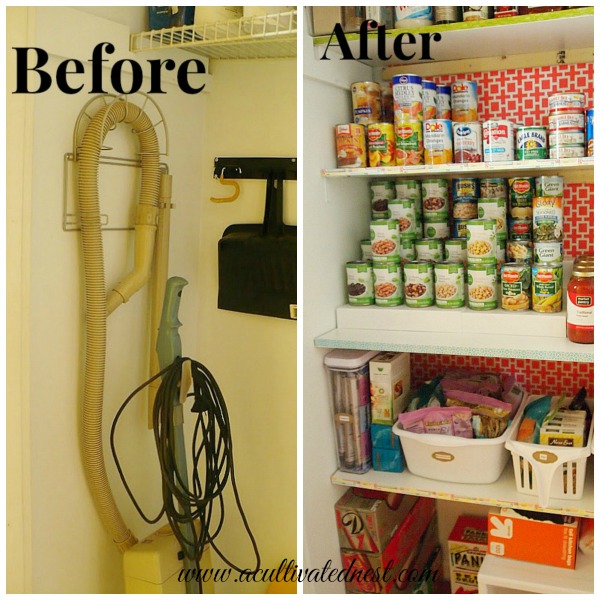 So I moved things around and converted the broom closet into a pantry! It makes sense. It's right by the kitchen. There's a big hall closet that we can keep the brooms, vacuum, floor cleaner in and still have half the closet for coats and what not.
Disclosure: This post may contain affiliate links to Amazon and/or Etsy, which means that I may earn a small commission from some of the links in this post. Please see our Disclosure Page for more information.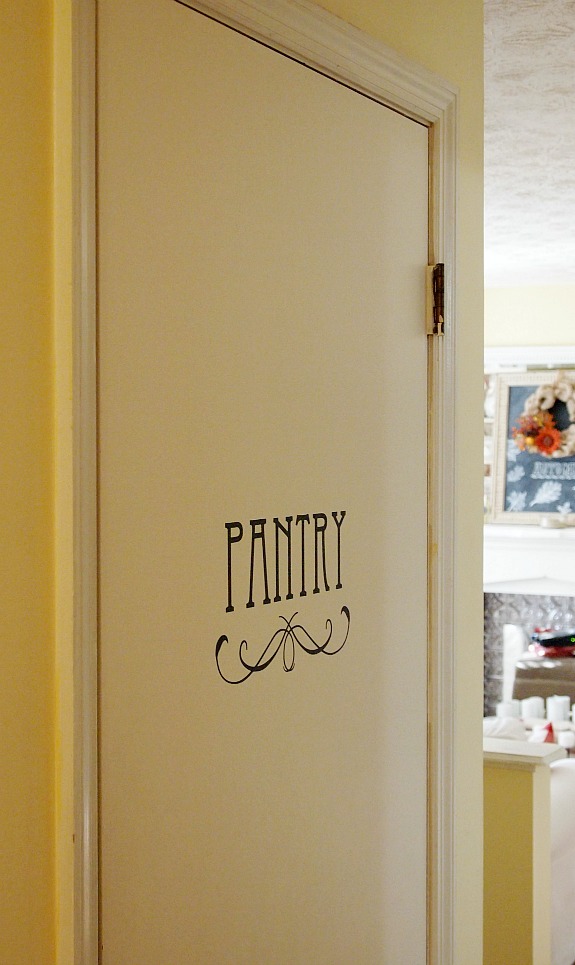 It's impossible to get a shot of the pantry from the front since it's in the hall and there's not enough space to be able to back up. So I'll have to break up the photos.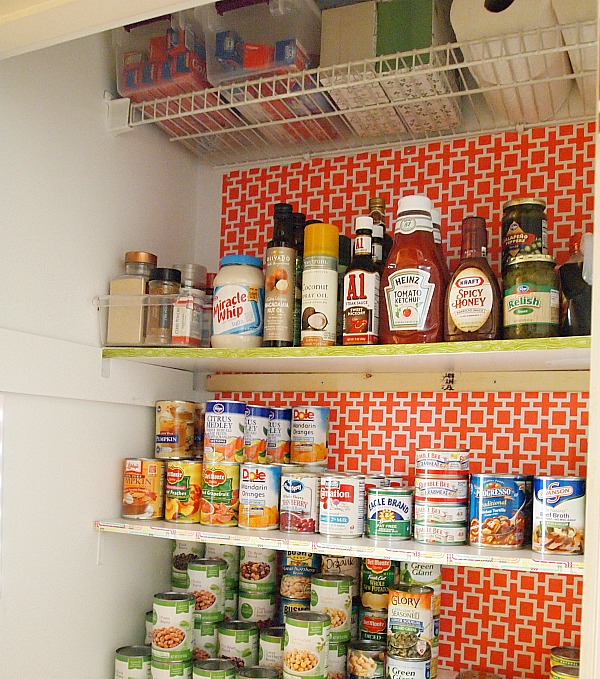 We kept one wire shelf  at the top that we had in there and my husband installed the other shelves (which he got at Home Depot).  I  had to paint the closet since we had to Spackle holes. So I used a few jars of white sample paint left over from the kitchen (which I mixed together for a "custom" white) 🙂
I edged the shelves with various washi tapes that I have and the back wall has some clearance wrapping paper from Target ($1.48 a roll) for a pop of color. I used some strategically placed thumb tacks to put up the paper and I didn't bother with making it go wall to wall. I would have had to spend way too much time cutting and lining up the pattern!
How I organized my pantry
There are several ways to organize your pantry. I organized my pantry by food type and  then  grouped similar items within my food type categories. I  kept my food in the original packaging. I should also point out that  I do have quite a bit of storage in my kitchen and I keep my baking supplies (flours, sugars, oats, etc.) in my baking cupboard. Some flours (like almond flour I keep in the freezer as well as my yeast). I don't keep a huge pantry so I don't write the expiration dates on things since we go through stuff pretty fast and I restock accordingly but you may find that helpful.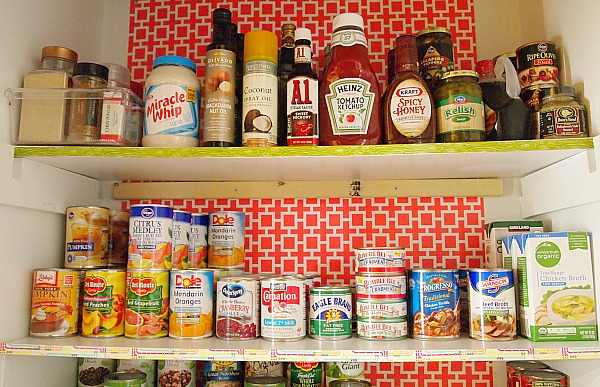 I placed my excess condiment type foods on one shelf. The clear bin to the left holds my large spice containers which I use to refill my small spice containers that I keep in the kitchen. You can see how I organized my spice cupboard here. The second shelf is canned fruits, some canned soup for emergencies, broth etc.
I used a stair step shelf for my canned beans/veggies. I chose this one from the Container Store because the shelves are deeper than the one you can get at Target/Walmart etc.  The whole can sits on the shelf.  I organized my beans by type (I add beans to lots of ground beef dishes I make and I make taco soup at least 1 or 2 x's a month and that takes lots of beans). That way I know which ones need replenishing. Target had their pasta sauce on sale recently for $1 a jar and they had a coupon on their site so I stocked up!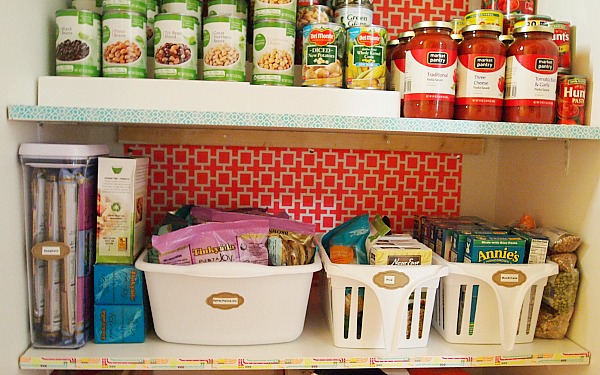 This shelf is organized by pasta, rice, dry beans. I used bins from Walmart to group like items.  We only eat brown rice past now so that's all grouped together. The brown rice rotini, penne, and spirals are all in a dish bin. I used a OXO pop container to store the spaghetti (there's always at least one open bag). LOVE the OXO pop containers and I use them in my baking cupboard.
The quinoa, couscous, rice is in one container. The rice pasta  mac and cheese is in one container and I have some bags of dried lentils & beans on the end.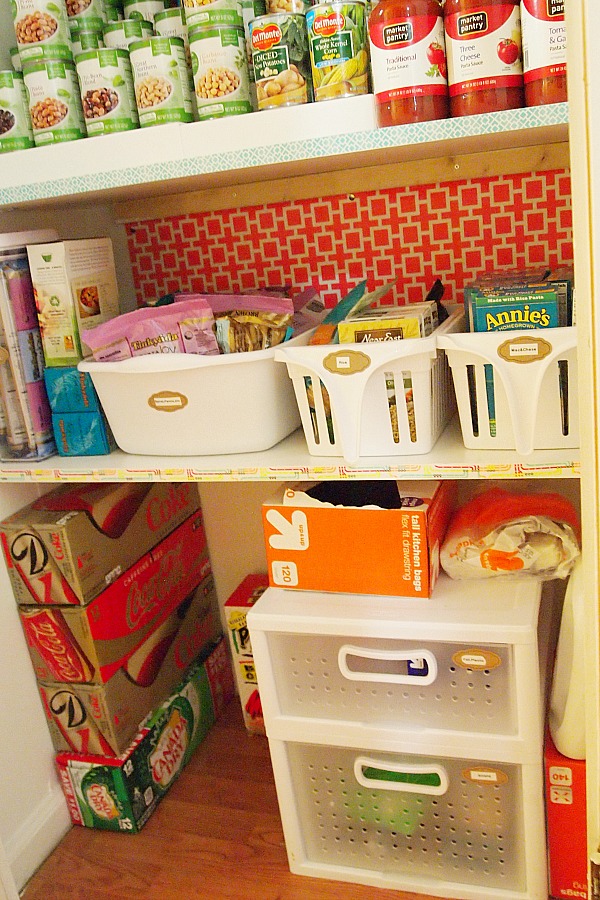 On  the floor I have soda, some oversized items, extra diswasher detergeant and a pull out stackable drawer organizer from Target. I keep my stuff for making hand soap, dish soap, extra foil, baggies, straws – that sort of stuff in those drawers. On top of the drawers we keep the box of garbage bags we use for the kitchen and napkins.
I hope you enjoyed the peek into my pantry and remember that  everyone's pantry is going to look different because we all eat differently and we all have different amounts of money to spend on groceries.