One of my neighbors said that I can expect about 100 kids on Halloween! In our last neighborhood no one went trick or treating so this will be a (hopefully) fun experience. Anyway, I was going to change out one of the planters in the front of the house to fall flowers but I thought I'd do a little something special for the trick or treaters!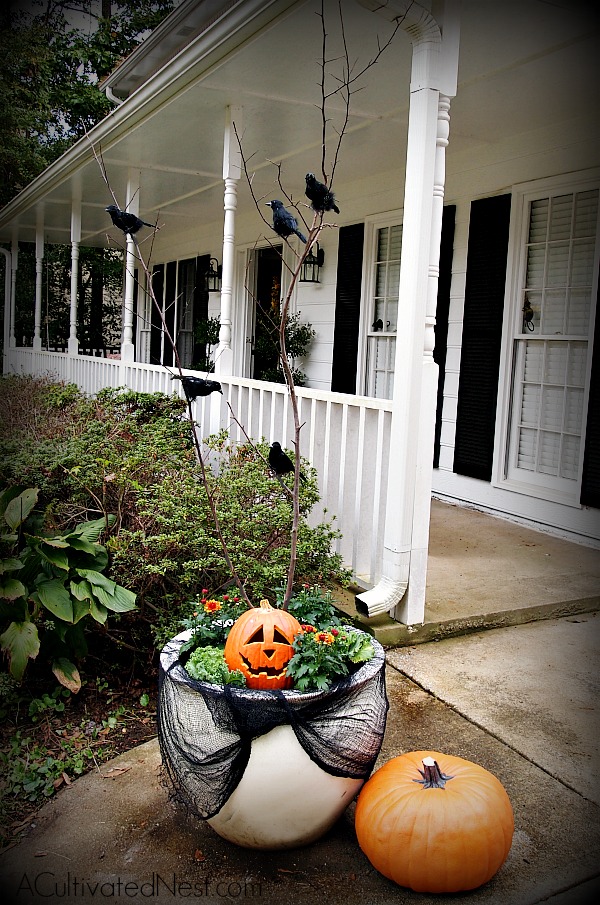 Disclosure: This post may contain affiliate links to Amazon and/or Etsy, which means that I may earn a small commission from some of the links in this post. Please see our Disclosure Page for more information.
So I made a Halloween planter but it'll be easy to transition it to just a fall planter by removing a few things and I can even dress it up for Christmas. Here's how I did it.
DIY Transitional Fall & Halloween Planter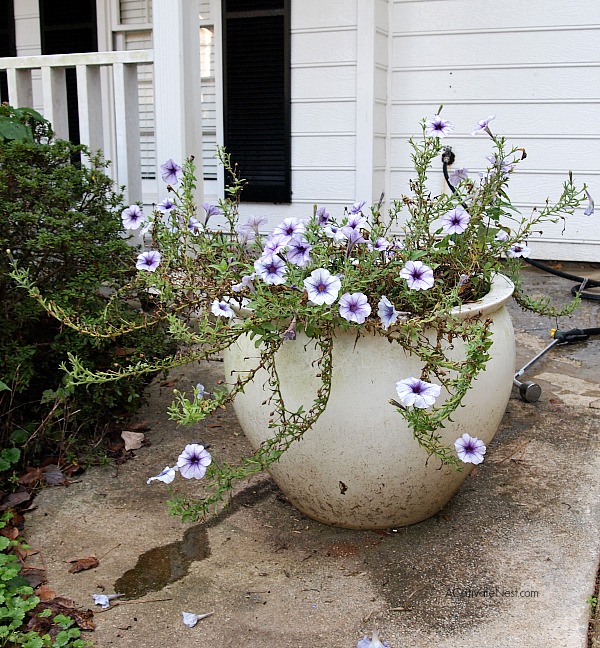 This planter came with the house and it's filled with some petunias which are at the end of their season here (Atlanta).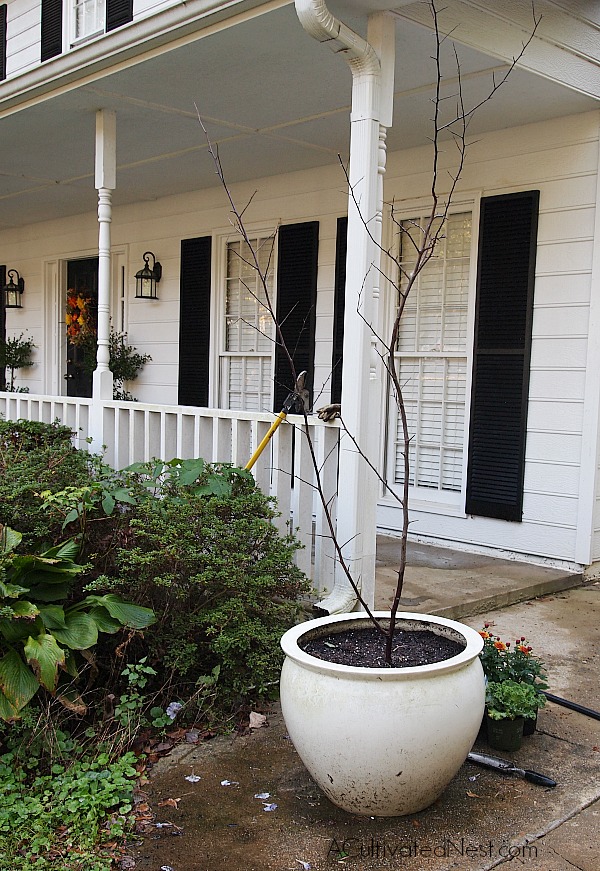 I had done some tree and bush trimming (this yard is a major mess btw) and saved this branch just for this idea. I refreshed the planter with a small bag of dirt and "planted" this branch as deep as it would go. Then I watered the dirt and made sure the branch was in there nice and secure (you could insert some rebar or a stake and tie the branch to it if you're in a windy area).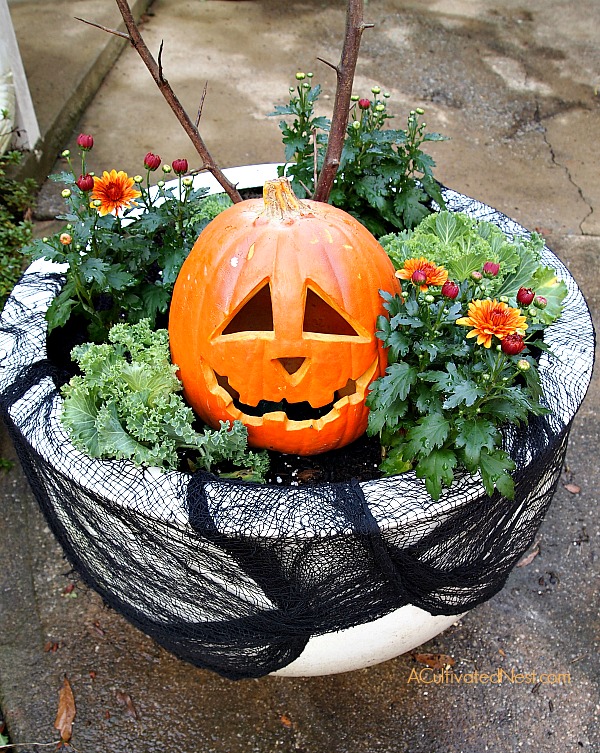 I chose a mix of ornamental cabbage and mums to plant around the base. I'll remove the mums and plant those spaces with pansies or more ornamental cabbage for winter. I'll probably plant the mums in the yard (in my other yard they came back year after year). I added the faux jack o' lantern (which I've had for years) for the some Halloween fun as well as the black netting around the pot.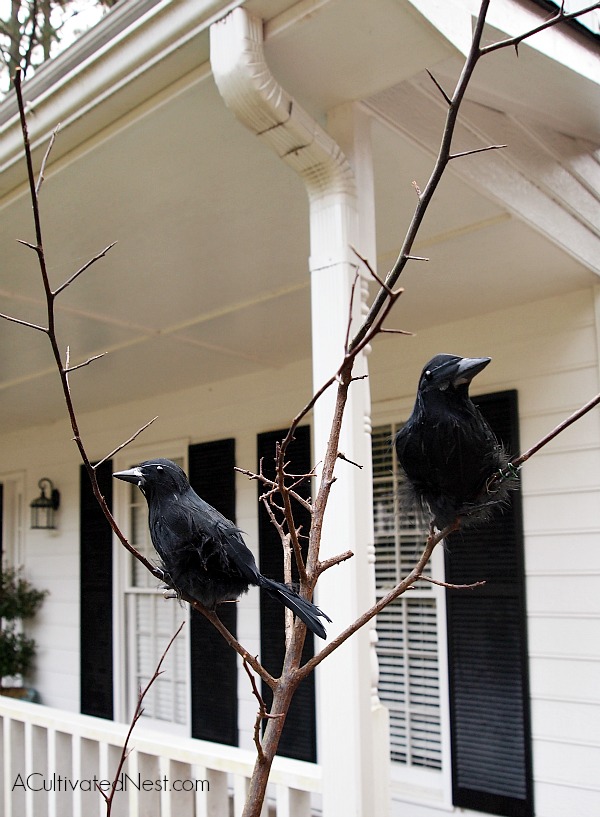 I wanted to hang some little pumpkins off the branches but it's next to impossible to find any fall stuff right now. Every store I went to had Christmas up and very little fall/Halloween stuff. Then my daughter had the brilliant idea to go to Party City. We found tons of fall and Halloween items there! I got 5 of these black birds and wired them to the branches.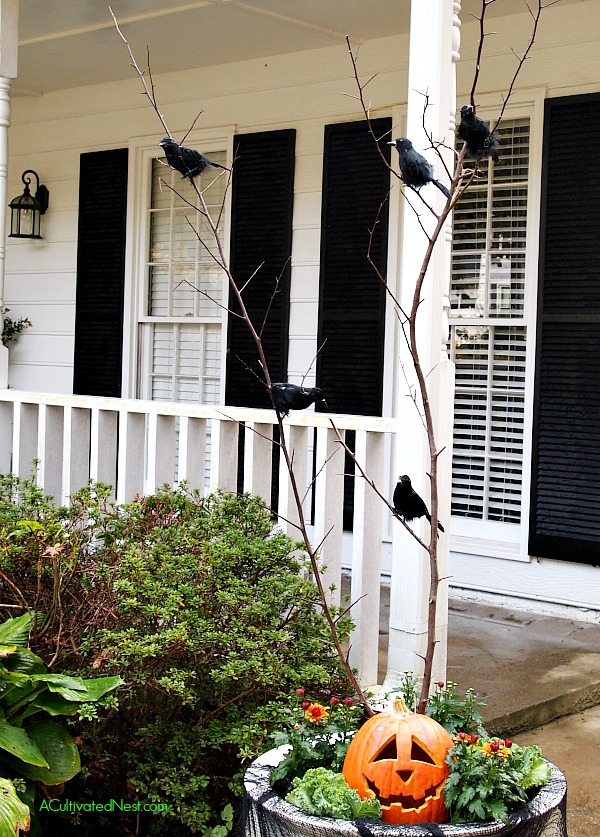 I would have spray painted the branches (black probably) if I could get to my spray paint. Unfortunately all my spray paint is behind a bunch of boxes!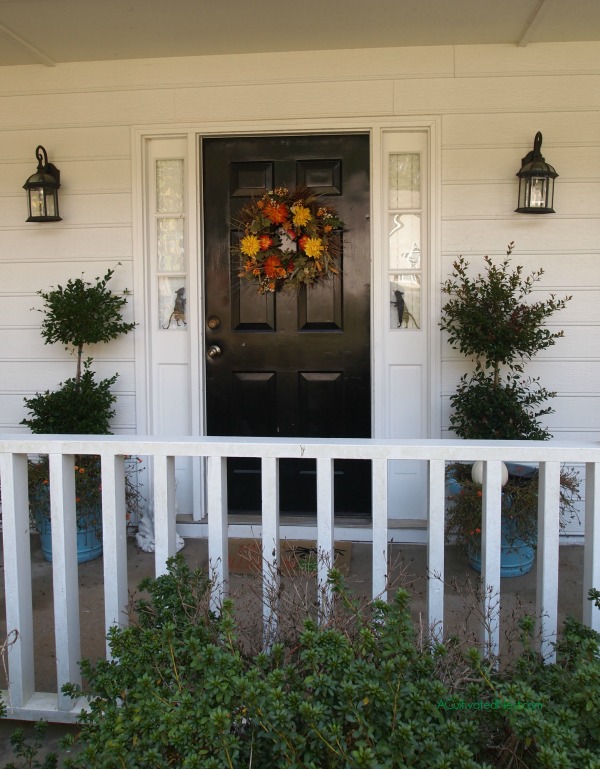 The only other Halloween decorations I added was a doormat and some mice cutouts (that I also got at Party City) in the windows.
It was so much fun to do a little outdoor decorating for Halloween! It's literally been like over 8 years since we've done anything for this day and we're looking forward to having some trick or treaters!
Did you do any special decorating for Halloween this year?