I finally finished my slipcover for my wing chair that I started back in the beginning of summer! My first slipcover made with drop cloths!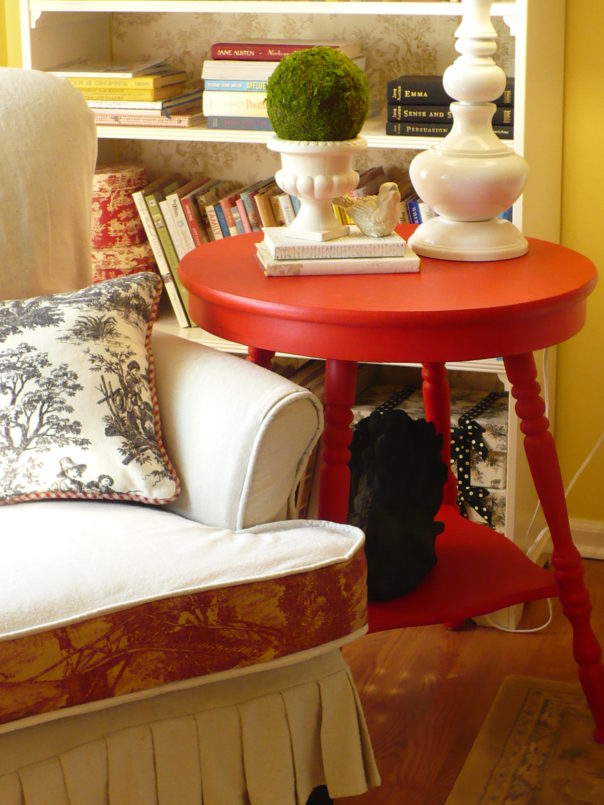 I am not a seamstress. I have rarely used my sewing machine since I got it about 10 years ago. As  a matter of fact I had to get my manual out every time I wanted to wind a bobbin or thread my machine. I've been able to do little things that required just straight line sewing like a basic pillow or once, I added some material to some curtains. But never anything complicated like dress making or this.
Disclosure: This post may contain affiliate links to Amazon and/or Etsy, which means that I may earn a small commission from some of the links in this post. Please see our Disclosure Page for more information.
I want to give a big thank you to Marian @ Miss Mustard Seed. Without her video tutorials I would have never had the courage to even try making a slipcover!
DIY Drop Cloth Slipcover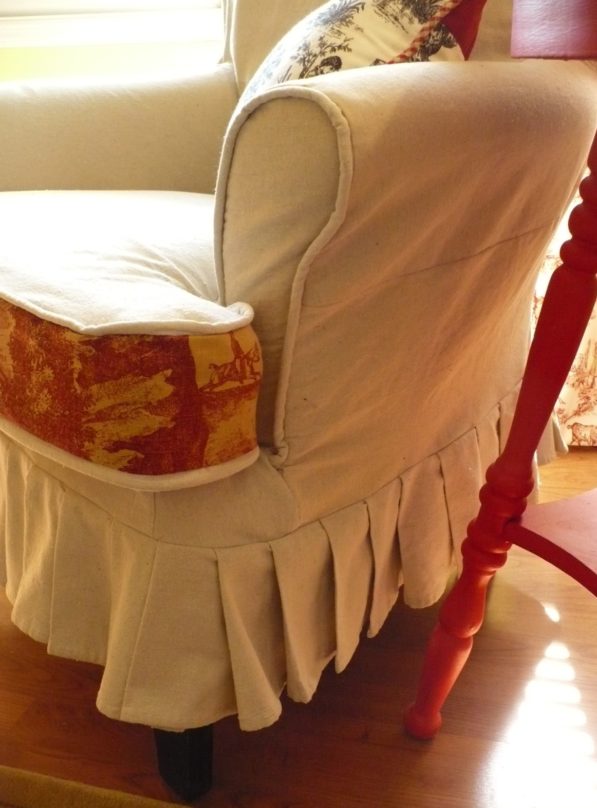 She has a  series on How To Make A Slipcover – and best of all it's free. Isn't that lovely of her! Anyway, I watched all the videos many many…many many many times. I suggest watching from start to finish the first time and then you can just do the one that corresponds to what you're working on.
I think it looks pretty darn good! It's by no stretch of the imagination "perfect".  But it's definitely good enough for a first effort and now I understand the process.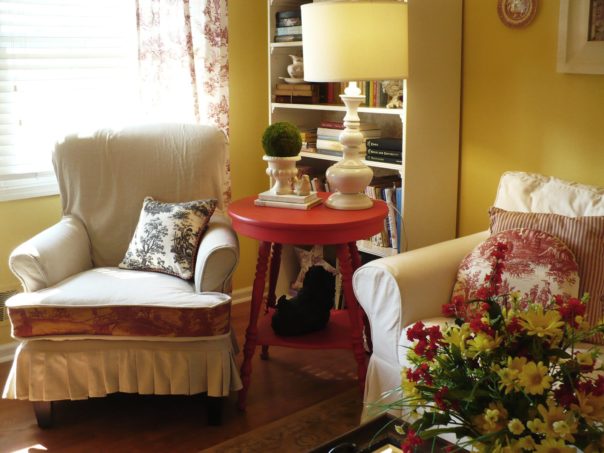 It's made out of drop  cloths from Lowe's which are very inexpensive. So there's not a lot of money invested just a lot of time!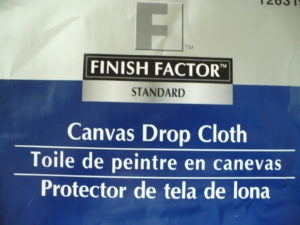 A word about using drop cloths, apparently drop cloth manufacturers don't know that people use them as they would fabric so there's little consistency in quality. I got one package and when I opened it there were dark spots every few inches. I worked around the spots. I had one package that was exactly the same weight and manufacturer as another package and the color was completely different! One package had a sewn seam down the middle.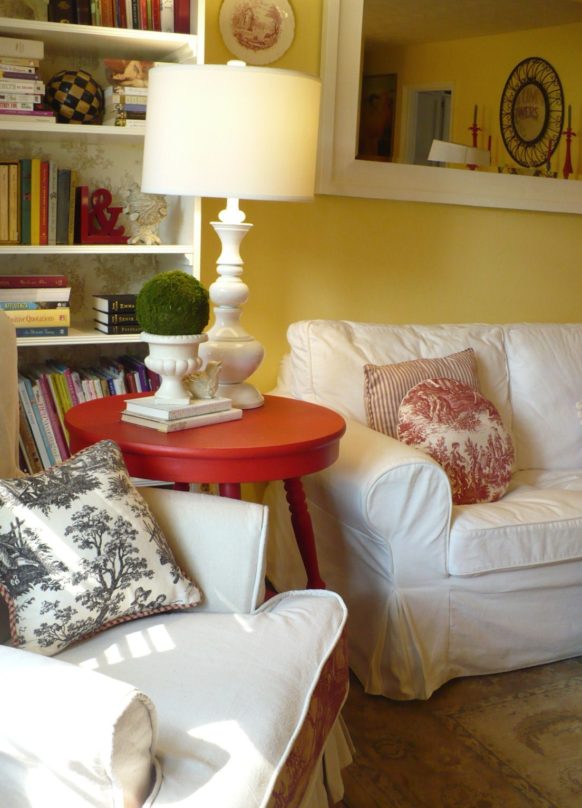 Open your packages and look at your "material" before you leave the parking lot.  Other wise you'll be making lots of trips back to the store!
Aren't the bows on the back cute! I have to add two more – ran out of ribbon!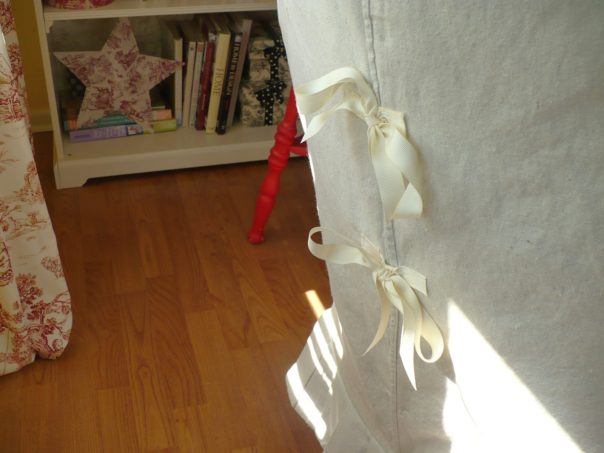 If I can do it, so can you!
Just take your time and don't give up. I wanted to many times!! But I kept telling myself that even if it turned out badly I was still learning a lot. Don't be afraid to tackle a new project because you think it might not turn out right. As long as you learn something it can never be a failure. I shared on the my facebook page how I pinned the entire pleated skirt to the body only to realize that I had pinned it on the wrong side. I had to take it all out and re-do it. It's still not right – it's a bit longer on one side than the other but it doesn't bother me. It really doesn't have to be perfect! I had to do the seat several times also. I think that was really the hardest part just because it was difficult working with all that material and cording.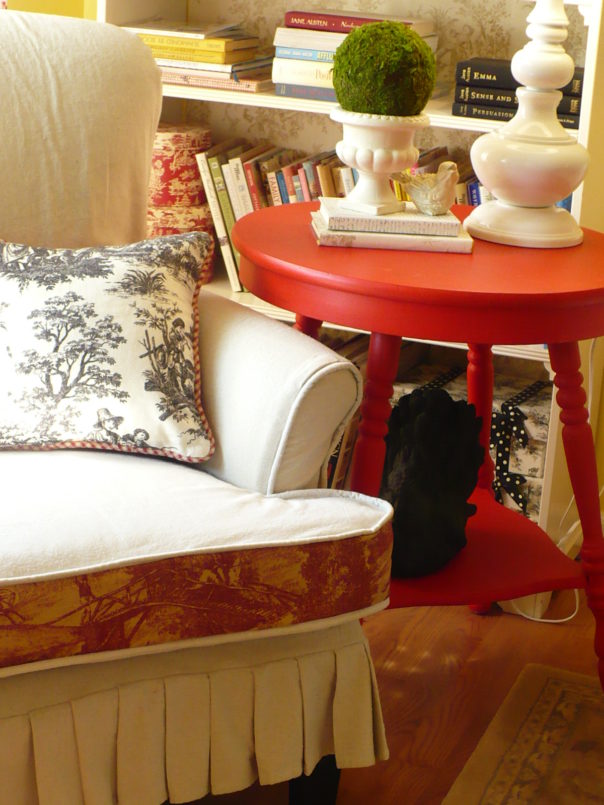 It was such a hard project for me since I wasn't comfortable with sewing but now I'm very familiar with my sewing machine and to top it off….I feel like I can tackle any sewing project now!