Our house will be on the market next week (I'm exhuasted!) so I can start to show you some of the changes we made and I'll begin with my small foyer.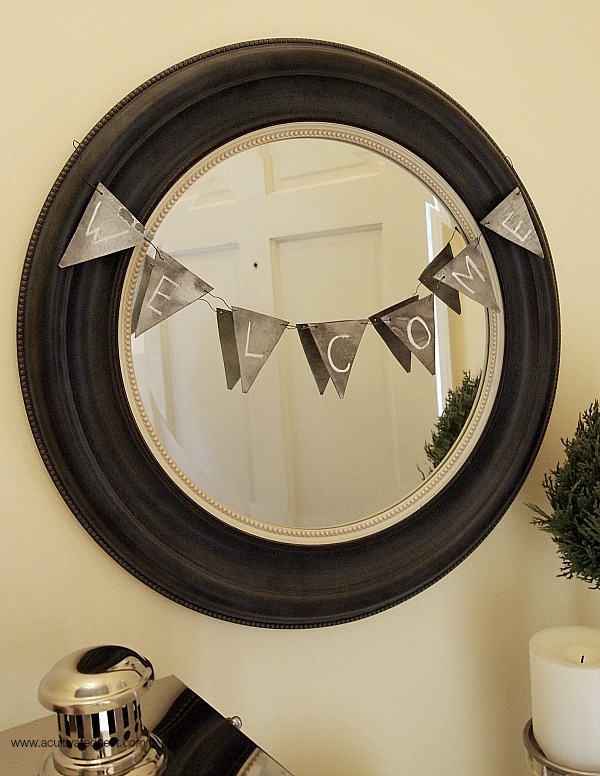 Disclosure: This post may contain affiliate links to Amazon and/or Etsy, which means that I may earn a small commission from some of the links in this post. Please see our Disclosure Page for more information.
Below is a before photo of my entryway. I tried to make the best of a small space to give it some personality.  Among the many things I sold is my red hall tree (which originally came from Goodwill).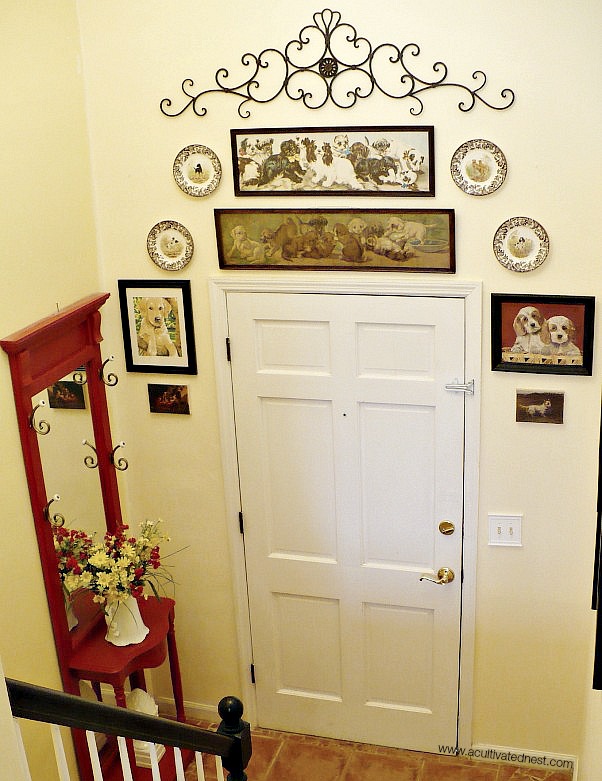 We packed away all the vintage dog prints and the dog plates except one. We took everything off the walls (opposite the halltree I had a set of three Katie Daisy prints). We had to paint the whole foyer because I had so many nail holes that needed patching!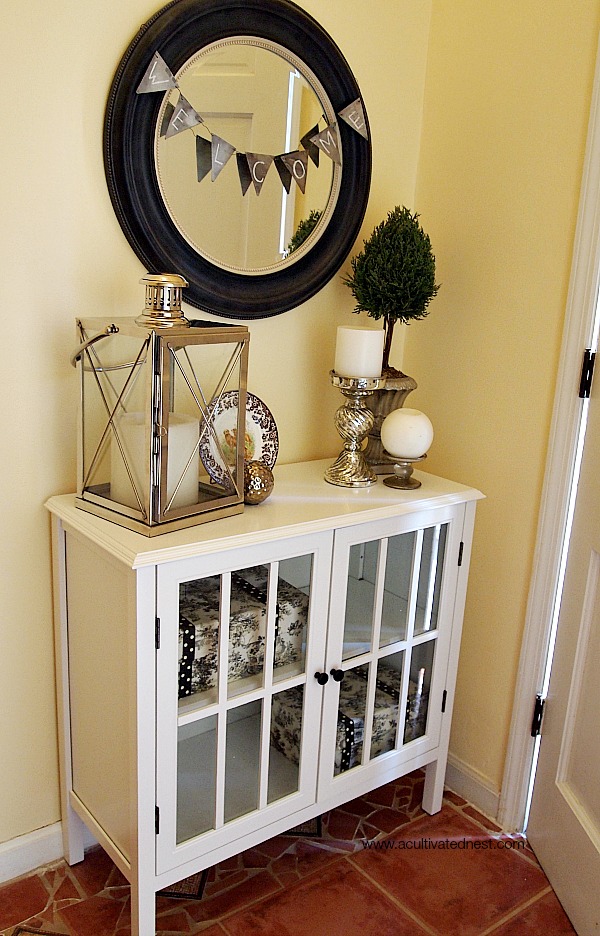 We bought a little cabinet from Target because it fits the space well but I gotta tell you….we've had this cabinet for several weeks now and it's still off gassing. I'm very sensitive to those types of things so I'm glad it's not in a room I spend a lot of time in!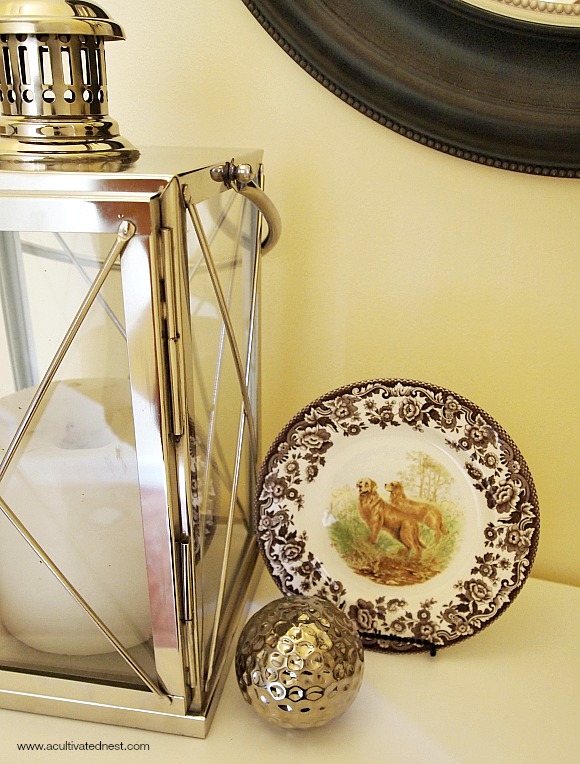 This is one of the Spode Hunting Dog plates we had hanging on the wall around the door. I chose the Golden Retriever one in memory of our Golden Maxie.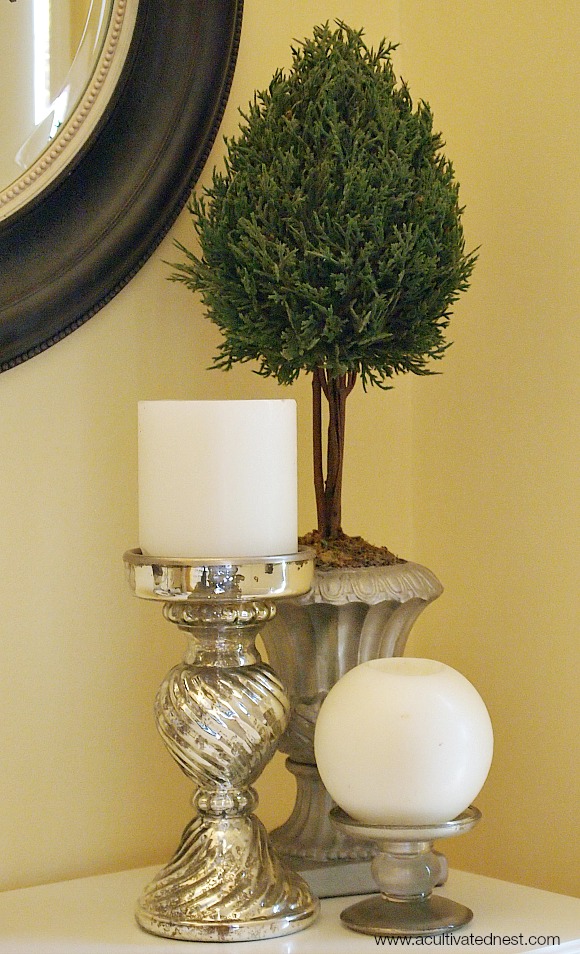 A topiary that I used to have in my bathroom , mercury glass candlestick (I have a bunch of those) and some candles.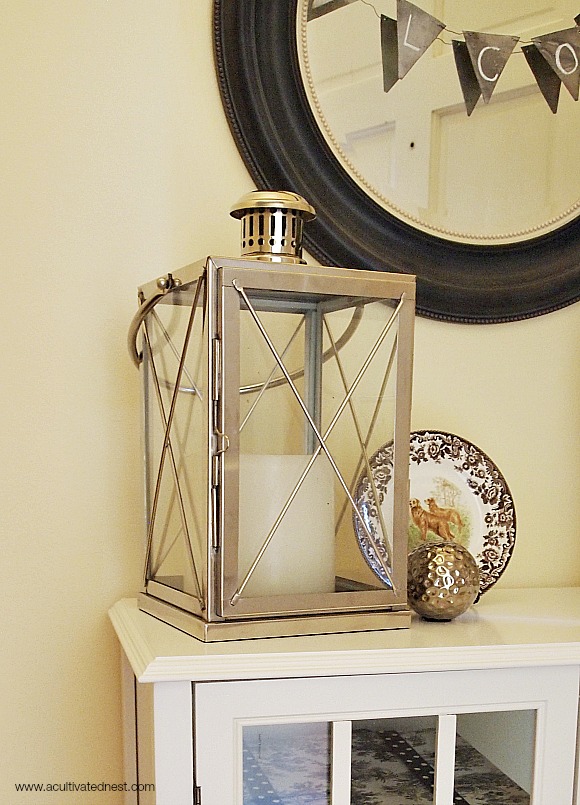 I don't have an outlet in the foyer so I couldn't put a lamp on the cabinet, but I found this huge shiny lantern on clearance from TJMaxx! Love it!!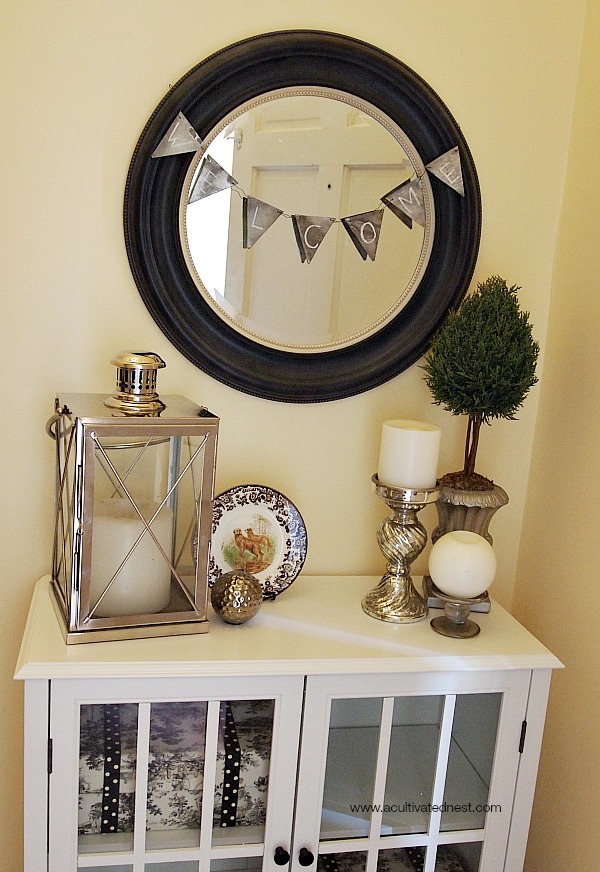 I don't really have anything to put inside the cabinet so I just used the two toile boxes that store my candles in it for the time being. The mirror we had in another room ( TJMaxx or Garden Ridge) and I don't remember where I got the galvanized tin banner (it was in my stash of banners and worked perfectly here)! You can write on it with chalk!
Of course, the whole thing looks terribly empty and neutral to me but apparently that's what it's supposed to look like when you're selling! I'm sure most people will like the after, I like the before!   🙂
More to come….