I want to share my Mother's Day present with you all. I really do have a wonderful husband and daughter! For Mother's Day they built me a little garden shed from old windows and doors that we'd been saving.  It is so, so, SO cute!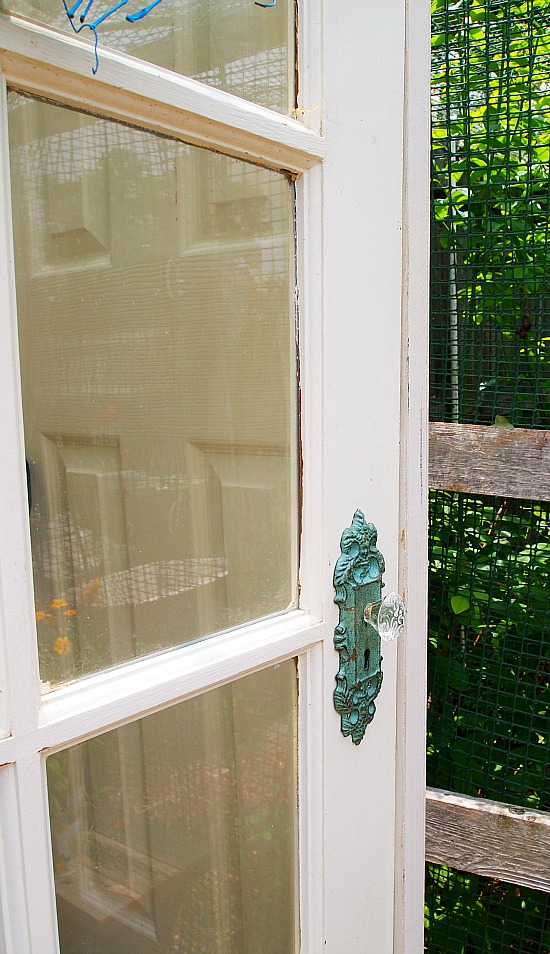 I've been needing a place to corral my most used gardening tools. I actually did a post on small garden sheds last March which you can see here  (see I do an inspiration post and a year later I actually do the project 🙂 ).  There's one there that was the inspiration for the one they made me.
DIY Garden Shed from Upcycled Materials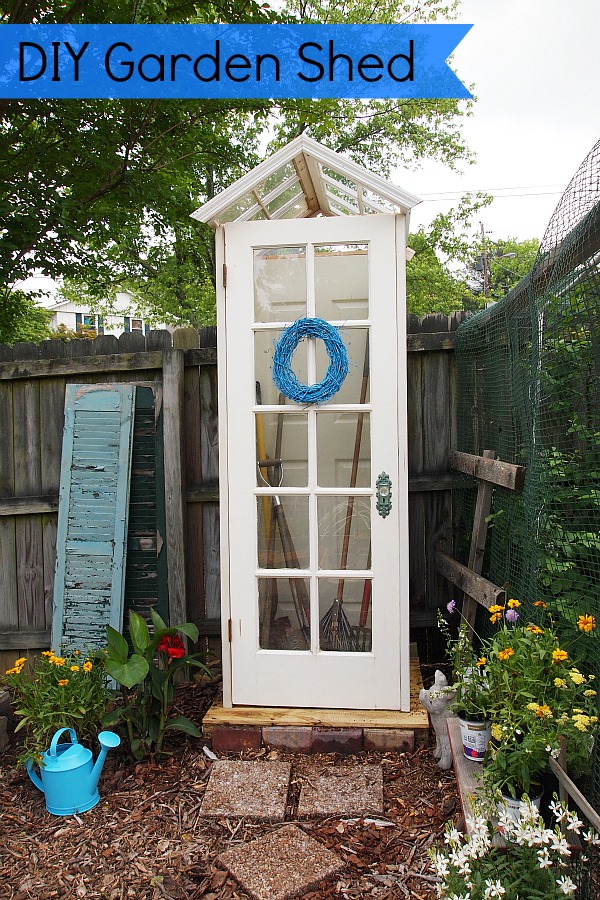 Disclosure: This post may contain affiliate links to Amazon and/or Etsy, which means that I may earn a small commission from some of the links in this post. Please see our Disclosure Page for more information.
I don't have a exact tutorial for how to build this as it was a surprise for me. But here is what I know. This shed is built on a wooden platform that was leveled. The french door I found maybe 5 or 6 years ago in a neighbors trash. I hung unto it because I've always wanted to make a greenhouse from old windows and doors. It was perfect for this project since I just needed a little shed! We also have lots of windows – two of which make up the roof. The three sides are just exterior doors. The whole thing is bolted to a platform built from leftover wood from other projects. The front and back of the "roof" is open but you could close it up with some wood or even screening.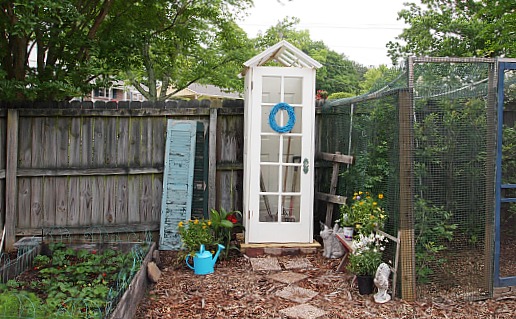 I used to have a raised bed in this spot, but on one side are our blueberry bushes and behind the fence is a border with Crepe Myrtles and Gardenias. The roots were finding their way into that raised bed making it very difficult to plant. So the shed is in between my strawberry bed and my netted blueberry bushes.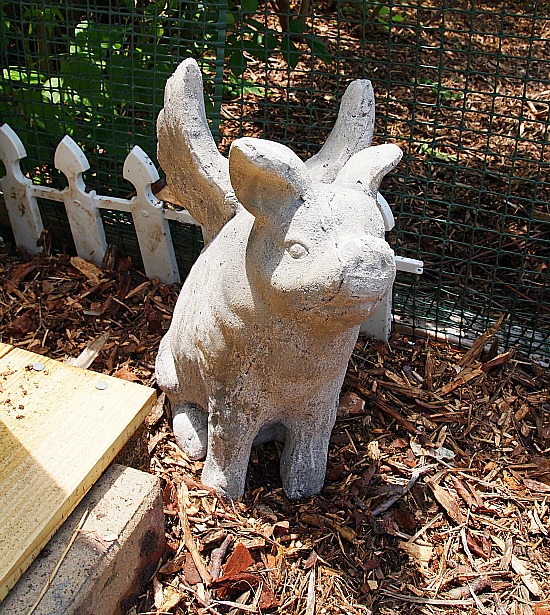 I also got a pig with wings! I love pigs!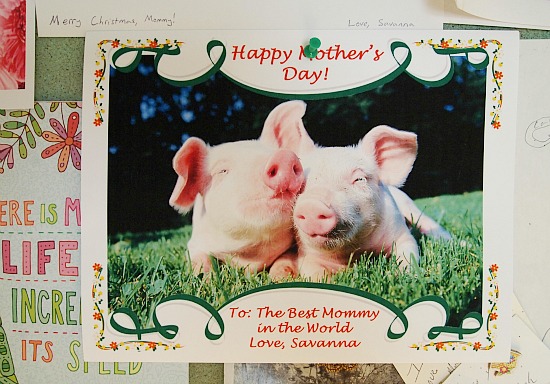 I have a pinterest board all about cute pigs and my bulletin board in my office is covered with pig photos from calendars and different cards my daughter has made me with pigs on the cover like this one. That's her and me!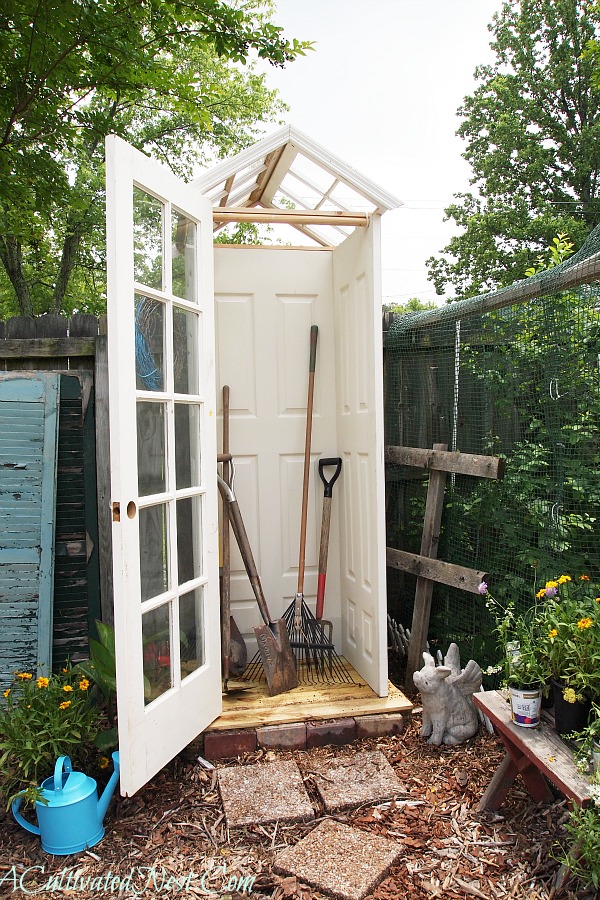 My husband is going to add a few shelves inside for me so I can put some pots and my garden trowels etc in there. We also may add some chicken wire to the roof opening. That depends on whether the birds decide they want to fly in there or not. If we can find some decorative trim for the "gable" area of the roof, we'll add that too.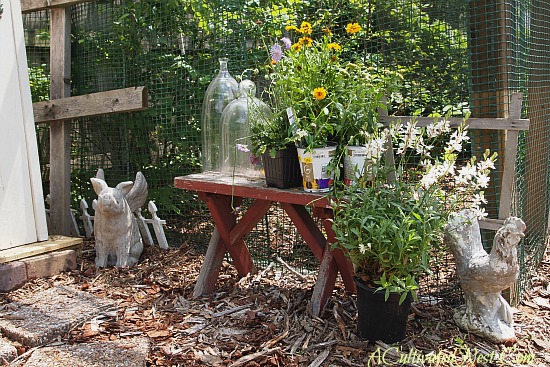 I put a little bench on the side there to hold things I'm going to plant. Those are all perrenials I got at Lowe's for $2.50 each! Apparently they also had a bunch of Knockout rose bushes for really cheap that I just missed.  They also had onions, potatoes, ginger, daylilly bulbs etc for $1.00 a bag.  So go check your Lowe's if you're in Georgia! Some of these flowers will be planted around my shed – won't that be pretty!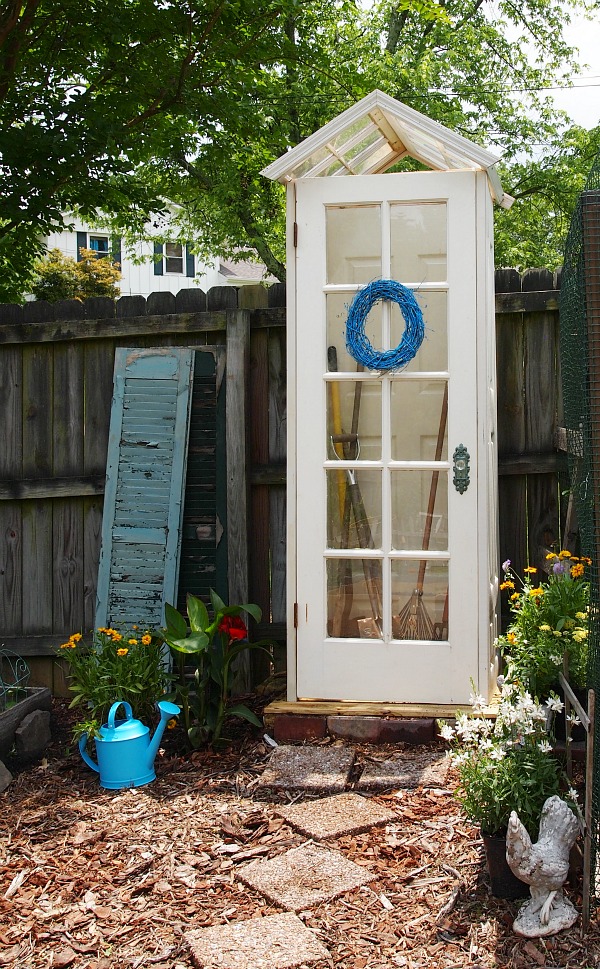 Look another place to hang a wreath! Ha, ha! I'm also thinking of painting the door. Maybe red, maybe blue? What do you think? I don't want to paint the whole thing red because it'll look like one of those British phone booths! So I was thinking just the door in a color would be pretty.
I'm so happy to have a place to put my gardening tools! The vegetable garden is looking really pretty. I can't wait to show you the rest!
You may also be interested in: Small Garden Sheds