I'm going to share my 2013 vegetable garden in two parts this week. Today I'll show you 3 of the  8 raised beds and what I have planted along the back fence line.  I think it'll be easier to see everything if I do two posts otherwise it'll be one really, really long post!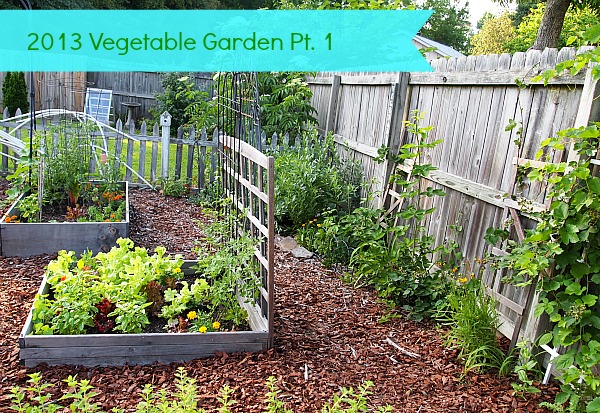 My 2013 Vegetable Garden
This is raised bed #1 below. I generally try to companion plant my raised beds and I plant intensively and always include some flowers  to aid pollination. If you don't know what companion planting is, I wrote an intro to companion planting here.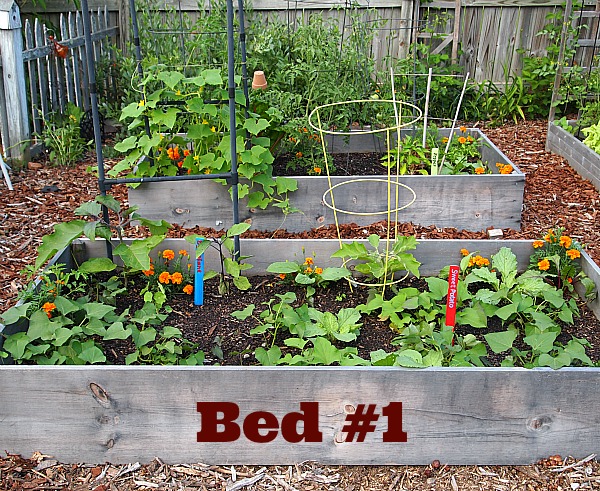 Disclosure: This post may contain affiliate links to Amazon and/or Etsy, which means that I may earn a small commission from some of the links in this post. Please see our Disclosure Page for more information.
This bed has sweet potatoes (which I've never grown before)  & eggplant. There's borage planted for pollination which hasn't flowered yet as well as a few nasturtiums and marigolds for pest control (I don't think they really work but I always add them – can't hurt and they're a bright spot in the garden when they get larger).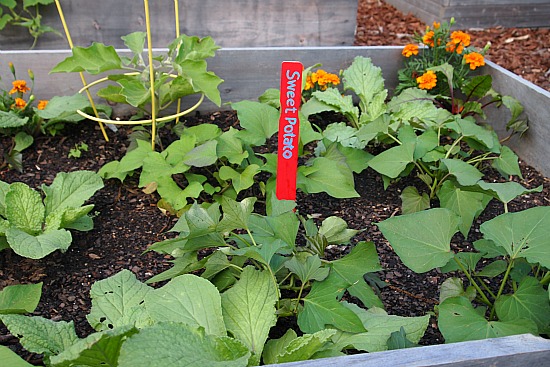 As you can see, I decided to make some paint stick plant markers!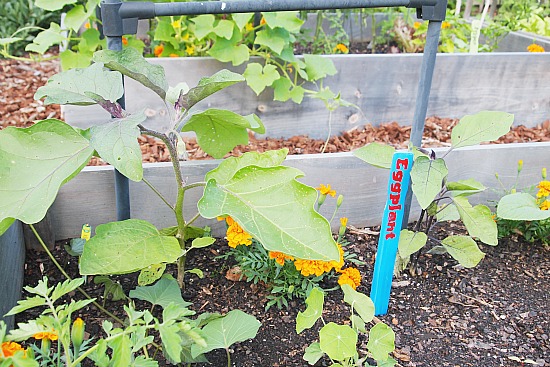 It was one of the plant marker ideas I featured in my 11 Creative Plant Marker Ideas post . They're really easy to make but I don't think they'll last more than one season here in Georgia (but they're free so I don't feel too bad)!
Raised Bed #2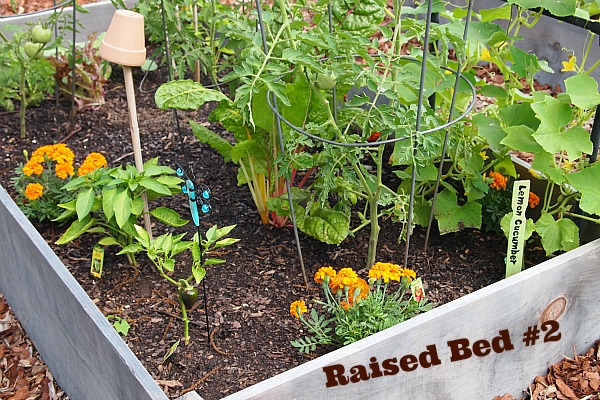 This is the first bed I planted at the beginning of the summer. It has lemon cucumber, tomatoes, peppers, swisschard, a few carrots, lettuce (testing growing lettuce inbetween tall veggies to see if I can keep them cool enough not to bolt) borage, marigolds.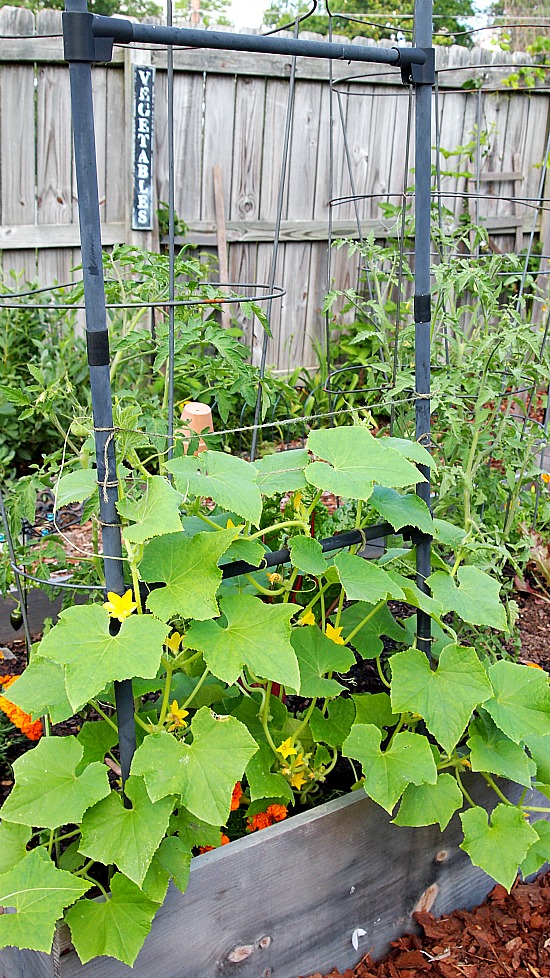 I'm training the lemon cucumber up this arbor that I have inbetween two beds.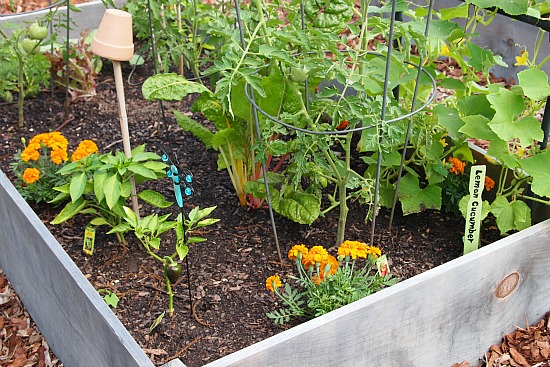 Next to the lemon cucumbers is a Mortgage Lifter tomato and two peppers, swiss chard and marigolds.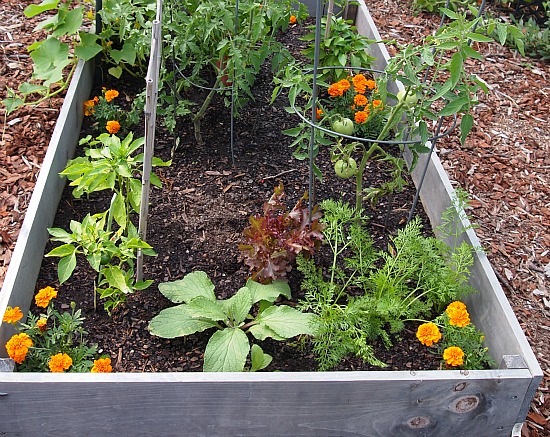 In the same bed are more tomatoes and peppers, a few carrots, borage, marigolds and red leaf lettuce.
Raised Bed #3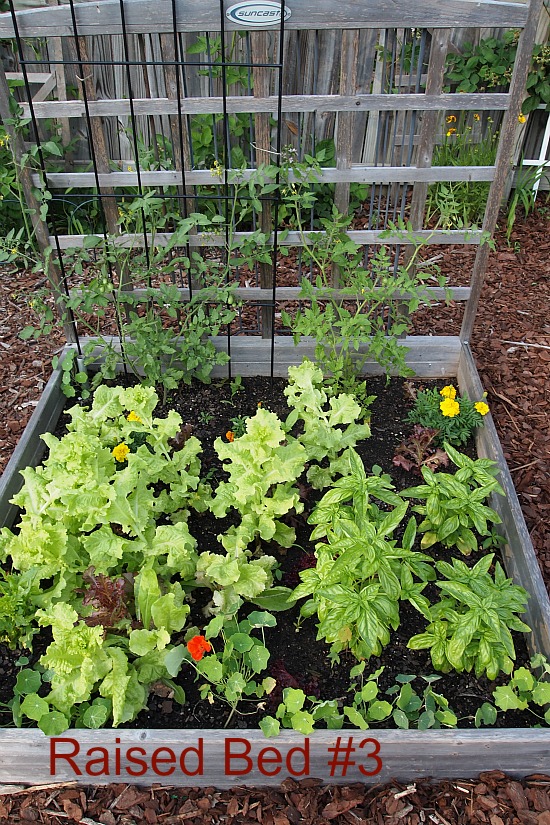 This bed has cherry tomatoes , basil,  nasturtiums and lettuce right now. But my lettuce is bolting so I'm going to be pulling it out and planting green beans.
Tired yet? 🙂  Along the back fence wall I have flowers,  1 of 2 grapes,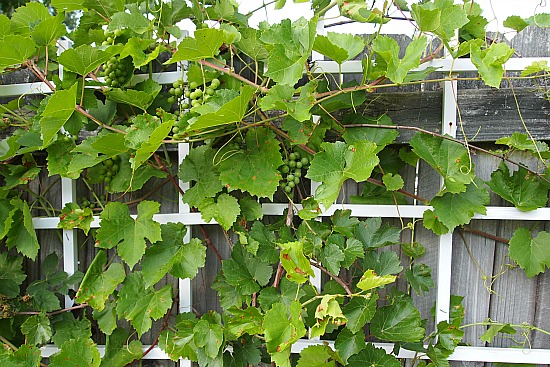 blackberries (creeping in from the other side of the fence),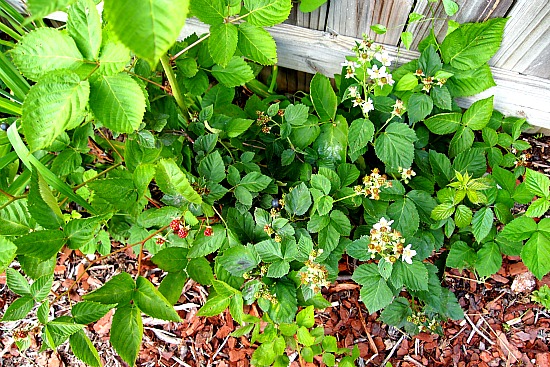 Nanking Cherries (bush cherry which can be grown as an ornamental and the fruit is edible),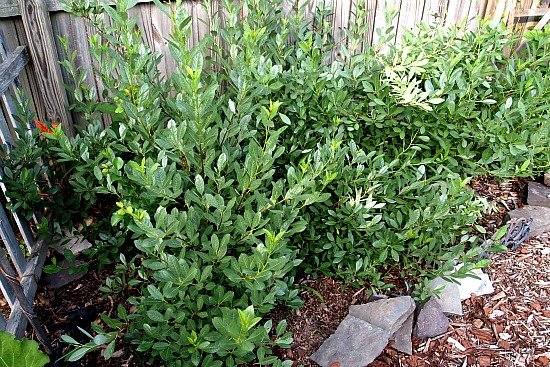 a rhubarb I planted this year that I'm trying to baby (I've never been able to grow it for more than one year). I planted it close to the Nanking Cherries so that it would get some protection from the sun.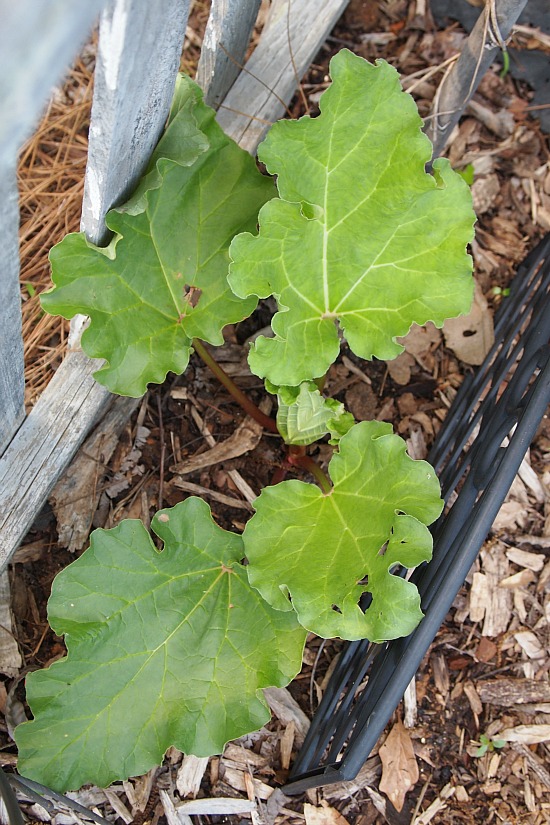 and on the other side of the picket fence I have more blueberries and these huge elderberries! Elderberry bushes are beautiful as an ornamental in your yard but the flowers and fruit are edible as well (the berries need to be cooked).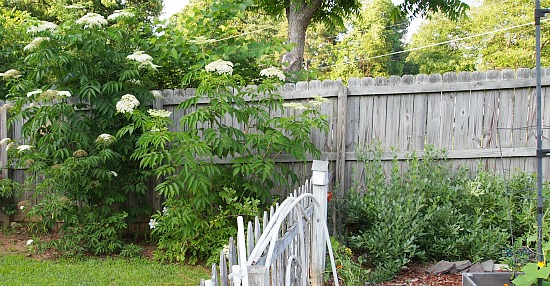 You can make Elderberry wine, syrup, cordials, deep fried elderberry flowers, it even has medicinal uses – you can do a ton of things with Elderberries!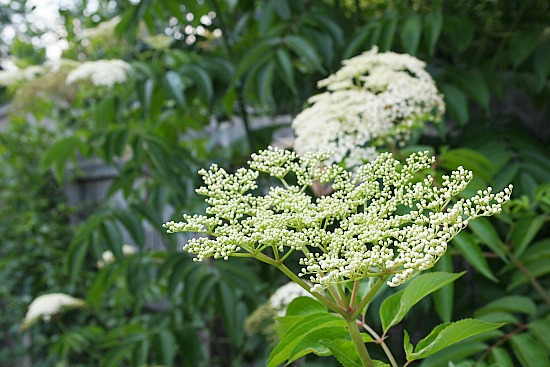 I think it's so important to add shrubs to your landscape that do more than just look beautiful!
Well that's  some of my vegetable garden,  I'll show the rest on Friday and in a few weeks I'l update you about the little orchard I planted last year.
I think I need a few chickens don't you? 😉
See the video tour of my vegetable garden  here