The New Year is always good motivation to work on your financial goals! As 2014 comes to an end,  I know many of you will be like my family and I, thinking about what we want to accomplish next year.  I will be focusing more on frugal living this coming New Year since one of the reasons we sold our house and downsized was to  get rid of some debt (loan for our daughter's college tuition). Plus we want to add to our down payment fund since we will be buying another house in the next year or so. So there's lots more frugal homemaking posts to come!  But in the mean time , check out these posts that are on this blog already that have to do with frugal living. Maybe you missed one and they could help you do a better job managing your budget!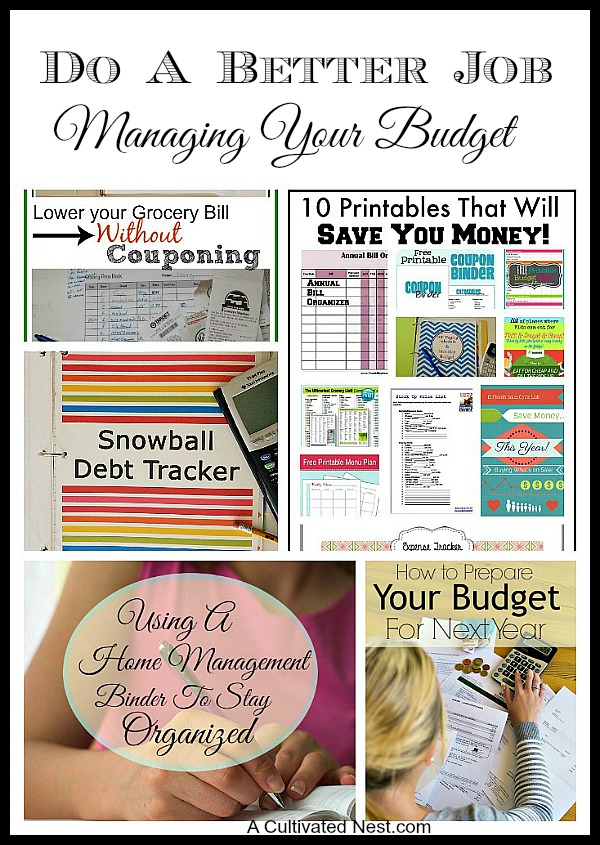 Disclosure: This post may contain affiliate links to Amazon and/or Etsy, which means that I may earn a small commission from some of the links in this post. Please see our Disclosure Page for more information.
Here are some strategies you can do to start better managing your money and improve your finances.
1. Lower Your Grocery Bill Without Having To  Coupon
2. Getting Out of Debt by Using the Snowball Method
3. 10 Printables To Save You Money
4. Preparing Your Budget for Next Year
5. Using A Home Management Binder To Stay Organized
6. Why You Need to Set Up a Budget (and Stick to it)
7. The No Stress Way To Build A Stockpile
8. Nesting Skills Series: "Make Your Own…" recipes
9. Organizing Coupons For Normal People
10. Renewed Frugality – 21 Frugal Living Tips To Try
2014 has been such a crazy year for us since we had to prepare our house to be sold, sold it and then had to find a place to move to, pack up  a house we had lived in for more than 10 years and move. We're finally settled in our rental and I'm excited for what 2015 will bring!  Like I mentioned before I'll be focusing on frugal living, but also organizing this house, I'll continue to share more recipes and some meal plans, I'll show you  how I decorate this home and a few easy crafts/DIY projects. I started having contributors to the blog this year to help out  since I was busy with the house and will continue to do so next year since they shared such great content. I really want this blog to be your source for great frugal homemaking ideas!
I'm thankful for all of you that read my blog and I hope that you will continue to into the New Year!