I am having such a hard time getting used to this kitchen! We've been in this house for 3 weeks and I just can't seem to figure out how where the best place would be for stuff or a work flow. I did realize that I couldn't dedicate a whole drawer to pot holders/oven mitts like at my old house. So I had to find another way to store them and decided that hanging them would be the best storage solution.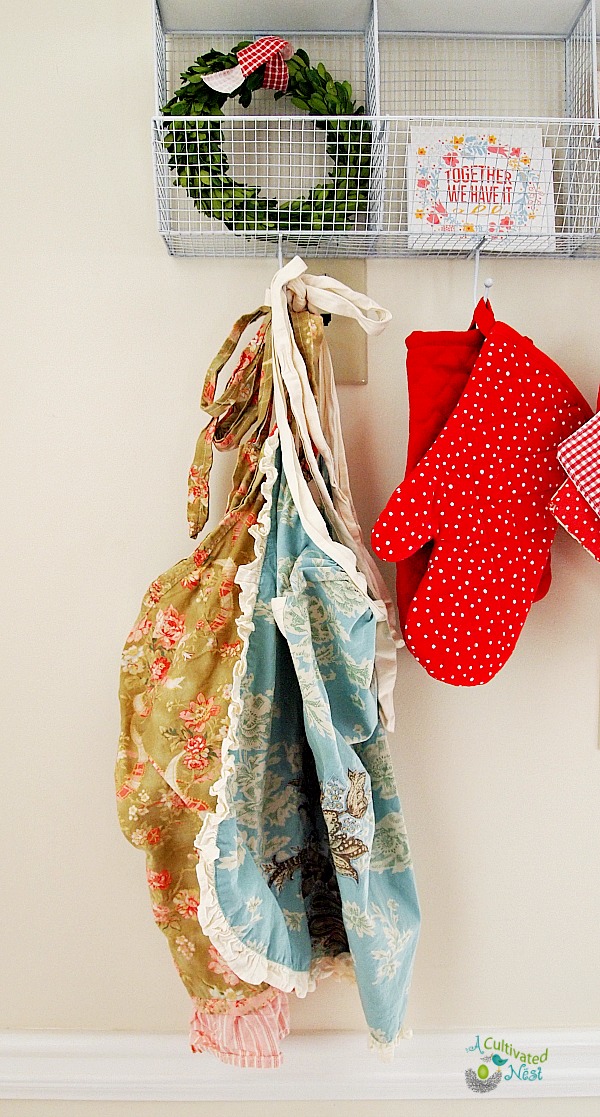 Disclosure: This post may contain affiliate links to Amazon and/or Etsy, which means that I may earn a small commission from some of the links in this post. Please see our Disclosure Page for more information.
I also hung up my two favorite aprons! I  had a cute wire basket with hooks that I got either at TJMaxx or Target and I had a picture ledge from Ikea. So I combined the two and now have some vertical storage and a little place to display stuff in the kitchen.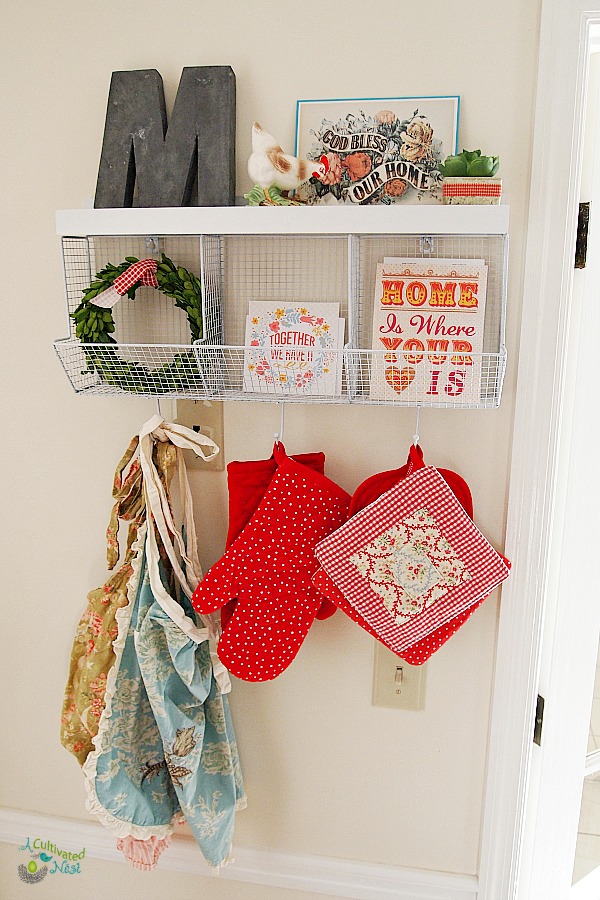 If you've ever seen a picture ledge you know it's really narrow since you're supposed to just prop pictures on it. So there's not a lot of display space. Which was my intention in using it.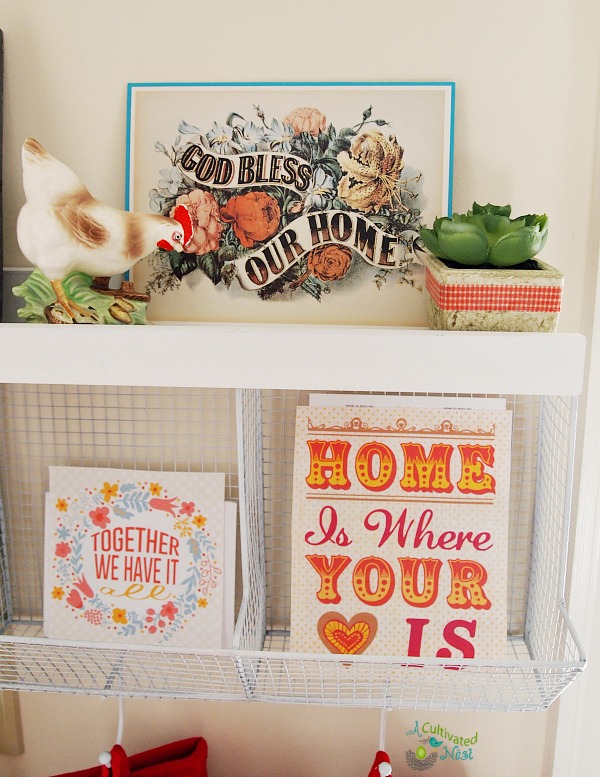 I just wanted a little space to easily display a few fun things. Something easy to change without a lot of hoopla! The "Together We Have It All" is a free printable from Entirely Eventful Day. She has lots of really pretty ones so go check them out. I can't remember where I got "Home Is Where Your Heart Is" – etsy I believe. "God Bless Our Home" I've had for many years so I have no idea where I got that.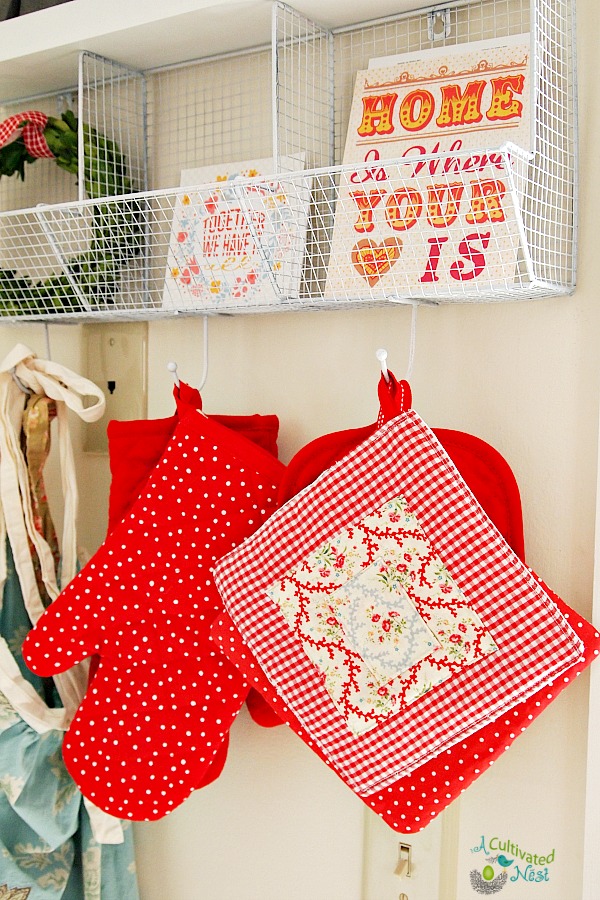 I treated myself to some new  holders since they're out where everyone can see them 🙂  from Target.  The cute polka dot pot holder and the patchwork one were gifts from a reader.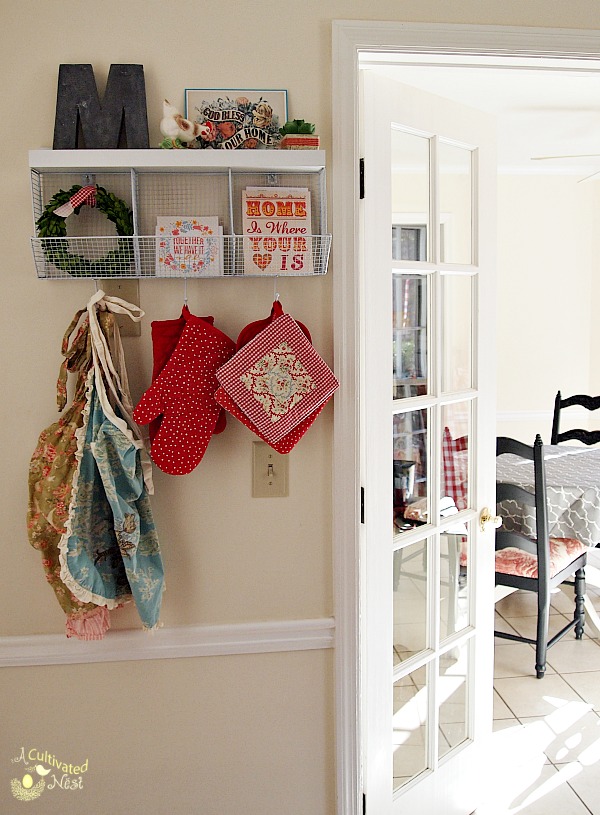 I'm not quite sure what I'm going to do with the cubbies  – I already have a place for incoming mail. Maybe a place for outgoing mail, coupons to retail stores (not grocery coupons). Maybe I'll just use them to display cute printables.
What would you use those cubbies for?