20 Easy and Delicious Pizza from Scratch.
Craving something delicious, easy, and better than take-out? Well, I have just what you need. I don't think you can find a more satisfying meal idea than a pizza. Almost everyone loves to indulge in a big fat slice at least every once in a while! Check out these 20 Incredible Homemade Pizza Recipes for inspiration!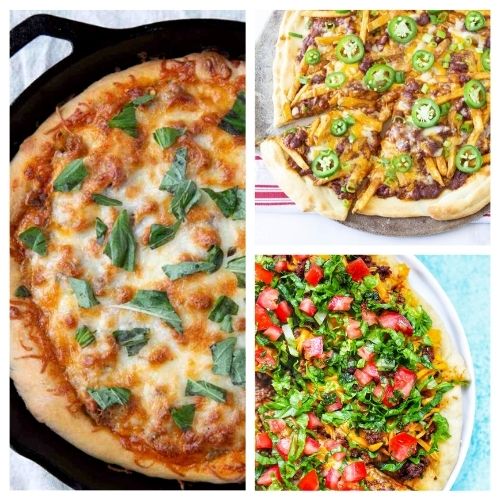 Disclosure: This post may contain affiliate links to Amazon and/or Etsy, which means that I may earn a small commission from some of the links in this post. Please see our Disclosure Page for more information.
Besides the fact that pizza tastes awesome, there is so much to love. It's easy, the perfect party food, and can be made with all sorts of crusts and ingredients. What's not to love?
20 Incredible Homemade Pizza Recipes
I want to share a few tips that will help you have the best pizza every time. Remember, each recipe will have its own set of directions, so these are basic tips you can apply to many recipes.
Preheating is important. Whether you are baking, grilling, smoking, or cooking in a cast-iron skillet, it's vital to preheat. Otherwise, the dough is going to cook unevenly and end up with a strange texture.
Go wild with toppings… but not too wild. So, feel free to add on all the veggies, cheese, and meats your heart desires. However, don't fill it so full that the crust can't properly cook. Just do a little bit of each of your favorite toppings.
Parchment paper or a silicone mat is your friend. Using a protective layer will prevent the pizza from sticking to the pan. This will also save you clean-up later, so it's double fantastic.
Use a variety of sauce. Naturally, you can opt for a basic marinara sauce, and the pizza is going to be yummy. However, you could also use alfredo sauce, refried beans, or barbecue sauce for some added flavor!
Try a pizza stone. If you want wonderfully even heating and a crispy crust, then you should try a pizza stone. Many of them can be used in either the oven or on the grill!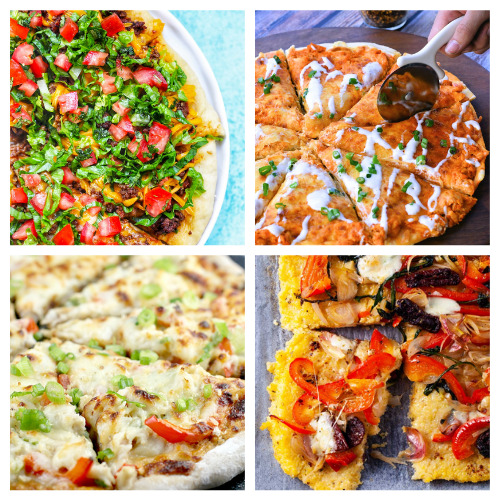 What are your favorite pizza toppings?
You might also be interested in: Mini Pizza Muffin Tin Appetizers