The breakfast room (which we use as the dining room) in this house that we're renting is pretty small. Plus you need room to walk into the kitchen, living room and backyard. So I really don't have much space to work with after you take into account the dining table and chairs that are in that space too! But I needed a small narrow cabinet to store things in. I looked everywhere and finally found what I needed at Ikea (of course).  We bought the Ikea Hemnes shoe cabinet about a month ago and it's working so well in this space that I wanted to share it with you. It's made to be a shoe cabinet but can be used for so much more! It's really great if you need a cabinet for a narrow (as in deep) space!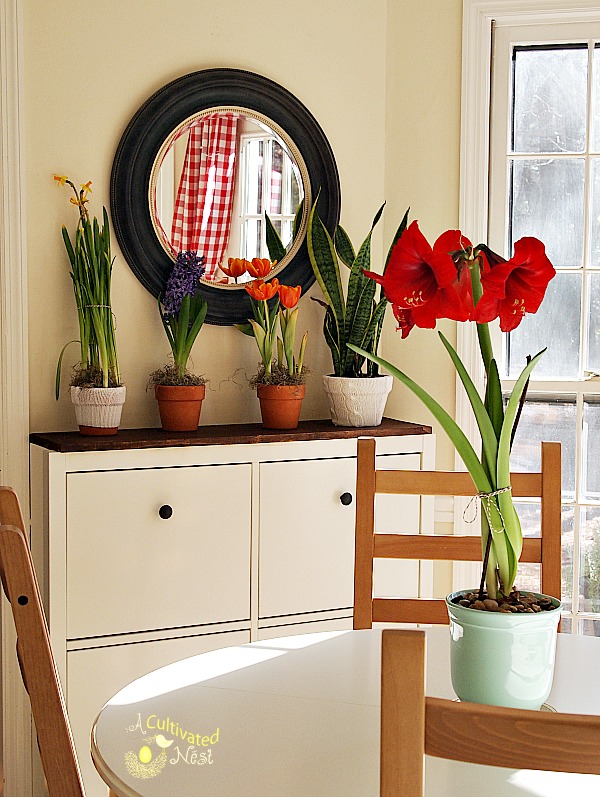 Disclosure: This post may contain affiliate links to Amazon and/or Etsy, which means that I may earn a small commission from some of the links in this post. Please see our Disclosure Page for more information.
If you look on Pinterest you'll find all kinds of "hacks" that change the outward appearance of this cabinet – lots of really pretty ideas! So even if you think the original look won't work for you, don't let that deter you, it can be changed to fit in with your decor. There are 2 versions of the Hemnes Shoe Cabinet. The one I got is $99 and not available online. The other version costs more and is available online (it has a drawer at the top).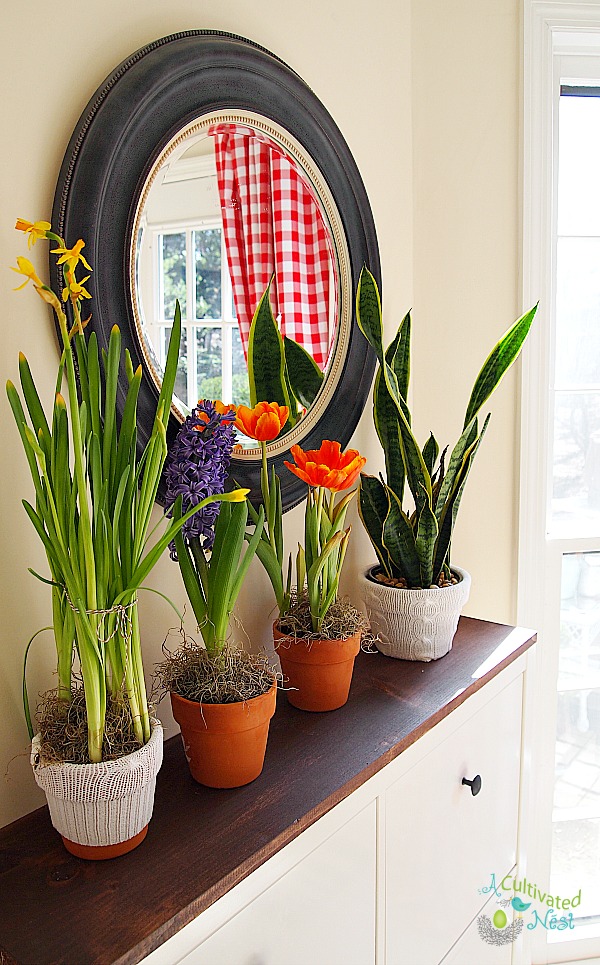 For the time being I've kept it the way it came except we added a piece of wood for the top. The top piece it came with extended beyond the cabinet a bit and made it not fit into the space. So we had some scrap lumber that I stained with some dark stain I already had and I love the way it looks with this top! The mirror is one I used in the foyer of our old house.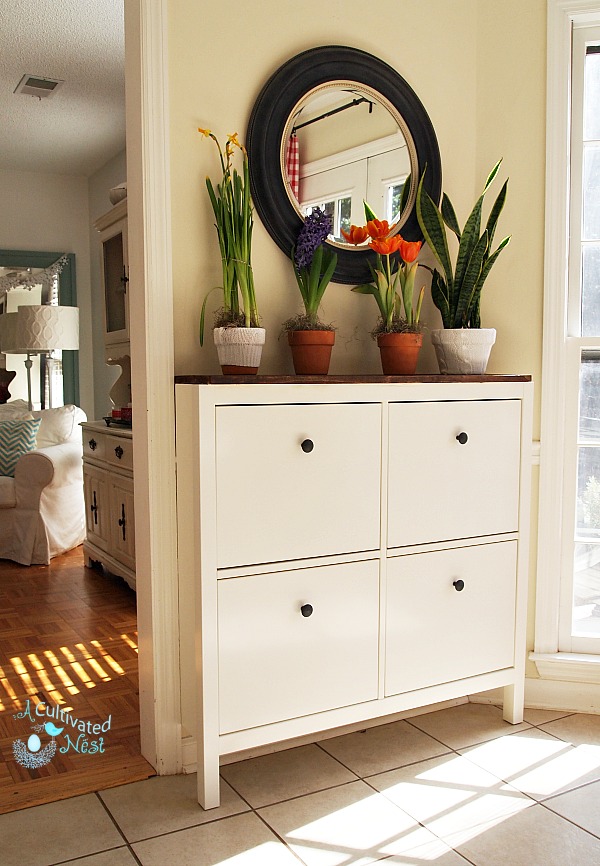 We actually do keep our "backyard shoes" in the bottom  2 compartments because this backyard is one big mud pit. So we have to take off our shoes when coming in otherwise we track mud all over the place. But I know lots of people that have "shoe less" homes and this would be a nice piece to have for your guests to put their shoes in.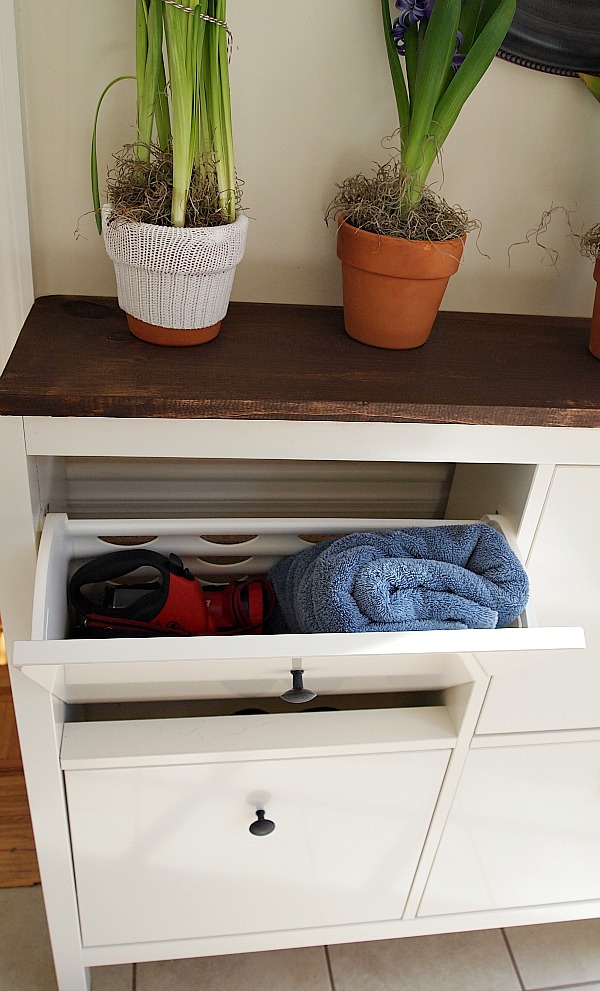 The top 2 compartments hold other things. Like this drawer holds dog stuff, leashes, a towel to wipe him off with, bag of treats, a flashlight and other odds and ends. The other compartment holds my placemats that I roll and stack side by side.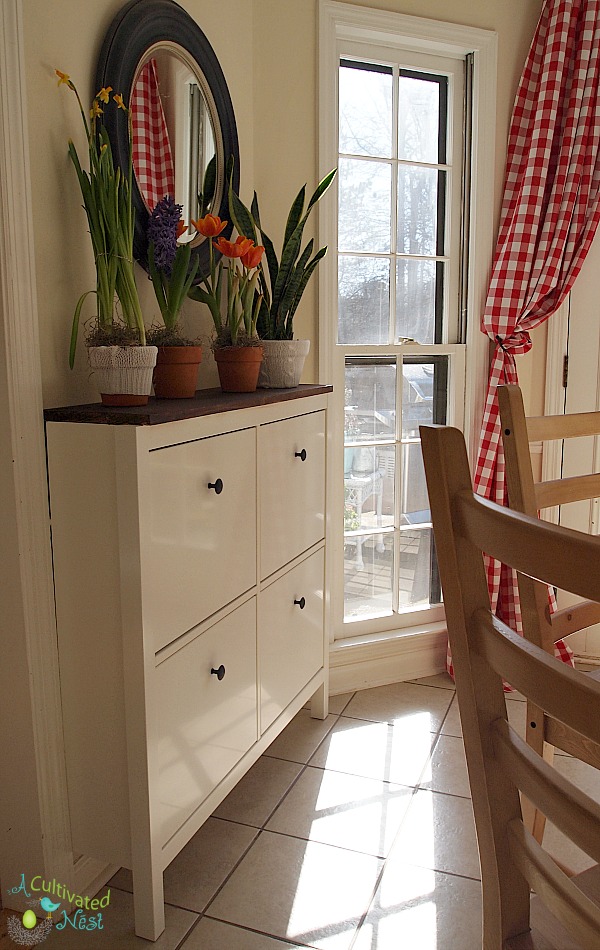 Another great thing about this Ikea cabinet is that it fits over the molding so it's flush against the wall (it's actually screwed into the wall). There are only legs on the front of the cabinet!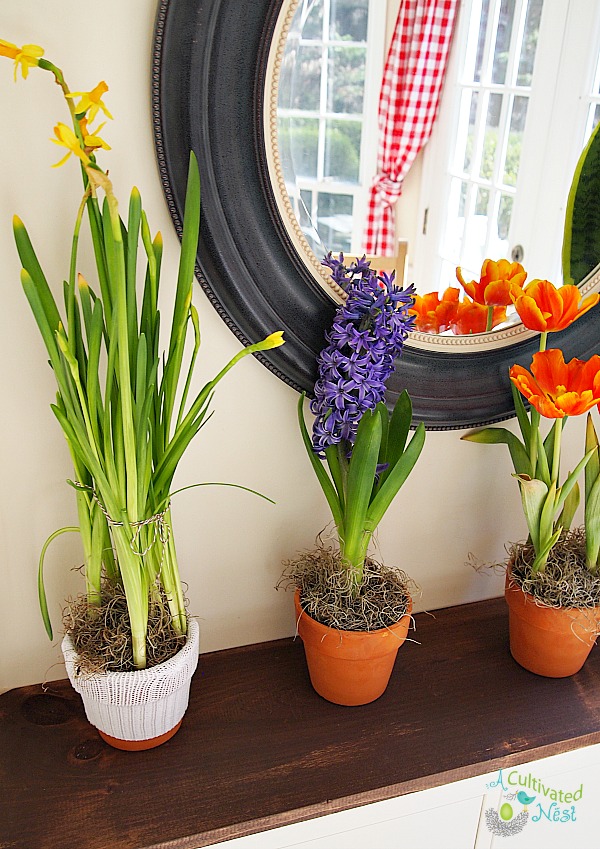 It also gives me a nice limited surface to decorate . This room gets the best sun in the house so it's perfect for plants! My Kroger had these little spring flowering pots marked down because they were getting new ones in – so I took advantage. It's been so nice to have a little reminder of what spring will bring!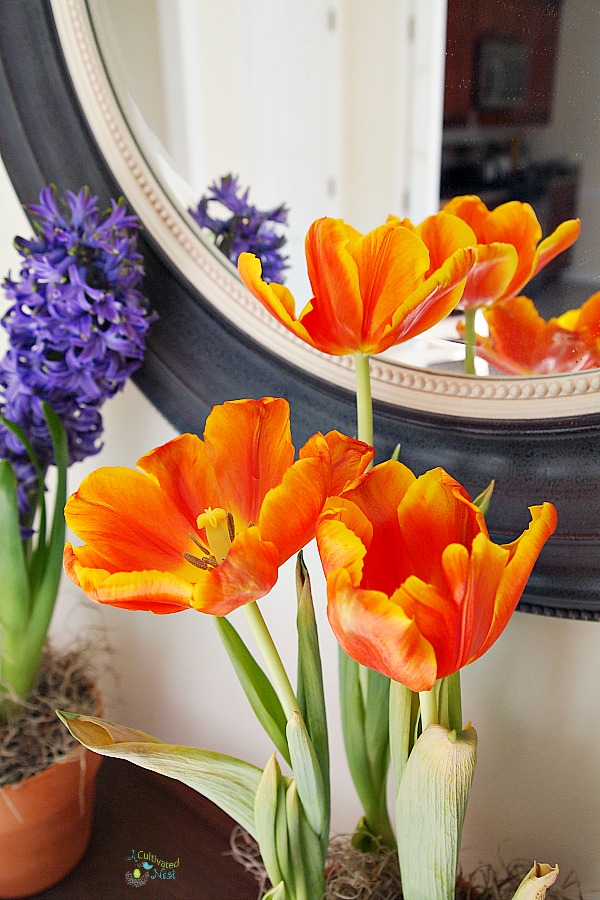 The hyacinth smells just lovely when you walk past it and aren't these tulips just gorgeous! Can't wait for spring!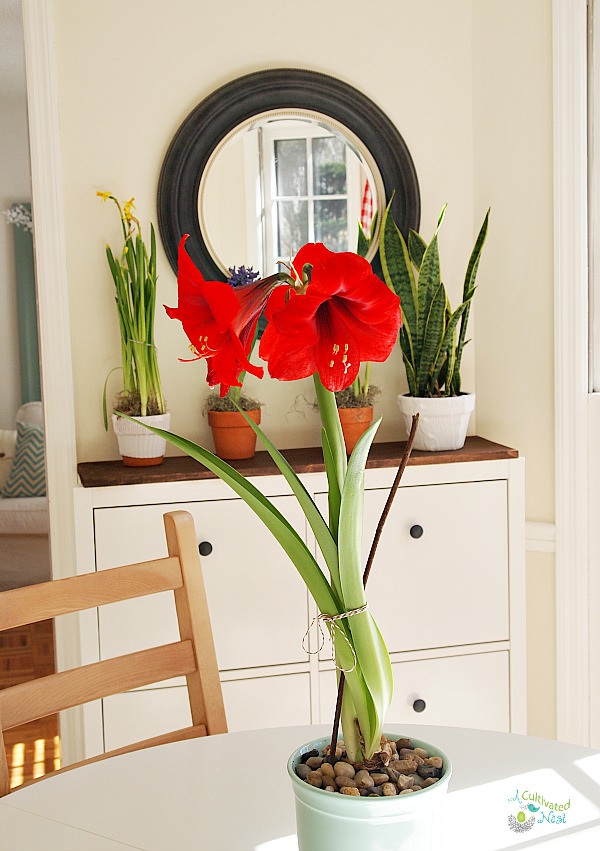 I'm so excited that this little room is coming together! I just need to find a round rug for under the table (the tile floor is really cold) and hang a few plates and this room will be done!
Don't miss a post! Get this blog delivered by email every time I post.  Subscribe via email here
You may also like: DIY Sweater Covered Lampshade