Now is a great time to start thinking about How to Start a Spring Vegetable Garden! Starting early means you get a chance to enjoy more fresh produce this year. It also means that when others are just getting their gardens started in the early summer months, you'll already be harvesting some delicious produce! Here's a quick start guide to starting a spring vegetable garden that's great for beginners! If you would like more in-depth information about vegetable gardening, be sure to check out my Gardening 101 Series! I also have listed a few vegetable gardening books at the end of the post that I've found helpful.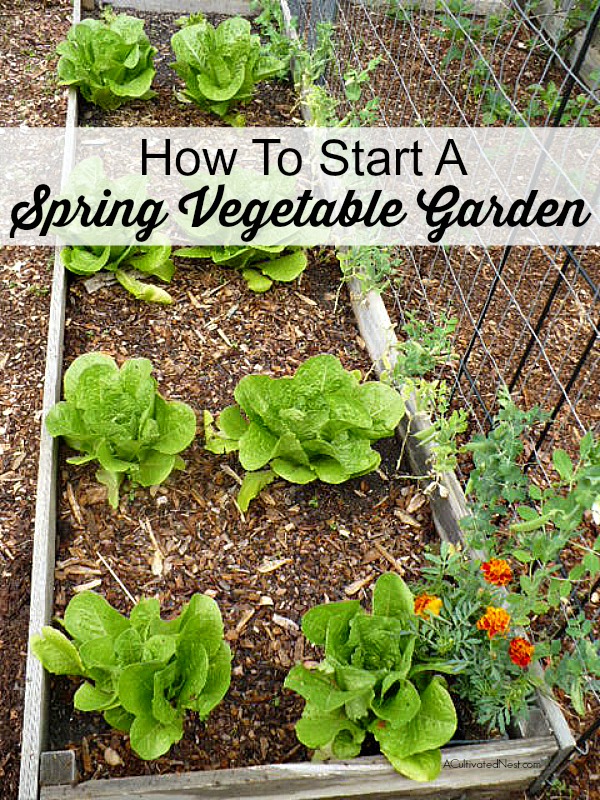 How To Start A Spring Vegetable Garden
Disclosure: This post may contain affiliate links to Amazon and/or Etsy, which means that I may earn a small commission from some of the links in this post. Please see our Disclosure Page for more information.
1. Buy a Farmer's Almanac. While some think it is silly, an almanac is actually a great investment for anyone planning on planting a garden. Not only will it give you a lot of information about your region and what grows best, it will have tips for common issues people have growing vegetables. There are also online planting guides, but the Farmer's Almanac is a fun read anyway! Here's a when to plant vegetables chart from The Old Farmer's Almanac online (all you have to do is enter your zipcode and it will give you a planting date calendar for your area).
2. Buy quality seeds. You can often find inexpensive seeds at your local discount store (and I have used those when money was tight and they worked fairly well. But there's not much to choose from as far as variety). If  you are planning on really having a successful garden, go for quality versus cost. You don't have to spend tons of money to get decent seeds. For those who are concerned about organics, there are a multitude of organic and heirloom seed varieties available. Here's a list of my favorite seed catalogs. Although the big box stores are getting better about carrying heirloom seeds!
3. You can grow your own seedlings. There are multiple methods of starting your seeds indoors before the weather is ready for outdoor planting. You can use potting soil in small cups, trays, or even various ready-made starter kits that provide you with soil in an easy to plant container. This saves time, money, and helps you to keep your plants safe for longer if the cold weather lasts a bit longer than expected. Here's a post on Creative Seed Starting Ideas.
4. You can buy seedlings from garden centers and get a head start. I'm in Georgia and our stores are already carrying them. If you still have days where you might get a frost, you can use row covers or cloches to protect your tender seedlings. I've found that garden centers and big box stores are getting better and better at carrying heirloom seedlings. The variety is still not what it would be if you grew from seed, but at least it's something!
5. Get the soil ready for planting. This can be as simple as opening a bag of potting soil and adding to a large container, or as time-consuming as weeding and tilling your garden plot in the backyard. Make sure to remove weeds, add a proper fertilizer (homemade compost is a great choice), and set things up for proper drainage as needed.
6. Set plants out when weather allows. Watch your forecast, as well as the forecast of years past, to determine the best time to take your seedlings outside to put into containers or your prepared garden. Remember to wait until after the last projected frost, and preferably until the weather is above 55 degrees consistently, unless you have a way of protecting your seedlings. Freezing weather can ruin your plants fast, and a frost can definitely destroy them in no time.
7. Water and fertilize regularly. Use of commercial fertilizers is common, but you should do research to determine what you are comfortable adding to the soil of your vegetable garden. Homemade compost is a great, safe way to fertilize your plants and help them grow faster and stronger. I like to use this Fish Fertilizer (that's an affiliate link to Amazon, but you can also buy this at Home Depot).  You also need to research the right amount of water and sunlight for your particular plants. Watering regularly so your plants don't die from lack of water is important, but you don't want to over-water them either.
These quick tips for how to start a spring vegetable garden are sure to get you started toward an award winning crop of your favorite vegetables this year! Check out my post on The Basics of Planning Your Vegetable Garden for a more in-depth article.
Here are some books I recommend for beginning vegetable gardeners:
The Vegetable Gardener's Bible, 2nd Edition
Starter Vegetable Gardens: 24 No-Fail Plans for Small Organic Gardens
Rodale's Basic Organic Gardening: A Beginner's Guide to Starting a Healthy Garden
This post contains affiliate links to Amazon, which means that I may earn a small commission from some of the links in this post. Please see our Disclosure Page for more information.
You may also be interested in: 15 Resources for Beginning Gardeners