We are pretty much done with the outdoor decorating! Yay! In trying to simplify our Christmas decorating we donated all of our animated deer/Santas/etc. Those deer…there were always one or two who had a leg or something that wouldn't light! Can't say I'm sorry they're gone! Here's a fairly simple DIY outdoor Christmas project you can make for some great holiday curb appeal.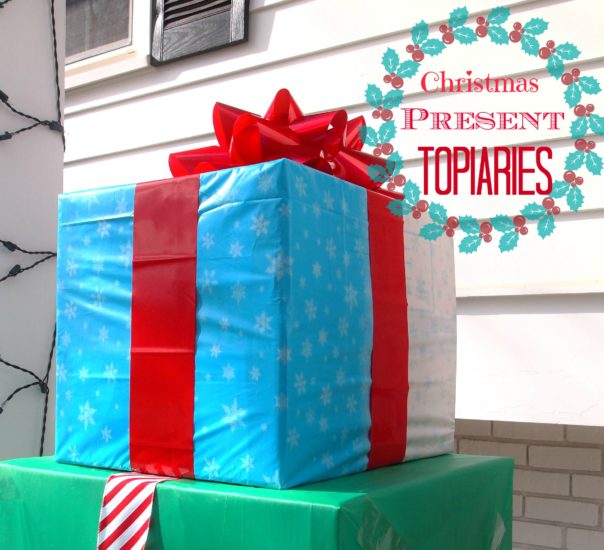 Every year I do something for Christmas in the black urns at the front of our house. In the summer they hold my ferns and normally by this time of year the ferns would be brown and dead but not this year. It's been down right hot lately! Anyway, I'm sure this freaky weather pattern can't hold so I moved the ferns into the backyard and my husband and I made these Christmas Present Topiaries for the urns.
Disclosure: This post may contain affiliate links to Amazon and/or Etsy, which means that I may earn a small commission from some of the links in this post. Please see our Disclosure Page for more information.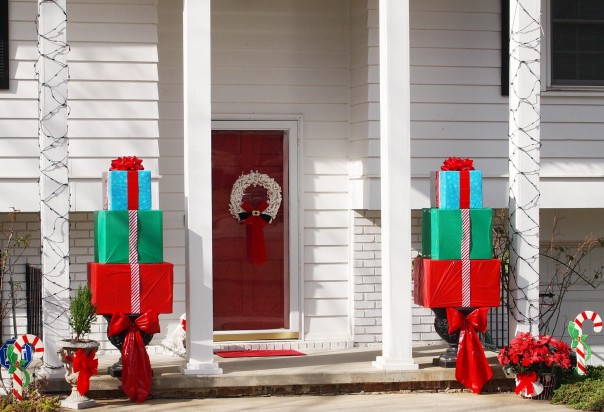 Love them! They add such a festive touch to the front of my house.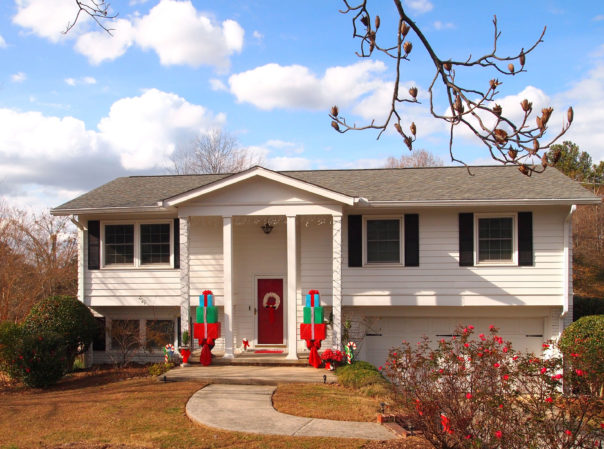 They are just big enough that they don't get lost between the columns.
How To Make Christmas Present Topiaries
Materials:
2 planters
boxes, small, medium, large (2 of each)
pvc pipe, dowel or rebar to hold your stack of boxes together
wrap for your boxes and ribbon
flora foam or dirt to hold the pipe/dowel/rebar in the planter
Since my topiaries are not totally protected by a covering I chose to use some plastic table covering as wrap.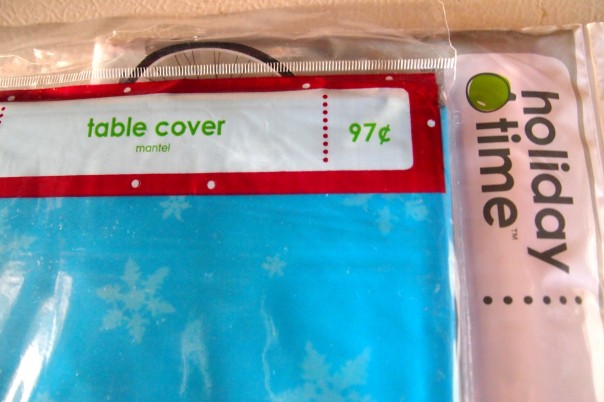 If your topiaries will be under some covering,  protected from the elements, then you can use regular Christmas wrapping paper.
We used pvc pipes since we had some on hand, but you can use rebar or even a dowel (depending on how big and high you make your topiary). If you're making a small one you can probably just hot glue your packages together without any additional support. We buried our pvc in dirt, but you can also use flora foam (it really all depends on how big you make yours).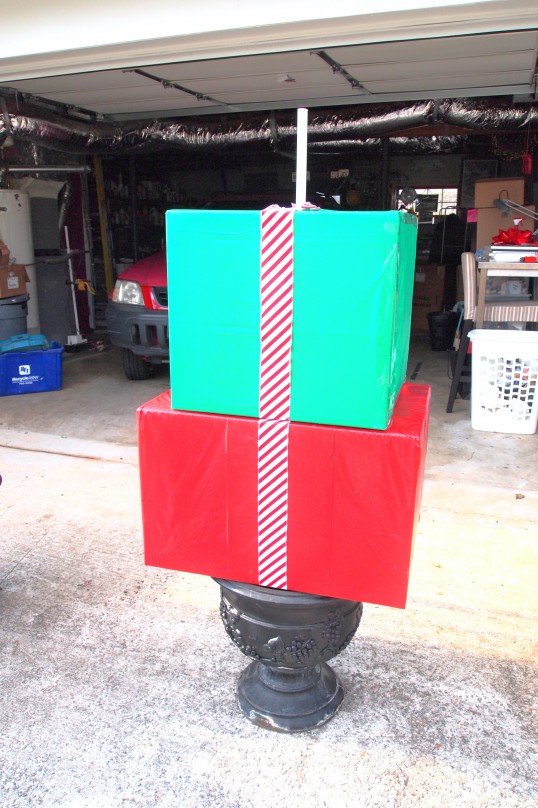 We wrapped our packages and then the tricky part is cutting a hole in the boxes. Which we did after wrapping the boxes but you can do it before if you find it easier.  We also centered our holes but if you want one box a little off so they're not stacked in a Christmas Tree shape, then do one box off center. We just sort of eye balled it and did one box at a time. The top box only needs one hole in the bottom and  then you  top it with a bow.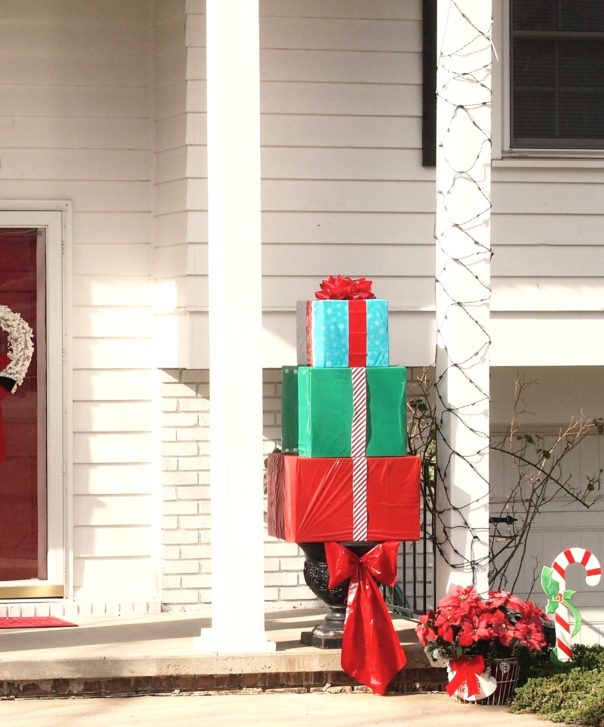 It really was pretty quick to put together. The hardest part was finding boxes!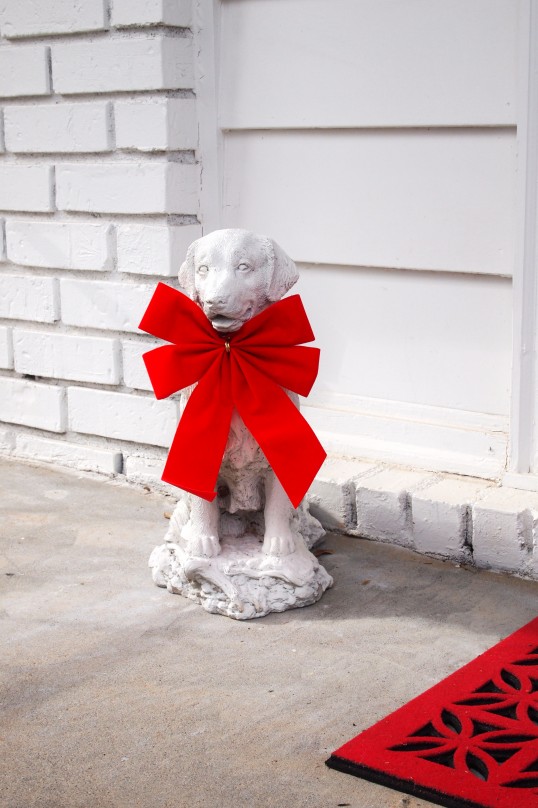 No other house in the neighborhood has these  and they were so inexpensive and easy to make!  I'll probably try to get some pretty vinyl Christmas tablecloths after Christmas so we can make these again next year with some patterned wrap.
You may also like: