I'm not a huge couponer but I do use coupons and they do help me save money! Every little bit of savings adds up in the long run! Do you want to start using coupons but have no idea how to get started?  Here are some basic steps for how to get started with couponing and at the bottom of the post is a list resources to find printable coupons.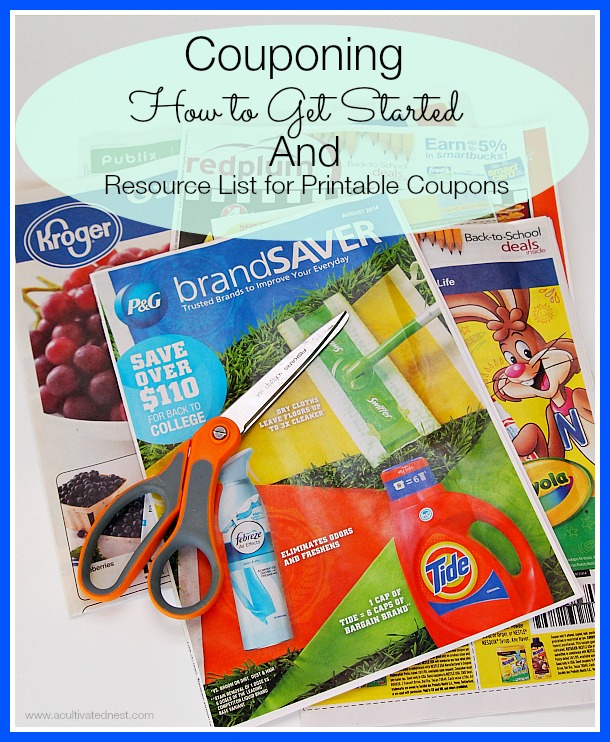 Disclosure: This post may contain affiliate links to Amazon and/or Etsy, which means that I may earn a small commission from some of the links in this post. Please see our Disclosure Page for more information.
If you're not familiar with couponing it can be a bit intimidating at first!
A coupon is a piece of paper (or digital "piece of paper")  from the manufacturer or store that offers you a discount for a specific item. Coupons can be used at most stores that carry that particular product. To be able to receive the discount you need to purchase the item that the coupon is for and give the coupon to the cashier (it's easier to refer to paper coupons but coupons are also available in a digital format).  The cashier will run your coupon across the scanner and the amount of the coupon will be taken off your purchase price of that item.
How to Get Started Using Coupons
1. Start gathering your coupons. There are many places you can find coupons.  Newspapers, magazines, in stores,  online printables, and ones you can load to a shoppers card or app. In the newspaper almost every week you can get the Red Plum and Smart Source inserts.  The first week of each month Procter and Gamble has an insert in the paper as well.
Many magazines have great coupons as well.  All You is always full of great coupons.  Good Housekeeping, Woman's Day, Family Circle and Red Book often have manufacturer coupons.
You can also look for coupons on products on store shelves when you walk though the store.   There are  a lot of great websites to get coupons from like coupons.com, redplum, Mambo Sprouts (natural & organic coupons). There are also times you can get great coupons printed out right at the register.
If you have certain products or brands that are your favorite try emailing the companies or calling them to request coupons.  Some companies offer special coupons if you follow them on social media sites as well.
When you are ready to take on more coupons start asking friends and family members to save any unused coupons or complete inserts they have.  Some people also choose to have more then one paper delivered to their homes. There are also coupon clipper sites you can get more coupons from.
*You can usually print out more than one coupon but you can not make a copy of a printable coupon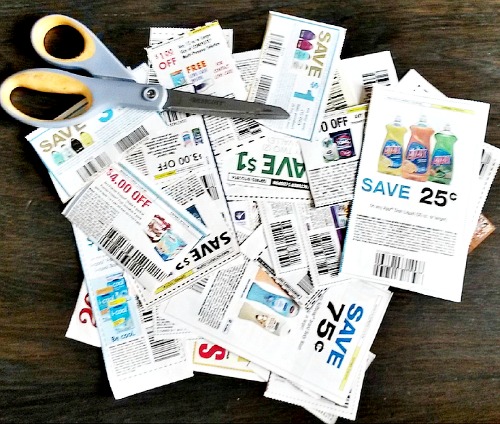 2.Decide how you want to organize your coupons.  There are three well known "systems", the binder, the small coupon organizer and keeping the entire insert.
* Keeping a coupon binder is great but can be very time consuming. You'll need a 3 ring binder, baseball card dividers and section dividers.  If your binder is organized just right and you come across an unexpected sale you can easily flip through to see if you have a coupon for that item.  It is best to organize the coupons in your binder by certain categories. This will take more time in the beginning but in the long run will save you time and money.
* The small coupon organizer is great for organizing coupons if you're not going to try extreme couponing.   You could combine this system with the binder method and when you have a certain trip planned you can get out all the coupons you know you will need for that trip out of your binder and organize them in the small organizer. Check out the way I organize my coupons here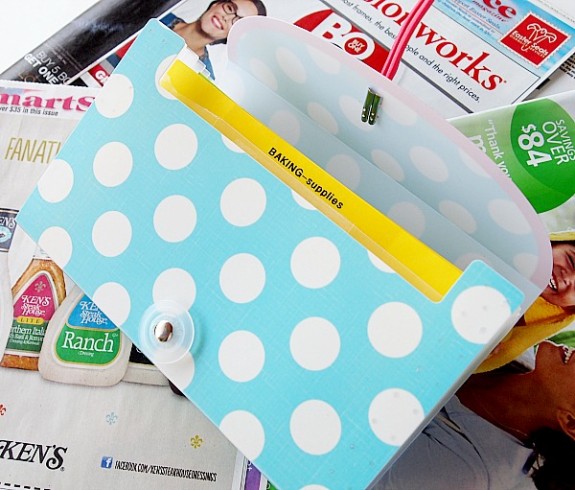 * Keeping all the inserts is a great option too.  You can organize them in a little file box by date which will help when searching the deal hunting sites and they tell you which date to get certain coupons from.  Be sure to regularly clean out your expired coupons.
You can always donate the expired coupons to the troops.  They must be clipped manufacturers coupons. You can send them here:
Support Our Troops® 
P.O. Box 70
Daytona Beach, FL 32115-0070
3. Check the sales circular for your grocery store. When it is time to do your shopping, go though the stores circular ads and make your grocery list. Go though your coupons and match the sales with what coupons you have in your coupon stash. This is how you save!
*B1G1  BOGO (Buy 1 Get 1 Free) + coupons saves you money.  Stacking (a store coupon + a  manufacturers coupon) saves you money. Knowing your lowest price for an item + using a coupon saves you money (see my post on how to make a price book here)
You want to be as organized as possible so you won't get overwhelmed when you are checking out. You may want to start out by just going to the store for your coupon items if you've never used coupons before or if you're using a lot of coupons. Once you're comfortable with the whole process you can then combine your trips and get your coupon and non-coupon items in the same shop.
There are lots of  coupon match-up sites that do a lot of  the hard work for you!  They tell you what's on sale and tell you where to find a coupon for that item (see the resource list below for some of those sites)
4.  Check your stores coupon policy. When preparing your first coupon trip you will want to be sure to check out that stores coupon policy which can usually be found on the stores website. It is best to print it out and have it with you at the store.   If you can't find it online ask someone at the customer service desk if they can get you a copy.  It is always good to have a copy with you in case anything comes up at the register because some stores limit how many coupons you can use on a certain item and other things.  (Sometimes you get a cashier that needs to be reminded about the store's coupon policy)
5. Double check your items and the coupons you are going to use.  Before you check out, check your list and make sure you got everything that you planned on getting with your coupons and that you have the correct coupon. It's a good idea to count how many coupons you are going to use if your are using a lot of them. It's easier to make sure that all of them scanned properly when you check your receipt when you know the total number of coupons you used.
You may have to visit a few different stores to maximize your savings. But by using coupons you will be able to get sale products to stock up on for cheap or sometimes even for free!
Coupon Resource Sites:
Happy couponing!