We have been on a decluttering and organizing mission and today I'm going to share with you how I organized the area under my kitchen sink using items I already had. I have to tell you that I have a weird plumbing set up under my sink. Most of the space is taken up with various pipes as you'll see,  so it's always been hard to find a way to make this area look tidy. But I've finally found the solution!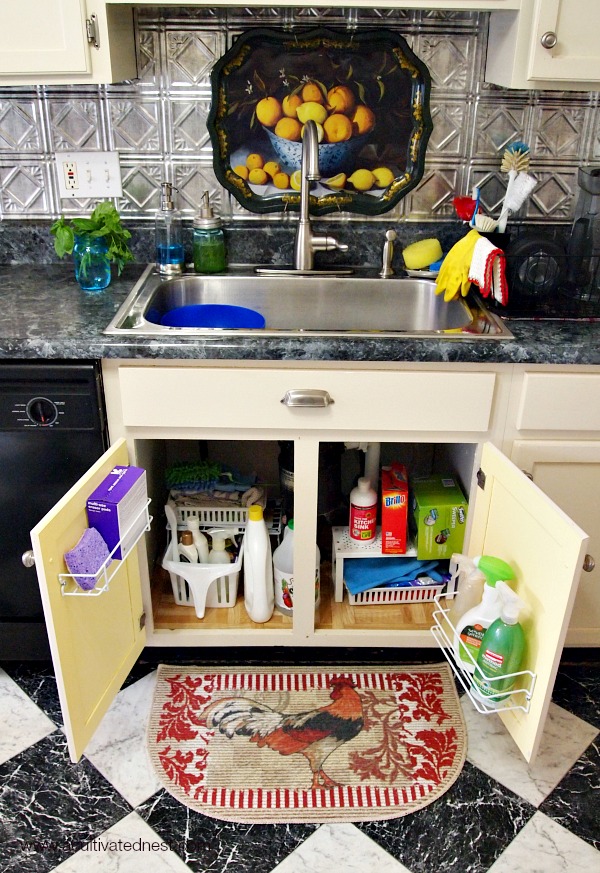 Disclosure: This post may contain affiliate links to Amazon and/or Etsy, which means that I may earn a small commission from some of the links in this post. Please see our Disclosure Page for more information.
Here are my 4 tips for maximizing the space under your kitchen sink.
My first tip is to empty the space and have a good look at what you're storing.  That's what I did! Donate/throw out things that you no longer use.
My second tip is to cut down on your cleaning products!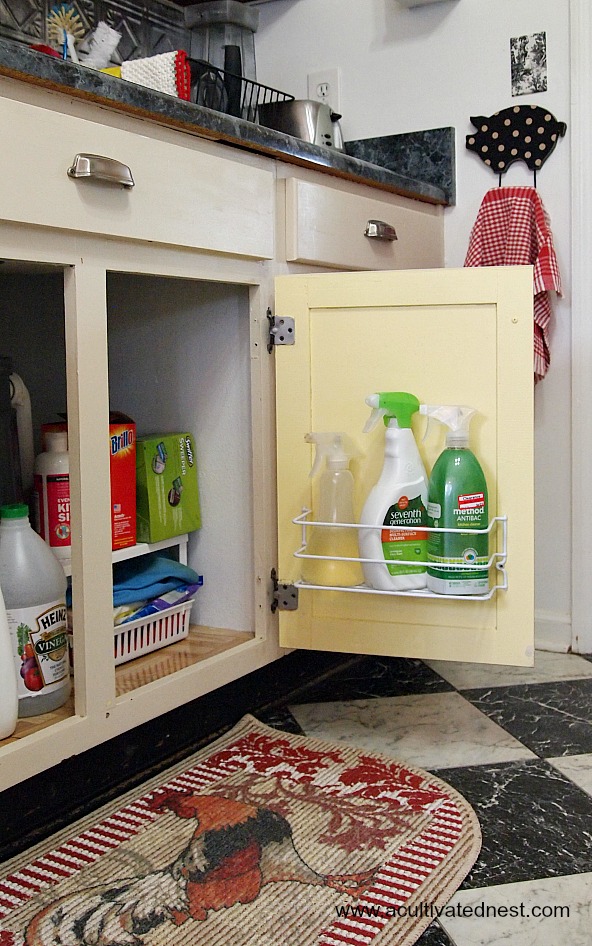 I have an all purpose cleaner that I make that I use for lots of things and a few store bought natural cleaners that I use. But basically I use vinegar, hydrogen peroxide, baking soda, rubbing alcohol, dish soap & tea trea oil in my various cleaning concoctions. I also keep the cleaners I use in the bathroom – in the bathrooms.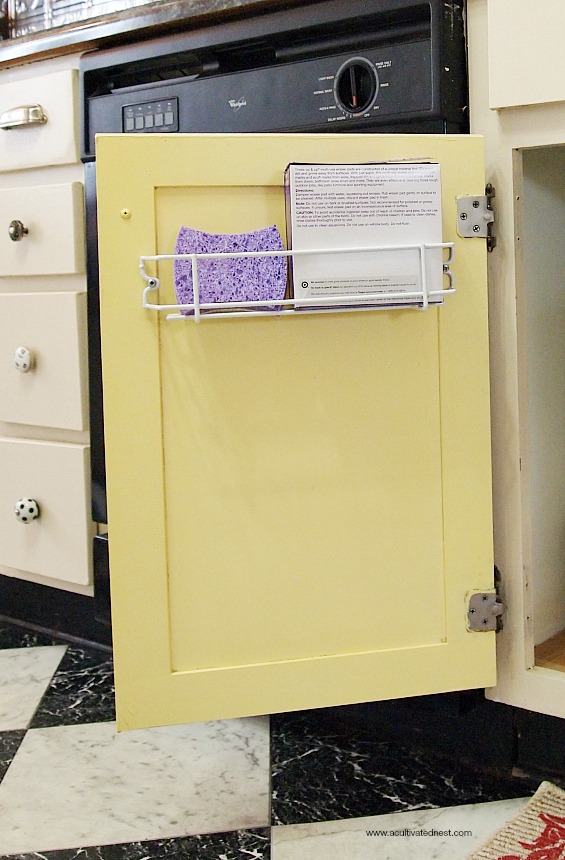 My third tip is to use the space on your doors! I have wire shelving attached to both of my doors (there are ones that hang over the doors if you didn't want to screw into your doors). You could also use extra strong command hooks to hang the wire racks. The one on the left side is higher so the door can close with no problem and I keep extra sponges and my knock off Magic Erasers on that shelf.  The wire shelf on the left is low so that I can keep my cleaning supplies on the door and there's more clearance for the door to close on that side.
My fourth tip is to use expandable shelves (locker shelves) and bins. Like I said I have a weird plumbing situation under this sink that gives me very little room to store things! But I found this narrow shelf at Ikea a few years ago and I was using it in an upper cabinet (re-organized those too) and it fits perfectly on that side.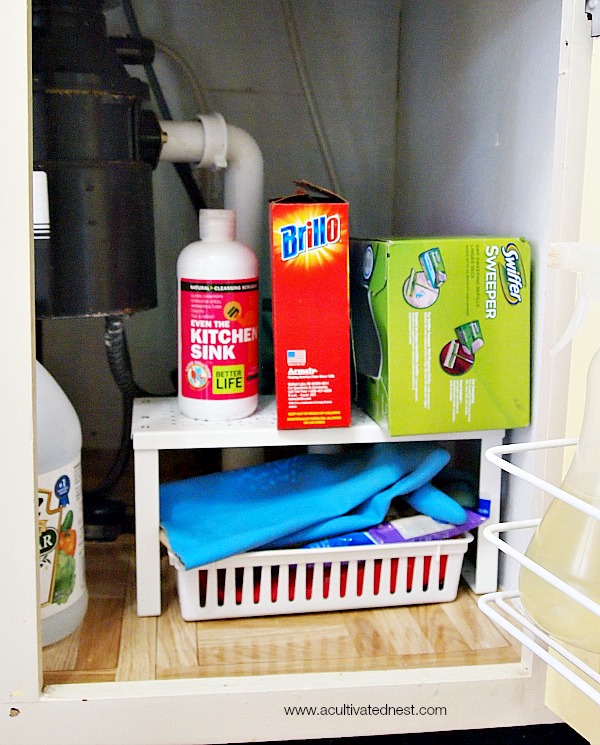 So I can store some things on top and I have room underneath for a small dollar store container that contains extra rubber gloves.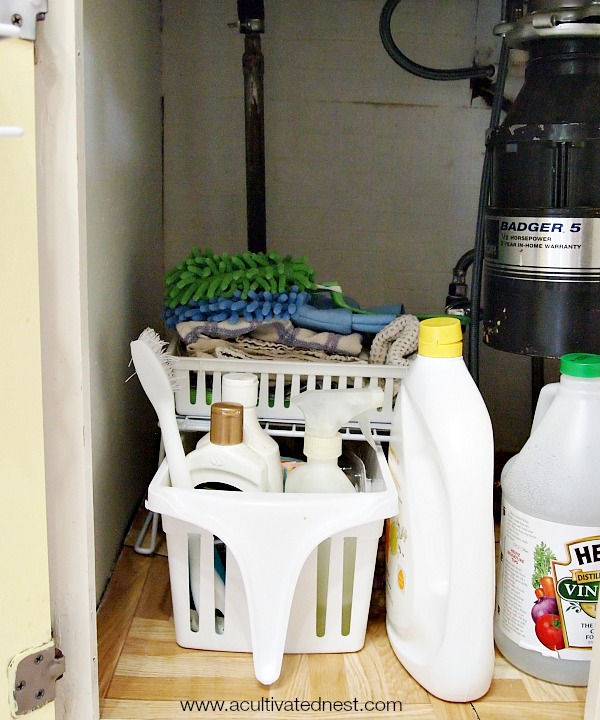 On the other side I'm able to have a larger shelf and a bin (that I was using in my pantry – re-organized that too) that slides partially under it. On top I have a little bin that's from the Dollar Store which holds my cleaning rags and dusting mitts. I could actually do more with the vertical space on this side if I had to (like get stacking bins or stacking drawers).
Another tip – I covered the bottom of this cabinet a few years ago with some leftover peel and stick tiles. This makes it very easy to clean and if you have a leak your cabinet and floor have a bit of protection.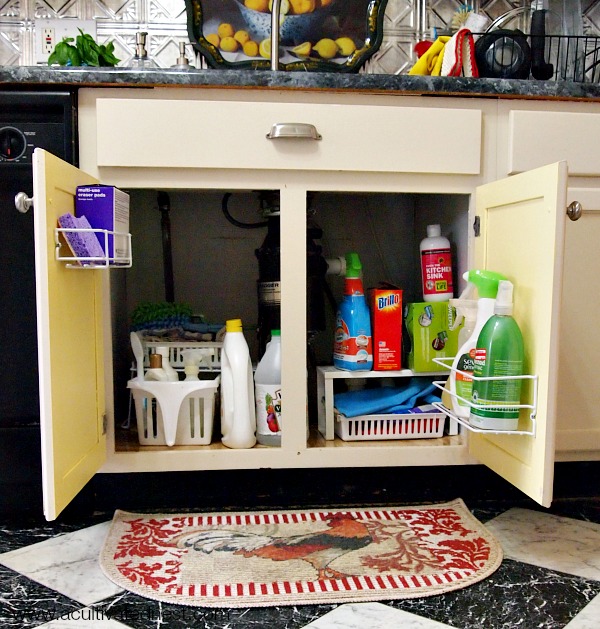 The thing about organizing under sinks is that everyone has a different set up of pipes and cleaning products (and budget) so you kind of  have to asses your own space and then find the items that will help you organize your space.
But generally speaking these 4 tips will help you maximize the space under your kitchen sink no matter what!