When it comes to caring for your family, some basic homemaking skills make everyday life so much easier. And they can save you a lot of money! It's actually pretty unfortunate that these kinds of skills aren't taught in most schools today, but luckily they're not hard to learn! Here are 10 Homemaking Skills To Learn to Make Your Life Easier!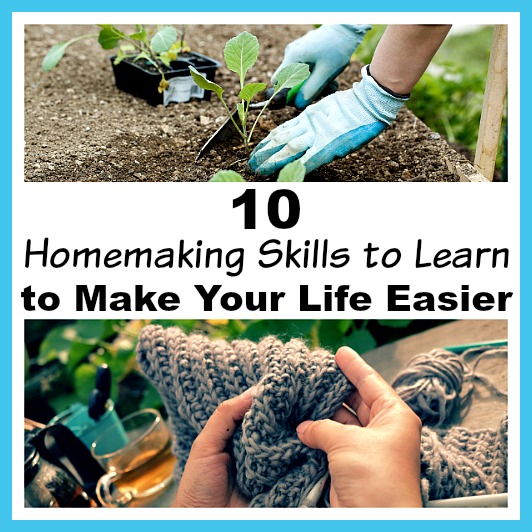 Disclosure: This post may contain affiliate links to Amazon and/or Etsy, which means that I may earn a small commission from some of the links in this post. Please see our Disclosure Page for more information.
Some of these skills used to be taught in home economics or shop classes in high schools. But not all schools offer those classes anymore, and don't have anything similar. So if you have your own kids, these could be some good skills to make sure they learn before they grow up! If you're not skilled in these things either, it's never to late to learn something new!
Ten Homemaking Skills to Learn to Make Your Life Easier
1. Financial management is one of the most essential skills you will learn.  Being a good steward of your family's money means having good financial management skills that allow you to make smart decisions to keep your family going in good times and bad. Learn to set a budget, balance a bank account, stay out of debt, and grow your monetary wealth through investments.
2. Couponing is a great way to make your hard earned money go further. By learning to coupon you can build a stockpile to keep your family going in an emergency. And nowadays apps and websites make couponing much easier and faster than back in the day when you had to clip coupons out of circulars. Most of the time all you have to do is download the coupon to your account and give the cashier your grocery loyalty card or phone to scan.
3. Meal planning is a great way to cut costs and put an end to the "What's for dinner?" question. It's a great sanity saver that will help your family eat healthy and avoid the drive-through rush after a long hard day. Meal planning allows you to rotate the food in your home and take advantage of fresh foods on sale!
4. Canning and preserving food is a vital skill. Knowing how to preserve food, that you grow yourself or find on a great deal, opens up money that is usually spent replacing old food or food that you normally would buy. Preserving food doesn't necessarily mean canning. Knowing how to properly freeze food is important and something you can do right away. Also knowing how to dehydrate is helpful too. I have (Amazon Affiliate link)  The Dehydrator Bible that I use for reference. I also have this dehydrator. It's not too expensive (there are pricier ones – but this is a good basic model). The whole family benefits from this basic homemaking skill that everyone should know.
5. Gardening is one of the big homemaking skills to learn. While you may not have the space for an entire vegetable garden, most people can grow fresh herbs for cooking in their kitchen window, or in containers on their patio. Start small and build your garden or collection of potted plants as you learn. The savings and fresh food will make it worth your time!
6. Cooking is one of the most common homemaking skills to learn. Why? Because everyone needs to eat. If you were lucky you were taught to cook growing up. If you were not so lucky I suggest picking up a basic cookbook like the Better Homes & Gardens Cook Book or Joy of Cooking. Both are packed with recipes and tons of tips to get you started. Or even easier, just browse through all the many delicious recipes on A Cultivated Nest!
7. Sewing is one of the handiest homemaking skills. We all have to wear clothes and use fabrics like sheets and curtains around our homes. By learning to sew, hem, and replace buttons, etc. – mending your items will make them  last longer and save you money. If you really get into it you can make your own things, or even sell things you make to earn money with your homemaking skills!
8. Knitting and crochet are great homemaking skills to learn. With these skills you can create pretty items for your home and warm blankets and clothes to get your family through tough winters. Like sewing, knitting and crochet are great ways to earn money by making things others will find useful!
9. Basic repair skills come in really handy for fixing things around your home, and even for simple car problems. Take the time to learn how to fix a leak, stop squeaking door jams, change oil, and even repair holes in drywall. These basic skills will save you time and money, making life easier on you.
10. Making DIY bath, body, and home cleaning products is a great skill that gives you the power to save money and reduce harmful chemicals used on and around your family. This is another skill you can make money off of depending on the laws in the state you live in.
Did you have home economics/shop classes when you were in school?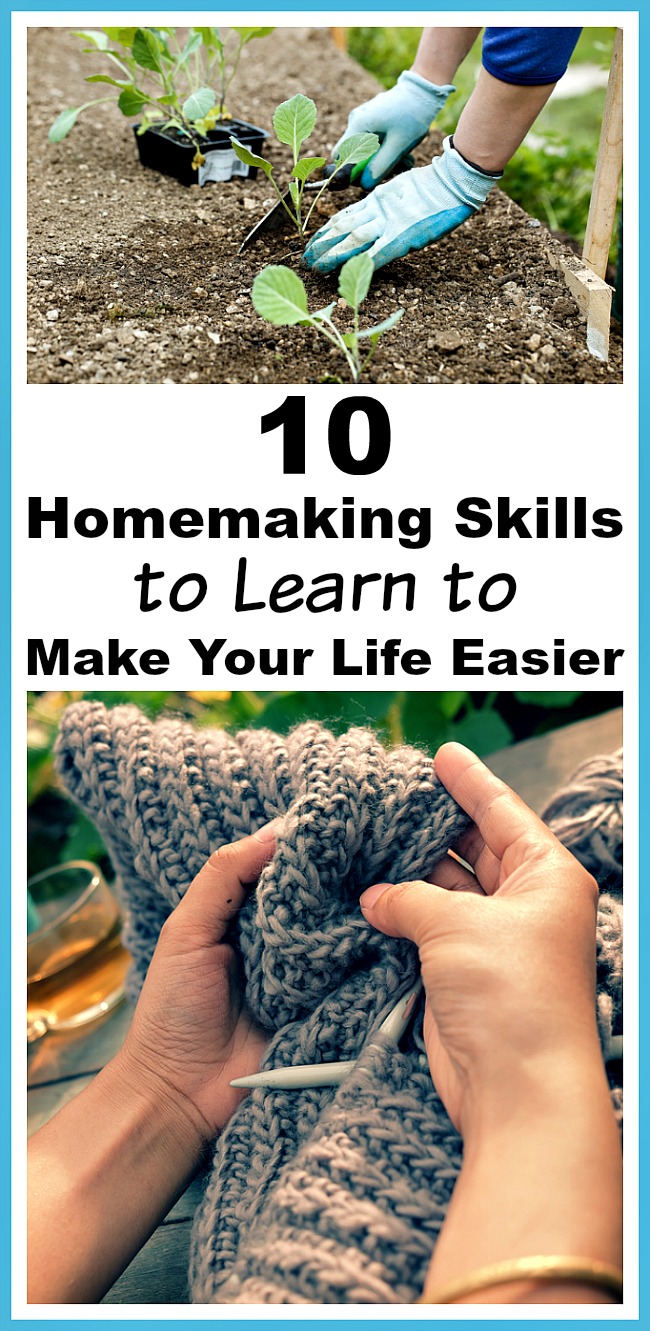 Here's a related post you might also be interested in: