DIY Lemon Sugar Body Scrub.
I'm sure I'm not alone in experiencing dry skin during the winter. There's just something about the cold air and sharp winter wind that dries out my skin within minutes! Luckily I discovered how easy it is to make my own homemade body scrubs, or I'm sure I'd be spending a small fortune on lotion! This Homemade Lemon Sugar Scrub is wonderfully moisturizing, and all-natural. It's one of my favorite sugar scrubs all year long, but especially during the winter. If you want beautiful moisturized skin, you've got to give it a try!

Doesn't this lemon sugar scrub look lovely? Trust me, it feels as good as it looks! If you put it in a pretty jar like I did, it makes a wonderful gift for birthdays or holidays! Our lemon sugar scrub Mason jar lid label printable makes it even prettier!
Homemade Lemon Sugar Scrub
Disclosure: This post may contain affiliate links to Amazon and/or Etsy, which means that I may earn a small commission from some of the links in this post. Please see our Disclosure Page for more information.
Did you know that lemon essential oil is in this scrub for more than just its delightful smell? Lemon oil is naturally an astringent substance. As a result, it helps to clear up acne and other skin issues naturally. The essential oil is also helpful is making your skin less oily. As a result, after using this homemade lemon sugar scrub for a few days, you'll start to notice that your skin is brighter and your complexion is clearer.
If that's not enough, this homemade body scrub also includes coconut oil! This makes the scrub an even more powerful addition to your skincare regimen! Coconut oil is an excellent natural moisturizer, and quickly can soothe even the driest skin. On top of that, coconut oil works wonderfully when paired with exfoliants like the sugar in this homemade lemon sugar scrub recipe. The sugar works to scrub off your dead skin and cleanse your pores, while the coconut oil immediately soothes the cleansed skin and closes your pores. This leaves your skin feeling refreshed and looking gorgeous! Also, with continual use of this sugar scrub, you'll find that your closed pores give your skin a more even, smooth texture, and that you're less susceptible to occurrences of acne.
Isn't it amazing that you can get all these wonderful benefits with only a few inexpensive and natural ingredients? You'll never want to use a commercial skin cleanser again after you give this homemade lemon sugar scrub a try!
Ingredients
1 cup white sugar (organic would be best since you're scrubbing it into your skin, but conventional is also fine)
1/4-1/2 cup coconut oil (again, organic would be best)
Lemon essential oil
Yellow food coloring (optional)
8oz wide mouth half pint Mason jar with lid
Twine or ribbon or printable lemon sugar scrub labels (optional)
Directions
1. Combine the sugar and coconut oil, mixing well.
2. Add a few drops of lemon essential oil.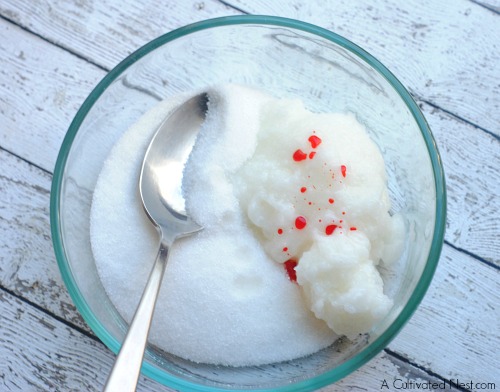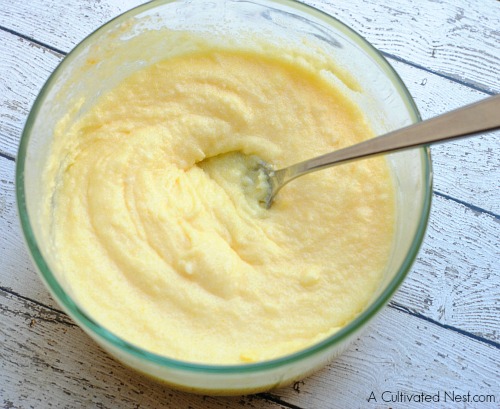 3. Add a drop or 2 of yellow food coloring (optional).
4. Pour the DIY lemon sugar scrub mixture into your jar and seal.
5. If giving as a gift, tie with twine or ribbon. Or add our printable lemon sugar scrub label on your jar's lid!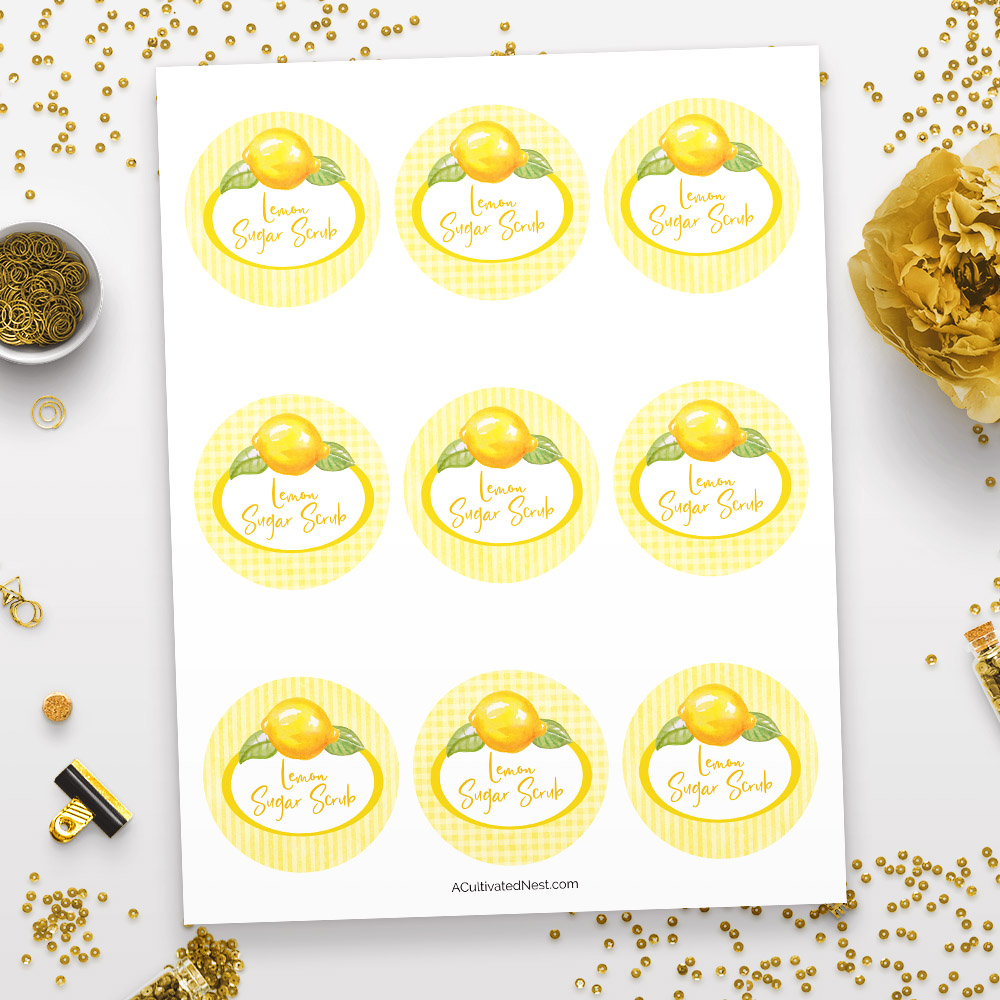 Printable Lemon Sugar Scrub Labels
Our lemon sugar scrub printable Mason jar lid labels are the perfect finishing touch to your DIY sugar scrub gift! Or just make the jar pretty for yourself so they'll look nice near your bathtub.
Enjoy your homemade lemon sugar body scrub!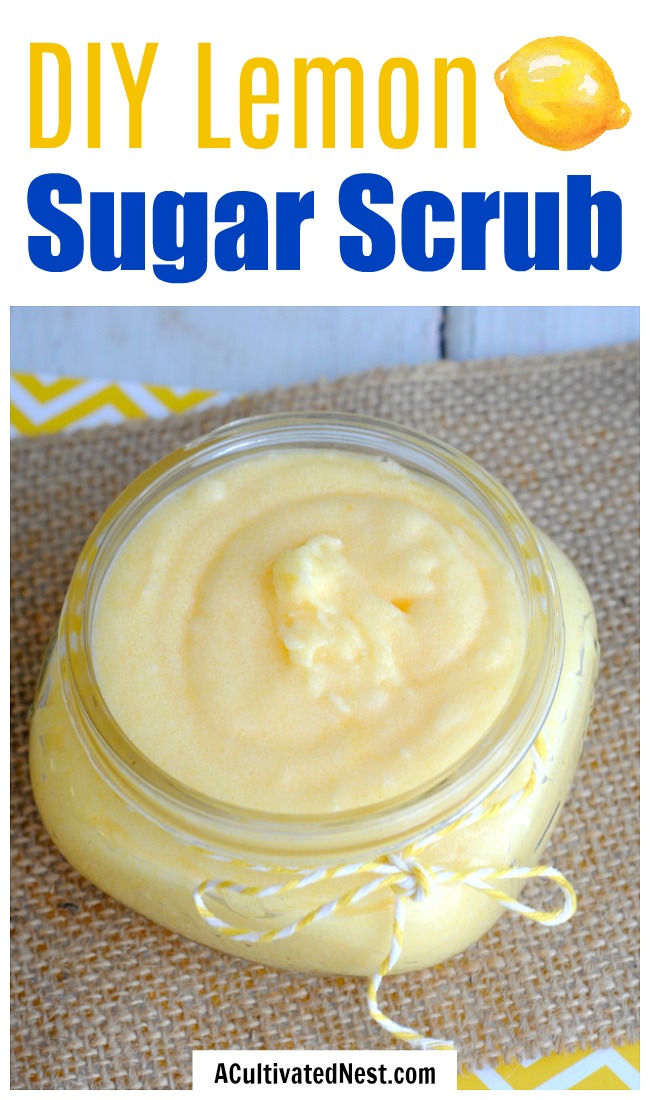 You may also be interested in: DIY Key Lime Sugar Scrub Cubes