Make the most of all the wonderful fresh fruit available during the summer by making some of these fruit recipes! Fruits aren't just delicious, they're also packed full of vitamins and anti-oxidants. Making them an important part of any diet!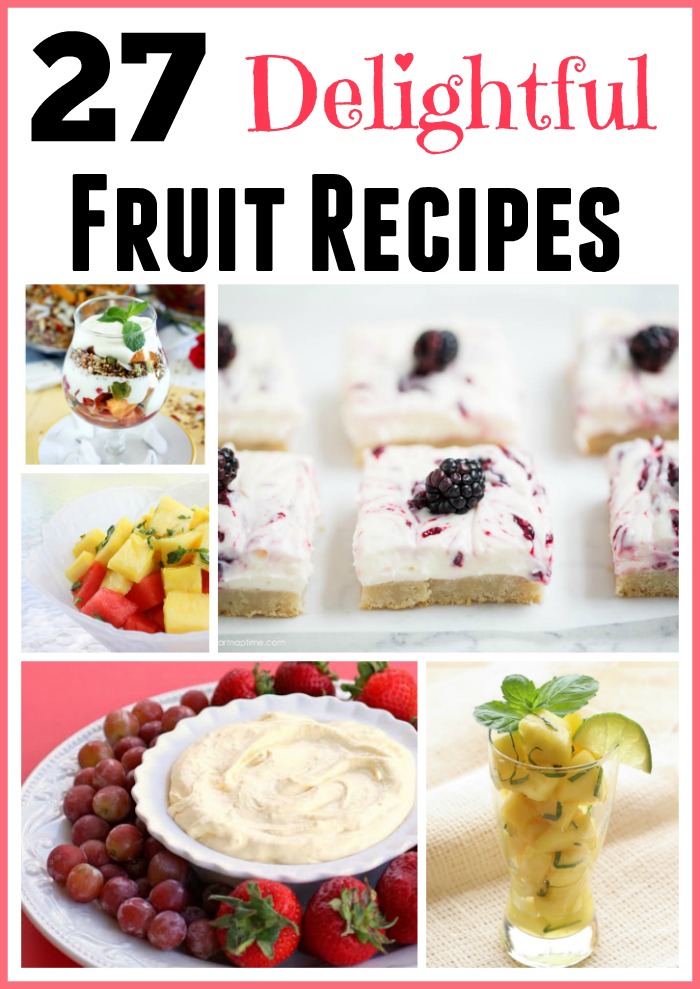 Disclosure: This post may contain affiliate links to Amazon and/or Etsy, which means that I may earn a small commission from some of the links in this post. Please see our Disclosure Page for more information.
Fresh summer fruit is yummy all on its own, but it is also perfect for creating healthy, delicious recipes. So celebrate the season and try one of these mouthwatering Fruit Recipes!
27 Fruit Recipes
1. I Heart Naptime – Blackberry Cheesecake Bars
2. Amanda's Cookin' – Blackberry Coconut Impossible Pie
3. Delish Knowledge – Caramelized Pineapple Yogurt Bowls
4. Barefeet in the Kitchen – Apricot Crisp Bars
5. The Marvelous Misadventures of a Foodie – Toffee Crunch Fruit Dip
6. The Girl Who Ate Everything – Pineapple and Watermelon Salad
7. The Healthy Foodie – Grain Free Granola and Fruit Salad
8. 365ish Pins – Banana Pudding Bars
9. Dishin and Dishes – Mixed Berry Rustic Tart
10. Snappy Gourmet – Slow Cooker Spiced Pear Bread Pudding
11. A Mother Thing – Spiced Pear Bread
12. Delish Knowledge – Stone Fruit & Maple Crisp
13. Barefeet in the Kitchen – Pineapple Mojito Fruit Salad
14. Fantabulosity – Last Minute Cobbler
15. The Marvelous Misadventures of a Foodie – Mexican Fruit Cups
16. The Girl Who Ate Everything – Orange Creamsicle Fruit Dip
17. The Healthy Foodie – Avocado and Pink Grapefruit Parfait
18. Here Comes the Sun – Mixed Berry Smoothie
19. I Heart Naptime – Summer Fruit Freezer Jam
20. Sugar Hero – Banana Bread Tiramisu
21. Dishin and Dishes – Triple Berry Pretzel Salad Dessert in a Jar
22. Delish Knowledge – Plum Thyme Crumble
23. Barefeet in the Kitchen – Summer Berry Brulee
24. The Marvelous Misadventures of a Foodie – Tropical Fruit Sorbet
25. The Girl Who Ate Everything – Fruit Pizza
26. The Healthy Foodie – Grilled Fruit Salad with Creamy Goat Cheese Topping (and Pomegranate Agrodolce)
27. Here Comes the Sun – Watermelon Blueberry Feta Salad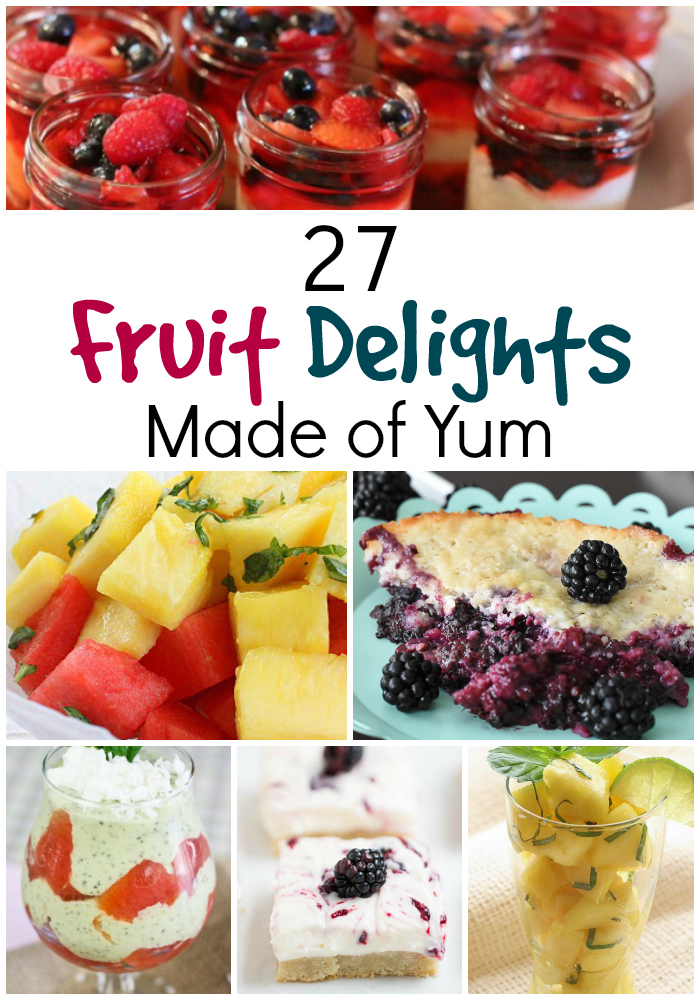 You May Also Be Interested In: 10 Scrumptious No-Bake Desserts