Easy to Use Free Printable Money Savings Trackers.
Whether you want money for a big vacation or want to buy a new outfit, it's important to save money. Buying with money that has been saved is much better than racking up huge credit card bills and debt. You will love being able to enjoy your new item so much more when you don't have to worry about how much it's costing because you planned ahead. Check out these 10 Free Printable Savings Trackers to get your finances ready for whatever you are saving for.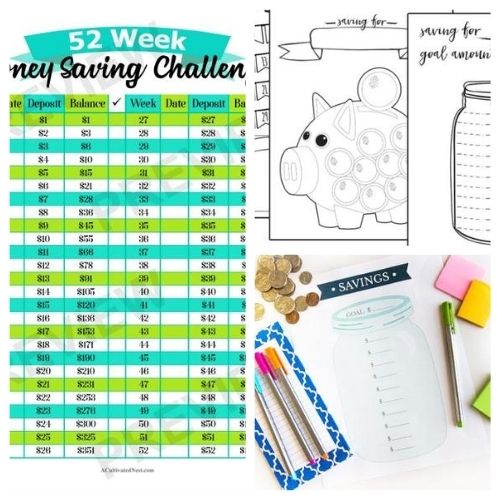 Disclosure: This post may contain affiliate links to Amazon and/or Etsy, which means that I may earn a small commission from some of the links in this post. Please see our Disclosure Page for more information.
I realize not everyone is interested in finances, budgeting, or saving for big purchases. But I have been able to learn over the years how important it is and that it's much less stressful to plan and save. That's why I wanted to share these free printables with you!
10 Free Printable Savings Trackers
Saving money doesn't have to be a huge daunting task. Make it fun by using these free printables to see how well you are doing. It's more fun to challenge yourself to save faster. Here are a few tips to consider before starting.
Prepare a budget. You can't stop paying all of your regular bills just to add money to your savings. It's vital that you create a budget to use and stick to so you can make a real plan. If you don't have a budget, check out our free printable simple budget template!
Give up items you don't really need. I know this one is hard and may even be the very hardest. But you can skip your morning Starbucks drive-thru coffee and make your own. After a while, little things like that start to add up and you end up with money fast that normally gets spent on unimportant things.
Get the entire family on board. When everyone is working towards a goal it gives them some responsibility in it. Everyone can work together and make good choices that will benefit your financial future.
If you'd prefer a very colorful way to save for big purchases, make  sure to check out the printable car savings tracker coloring page and printable house savings tracker coloring page in our shop!
1. 52 Week Money Saving Challenge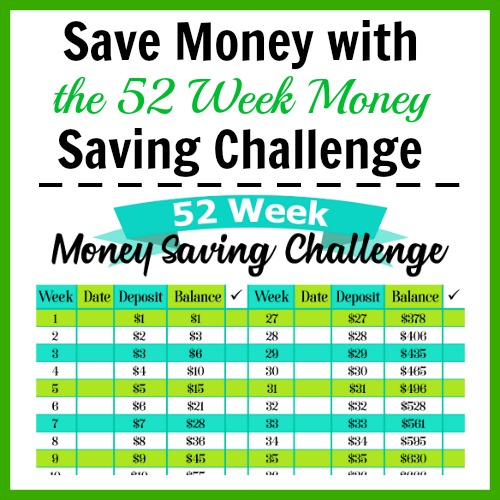 This easy 52 Week Money Saving Challenge is just what you need to get started. It's great to save money for events like vacations, Disney trips, or even a new car.
2. No Spend Challenge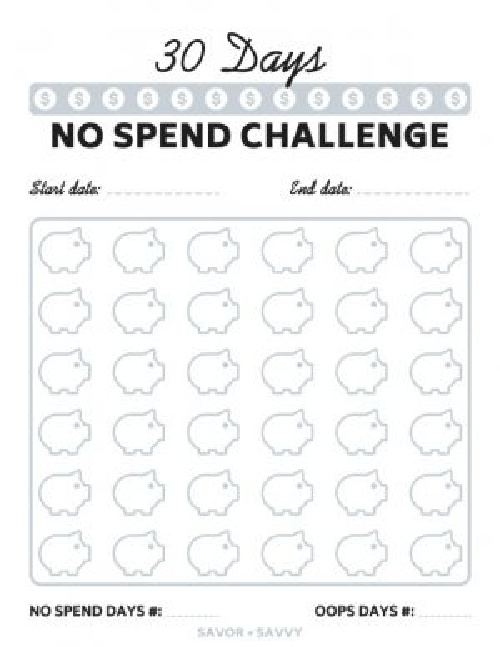 Another fabulous way to challenge yourself to save money. With this no-spend challenge printable from Savor + Savvy you can really dive deep into your spending. Plus, you can really look at what you have been doing and how to make adjustments.
3. Disney World Budget Planning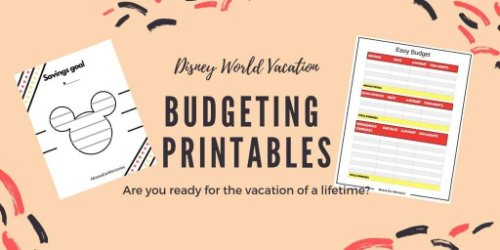 Over at Mouse Ear Memories, they have a couple of fantastic Disney World budget trackers that will have you saving in no time. Plus, they are adorable too!
4. Free Printable Savings Tracker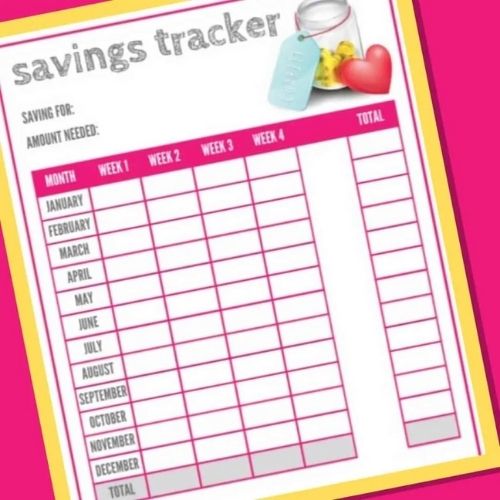 A Crazy Family does an amazing job creating a free printable savings tracker that the entire family can use. It's so useful and shows you a breakdown of what you can save in a year.
5. Printable Savings Goal Tracker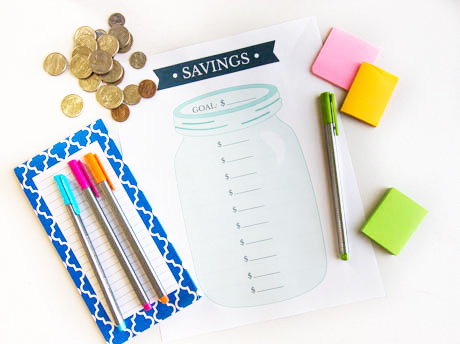 Another fantastic free printable goal tracker. It's easier to reach your goals when you can see where you are and where you are going. Small Stuff Counts has done a lovely job thinking of everything.
6. House Deposit Savings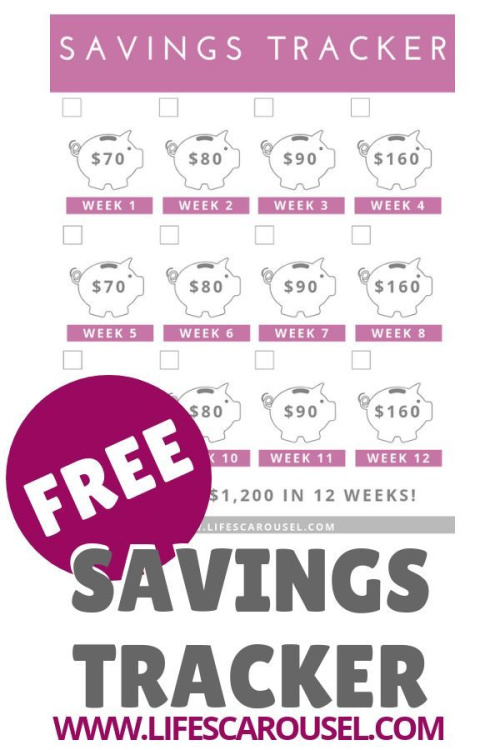 One of the large upfront expenses when buying a house is the deposit. This deposit savings tracker will help you stay on track and keep your goals in mind. Life's Carousel created an easy to use tracker.
7. Free Christmas Savings Tracker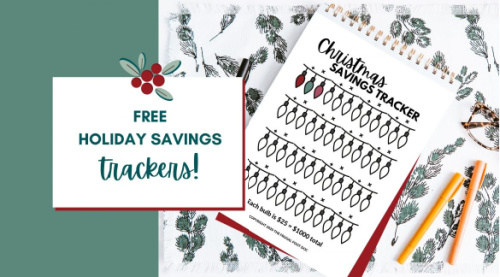 Christmas can really add up, so saving money throughout the year can really help you out. These free Christmas savings trackers made by The Frugal Foot Doc are super creative, and helpful too.
8. Emergency Fund Challenge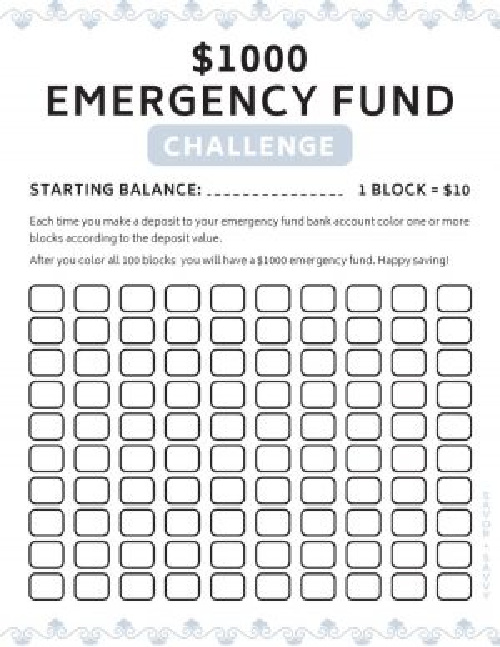 It's so important to have an emergency fund saved up. This free emergency fund printable from Savor + Savvy is a great way to make a savings plan.
9. Money Challenge Printable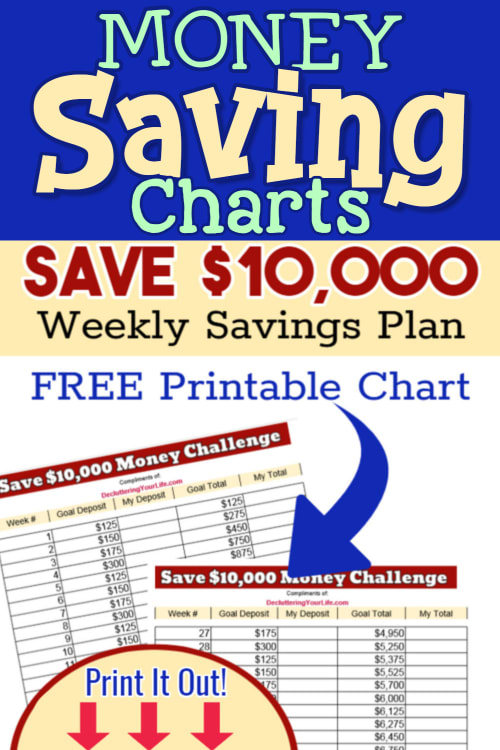 I love how Decluttering Your Life made a printable money challenge chart for any budget. So even if saving money is hard and you live paycheck to paycheck you can save if you plan right.
10. Printable Budget Planners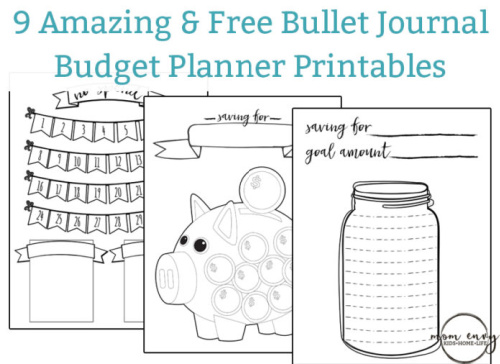 This set actually has 9 different printable budget planners. You can put what you are saving for on the top and track how much you save along the way. Mom Envy thought of everything.
What are going to be saving for?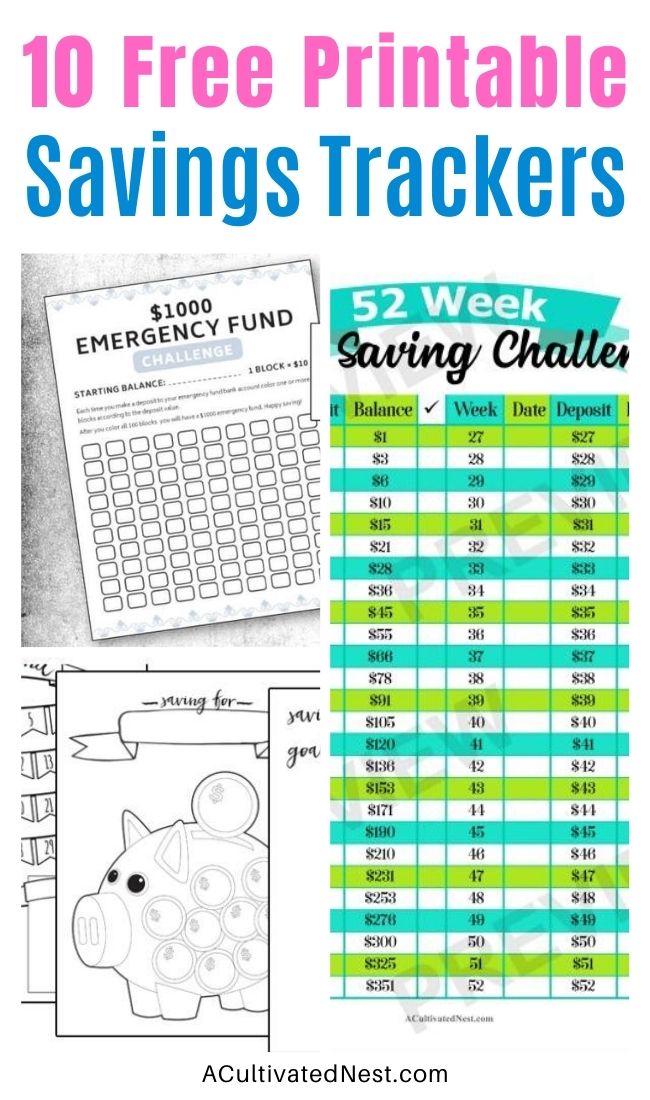 You might also be interested in: 20 Free Printables to Save You Money