Red, White, and Blue Pretzel Rods Recipe.
Hot summer months mean various holidays and get-togethers. One of my favorites is always the Fourth of July. While I'm not a big fan of fireworks (plus, they scare the dog), I do love the fun, colorful, patriotic themed foods I get to serve! So why not add some extra flair to your menu by making these Festive Patriotic Pretzel Rods!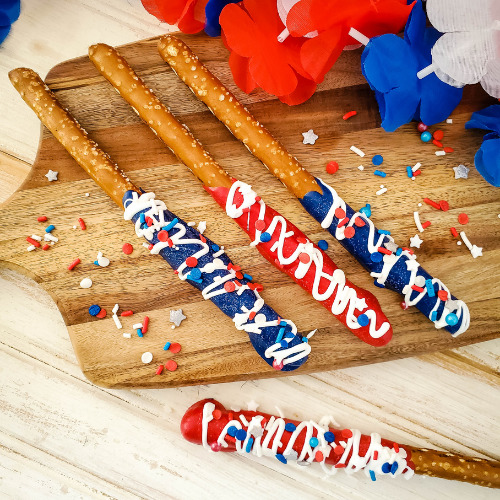 Disclosure: This post may contain affiliate links to Amazon and/or Etsy, which means that I may earn a small commission from some of the links in this post. Please see our Disclosure Page for more information.
Other than the fact that these candy-coated pretzels taste great, they are one of my favorite things to make. Why? Because they are so simple and take very little time or effort.
Festive Patriotic Pretzel Rods
One of the key ingredients in this recipe is the candy melting wafers; if you haven't worked with them before, you are sure to love them! There are so many options and things you can use them for. Here are a few tips before you start:
Melt in the microwave. – One of the most simple ways to melt the candy melts is by microwaving them. It's vital that you only use 50% power, or they will seize and cause lumps.
Stir every 30 seconds of heating. – The cool thing about candy melts is they hold their shape even if they are melted. So, it's important that you give them a quick stir every 30 seconds.
A double boiler also works well. – Another way to heat the candy melts is by using a double boiler. You will need to add about an inch of water to the bottom of a pot to do this. Then add a bowl that is heat safe on top of the pot. Turn the heat on low and stir frequently. Just don't get any water on the chocolate, or it will seize. Or for an even easier time, just get a candy melts pot.
Ingredients
Directions
1. Line a baking sheet or tray with parchment paper.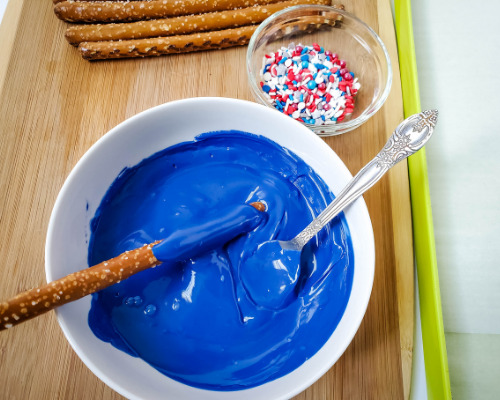 2. Add blue candy melts to a microwave-safe bowl. Add red candy melts to another microwave-safe bowl.
3. Heat in 1-minute increments, stirring between each heat session, until candy is fully melted.
4. Dip pretzels in melted candy, using a spoon to help pour the candy over, covering about half of each pretzel. Set on a parchment-lined baking sheet.
5. Add white candy melts to a zip top bag and heat in the microwave for 30-second increments, kneading the bag after each heat session until fully melted.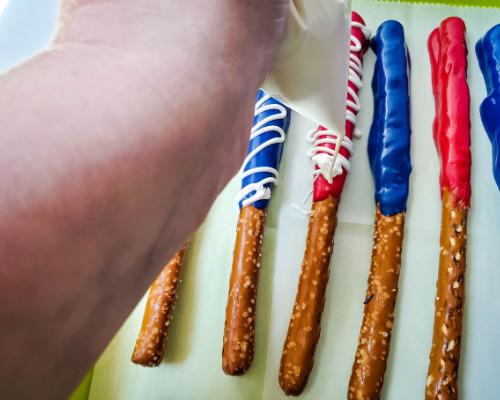 6. Snip the very corner of the bag off with scissors, and using a back and forth motion, drizzle white candy over each pretzel.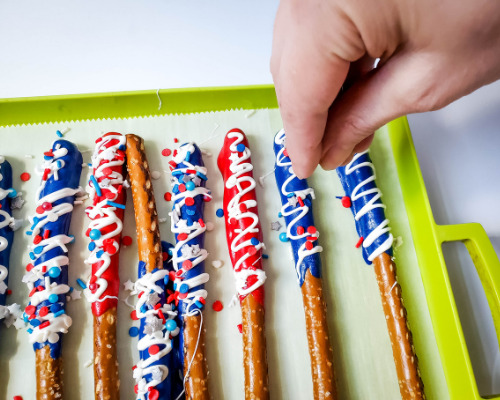 7. Top with sprinkles, let set up, and enjoy!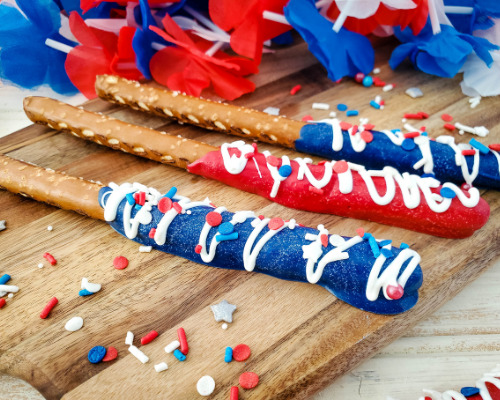 Are you serving these pretzel rods for a party?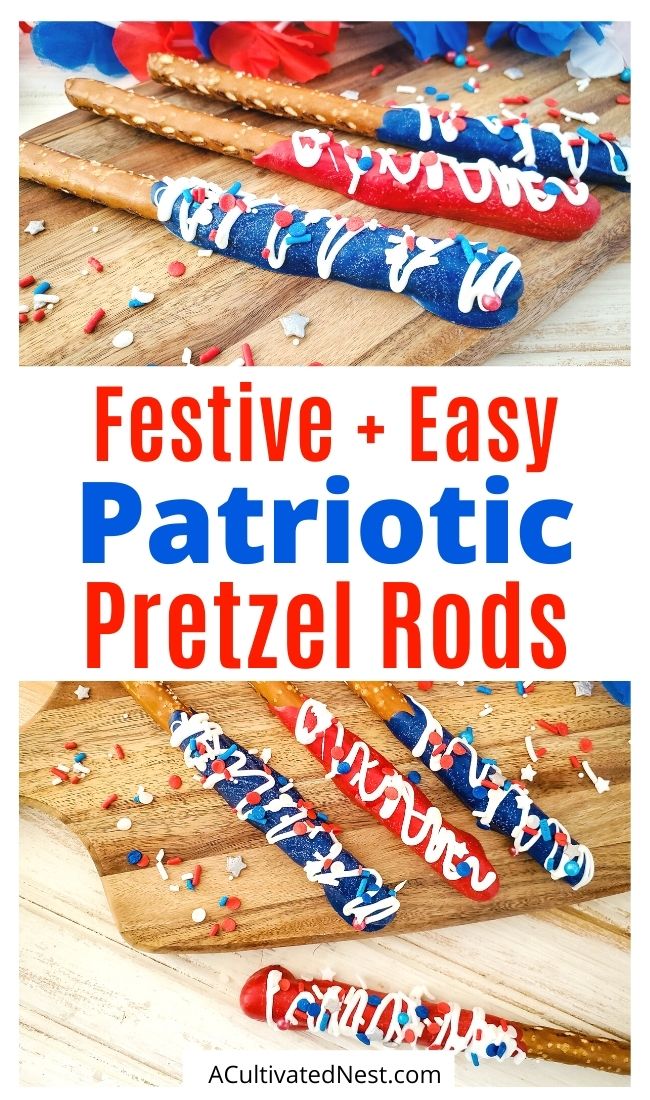 You might also be interested in: Patriotic Rice Krispie Treat Stars