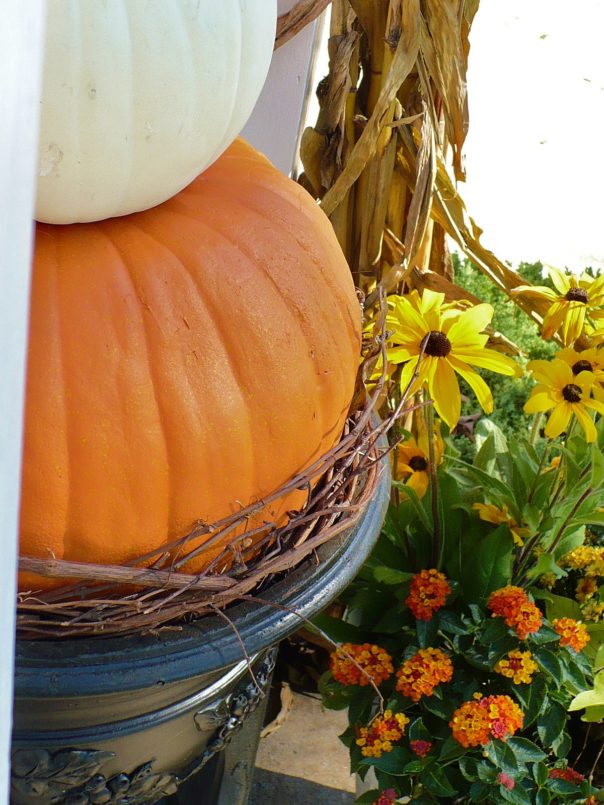 I'm busy painting my barn so I thought I'd share a few photos of my front porch which I decorated with fall in mind.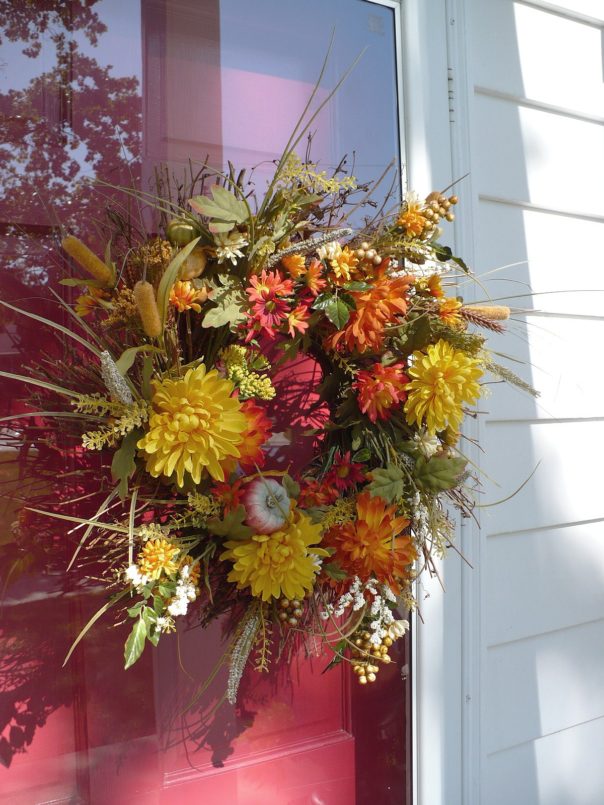 Disclosure: This post may contain affiliate links to Amazon and/or Etsy, which means that I may earn a small commission from some of the links in this post. Please see our Disclosure Page for more information.
Normally I don't do much. During the summer I have ferns in my urns and those will stay green well into the end of October (November we start decorating for Christmas).  So I usually just keep my ferns and add a wreath, a mum or two and a pumpkin and call it a done!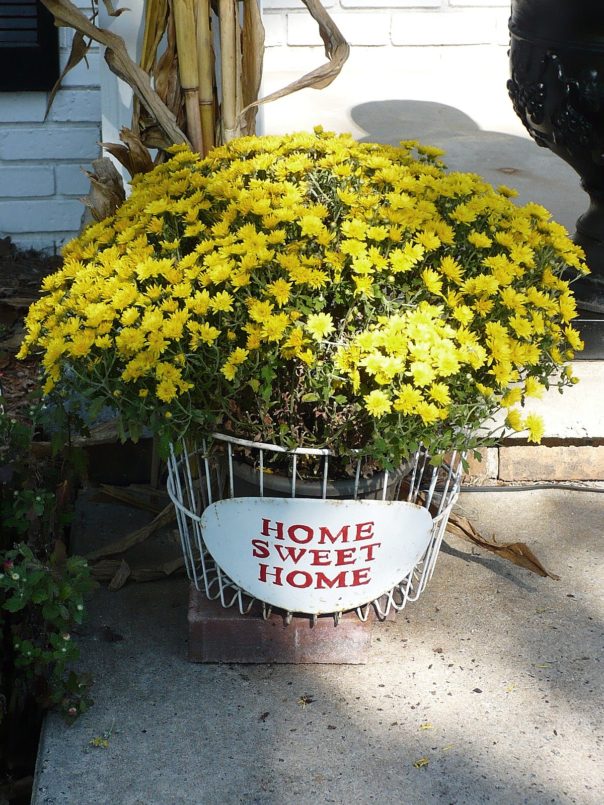 But people (at least my neighbors) seem so glum this year that I thought I'd do the front up a bit to celebrate the season and hopefully cheer people up as they drive by. My neighbors always tell us how much they enjoy our Christmas decorations and look forward to them so I thought I'd spread some cheer a little early 🙂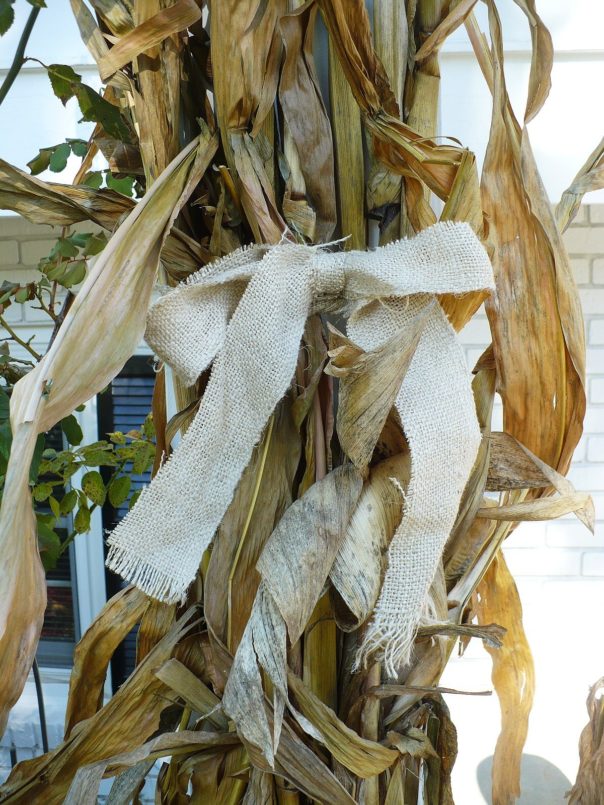 I didn't buy much. I had everything except the mums and corn stalks. Which btw, I had kept mine from the corn I grew this summer with plans on using them for fall decorating but the ones that are sold at Home Depot etc. are twice the size of mine! I had some good ears of corn but my stalks are half the size of these!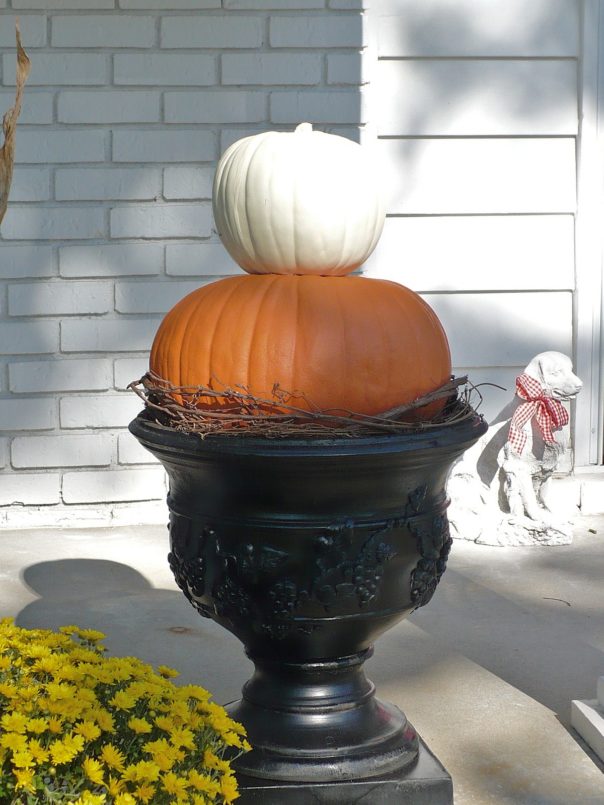 I have lots of faux pumpkins (which I buy at the end of the season). Of course, even with all the pumpkins that I do have, I didn't have the right sizes to do a topiary of three pumpkins, so I just went with what I had.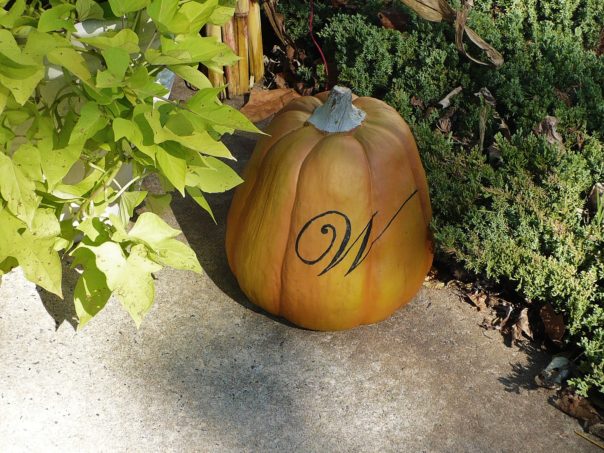 This monogrammed pumpkin is one I made many years ago and use every year.
How to monogram a pumpkin
All you do is print out whatever letter you want in the font that you like. The size I used for this was 300 (in WordPad you delete the font size that's in the box and type in 300 then hit enter). Use some tracing paper and trace the letter you printed out, transferring the image and then fill it in with a paint pen, a sharpie or some paint. If you're ambitious you can even spell out a word instead of an initial!
I'm so excited that fall is officially here, aren't you! Do you decorate your front door area for fall?